Back Story: Pictures of New Delhi smog tell only part of the story of India's air pollution crisis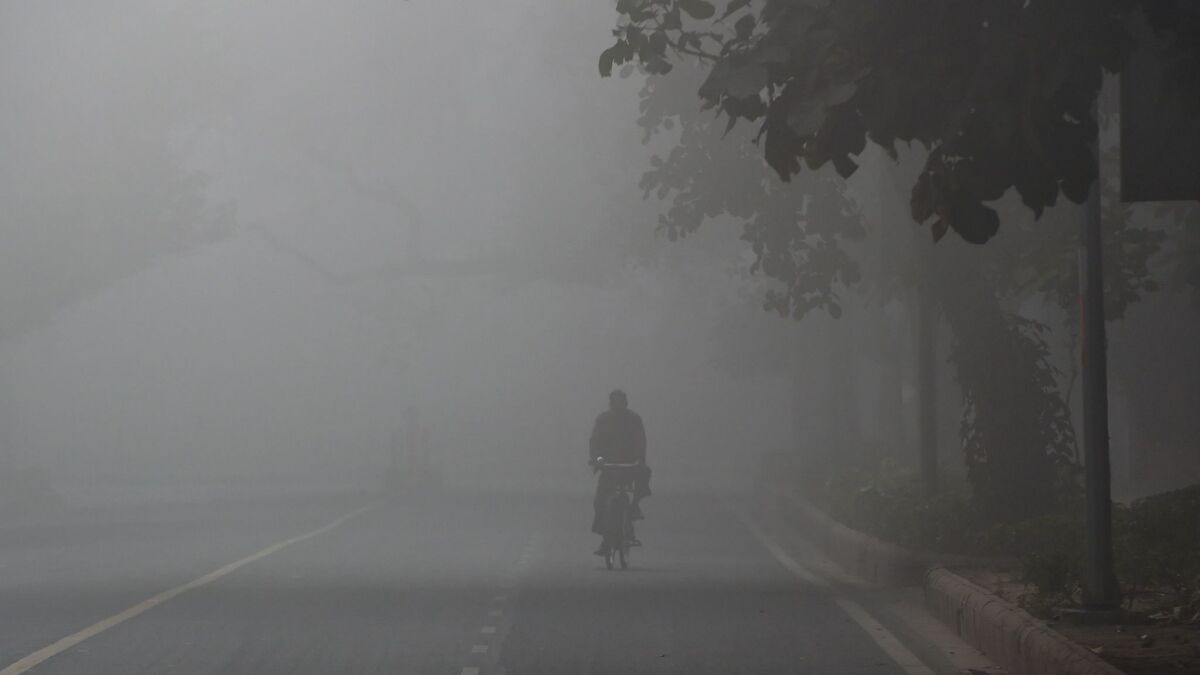 Reporting from New Delhi —
This winter, as in every winter during the last several years, large parts of northern India have been enveloped in a haze of smog.
In November, after the annual Hindu festival Diwali, during which burning firecrackers is a custom, the air quality index in New Delhi, the capital, soared to 980 — nearly 20 times worse than what the World Health Organization considers safe for humans. This was a marginal improvement from the year before, when pollution levels had breached 1,000.
A study released in January 2018 by the Indian Institute of Technology Bombay and the U.S.-based Health Effects Institute found that 75% of pollution deaths occur in rural areas.
And in 2017, about 1.24 million deaths in India were attributed to pollution.
The statistics and photos of cities blanketed in brown air periodically spur the government of India, with a population of 1.3 billion, into action. Environmental courts pass missives such as banning construction work and penalizing polluters. Residents react, too, with those who can afford to do so rushing to purchase air purifiers that cost upward of $150.
India is one of the world's fastest-growing economies, but the rapid pace of development has come at a huge health cost. The impact of unchecked construction, weak regulation of industrial pollution and the burning of crop stubble by farmers has given India the dubious distinction of being home to 14 of the world's 15 most polluted cities, according to the World Health Organization.
India's failure to curb the problem stands in contrast to neighboring China, which once had the world's worst air in its cities, but in recent years has taken steps such as reducing highly polluting coal-based power plants.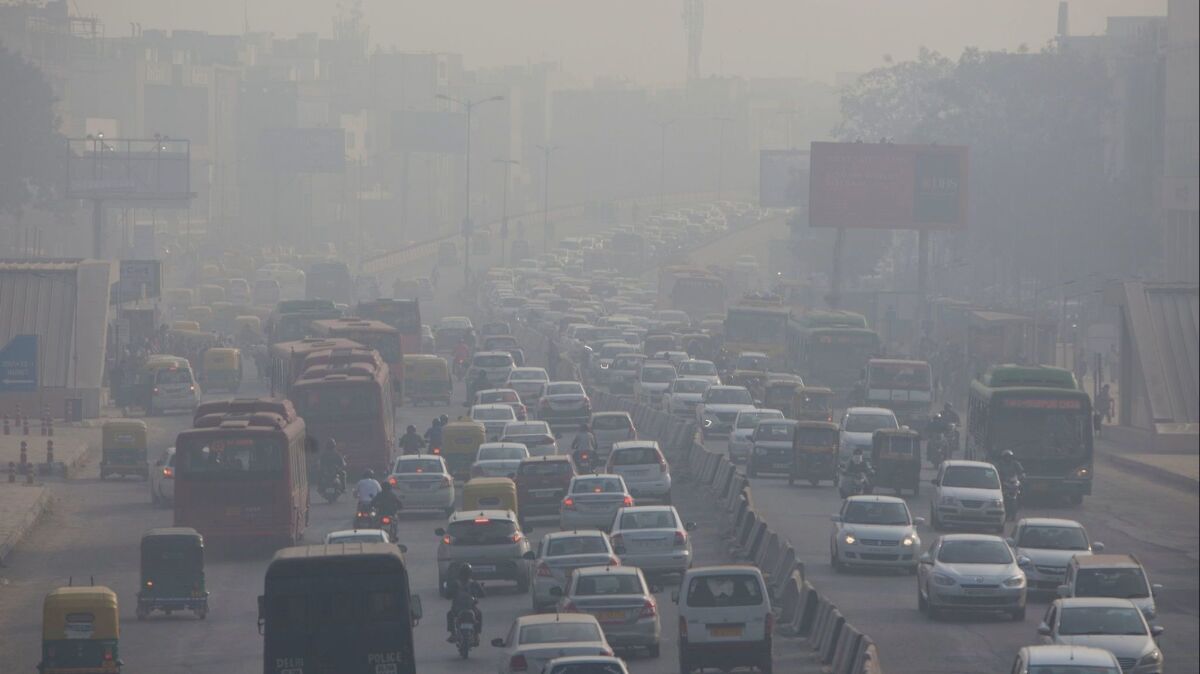 Although smog in New Delhi and other cities gets the most attention, another substantial problem is indoor air pollution, which puts millions of rural Indian households at health risk.
According to WHO estimates, almost 3.8 million of the 7 million deaths worldwide from exposure to pollution are due to indoor air.
Many rural Indian residents, particularly in the north, burn wood, coal or cow dung for cooking, often in poorly ventilated spaces inside homes. This exposes entire households to dangerous levels of particulate matter and pollutants such as carbon monoxide.
In December, a report by the government-run Indian Council for Medical Research blamed indoor air for 480,000 of India's 1.24 million total deaths from pollution in 2017.
The scale of the problem is evident as soon as one drives out of New Delhi into neighboring Haryana, a largely agricultural state.
Fifty miles from the Indian capital, in the village of Gehlab, three women toiled over mud stoves one recent morning in a household where 15 members of one extended family live.
Their faces hidden behind veils for modesty, the women churned out hot savory breads known as rotis, alternating coal pieces and small sticks to keep the fire going.
They were unmoved by the thick plumes of smoke that hung above the stoves.
"I feel a sting in my eyes often and sometimes cough but it's not an issue," said Sudesh Rani, 31, who cooks for her family of six twice a day.
Not too far away, in a tiny kitchen, sat a shiny, little-used gas stove and a new cooking gas cylinder.
In 2016, to encourage villagers to move away from polluting biomass use, the Indian government launched a program to provide 50 million subsidized cooking gas connections to rural households that used mud stoves. The program sharply expanded the number of families who have gas cylinders, but reports suggest it has not stopped many families from burning the traditional sources of fuel.
Many say they prefer the mud stoves, believing that gas cooks more quickly and is more likely to burn food. Rani's family used the gas stove only to heat water or milk, she said.
"The food cooked on the mud stove tastes much better," Rani said.
In the neighboring village of Bajada Pahari, a 45-year-old woman named Shyamvati, who uses only one name, cooks food in large vats for more than 50 students at the local school. The roof of her open-air kitchen was jet black with layers of soot.
"I have been cooking this way since my childhood and have never fallen sick," she said.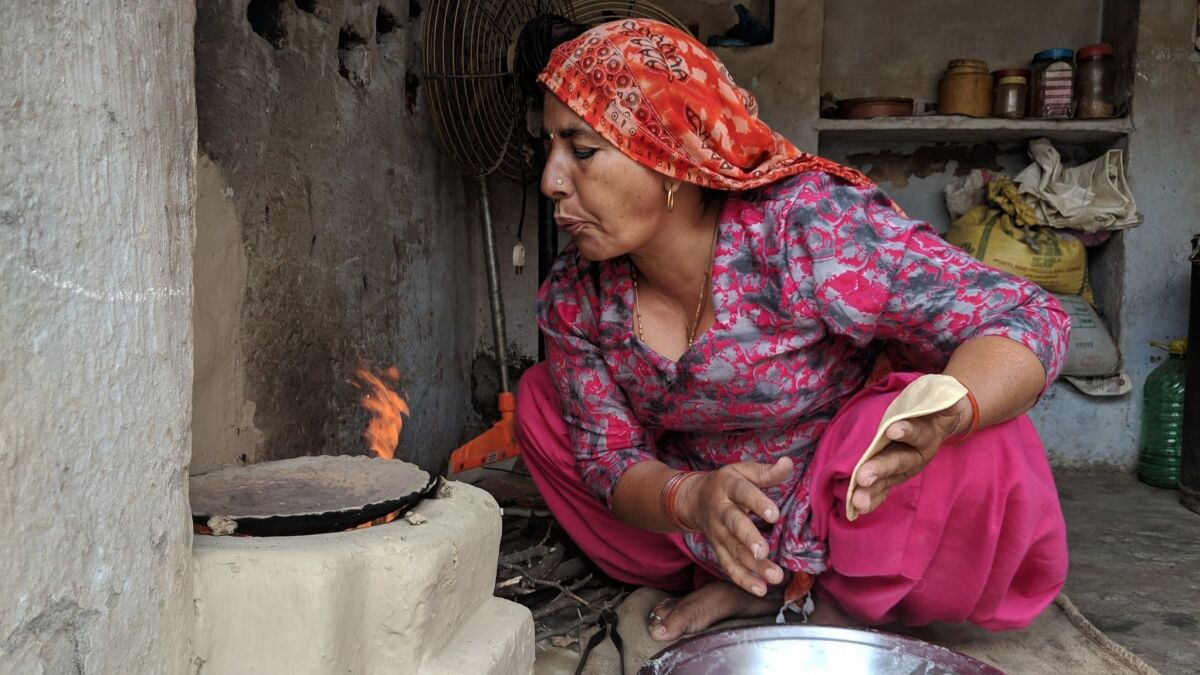 When Inclen Trust International, a research group, conducted studies in Shyamvati's village in 2016, it found carbon monoxide exposure levels to be more than three times higher in households that used only biomass for cooking compared with those that used gas.
Kirk Smith, a UC Berkeley professor who has studied air pollution in India, said policymakers have not framed the pollution problem correctly, because 24% to 52% of outdoor pollution comes from household air.
"The lesson being that India can't have clean outdoor air if the majority of the people are using unclean fuel," Smith said.
This policy gap was clear in India's National Air Quality Management Program, which until recently did not mention rural areas. In its latest National Clean Air Program, released this month, the government acknowledged that rural areas have been neglected and proposed extending the gas cylinder program to many more towns and villages.
It also called for setting up 75 air quality monitoring stations in rural areas and established guidelines for building design, such as increasing ventilation.
Doctors, meanwhile, warn that the disease burden of air pollution isn't limited to respiratory illnesses. The medical research council report found evidence that air pollution was also a substantial factor in cardiovascular disease and diabetes.
Ajay Sisodia, a physician at the government-owned community health center that serves the two Haryana villages, said 70 to 80 patients visit every day complaining of respiratory problems. While some are short-term, seasonal cases, the impact of indoor air is clear, he said.
"The seasonal cough can become chronic or develop into asthmatic conditions due to prolonged exposure over biomass stoves," Sisodia said.
Masih is a special correspondent.
Must-read stories from the L.A. Times
Get the day's top news with our Today's Headlines newsletter, sent every weekday morning.
You may occasionally receive promotional content from the Los Angeles Times.