The sorry state of a multimillion-dollar art collection reveals deeper troubles at India's national airline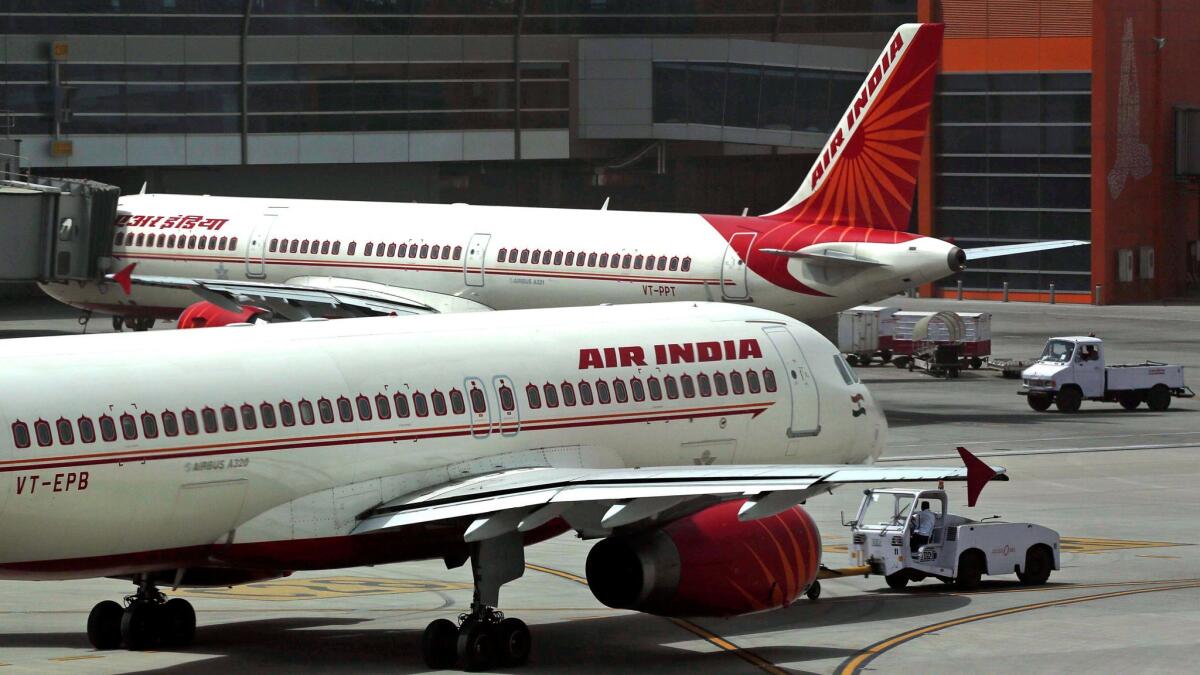 Reporting from MUMBAI, India —
In the early 1980s, India's national airline, Air India, commissioned a painting from artist Anjolie Ela Menon to add to a collection of contemporary Indian art that hung in its offices and executive lounges around the world.
Menon created "Inside Outside," a series of six panels depicting multiethnic faces of Air India travelers and arranged in the shape of a door, and handed it over to the airline.
Some time later, Menon recalled, she was invited to an event at the plush Mumbai apartment of the state-owned company's chairman, Yogesh Chander Deveshwar. Hanging on one of the walls was "Inside Outside" — except that a panel featuring a boy's face was missing. In its place was a piece of cardboard.
"I asked Mr. Deveshwar how this had happened," Menon said. "And he said he had got it in the same condition."
The lost panel — on its own likely worth thousands of dollars — was part of one of the most important and perhaps most mysterious contemporary art collections in India, a trove of thousands of paintings curated during the heyday of the once-proud airline. Artists say the works have been mishandled and abused, much like Air India itself.
As Prime Minister Narendra Modi's government explores selling the 85-year-old company, now racked by debt and public relations nightmares, there is renewed interest in a collection that experts believe could be worth tens of millions of dollars — except that no one seems to know where all of it is.
Some pieces lent to Air India executives to display in their homes were not returned. Works sent overseas are unaccounted for because the company never kept a meticulous inventory.
Still more were stored at the airline's former seafront headquarters in Mumbai in questionable condition, said Menon, who visited several years ago and found paintings lying haphazardly, "not wrapped in plastic, not cataloged, not labeled."
"There's no account of it all," the 77-year-old oil painter and muralist said. "Paintings have disappeared in people's private collections or they've been sold. It's a big scam. It's bad. Our work should be honored and stored properly."
Jayant Sinha, India's minister of state for civil aviation, said the government began taking inventory of the collection after Modi took office in 2014 and "found that some art objects were not properly accounted for and tracked."
"In the next few months, we hope to fully account for all these valuable art objects and ensure their safe custody," Sinha said.
Dubbed "the Maharajah's collection" — after the airline's portly, mustachioed mascot — the works have long been a subject of wonder in India's art world. For several decades beginning soon after India's independence in 1947, Air India was one of the country's biggest corporate collectors of contemporary art, sculpture, textiles and artifacts.
Driven by founder J.R.D. Tata's philosophy that its offices should reflect national culture and achievement, the airline deployed buyers to galleries across the country and acquired early pieces by some of India's foremost painters — including M.F. Husain and V.S. Gaitonde — sometimes in exchange for plane tickets.
India has few public galleries, so artists and patrons cheered Air India's announcement two years ago that it would open a museum to showcase its collection in one place for the first time. Those plans are on hold because of the possible sale.
Longtime whispers about the state of the collection spilled into the open in June when artist Jatin Das learned that one of his pieces, a 1991 oil painting acquired by Air India — and therefore property of the government — was for sale on the open market.
Curator Pooja Acharya had emailed Das asking him to authenticate a 6-by-3-foot canvas that one of her clients was interested in purchasing from a private seller. Acharya said the seller told her she had bought the painting, called "Flying Apsara," 20 years earlier from an art show.
But that turned out not to be true. The airline found that a former executive director who was lent the painting had left the company without returning it.
In an email to The Times, Acharya identified the seller as Rohita Jaidka, who according to her LinkedIn profile worked for more than 30 years at Air India, leaving the company in 2011 as an executive director. Jaidka did not respond to phone calls or messages.
After Das wrote to the airline asking for a full accounting of his work in its collection, the India Today website reported that the airline was "in the process of conducting a detailed audit of the collection" that would be completed by September.
Das' letter to the airline was published by India Today and made national news.
I have been documenting my and my mother's work for years. I have done it all alone. If I can do it, why can't a big company like Air India?
— Painter Arpana Caur
A few weeks later, the Das painting suddenly reappeared by courier at Air India's offices in New Delhi, removed from its frame and partially torn. Das went to see it and was aghast at its condition.
"It wasn't returned," Das said. "It was crushed, folded and returned."
When airline employees attempted to track down the sender, they found the return address, in the nearby city of Gurgaon, was fake. The Press Trust of India reported that the airline was "now examining how many more former or serving Air India officials could be in possession of such paintings."
Painter Arpana Caur, daughter of novelist Ajeet Cour, said what happened to Das' work was "shocking and careless."
"I have been documenting my and my mother's work for years," Caur said. "I have done it all alone. If I can do it, why can't a big company like Air India?"
It was more bad publicity for a company that has had no shortage of it. Since 1994, when India opened its airspace to private carriers, Air India has seen its market share dwindle and its debt soar to $8 billion.
This year, the airline has been in the news for a 16-hour flight to Chicago with clogged toilets, crew members pilfering food from a London hotel buffet, the discovery of a packet of morphine on an in-flight food trolley and a malfunctioning air-conditioning system on a flight to New Delhi in July, when temperatures often surpass 100 degrees.
"Worst airline ever experienced," reads one review in TripAdvisor. "A third-class ride," says another. (There are others, to be fair, that praise the airline.)
"There is a joke among the staff that they say a prayer after every landing," said K.V.J. Rao, a union leader and former Air India crew member. "In the name of cost cutting, the airline has compromised on everything, from service to safety."
Apparently tired of the bad headlines, Air India recently issued a gag order barring current and retired employees from criticizing the company in the media. Rao was suspended by the airline in 2014 for alleged fraud, although he says he was punished for speaking out about the company's labor practices.
Rao's father also worked for the airline, and as a child he would visit the Air India offices in Mumbai, where the art collection for years was housed in the higher floors, off-limits to visitors.
"As kids we would wonder, what's so special about this?" Rao said. "Now the assumption is that bureaucrats and politicians have looted it."
Air India's art buying days are long gone, but for a generation of painters the company was a crucial patron at a time when there was hardly any domestic market for their work.
S.G. Vasudev, a painter who sold several pieces to the company — including a large 1977 canvas in exchange for a plane ticket to London — said he often wondered about the fate of work that he hasn't seen in decades.
Air India acquired many of its pieces at throwaway prices, but they are probably worth much more today. A Gaitonde abstract canvas recently sold for more than $4 million.
Vasudev worried that other pieces will be found to have been stolen because they are so valuable.
"I don't know whether they handled the works properly," he said. "They should have thought of having a proper art curator who could have documented all the works and now these problems would not have arisen."
Parth M.N. is a special correspondent.
Follow @SBengali on Twitter for more news from South Asia
ALSO
After a Hindu mob lynches a Muslim teenager in India, his family asks, 'Why are they allergic to us?'
A new film tells the story of the Sikh boy ruler who was ripped from his kingdom and transformed into an English aristocrat
Sign up for Essential California for the L.A. Times biggest news, features and recommendations in your inbox six days a week.
You may occasionally receive promotional content from the Los Angeles Times.