Global Development: When an Indian hospital was running out of oxygen, these doctors tried to help. So why were they sent to jail?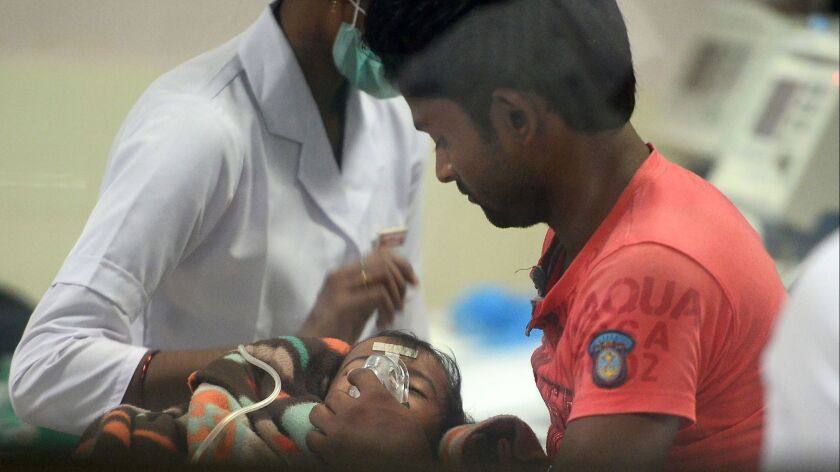 Reporting from Gorakhpur, India —
It was a shocking story: A government hospital in the far north of India ran out of liquid oxygen because it hadn't paid the supplier. Over the next two days, 35 children died in the crowded intensive care units. Amid a national uproar, authorities jailed nine people on charges including embezzlement and homicide.
Nearly a year later, Baba Raghav Das Medical College and Hospital in the town of Gorakhpur is synonymous with the failings of India's public healthcare system. But the investigation into the deaths is exposing the failings of its justice system.
None of the officials responsible for allocating payments has been punished. Instead, doctors who tried to avert the oxygen shortage are facing charges of attempting to commit "culpable homicide" — which is similar to manslaughter — and have spent months behind bars.
"This is a politically motivated case," said Dr. Rajiv Misra, who has been jailed with his wife, Dr. Purnima Shukla, since August. "My wife and I have been targeted so that others can save themselves."
Misra repeatedly asked state officials to send funds for oxygen, but the money arrived too late. He and other doctors allege that they have been made scapegoats for the government's failures, and that the country's ruling party has used law enforcement, the judiciary and a corruptible media to spare itself from embarrassment.
In particular, the doctors take aim at Yogi Adityanath, an extremist Hindu priest who five months earlier had been appointed the top official in Uttar Pradesh state.
Adityanath, who had represented Gorakhpur in Parliament since 1998 as a member of Prime Minister Narendra Modi's Bharatiya Janata Party, had long touted his commitment to the hospital, which serves an area with more than 50 million people.
Days after the deaths, Adityanath vowed to take such strict action that it would "set an example."
The party has denied that it had anything to do with the administration of justice in the case. "We have never filed charges against anyone to save anyone else or to harass anyone," said Vijay Pathak, the top party official in the state.
But the investigation has been filled with inconsistencies, contradictions and startling conclusions.
The most startling is the state's assertion that the lack of oxygen was not a factor in the deaths.
Multiple government inquiries concluded that the number of deaths was not even unusually high that night. Many of the children had been admitted for encephalitis, a mosquito-borne brain infection that claims dozens of lives at the hospital every summer, and the pediatric wards were so jammed that three or four newborns were placed side by side in cots meant for one.
In the two days before the oxygen supply was interrupted, a total of 36 children died, according to one inquiry.
But since authorities never ordered postmortems, the causes of death can't be known for certain.
At least 10 adults also died the day after liquid oxygen ran out, but their medical records have not been made public, and the government has not disclosed any details about those deaths.
At the time, some parents told news media that their children suffocated due to a lack of oxygen. But charging documents filed against Misra include nearly identical testimonies from parents: "Our child died because of a serious ailment."
The finding that the oxygen shortage didn't result in more deaths has alleviated pressure on Adityanath and state health officials.
But it makes the homicide charges against Misra, Shukla and two other doctors especially perplexing. The other doctors and a representative of the oxygen supplier have been released on bail. Three clerks and a hospital pharmacist remain behind bars.
"It is a farce, and a grave indictment of the justice system," said Manoj Singh, founder of the website Gorakhpur Newsline, who has closely followed the case.
Misra was a student at the medical college 45 years ago and rose to become the hospital's top administrative officer.
In a series of letters and meetings last summer, he warned state health officials that "patients would die" if the oxygen supplier's bills weren't paid. The hospital had not received any funds earmarked for drugs and chemicals for nearly six months, but state budget instructions prohibited him from using existing funds to clear back payments.
On Aug. 2, the supplier informed the hospital that it would stop supplying oxygen if it wasn't paid within 15 days, and in a videoconference the next day, Misra told his supervisors that the money was urgently needed.
The hospital finally received the funding authorization on Aug. 9 — but the payment would take two days to reach the supplier.
That was too late. At roughly 7:30 p.m. Aug. 10, an alarm went off indicating that the towering liquid oxygen tank that supplies six hospital wards was nearly empty, according to court documents and interviews. Hospital staff switched to a backup supply of oxygen gas cylinders and manual resuscitators as doctors searched for additional cylinders from local gas suppliers and medical clinics.
"It was negligence by the government," Misra, 63, said in an interview at the derelict, colonial-era jail in Gorakhpur where he is being held with Shukla — a 60-year-old homeopathic doctor who wasn't employed by the hospital.
In addition to the homicide charges — which carry a maximum sentence of seven years — they stand accused of delaying payment in order to obtain kickbacks from the oxygen supplier, a charge they deny. Court documents filed by the state present no evidence of illicit payments, only allegations from other hospital employees.
In May, Shukla lost her appeal for bail before an appellate judge who cited a lower court that held that the lack of oxygen "led to [the] death of children." The judge did not explain why he was challenging the government's finding — or why he has ordered the release of two other doctors facing similar charges.
"It's a clear-cut indication that they are specifically trying to target my parents in this case," said the Misras' son Purak, a 32-year-old surgeon.
"They have turned the system against us."
The inquiry that led to the charges against Misra and Shukla was headed by the state's director of medical education, K.K. Gupta, who has responsibility for approving the hospital budget. In an interview, he said Misra should have ignored budget instructions and paid the oxygen bills anyway.
"If he had paid it, no one would have questioned him," Gupta said. "He displayed a callous attitude."
Another doctor facing attempted homicide charges is Kafeel Khan, a 38-year-old pediatrician who was off duty Aug. 10 but rushed to the hospital after receiving a text message about the oxygen supply.
He was initially hailed in the national media for collecting oxygen cylinders from private nursing homes and suppliers and driving them back to the hospital.
But on Aug. 13, Khan said, Adityanath visited the hospital and told him: "So you think by arranging cylinders, you became a hero. I'll show you."
Soon, rumors about Khan began appearing on websites and social media accounts that support India's Hindu majority, accusing him of running a private clinic where he had stashed oxygen cylinders — which sell for less than $4 — meant for the public hospital. (Khan said he left that clinic in 2016.) The stories diverted attention from Adityanath and his administration, and were quickly picked up by Indian news media.
Postcard News, a site that commonly traffics in false stories that support Modi's pro-Hindu government, incorrectly described Khan as head of the encephalitis ward and accused him of carrying out a "well planned drama" with the aim of unseating Adityanath. The stories highlighted that Khan is Muslim and said the case showed "the true colors of these people who hide behind the minority tag."
Two weeks later, Khan was jailed and denied bail. In April, his family released a 10-page letter he wrote in his cell in which he denied wrongdoing and said the oxygen saga was "a total administrative failure at [a] higher level."
An appellate judge ordered him released days later, saying there was no evidence of medical negligence because the government "does not attribute the deaths to a shortage of medical oxygen."
It was the same judge who challenged that finding in denying bail to Shukla. He didn't explain the contradiction.
Police have provided no more clarity. They dropped the corruption allegations against Khan but persisted with the homicide charge.
Khan, who was suspended from the hospital at the time of his arrest, has applied to be reinstated.
Parth M.N. is a special correspondent.
Shashank Bengali is South Asia correspondent for The Times. Follow him on Twitter at @SBengali
---
Must-read stories from the L.A. Times
Get the day's top news with our Today's Headlines newsletter, sent every weekday morning.
You may occasionally receive promotional content from the Los Angeles Times.