Indian court rules Hindu temple can't ban females of menstruating age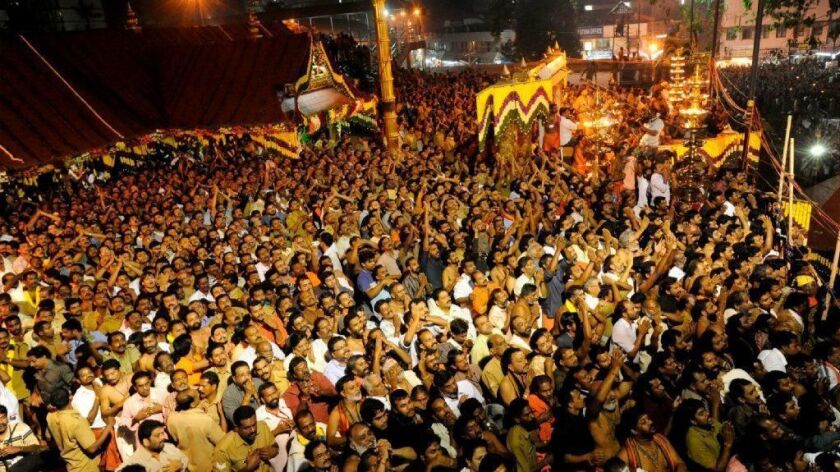 Reporting from New Delhi —
Capping a month of historic judgments that have expanded civil liberties for hundreds of millions of citizens, the Indian Supreme Court on Friday overturned a Hindu temple's ban on females of menstruating age, declaring that the centuries-old rule violated women's rights.
The renowned Sabarimala temple in the southern state of Kerala is open to all faiths but bars women and girls ages 10 to 50 on the grounds that the deity, Lord Ayyappa, is considered celibate.
The ban had been upheld in a lower court before reaching India's highest court, where a majority of a five-judge panel found it was discriminatory.
"Patriarchy in religion cannot be permitted to trump over faith and the freedom to practice and profess one's religion," said Chief Justice Dipak Misra.
"Rules based on biological characteristics can never pass the muster of constitutionality."
Already this month, the court had scrapped a 157-year-old ban on gay sex, overturned an anti-adultery law that treated wives as the property of their husbands, and imposed limits on a vast biometric database that some citizens feared could create a surveillance state.
Read more: India's gay sex ban was a relic of the British Empire, but it's still in place in dozens of ex-colonies »
The decisions reflect Misra's desire to leave his stamp on the court before he retires next month. They also show how India's judiciary has tackled contentious religious and civil rights issues that lawmakers have been reluctant to address for fear of upsetting conservative segments of society.
Unlike in the United States, where the Supreme Court hears only a relatively small number of cases every year, any Indian can approach the top court by filing public interest litigation. This accessibility has also led to an overworked judiciary, with more than 33 million cases pending before the Supreme Court alone.
Friday's decision came two years after a lower court in Mumbai lifted bans on women from entering the inner sanctum of a Hindu temple in Maharashtra state and the Haji Ali Muslim shrine on the Arabian Sea.
Menstruation is seen by many Indian religious conservatives — not just majority Hindus, but also Muslims and Christians — as impure, with many religious rituals excluding women who are on their periods.
Concurring with Misra's opinion, Justice Rohinton Nariman said that upholding fundamental civil rights was essential for transforming Indian society.
The dissenting opinion came from Justice Indu Malhotra, the only woman on the bench, who argued that rationality has no place in matters of religion.
"What constitutes essential religious practice is for the religious community to decide, not for the court," she said.
The 12th century Sabarimala temple, located inside a hilly tiger reserve in the Western Ghats mountain range, draws tens of millions of devotees annually despite being open only several weeks each year.
Rahul Easwar, a social activist representing the devotees, said they would ask the Supreme Court to review its decision.Such review petitions are successful only when the court finds new evidence or believes it has made an error in judgment.
Special correspondent Masih reported from New Delhi and Times staff writer Bengali from Kochi, India.
Shashank Bengali is South Asia correspondent for The Times. Follow him on Twitter at @SBengali
---
Must-read stories from the L.A. Times
Get the day's top news with our Today's Headlines newsletter, sent every weekday morning.
You may occasionally receive promotional content from the Los Angeles Times.