India's former 'King of Good Times,' beer baron Vijay Mallya, is arrested in London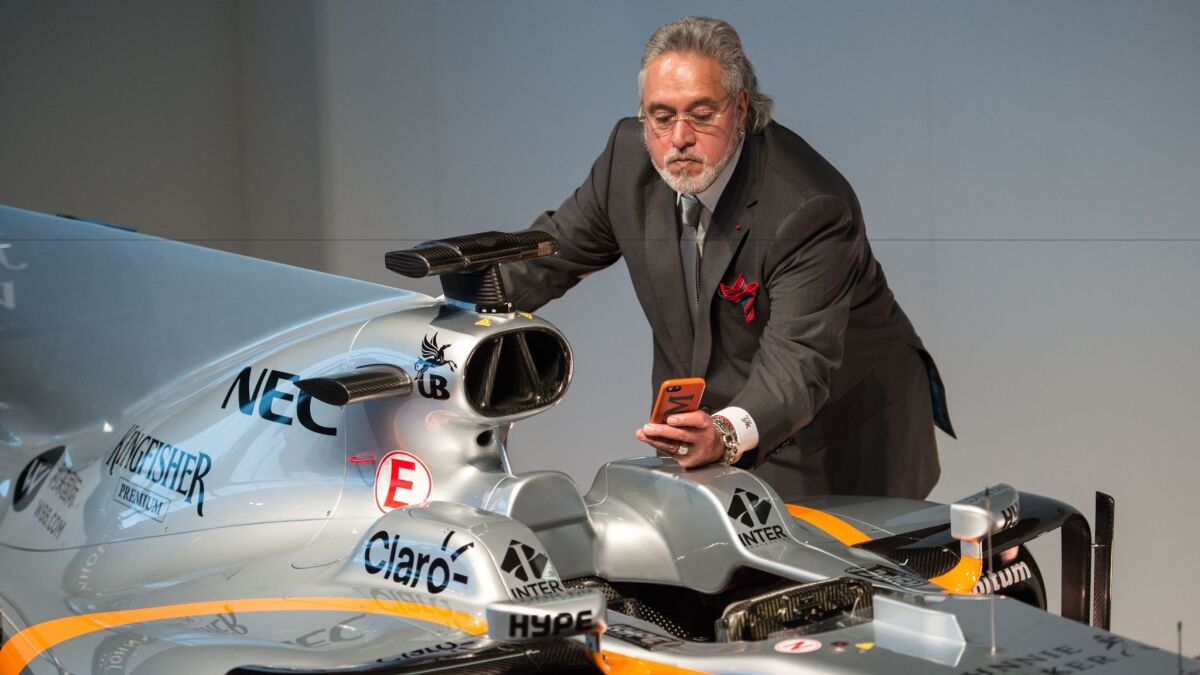 Reporting from Mumbai, India —
Former Indian tycoon Vijay Mallya was arrested Tuesday in London in what was seen as the start of a lengthy legal battle to return him to his home country to face fraud and money laundering charges.
The self-proclaimed "King of Good Times," who led a lavish lifestyle while racking up $1.4 billion in debt as his airline business collapsed, was detained before an extradition hearing at Westminster Magistrates' Court, according to a statement from Metropolitan Police in London.
He was released on about $820,000 bail three hours later, news agencies reported.
The 61-year old Mallya ran India's biggest spirits company, United Breweries, which he inherited from his father, and launched a high-end airline, named for his company's flagship Kingfisher beer, in 2003.
As the airline faltered due to high oil prices and reckless business decisions, Mallya brazenly flaunted his wealth and became a symbol of the impunity of India's corporate titans.
In March 2016, before he was due to appear for a hearing on his debts in India's Supreme Court, Mallya fled to Britain. The Indian government was severely criticized at the time for allowing the businessman to leave the country.
India cancelled his passport and in February formally asked British authorities to extradite him.
"Vijay Mallya will be brought back to India," Santosh Gangwar, minister of state for finance, told reporters Tuesday. "Due process of law will be followed."
Indian investigators have charged Mallya with cheating and conspiracy for failing to repay a $1.4-billion loan that he received in 2009 that was intended to pay for airline parts. In a 1,000-page indictment released in January, investigators alleged that he and other airline executives conspired with bank officials to transfer the funds overseas.
Known for his flamboyant lifestyle, Mallya in December threw a bash for 600 people to celebrate his 60th birthday at a five-star Indian beach resort at the same time he owed $120 million in salaries to employees of his failed airline.
In 2008, he spent more than $110 million on a professional cricket franchise. He holds a 41.5% stake in a Formula One racing team that was allegedly purchased with revenue from his airline – which prompted accusations of money laundering.
Mallya's arrest made headlines in India, although the businessman – who has not shied away from social events in London and continues to run his racing team – immediately tweeted that the news was "Indian media hype" because it is standard procedure for an extradition hearing.
Legal experts say that it is far from assured that Mallya will be extradited. The charge sheet implicating him is complicated and Britain has sent only one person to India to face charges since the countries signed an extradition treaty in 1993.
But India's governing Bharatiya Janata Party – which backed him for a parliamentary seat in 2010 – is eager to show it's getting tough on defaulters. Also, British Prime Minister Theresa May is said to be looking to find common economic and political ground with India as her country exits the 28-nation European Union.
Follow @SBengali on Twitter for more news from South Asia
Parth M.N. is a special correspondent.
ALSO
Some Turks fear the rise of a dictatorship as a referendum nears to greatly expand Erdogan's powers
Pence calls North Korea's failed missile test a 'provocation,' but White House sees no need for a response
In a surprise move, British prime minister calls for early election, hoping to show voters still back 'Brexit'
---
UPDATES:
10:45 a.m.: This article was updated to include a bail amount.
This article was originally published at 10:25 a.m.
---
Must-read stories from the L.A. Times
Get the day's top news with our Today's Headlines newsletter, sent every weekday morning.
You may occasionally receive promotional content from the Los Angeles Times.