Deep in an Indian forest, a deadly battle over wood prized in China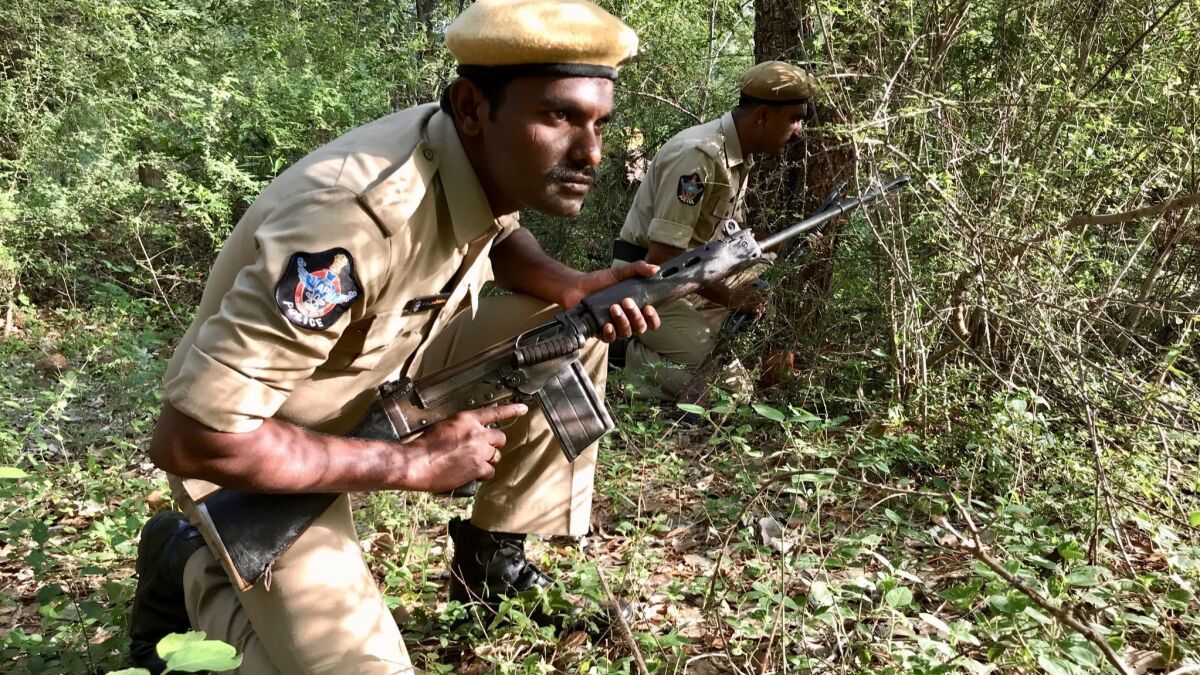 On a dry, moonless night in October, half a dozen police officers in sweatpants and sneakers crouched behind shoulder-high brush and put their fingers to their lips.
Crickets chirruped and a faint wind crackled the leaves. Vijay Narasimharao, a towering 37-year-old inspector, heard footsteps in the grass less than 100 yards away.
The crunching sound drew closer, and when another officer flicked on his flashlight, about two dozen gaunt men suddenly came into view through a thicket. They flinched in surprise.
The officers lunged as the men scattered. Narasimharao got his hands on one, who squirted out from under him and vanished into the dark.
All escaped except a 29-year-old, who was arrested for allegedly trespassing in the protected Seshachalam forest, home to the rare red sandalwood tree. The officers pulled back the collar of the man's grimy polo shirt to reveal a deep purple bruise — evidence that he'd hauled the contraband timber out of the forest on his shoulder.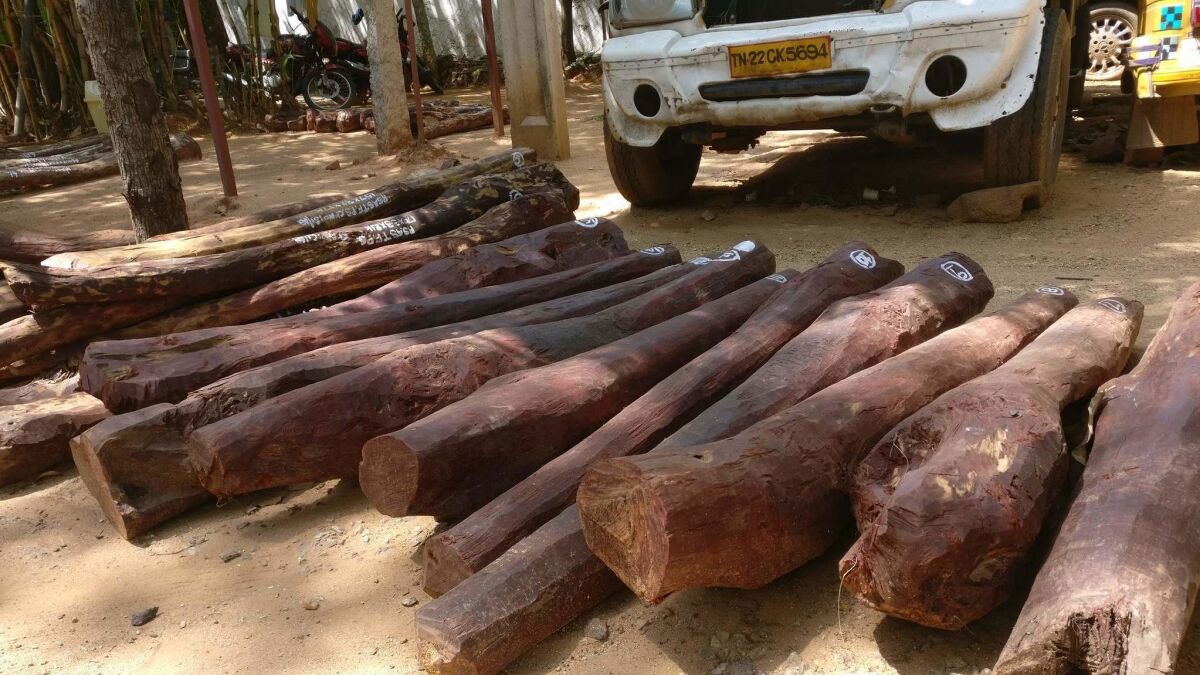 Thousands of tons of red sandalwood logs have been spirited illegally out of the vast, rolling jungles of southern India in recent years, feeding a global trafficking network stretching from the Persian Gulf to China, its most common destination, where the wood is prized for its beauty and believed to possess medicinal qualities, including as an aphrodisiac.
Chinese demand has decimated the population of red sandalwood trees in India, their only natural habitat. In 2016, a decorative folding screen fashioned from red sandalwood sold at an auction in the eastern Chinese city of Nanjing for a record price of $23 million.
Nearly 3,000 miles away, impoverished Indian laborers steal in and out of the dense Seshachalam Hills to chop down the trees for local smuggling bosses. They saw the trunks into logs weighing as much as 65 pounds and carry them out of the forest, earning about $3 per pound.
The illicit trade has placed some of the most marginalized Indians in the crosshairs of police and forest officers, provoking nighttime encounters that have sometimes turned deadly. Dozens of villagers and at least six law enforcement agents have been killed since 2012. Thousands of low-level traffickers have been arrested, many languishing for years in dank, crowded jails.
Human rights groups accuse the police of using excessive force against unarmed men and targeting indigenous tribal communities in their zeal to stop the smuggling.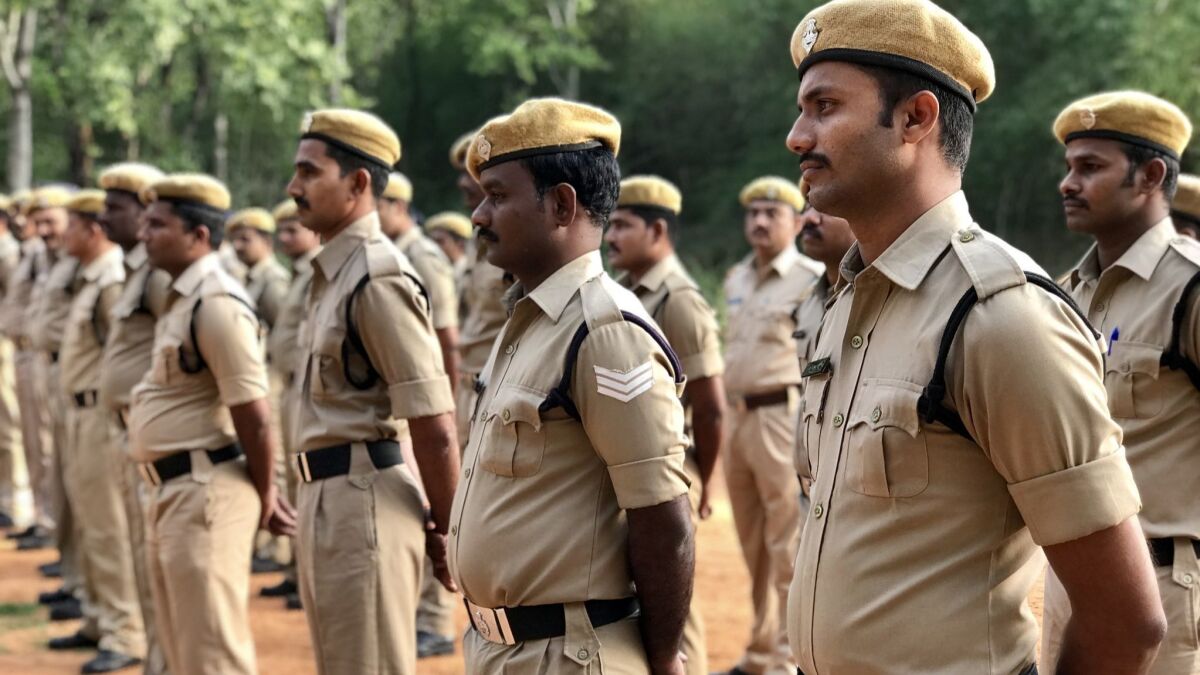 Officials deny wrongdoing and argue that their tactics have significantly reduced the cutting of the trees, known locally as red sanders.
"We feel a mandate from God to protect our forests," said M. Kantha Rao, head of the Red Sanders Anti-Smuggling Task Force, a joint unit of police and forest officers established by the state of Andhra Pradesh in 2015.
In the 12 months ending in March, the task force seized about 170 tons of red sanders logs, a 90% reduction from five years earlier. Other government agencies, including customs officials, also report a decrease in seizures — a clear sign that anti-smuggling efforts are working, although authorities acknowledge that for every pound seized, several times more are stolen.
"Can we let a few people destroy nature? We cannot," Rao said. "It is a question of preserving our national legacy."
A willowy species stretching up to 50 feet tall, with bark patterned like a crocodile's skin, the Pterocarpus santalinus is a slow-growing hardwood tree that takes 50 years or longer to reach a maximum girth of about 28 inches.
There is no accurate count of the number of trees remaining across the 2,000 square miles of arid, hilly forests that are their main habitat. The International Union for Conservation of Nature's Red List, which tracks endangered plant and animal life, describes the species as "near threatened," in part because of a lack of precise information.
Police say nearly all the tree cutters hail from tribal communities that live in nearby forests and are adept at chopping timber without machinery, using only rust-speckled axes. These tribes — which call themselves adivasis, meaning "original inhabitants" — comprise about 104 million people, more than 8% of the population, and represent the poorest segment of Indian society, with the highest rates of illiteracy and the least access to steady income.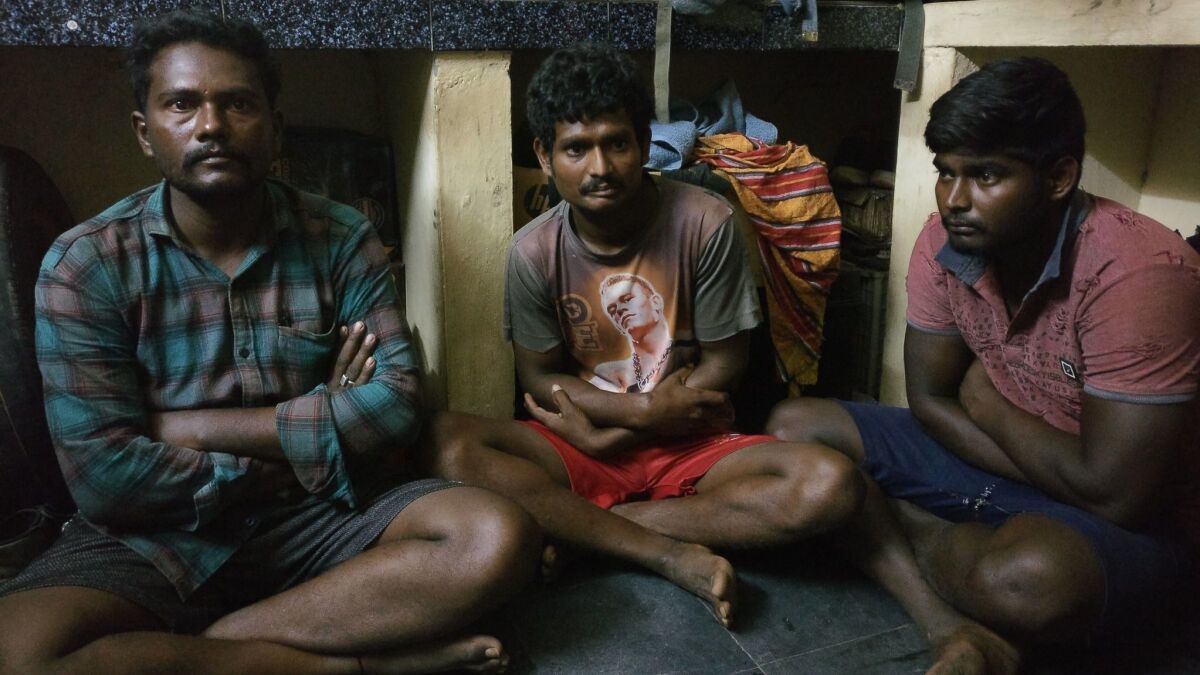 The 29-year-old arrested in the forest stakeout in October, Ashok Chinappayam, was a migrant laborer from 100 miles away in neighboring Tamil Nadu state. It was just before dawn when task force officers brought him to the small, green-painted police station next to their headquarters in Tirupati, site of a famed Hindu temple at the base of the Seshachalam Hills.
Outside the station lay a pile of about 30 red sanders logs confiscated in previous raids. Dozens of seized vehicles were parked nearby, their windshields cracked and fenders dented, giving the appearance of an abandoned used-car lot.
Trucks had been modified with compartments to stash the logs, often driven three hours away to the coastal city of Chennai under sacks of rice, flour or other goods. Inspectors in Chennai have intercepted red sanders logs labeled as granite in a sea shipment for Dubai, and stashed in a box marked teak handicrafts and bound by plane for Hong Kong.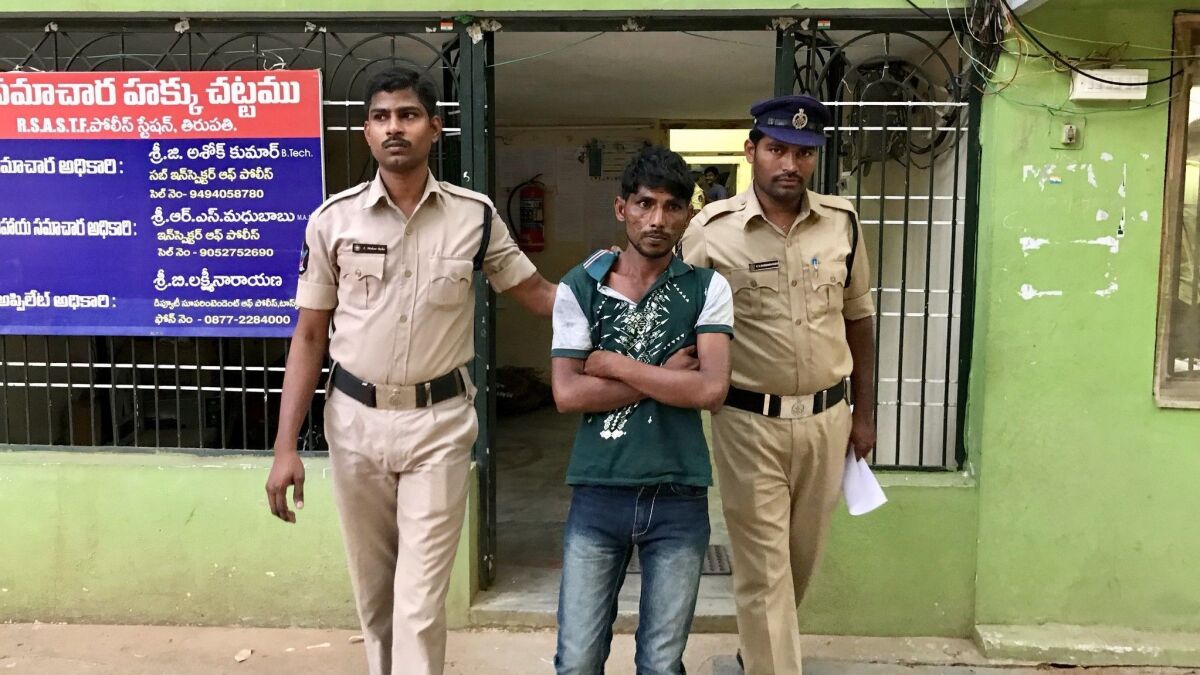 Chinappayam was held in a back room at the station, his ankle chained to a metal bedframe. Three years ago, he had served a month in jail for trespassing in the forest. Once released, he traveled to the city of Bangalore, about five hours away, to work in construction.
But he earned barely $7 a day. "I came back for the money," he said.
Rustling one log from the forest would pay more than $250.
Kranthi Chaitanya, a lawyer and human rights activist in Tirupati, has represented hundreds of men like Chinappayam.
"They're just hired hands," he said. "The ultimate victims in these cases are the poor, not the real criminals."
The task force has arrested more than 11,000 people since 2015, nearly all of them laborers. Relatively few smuggling bosses and financiers have been jailed, but they include politicians, mid-level police and customs officials and actors in the Tamil film industry known as Tollywood — a sign of the vast spread of the crime network.
At least 28 foreign nationals have also been arrested in smuggling cases, roughly half from China.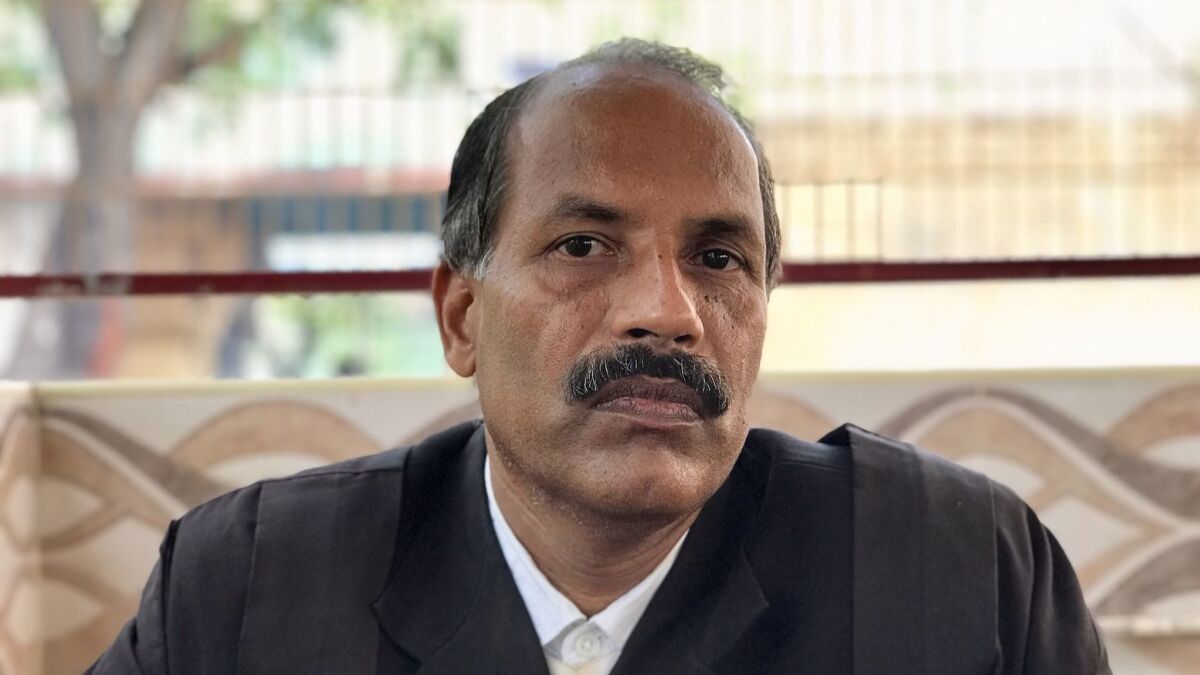 Andhra Pradesh got tough on illegal logging in 2014, after two forest rangers died of head injuries when tree cutters pelted them with rocks. Nearly 100 personnel were assigned to the task force.
One night in April 2015, less than three months after being deployed, officers said 200 laborers attacked them with stones, arrows and iron rods. The officers fired their weapons in what they said was self-defense, killing 20 people — by far the deadliest incident recorded in the forest.
An investigation led by the Indian advocacy group People's Watch found that many of the victims had bullet wounds in their necks and that their arms and legs had been bound with rope, suggesting they had been held and shot at close range.
Friends and relatives later told the advocacy group that some victims were laborers traveling to other jobs when unknown men pulled them off buses.
The investigation concluded that many of the victims "were initially abducted by police officials, and then tortured and murdered while in custody" — and the killings were sanctioned by top state officials to avenge the deaths of the forest officers. The Andhra Pradesh government has denied involvement.
"You don't send zero-tolerance messages like this," said Henri Tiphagne, executive director of People's Watch. "They treat these people like dogs."
Rao declined to discuss the allegations in detail because a case is pending in state court. But he suggested the incident had helped deter smuggling.
"No one mentions the good thing, which is that it brought the red sanders issue into the international spotlight," he said.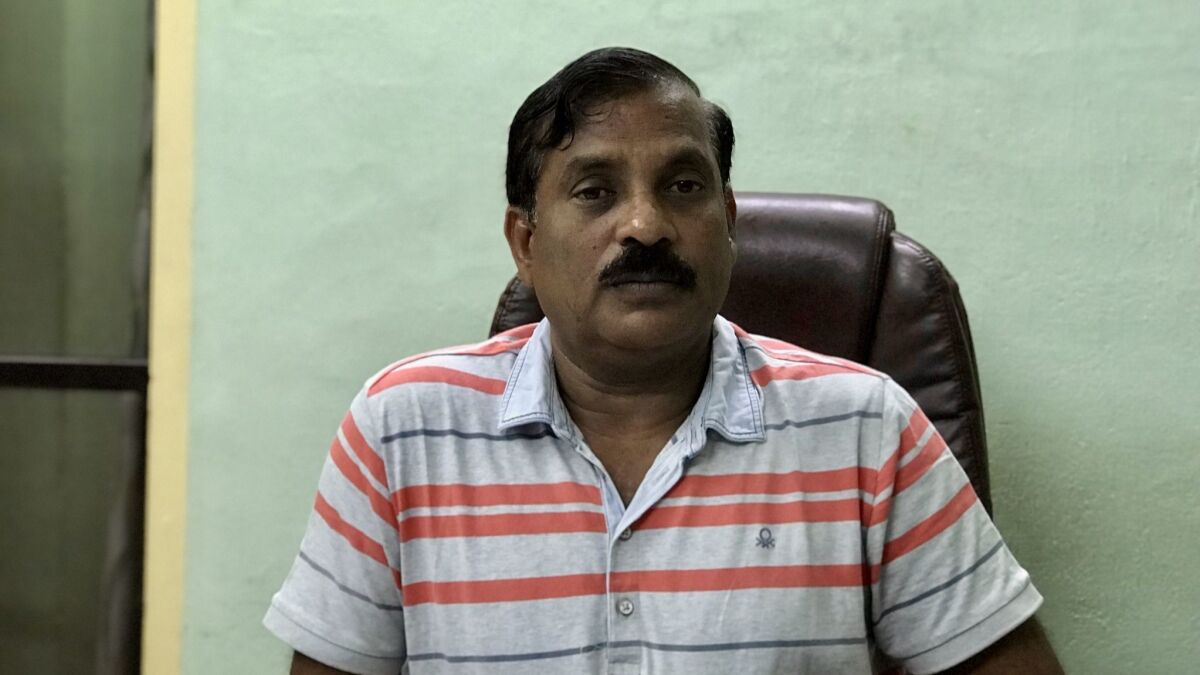 There have been no deadly incidents involving task force officers since 2015, although other agencies continue to gun people down. In September, forest rangers fired on a group that they said attacked them with stones and axes. One man was killed.
The night after Chinappayam was arrested, task force officers at another end of the forest came upon a stash of eight logs next to a clearing.
The officers lay in wait for hours. Shortly before dawn, they heard a truck approaching. They stopped the driver and found a compartment in the truck bed big enough to hold several logs.
The driver led them to two laborers who confessed to having hidden the timber. All three were brought to the police station, where one broke into tears explaining that he had taken the job to repay debts.
A police officer looked up from his notes and laughed. He said he'd heard that story before.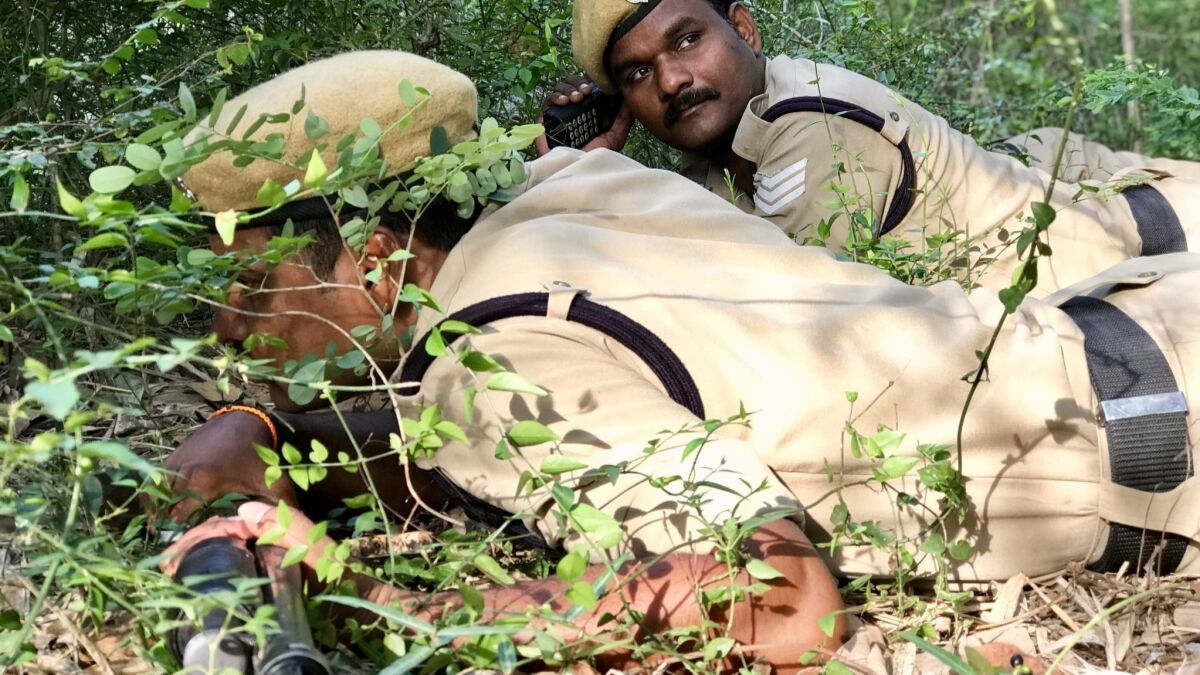 Twitter: @SBengali
Must-read stories from the L.A. Times
Get the day's top news with our Today's Headlines newsletter, sent every weekday morning.
You may occasionally receive promotional content from the Los Angeles Times.