Tokyo animal cafes offer urbanites quality time with pets
The Hapineko (Happy Cat) cafe in Tokyo's Shibuya district is so well maintained that one may be inclined to think, for a moment, that harboring more than a dozen felines in about 500 square feet is a reasonable proposition.
(Julie Makinen / Los Angeles Times)
At the Hapineko (Happy Cat) cafe in Tokyo's Shibuya district, customers pay about $13 an hour to hang out with felines. The place is kept spotless and odor-free by several attendants.
(Julie Makinen / Los Angeles Times)
Two of the residents at the Hapineko (Happy Cat) cafe in Tokyo.
(Julie Makinen / Los Angeles Times)
At Cafe Baron in Tokyo's Koenji district, customers can have coffee in the company of owls.
(Julie Makinen / Los Angeles Times)
At Cafe Baron in Tokyo's Koenji district, owls are the attraction.
(Julie Makinen / Los Angeles Times)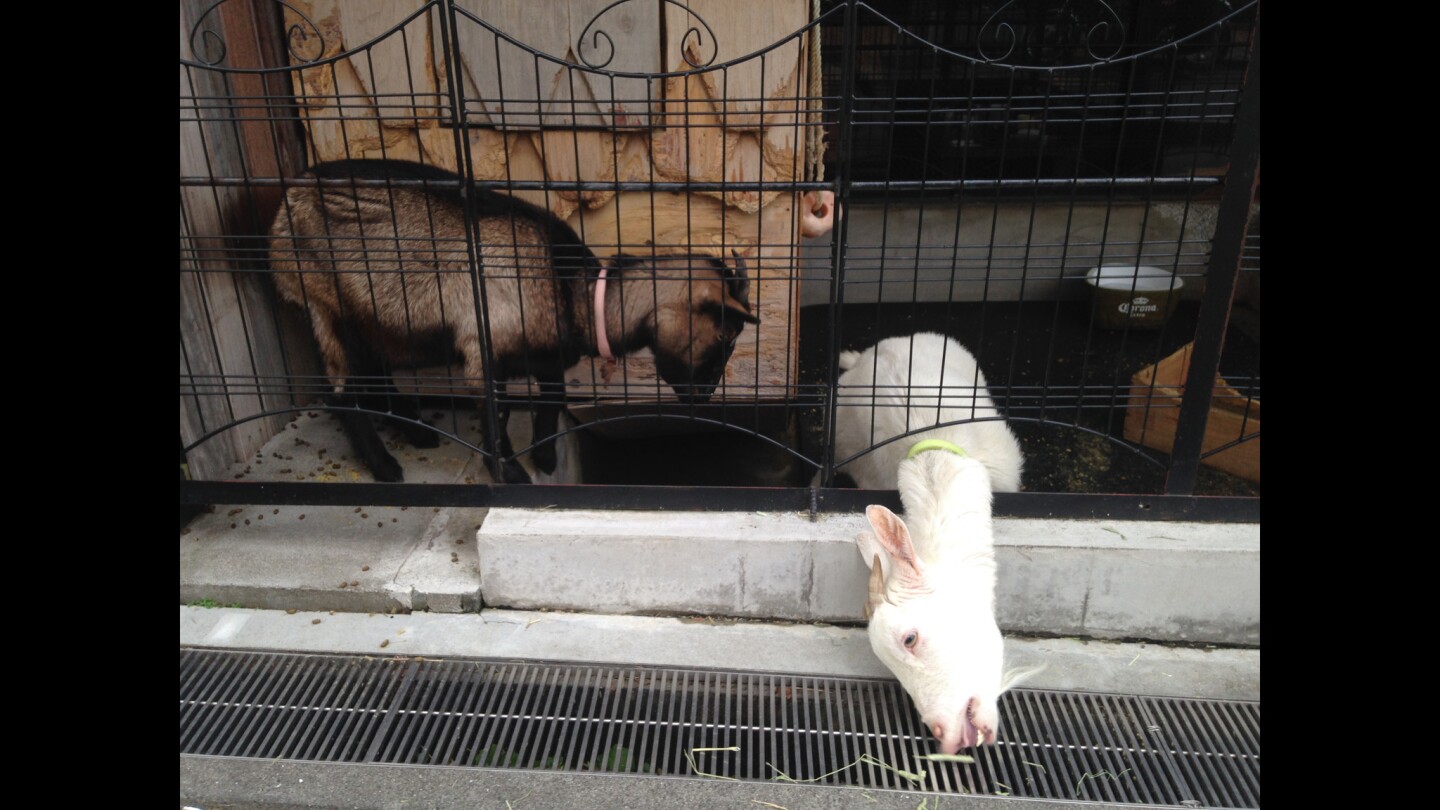 At the Sakuragaoka Cafe in Tokyo's Shibuya neighborhood, resident goats Chocolate and Sakura live in a pen by the patio. Two days a week customers can make a reservation to walk the goats in the neighborhood.
(Julie Makinen / Los Angeles Times)
Reporting from TOKYO —
Pity the poor office worker. It's midafternoon, and taking a break probably means sneaking off to the vending machine for a soda, or at best slipping out for coffee. But what about those who crave cuddle time with a cat? Or maybe a snuggle session with a bunny? A cappuccino in the company of an owl might be a hoot. Or perhaps a green tea alongside a goat....
In Tokyo, such fauna fantasies are easily fulfilled. The city has dozens of animal cafes, harboring species varying from falcons to iguanas, each aiming to inject a bit of Mother Nature into one of the world's biggest concrete jungles.
Critters and concepts vary, but the basic idea is to soothe stressed-out urbanites by offering quality time with four-legged (or two-winged) friends. Some cafes charge by the hour, whereas others require no more than a minimal purchase of food or beverage. As long as proprietors follow food safety regulations and obtain the proper permits, there's no legal barrier to putting pets on such premises.
"Our boss decided we needed to have a healing atmosphere here; this is a business district, many people are so busy, but they feel free when looking at animals," said Azusa Kawakami, who works at the Sakuragaoka Cafe in the bustling Shibuya neighborhood, a cacophonous commercial center with skyscrapers blanketed in neon and massive, noisy video screens.
Sakuragaoka Cafe features two female goats in a pen out front: a brown one named Chocolate and a white one, Sakura, or Cherry Blossom. Customers sit on the adjoining terrace and feed hay to the ruminants while munching on their own snacks. On Mondays and Fridays, the miniature goats can be walked at no extra charge.
"So far, no one in the neighborhood has complained," Kawakami said.
A few blocks away, on the third floor of a building that also houses bars and a massage parlor, the Happy Cat (Hapineko) cafe offers face time with 15 felines. An hour of lounging with the free-roaming animals costs about $13 and includes coffee or tea. The slightly ominous information sheet at the check-in counter advises that first-aid supplies are available on-site, but that the operators are not liable "for any hospital bills."
On a recent Monday evening, six customers (five of them female) had washed their hands, changed into the requisite slippers and were cooing over the kitties. Not unexpectedly, the living-room-like space was done up with cat-themed decor: pillows and posters, even a cat-shaped toilet brush in the bathroom. (Hello Kitty, though, was shockingly underrepresented.)
Three giant lint rollers were stationed at the entrance, and two matronly attendants, one wearing cat socks, ensured that the sofas and other surfaces remained fur-free. Litter boxes were sequestered in a separate room, and several air filters kept odors entirely at bay. It was enough to make one think, for a moment, that harboring more than a dozen felines in about 500 square feet was a reasonable proposition.
No catfights broke out on a recent Monday, and the space was surprisingly serene.
"It's quite bizarre; disturbingly quiet but relaxing," remarked Lauren Sparks, a tourist from Northampton, England. "It's nice to escape the hustle and bustle of the city here. Some of the cats could be a bit friendlier, but I would recommend it."
The animal cafe trend began more than six years ago, primarily with cat cafes, but has since spread its wings. There's the Falconer's Cafe, home to falcons, hawks and owls, and the Kotori Cafe, which features parrots, parakeets, sparrows and cockatoos. Another outfit featuring bunnies at two branches is called Ra.a.g.f., which stands, inexplicably, for "Rabbit and Grow Fat."
Notably lacking are canine cafes. But the city of Yokohama has the Subtropical Teahouse Reptile Cafe, where giant tortoises cavort in a play area, and snakes, lizards and amphibians are on display.
At the Ra.a.g.f. branch in Harajuku, $6 covers a beverage and 30 minutes with Flopsy, Mopsy and Cotton-tail; for $1.30, you can buy a small bowl of carrots, apples and greens to feed them. In all, the cafe has about a dozen bunnies to pet, though only one is allowed out of the cages at a time.
"Otherwise they fight or try to mate," explained one clerk.
Unlike Ra.a.g.f., which also offers animals for sale (the going rate seemed to be about $220 per rabbit), Cafe Baron in the Koenji neighborhood does not make its owls or lizards available for purchase. Touching them is discouraged as well. But just sipping coffee and marveling at the magnificent birds — two great gray owls named John and Jack, a Ural owl, Charlie, and a barn owl, Baron — apparently proves delightful enough for most customers.
Like Happy Cat, Cafe Baron had a hushed, almost sanctuary-like ethos, with the birds at rest on perches or the backs of chairs. On one table, a small photo album featured snapshots of Baron as an owlet — napping in a box, being bathed and playing under a sheet.
The white-bearded cafe owner declined to provide his name but was more than happy to talk about the owls at great length (three came from England, and he has 11 others at home). "Once you train them, they're just like dogs," he said; the shop, in its three years, "has never had an accident."
"People ask me, why do you have owls?" he said, as one of the majestic great grays perched on his shoulder, its head swiveling to and fro. "I say, 'Why do you have dogs or cats?' It's the same thing. They're just wonderful animals."
Twitter: @JulieMakLAT

---
Must-read stories from the L.A. Times
Get all the day's most vital news with our Today's Headlines newsletter, sent every weekday morning.
You may occasionally receive promotional content from the Los Angeles Times.