Big quake hits northern Japan, leaving 9 dead, 30 missing
Reporting from BEIJING, CHINA —
Japanese authorities rushed 25,000 military and police personnel to Hokkaido island in a massive rescue effort after a powerful earthquake triggered landslides and buried houses.
Nine people were killed on the island in northern Japan and 31 were missing, as authorities warned of the possibility of more quakes in coming days. The earthquake capped off a deadly summer season that saw hundreds die in floods, landslides and a heatwave.
The magnitude 6.7 earthquake struck at 3:08 a.m., destroying houses and leaving many on the island of 2.9 million households without power. The town of Atsuma on the southern part of the island was the hardest hit. There, houses were buried as mountainsides collapsed.
Four of the dead and the 31 missing were residents of Atsuma, according to Japanese officials. More than 300 were injured in the quake.
The epicenter of the earthquake was 40 miles southeast of Sapporo, Hokkaido's largest city, according to the Japan Meteorological Agency. Minutes after the initial quake, an aftershock measuring 5.3 struck the area.
Thursday's earthquake came as Japan was still reeling from Typhoon Jebi, which hit the west of the nation Tuesday, killing 11 people and injuring 200.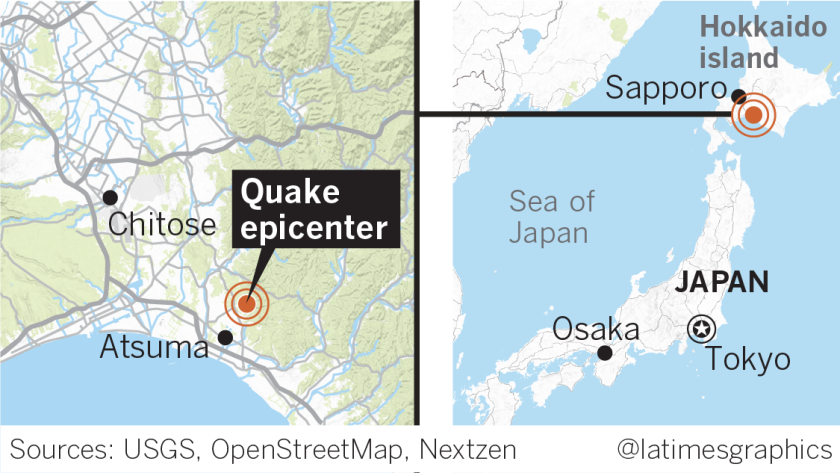 Prime Minister Shinzo Abe said the government had set up an emergency command center to coordinate rescue efforts.
"We will do our best to save lives," he told journalists.
Hokkaido had weathered the typhoon the day before the earthquake struck, leaving the soil soaked and creating the conditions for unstable mountainsides to crumble in the quake.
Buildings tilted and roads cracked in the earthquake. Aerial footage broadcast on Japanese television showed areas where the sides of mountains had collapsed, exposing bare areas of earth and toppling trees.
Nearly 2,000 people took shelter in emergency evacuation centers after the quake hit.
Electricity was restored to parts of the island by 2 p.m. Thursday, but Japan's Industry Minister Hiroshige Seko said it would take a week before power was fully restored.
Tomari nuclear power plant temporarily lost external power and switched to back-up generators, Japan's Cabinet secretary Yoshihide Suga told reporters, adding that radiation levels were normal and no leaks occurred. Power was restored to the nuclear plant some10 hours after the earthquake. None of three reactors was operating and spent fuel rods were being stored in a cooling pond at the plant.
The nuclear plant has largely been offline since a 2011 tsunami and nuclear catastrophe triggered by a powerful earthquake. The 2011 tsunami flooded generators in the Fukushima Daiichi nuclear power plant, leading to a reactor meltdown. It also swamped coastal cities, killing an estimated 20,000 people.
Thursday's earthquake did not trigger a tsunami.
New Chitose Airport, the island's main airport, was closed because of the earthquake after the ceiling partly collapsed. Other transport services including bullet trains were halted.
Typhoon Jebi closed another major airport in Kansai western Japan on Tuesday, where approximately 3,000 people were forced to shelter overnight after the airport's only access bridge was closed when a tanker slammed into it. The typhoon battered western Japan with winds strong enough to rip off roofs and overturn cars.
Authorities warned people to stay indoors and to avoid dangerous areas because of the risk of further seismic activity and landslides.
Japan has suffered a summer of grief with successive deadly natural events killing hundreds. In June, an earthquake rocked Osaka city during the morning rush hour, leaving at least five people dead and injuring more than 400.
Heavy rains caused flooding in western Japan in early July, killing at least 221 people, as landslides buried houses. Thousands had to flee their homes.
Weeks later, a heatwave baked the country, killing at least 116 people — many of them elderly — and hospitalized thousands.
This week came Typhoon Jebi, then Thursday's earthquake.
---
UPDATES:
7:45 a.m.: This article was updated throughout with staff reporting.
5:15 a.m.: This article was updated with the latest death toll and information about recovery efforts.
This article was originally published at 12:40 a.m.
---
Must-read stories from the L.A. Times
Get the day's top news with our Today's Headlines newsletter, sent every weekday morning.
You may occasionally receive promotional content from the Los Angeles Times.