YouTube star apologizes after being slammed for sharing suicide video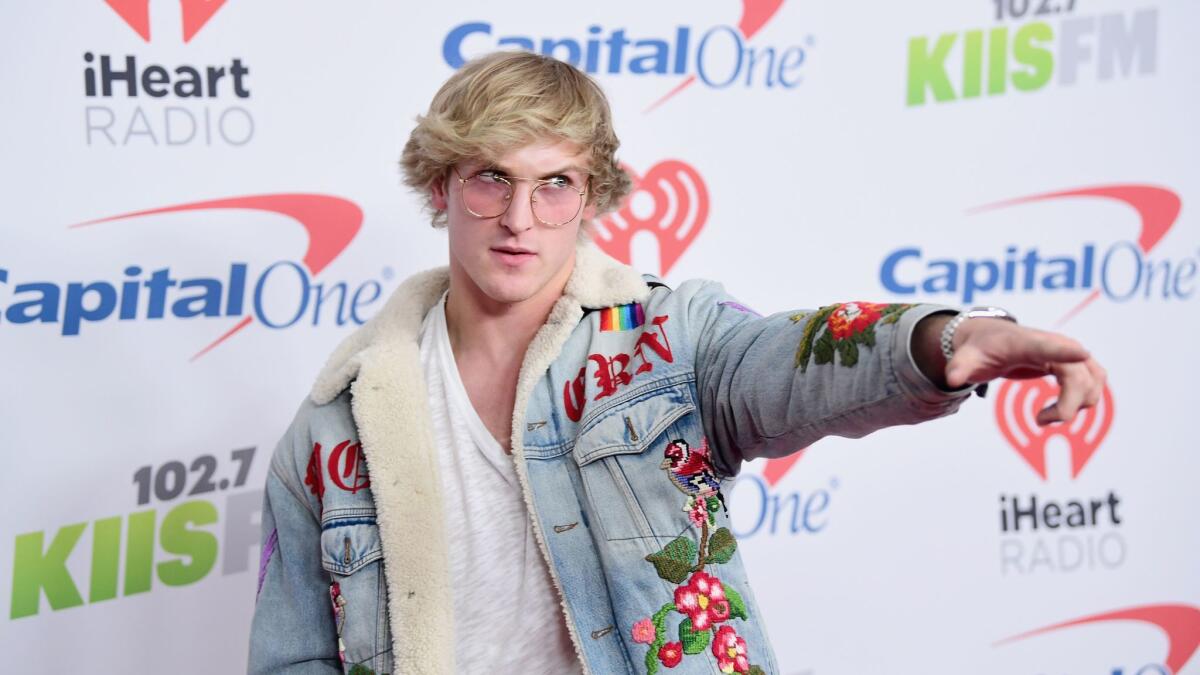 A popular American video blogger apologized on Tuesday after facing an avalanche of criticism for sharing a video that showed a body hanging from a tree in a Japanese forest known as a location for suicides.
Logan Paul, 22, who has millions of followers on YouTube, posted his emotional mea culpa on Twitter, acknowledging that he should never have posted the video and admitting "a severe and continuous lapse" in judgment.
"From the bottom of my heart, I am sorry," said Paul, of Westlake, Ohio. "Most importantly, I want to apologize to the victim and the family."
The video, posted Sunday but since taken down, reportedly showed Paul "giggling and joking" about the body as he and friends hiked in the Aokigahara forest, near Mt. Fuji, the Associated Press reported. Other media reports described how Paul zoomed in on the victim's hands and pockets that showed a wallet.
Viewers were outraged.
"How dare you. You disgust me," tweeted Aaron Paul, a self-described "storyteller" with the Twitter handle @aaronpaul_8. "I can't believe that so many young people look up to you. So sad."
Others called for the YouTube star to be permanently banned from the social media site.
"Can we start 2018 by removing all Logan Paul content from the internet?" tweeted Andrew Reiner, described in his profile as the executive editor of Game Informer, a monthly video game magazine.
Suicide is a particularly sensitive topic in Japan, where the rate of people taking their own lives is among the highest in the world. The practice does not carry the same taboo as in many other cultures. For example, in old Japanese society taking one's own life was considered acceptable among warriors who suffered defeat in battle.
The forest where Paul shot his video has long been known for suicides because it is easily accessible and easy to hide in.
On Tuesday, YouTube issued a statement expressing sympathy for the family and stating that the site prohibits "violent or gory content posted in a shocking, sensational or disrespectful manner."
"If a video is graphic, it can only remain on the site when supported by appropriate educational or documentary information and in some cases it will be age-gated," the statement read. "We partner with safety groups such as the National Suicide Prevention Lifeline to provide educational resources that are incorporated in our YouTube Safety Center."
In November, Twitter announced new global guidelines concerning posts on self-destructive behavior. The move came as the search for Tokyo resident Aiko Tamura, who tweeted her desire to commit suicide, led to the discovery of the remains police say were the nine victims of a serial killer. Some believe the man may have used the social media platform to lure his victims. Tamura, 23, was among the dead.
Twitter has ruled that users "may not promote or encourage suicide or self-harm."
In his apology, Paul said he and his companions did not know how to react or feel when they came across the body hanging in the tree.
"The reactions that you saw on tape were raw, they were unfiltered," he said. "I should have never posted the video. I should have put the cameras down and stopped recording what we were going through."
Paul insisted that he did not post the video as click bait, but said he thought he could "make a positive ripple on the internet, not cause a monsoon of negativity."
The video blogger's explanation did not cut it for many, with some describing it as insincere and others calling it a pitiful ploy to attract more followers and make a profit.
"He quite literally made money off of a suicide victim," tweeted actor Zach Braff, adding that "the controversy will bring him millions of views. The choice to be evil was monetized."
Paul told die-hard fans, some of whom defended his actions, not to do so.
"I made a huge mistake," he said. "I don't expect to be forgiven…. I'm ashamed of myself. I'm disappointed in myself and I promise to do better."
To read the article in Spanish, click here
For more on global development news, see our Global Development Watch page, and follow me @AMSimmons1 on Twitter
Sign up for Essential California for news, features and recommendations from the L.A. Times and beyond in your inbox six days a week.
You may occasionally receive promotional content from the Los Angeles Times.