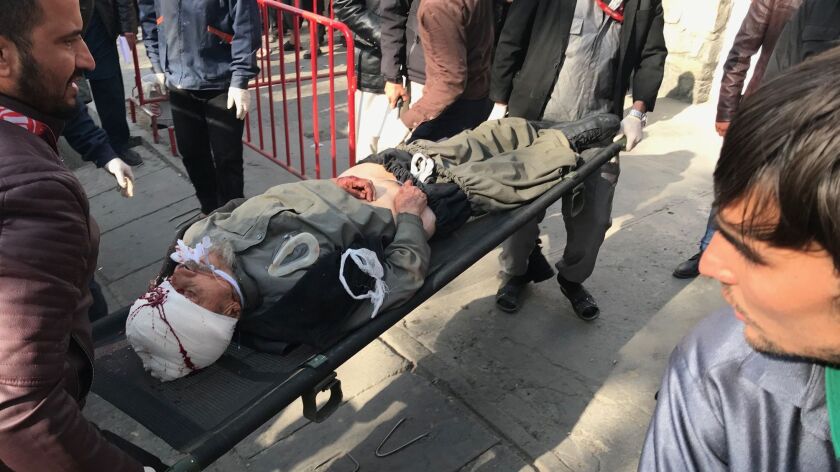 Reporting from KABUL, Afghanistan —
A Taliban suicide bomber detonated explosives stuffed into an ambulance he drove past a security checkpoint on Saturday, killing 103 people and injuring more than 150. It was the second massive attack in a week on a well-secured location in Afghanistan's beleaguered capital.
The attacker got past the security checkpoint by telling officers he was taking a patient to the hospital, said Nasrat Rahimi, deputy spokesman for the Afghan Ministry of Public Health. He detonated the explosives at a second checkpoint, officials said.
The blast damaged multiple buildings in the area and was heard across Kabul.
The toll climbed sharply throughout the day, making the blast one of the deadliest in the 16-year war in Afghanistan. It came a week after Taliban militants attacked Kabul's six-story Intercontinental hotel and killed 22 people in an hours-long siege that ended only after Afghan and U.S. special operations forces conducted a room-to-room search and found the attackers and several guests had escaped by jumping off balconies.
Several American citizens were killed or wounded in the hotel attack, Afghan officials said.
The scale of Taliban attacks has increased in recent months despite a surge in U.S. troops advising Afghan forces and assurances from U.S. military commanders that the coalition troops are turning the tide in the war.
Saturday's attack took place in the early afternoon between two checkpoints leading to Jamhuriat Hospital, a 350-bed facility built by China a decade ago. Surrounding it is a bustling neighborhood housing government buildings as well as commercial streets lined with poultry vendors and shops, where many office workers were milling about.
Mohammad Halim, a 56-year-old public servant who was standing near the hospital gate, said the blast knocked him to the ground and left him unconscious.
When he awoke, he saw "a horror scene."
"Everywhere was full of dark smoke, and I couldn't hear anything," Halim said. "After a few minutes, I saw dozens of people lying on the ground."
Many of the injured were taken to Emergency hospital, an Italian-run charity facility that treats war victims and was so deluged it had to turn some patients away.
"It's a massacre," the charity's coordinator in Afghanistan, Dejan Panic, said on Twitter.
Outside Emergency hospital, Mohammad Naser, a 44-year-old employee of a nongovernmental organization, said he was watching TV footage of the blast site when he recognized his cousin being taken away in an ambulance.
"I was shocked," he said. "I rushed to the hospital to see him, but you can see the crowd here at the gate. I could only find his name on a list of the wounded."
In a statement, U.S. Ambassador John R. Bass condemned the attack, calling it a "senseless and cowardly bombing."
The death toll was the highest in a single attack in Afghanistan since June, when a truck bomb exploded outside the German Embassy in Kabul, near an entrance to the so-called Green Zone that houses many government and diplomatic buildings.
Special correspondent Faizy reported from Kabul and Times staff writer Shashank Bengali from Mumbai, India.
Shashank Bengali is South Asia correspondent for The Times. Follow him on Twitter at @SBengali
---
UPDATES:
10:15 a.m., Jan. 28: This article has been updated with death toll rising to 103.
11:35 a.m.: This article was updated with additional details of the attack.
7:05 a.m.: This article was updated with 95 dead and 158 wounded.
5:40 a.m.: This article was updated throughout with staff reporting and additional quotes.
4:35 a.m.: This article was updated with 63 dead.
2:35 a.m.: This article was updated to report the bomber used an ambulance.
2:20 a.m.: This article was updated with 40 dead.
1:55 a.m.: This article was updated with 17 dead, 110 wounded.
1:35 a.m.: This article was updated with 70 wounded.
1:20 a.m.: This article was updated with 18 wounded.
This article was first published at 1 a.m.
---