Myanmar frees two Reuters journalists who were imprisoned for more than 500 days
Reporting from Yangon, Myanmar —
Myanmar freed two journalists from the Reuters news agency on Tuesday after imprisoning them for more than 500 days for reporting on military atrocities against Rohingya Muslims.
Wa Lone and Kyaw Soe Oo walked out of Insein prison outside Yangon, Myanmar's largest city, about 9 a.m., into a throng of journalists and onlookers who snapped pictures and slapped the men on their backs.
Wearing traditional Burmese sarongs, they smiled and waved to supporters before being whisked to a joyous reunion with their wives, young daughters and colleagues at a Yangon hotel.
"I'm really happy and excited to see my family and my colleagues, and I can't wait to go [back to] my newsroom," Wa Lone said outside the prison.
Myanmar's prosecution of the reporters under the century-old Official Secrets Act earned international condemnation and was widely seen as an effort to muzzle critical reporting on the state-backed offensive against the Rohingya, which sent hundreds of thousands of refugees fleeing into Bangladesh and sparked a humanitarian emergency.
Wa Lone, 33, and Kyaw Soe Oo, 29, uncovered a massacre of Rohingya civilians in the village of Inn Din, in northern Rakhine state, that undercut Myanmar's denials that the army was complicit in the killings that began in August 2017. A United Nations official described the slaughter in Rakhine as "a textbook example of ethnic cleansing," but verifying refugees' harrowing accounts of the violence has been difficult because Myanmar has blocked nearly all independent access to the area.
'I didn't want this baby': Rohingya rape survivors face a harrowing choice »
After the pair were arrested in December 2017, testimony at their trial indicated that police officers had entrapped the men by inviting them to a meeting and handing them documents allegedly linked to the army campaign in Rakhine.
They were convicted under the British colonial-era 1923 secrets act for obtaining official documents that could be "useful to an enemy," and each was sentenced to seven years in prison.
While the men sat in jail, Reuters continued its reporting and eventually published an extensive article on the killings at Inn Din that described soldiers and villagers executing 10 Rohingya men and burying them in a shallow grave. Last month, the reporters and their Reuters colleagues were awarded a Pulitzer Prize for coverage of the campaign against the Rohingya.
"We are enormously pleased that Myanmar has released our courageous reporters, Wa Lone and Kyaw Soe Oo," said Reuters editor in chief Stephen Adler. "Since their arrests 511 days ago, they have become symbols of the importance of press freedom around the world. We welcome their return."
Foreign diplomats, human rights groups and press freedom advocates condemned the convictions and described the trial as deeply flawed. Last month, the Supreme Court in Myanmar, also known as Burma, denied the reporters' appeals.
They were released Tuesday under a presidential amnesty that included more than 6,500 other prisoners.
"I would like to thank the international community and the diplomats who have been standing with us since the start," their lawyer Khin Maung Zaw said.
Even as Wa Lone and Kyaw Soe Oo became the focus of a global campaign for press freedom, Myanmar's government led by Nobel Peace Prize laureate Aung San Suu Kyi had steadfastly ignored calls for clemency. A former democratic icon who led Myanmar's struggle against a half-century of military rule, Suu Kyi has dismayed her onetime admirers for backing the assault against the Rohingya.
Since winning elections in 2015, Suu Kyi has presided over a growing number of criminal prosecutions of writers, artists and activists for allegedly insulting the government or military.
"These courageous investigative journalists should have never been arrested, much less imprisoned, in the first place and their release was long overdue," said Phil Robertson, deputy Asia director for Human Rights Watch. "But the crisis is not over for the literally dozens of other Burmese journalists and bloggers who are still facing baseless criminal charges for their reporting."
Activist Thinzar Shunlei Yi was among more than a dozen activists arrested during a protest last year calling for an end to the conflict in Kachin state, where government forces had launched an offensive against an ethnic rebel group. She was freed but is awaiting trial on charges of violating laws meant to stifle public demonstrations.
The activist said the amnesty doesn't expunge the journalists' convictions, serving as a message to others who would criticize the government.
"It's incredible and unbelievable that they are out … but I am sad that they didn't receive justice under the law," she said. "There will still be people who regard them as criminals because the government is not standing for the truth."
The reporters have few vocal defenders inside Myanmar, a country deeply fractured along ethnic lines, where many in the majority Buddhist population believe government propaganda that the Rohingya are Muslims who immigrated illegally from Bangladesh.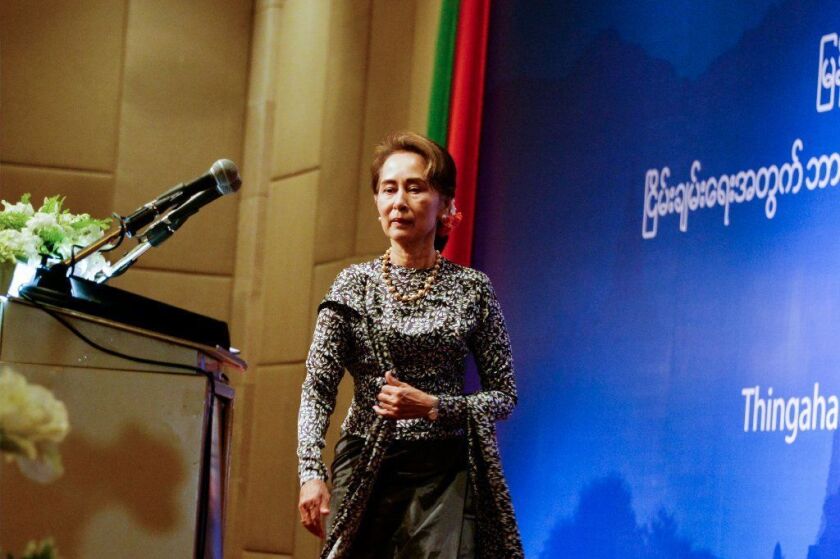 Suu Kyi's defenders say her powers are limited under Myanmar's constitution, which grants the army control over national security-related matters. But Suu Kyi has consistently refused to defend the rights of Rohingya civilians and often lashed out when questioned on her commitment to democratic rights and press freedom.
Last year, longtime U.S. diplomat Bill Richardson said Suu Kyi grew "furious" when he brought up the case of the Reuters reporters in a meeting on the Rakhine crisis. Richardson would eventually resign from an international advisory panel, telling Reuters that Suu Kyi lacked "moral leadership."
Khin Zaw Win, a former political prisoner who is director of the Tampadipa Institute, an independent think tank in Yangon, a city also known as Rangoon, said Suu Kyi could have released the reporters long ago.
"She's known as someone who bears these grudges, and in her reckoning she thinks that these two journalists had tried to demolish the story she has had all along that the Rohingya crisis didn't happen," he said.
"She wants to show that it's she who decides, and she expects everyone to be grateful to her for releasing them. ... But it doesn't do anything to refurbish her image. Her image is gone. She's not a democratic icon anymore. All that she's done is gone, and it can't be salvaged."
Special correspondent Diamond reported from Yangon and Times staff writer Bengali from Singapore.
---
Must-read stories from the L.A. Times
Get the day's top news with our Today's Headlines newsletter, sent every weekday morning.
You may occasionally receive promotional content from the Los Angeles Times.