North Korea says it's ready for war, but Pyongyang remains a city of orderly calm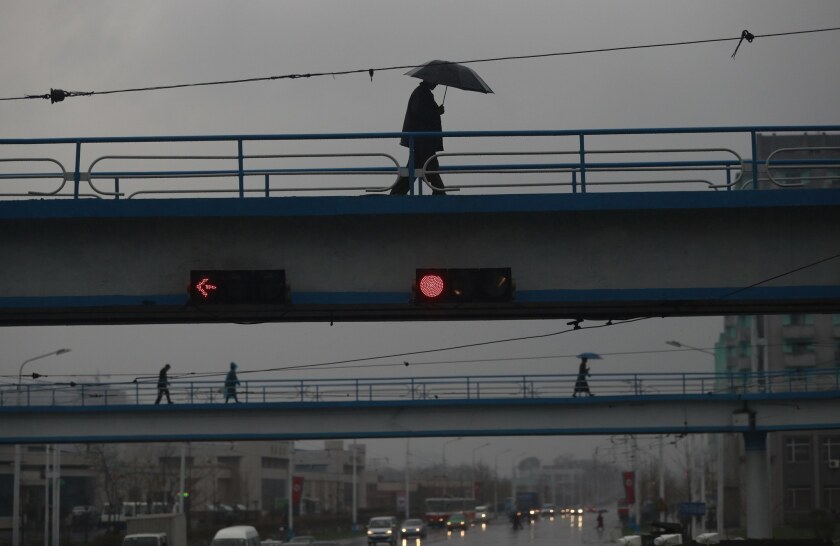 Reporting from Pyongyang, North Korea —
North Korea is expected to test a missile or nuclear weapon as early as Saturday — the 105th birthday of the country's late founder Kim Il Sung — and anxiety is mounting.
President Trump has moved a Navy strike group to the Korean peninsula. Vice President Mike Pence was scheduled to travel to South Korea on Saturday. Japan has issued a warning over North Korea's suspected chemical weapons capabilities, with officials in Tokyo discussing how to evacuate the country's 60,000 citizens from North Korea.
Chinese foreign minister Wang Yi warned Friday morning of "storm clouds" gathering over the Korean peninsula, saying that "tit-for-tat threats between the United States and North Korea with daggers drawn has created a dangerous situation worthy of our vigilance."
In Pyongyang, vice minister Han Song Ryol accused the United States of fomenting the trouble and vowed, "We will go to war if they choose.''
Yet for all its bluster, Pyongyang remains a city of orderly calm. Residents stroll to and from work, water their flowers on small balconies and rehearse in large crowds for a massive military parade slated for Kim's birthday.
On Friday morning, at Mangyongdae, Kim's birthplace — a thatch house on a grassy field — dozens of army officers filed past pristine displays of Kim's family's agricultural tools, their heads bowed in reverence.
On Pyongyang's spartan subway, passengers sat quietly, staring straight ahead as propaganda messages blared from a small television screen. One, Rim Daesong, a 28 year-old official, said that he wanted Trump "to withdraw the troops of the U.S. Army from South Korea," parroting an age-old North Korean demand. No pedestrians showed any outward signs of heightened anxiety.
In the evening, a group of foreign visitors invited to the capital for the anniversary observances descended on the Children's Palace, a Brutalist gray edifice on the city's southwestern edge.
Inside, the building had balloon-like lights and bright, colorful trim, calling to mind a kindergarten. In a series of austere rooms, children as young as 11 performed with virtuosic skill under the close watch of steely-eyed teachers. They danced, played accordion and sang songs glorifying Kim, his son Kim Jong Il, and his grandson, North Korea's current Supreme Leader, Kim Jong Un. They made no mistakes. Their parents were nowhere to be seen.
One official in the building said that the children were rehearsing, not performing. But when asked what they were rehearsing for, he drew a blank. In North Korea, three generations of Kim family rule have imposed an entrenched personality cult, where any signs of dissent — or even disenchantment — can carry unspeakable consequences.
The children were clearly performing; but they may not have been the only ones.
Times staff writer Barbara Demick contributed to this story from New York.
For more news from Asia, follow @JRKaiman on Twitter
ALSO
Why one leader called a gleaming new Pyongyang neighborhood 'more powerful than 100 nuclear warheads'
Here's what could go wrong in North Korea
Want to know what it's like here in North Korea? Send us your questions
---
Must-read stories from the L.A. Times
Get all the day's most vital news with our Today's Headlines newsletter, sent every weekday morning.
You may occasionally receive promotional content from the Los Angeles Times.