Obama heads to India to revive 'pivot to Asia' policy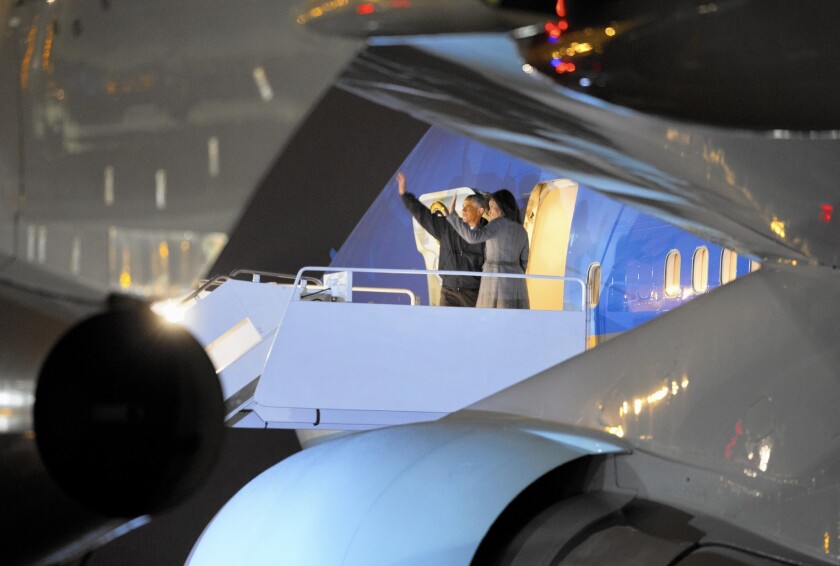 Reporting from Washington —
Just two months after his last trip to Asia, President Obama left Saturday for a three-day visit to India that includes no world summits, no major decisions to make and a relaxed schedule designed mainly to give plenty of chances for dinner and conversation with the country's popular new prime minister.
The India itinerary, unusual for the normally frenetic White House, is meant to drive home a message about Obama's intentions for his foreign policy in the last two years of his presidency: His repeatedly delayed "pivot to Asia," a reorientation of policy priorities and military and diplomatic interests, is finally happening.
"He wants people to realize this is an important commitment," said one advisor familiar with the plans.
The White House announced the strategic rebalance in 2011 when it foresaw the end of large troop deployments in the Middle East. The renewed emphasis on U.S. engagement in Asia intended to cultivate trade and counteract the territorial ambitions of China.
The strategy was put on hold as the Obama administration dealt with urgent problems elsewhere, including the rise of Islamic State militants in Iraq and Syria and Russia-fueled unrest in Ukraine. The cancellation of a 2013 trip to Asia because of a budget crisis in Washington also left allies on the continent questioning the depth of the American commitment to the region.
Obama tried to reassure them during two long rounds of summits in Asia in 2014. This trip is meant to further deliver on that promise.
"He's not just checking a box," the advisor said.
In a series of closed-door meetings, Obama will discuss with Prime Minister Narendra Modi their countries' shared security arrangements, perhaps working out a renewal of the expiring 10-year defense framework, and attempt to make progress on climate and nuclear goals that could eventually lead to breakthroughs.
The trip will also include several cultural stops. Obama will visit the memorial to Mohandas Gandhi in New Delhi and will join Indian President Pranab Mukherjee to see a local performance. Obama also had planned to visit the Taj Mahal but canceled that stop and will instead fly to Saudi Arabia to pay his respects to the family of the late King Abdullah.
The trip's impetus, itself highly symbolic, sets it apart from other Obama journeys, which are typically loaded with high-impact meetings with little time for leisurely cultural observances.
On Monday, Obama is scheduled to sit in public for an hours-long parade honoring Republic Day, the anniversary of India's constitution, which features a long procession of military bands, horses, camels, floral displays and floats. The request to participate came personally from Modi, and Obama, who barely sat still for his own inaugural parades, somewhat surprisingly said yes.
Also notable is that the respect-paying events make up the bulk of the schedule after the one-on-one meetings are out of the way.
First Lady Michelle Obama is making a rare trip away from her daughters while school is in session to participate in a formal state dinner and other ceremonial events with the president.
Despite some rockiness in relations between the two countries, analysts say, the two leaders are looking to find common ground.
"There have been concerns about what happened to the pivot," said Tanvi Madan, director of the India Project at the Brookings Institution in Washington. "And there was concern about India's role in it. … But both are on the same page and don't want to see China be the hegemon in Asia and the U.S. to have a minimum role. They do agree on that."
A number of senior U.S. officials have visited India in recent weeks to pave the way for Obama's trip, including Secretary of State John F. Kerry, who attended a major business convention in Modi's home state of Gujarat this month.
Indian leaders are hopeful that the U.S. will agree to greater technology sharing in the defense industry, where Indian manufacturers have long lagged, and to begin joint production of unarmed surveillance drones.
Defense contractor Lockheed Martin and the Indian manufacturer Tata are already jointly producing a limited number of C-130 cargo planes for the Indian military, but New Delhi wants the U.S. to share more advanced technology so India can produce more of the aircraft's systems domestically.
"India doesn't want this to remain strictly a buyer-seller relationship," said Sameer Patil, a security analyst at Gateway House, a Mumbai think tank. "It's about getting access to that technology."
The joint statement that came out of the last Modi-Obama meeting, in Washington in September, underscored both nations' concern about Islamist extremism, an area that analysts say could draw the U.S. and India closer together. Al Qaeda recently announced a new franchise to carry out attacks in South Asia, and a number of young Indian Muslims in recent months have been found to have traveled to Iraq and Syria to fight alongside Islamic State.
Another area in which analysts predict progress is nuclear cooperation, which has stalled since the two countries signed a landmark civil-nuclear agreement a decade ago. The U.S. has stayed away from India's nuclear sector since Parliament passed a law in 2010 that subjects companies to unlimited liability in case of a nuclear accident.
Indian and U.S. nuclear negotiators have met three times since September in an effort to find a compromise that would allow U.S. involvement, perhaps through an insurance pool that limits companies' liability. Experts say breaking the nuclear logjam is urgent because it could help India reduce its reliance on fossil fuels for energy.
The landmark carbon emissions reduction pact between the U.S. and China late last year raised hope that India, which gets 80% of its domestic energy from coal, would also agree to reduce emissions. But Indian officials have signaled that they will not do anything to slow economic growth, placing the priority on development over protecting the environment.
Advisors to Obama say they're not expecting landmark achievements out of this visit, the kind that usually mark his more businesslike overseas trips.
Instead, they're hoping to make progress that will be more tangibly realized later and to build on a budding relationship between two countries that have more in common than recent relations might suggest.
"It's long been discussed that as two very large economies and the world's two largest democracies, there's extraordinary potential in this relationship," said Ben Rhodes, deputy national security advisor to Obama. "What we want to do is turn that potential into concrete benefits for both of our peoples."
Parsons reported from Washington and Bengali from Mumbai.
---
Must-read stories from the L.A. Times
Get the day's top news with our Today's Headlines newsletter, sent every weekday morning.
You may occasionally receive promotional content from the Los Angeles Times.