Pandas removed from international endangered list, but China says they still face serious threat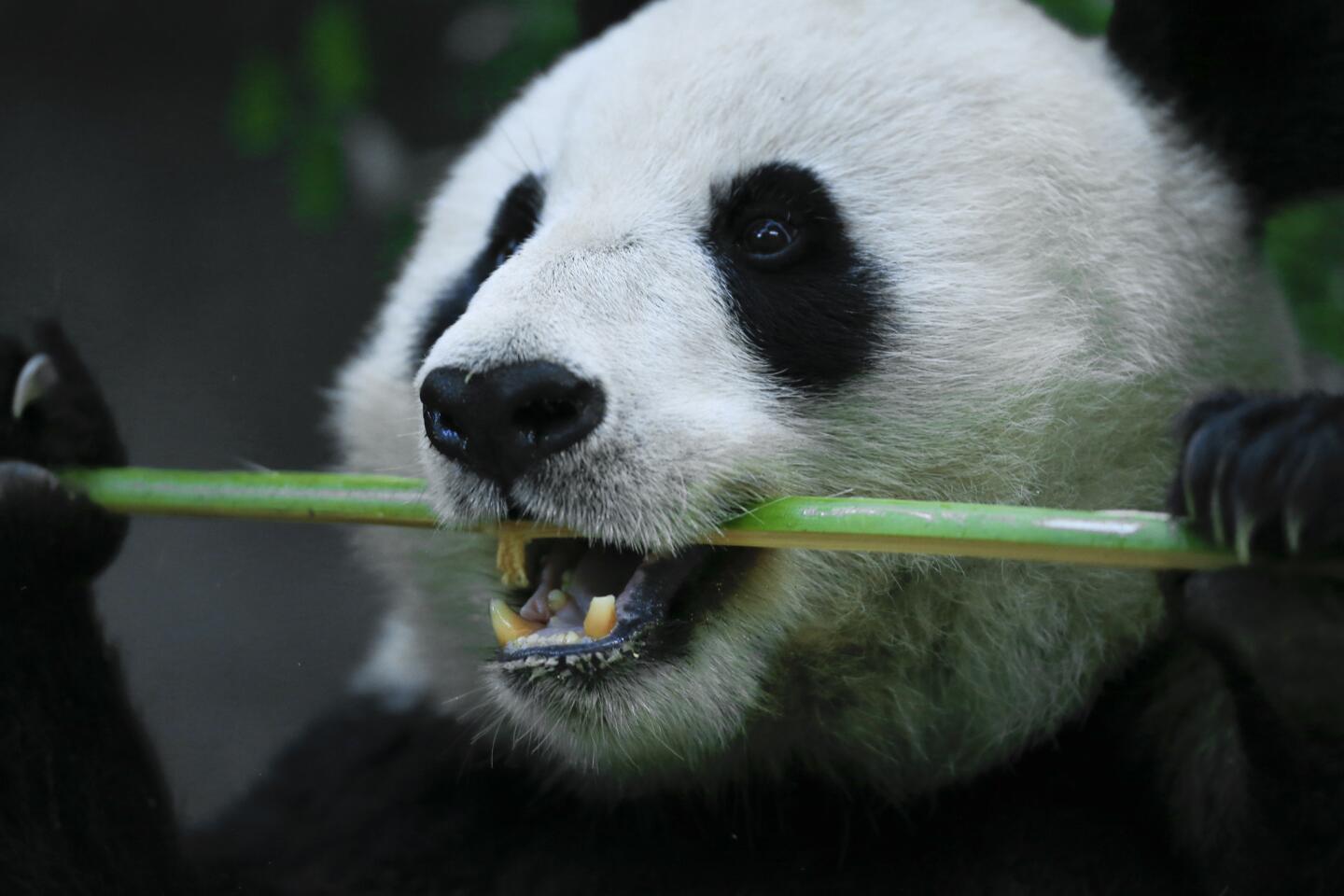 The giant pandas are a big hit at the San Diego Zoo. The Panda Trek houses four pandas that spend part of their day eating bamboo and playing and the other part sleeping.
(Mark Boster / Los Angeles Times)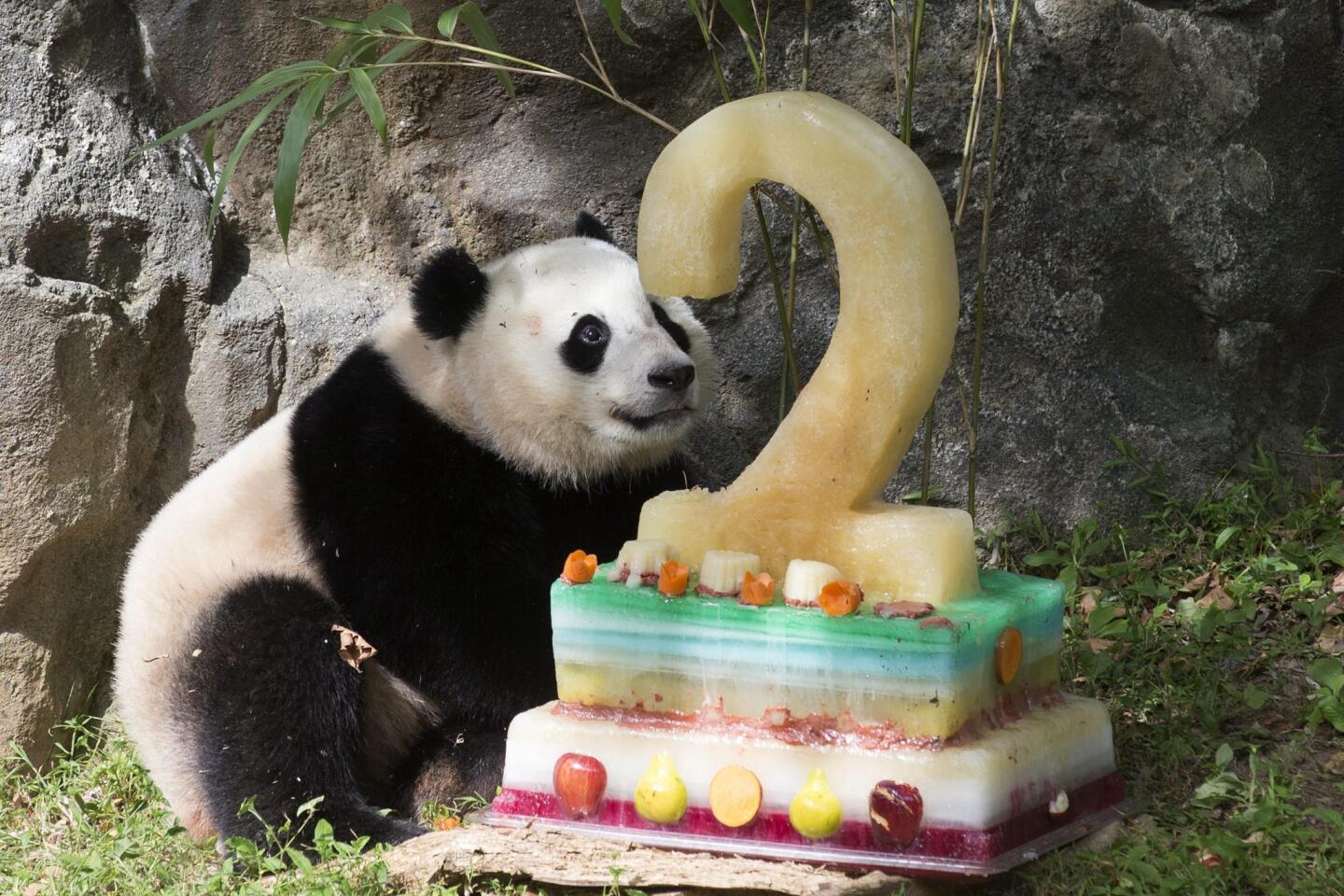 Giant panda cub Bao Bao is given a cake to enjoy on her second birthday at Smithsonian's National Zoological Park, in Washington, D.C., on Aug. 23, 2015. Bao Bao's second birthday comes a day after her mother, 17-year-old Mei Xiang, gave birth to twins.
(MICHAEL REYNOLDS / EPA)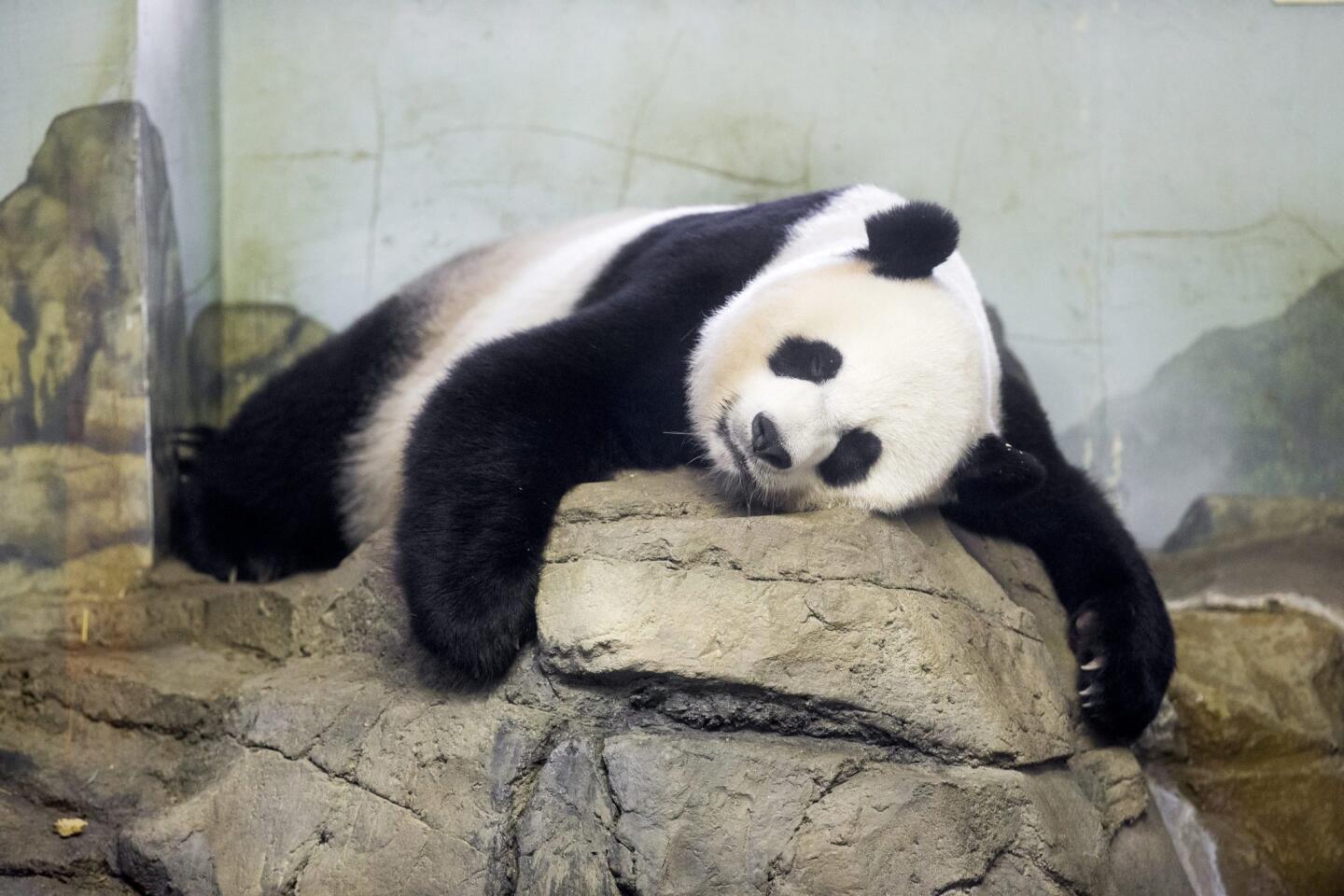 Giant panda Mei Xiang sleeps indoors at Smithsonian's National Zoological Park in Washington, D.C., earlier this month. Mei Xiang gave birth to two panda cubs on Aug. 22, 2015.
(MICHAEL REYNOLDS / EPA)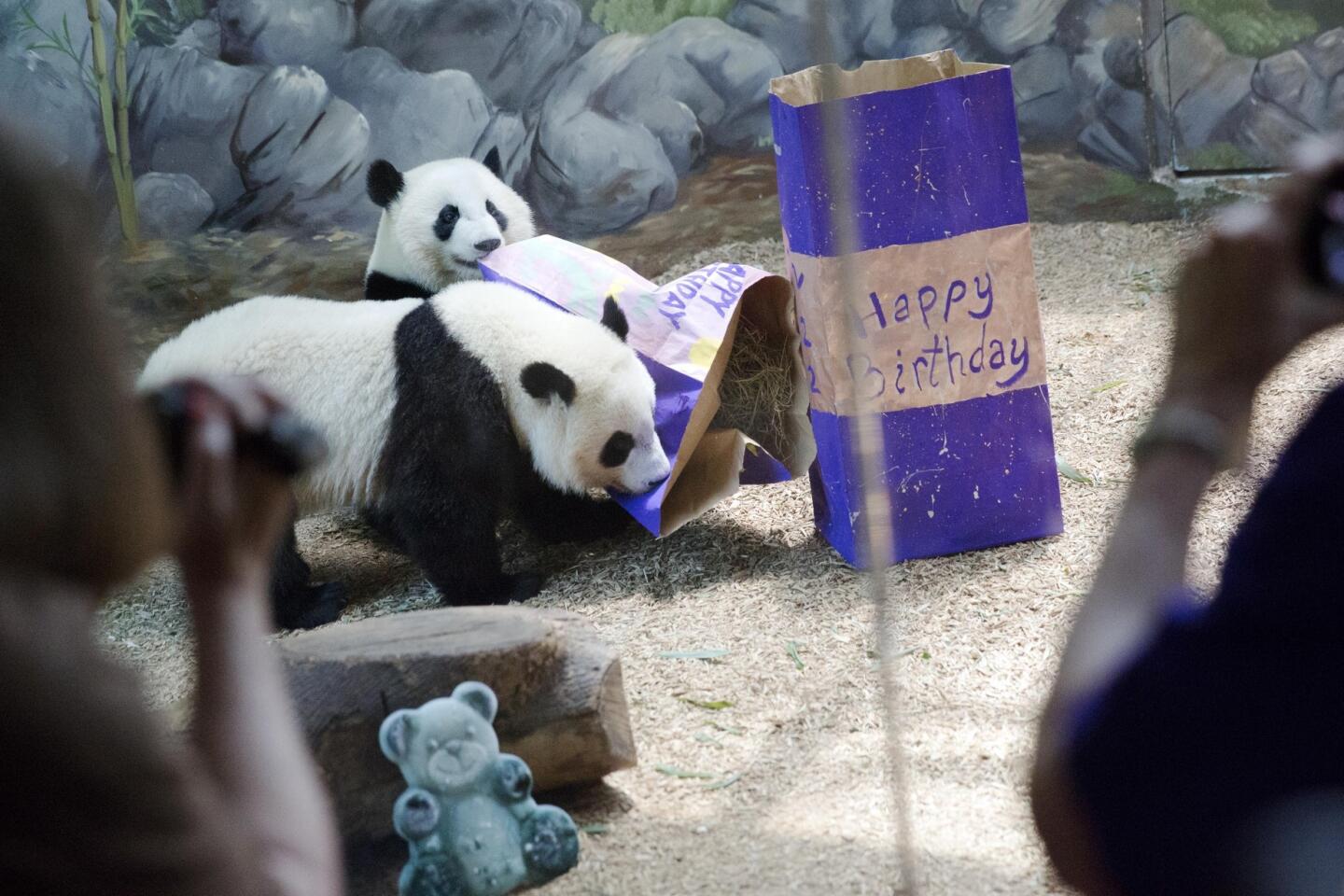 Twin giant panda sisters Mei Huan, rear, and Mei Lun, play with their presents filled with biscuits as they celebrate their second birthday at Zoo Atlanta.
(David Goldman / Associated Press)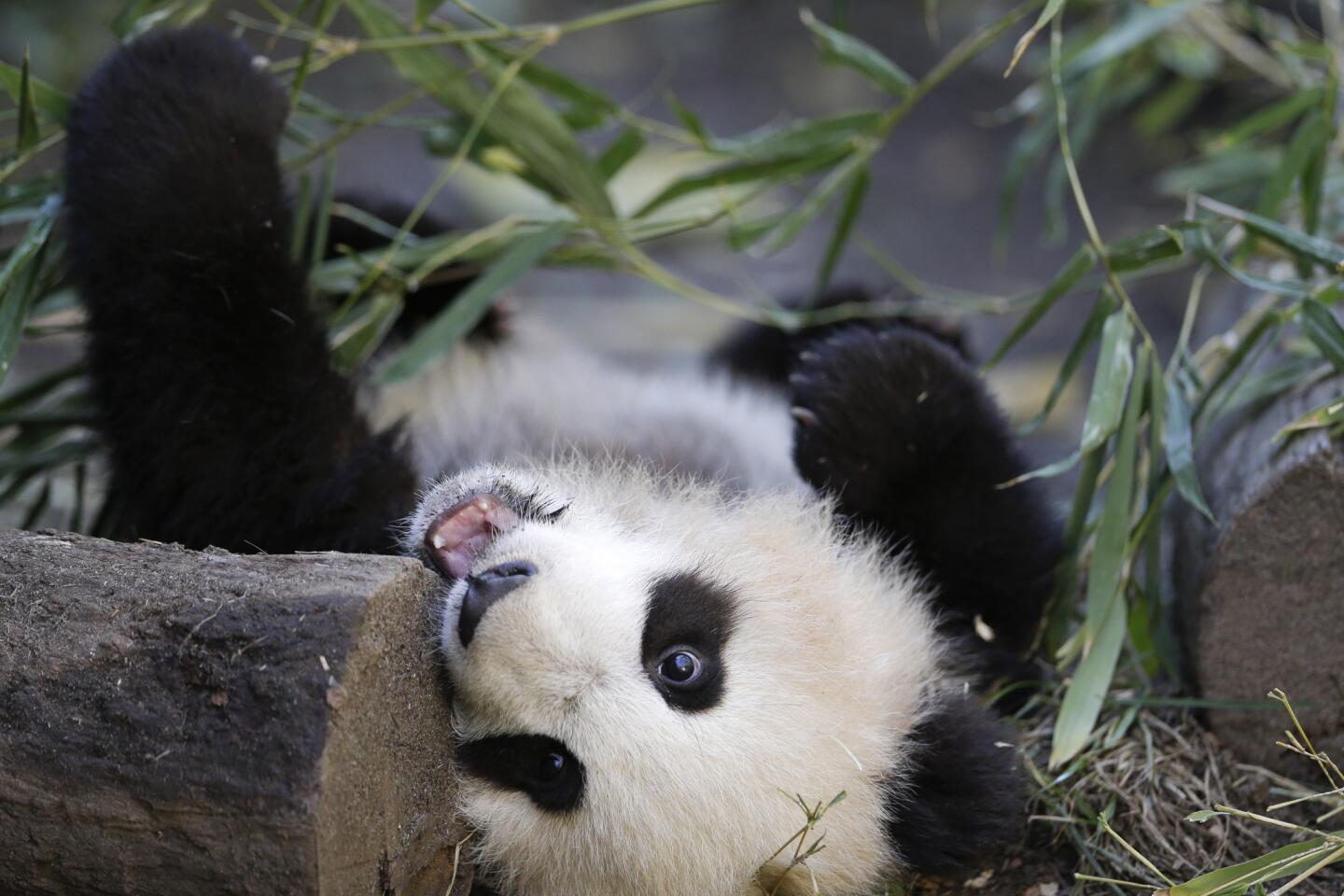 Xiao Liwu, a 5 1/2-month-old male panda, rolls on his back at the San Diego Zoo.
(Gregory Bull / Associated Press)
A male panda named Xiao Liwu has its head measured during its weekly checkup at the San Diego Zoo in January 2013.
(Don Bartletti / Los Angeles Times)
Reporting from Beijing —
A leading international group has taken the giant panda off its endangered list thanks to decades of conservation efforts, but China's government discounted the move Monday, saying it did not view the status of the country's beloved symbol as any less serious.
The International Union for Conservation of Nature said in a report released Sunday that the panda is now classified as a "vulnerable" instead of "endangered" species, reflecting its growing numbers in the wild in southern China. It said the wild panda population jumped to 1,864 in 2014 from 1,596 in 2004, the result of work by Chinese agencies to enforce poaching bans and expand forest reserves.
The report warned, however, that although better forest protection has helped increase panda numbers, climate change is predicted to eliminate more than 35% of its natural bamboo habitat in the next 80 years, potentially leading to another decline.
In a statement to the Associated Press, China's State Forestry Administration said Monday that it disputed the classification change because pandas' natural habitats have been splintered by natural and human causes. The animals live in small, isolated groups of as few as 10 pandas that struggle to reproduce and face the risk of disappearing altogether, the agency said.
"If we downgrade their conservation status, or neglect or relax our conservation work, the populations and habitats of giant pandas could still suffer irreversible loss and our achievements would be quickly lost," the forestry administration said. "Therefore, we're not being alarmist by continuing to emphasize the panda species' endangered status."
Still, animal groups hailed the recovery of the bamboo-gobbling, black-and-white bear that has long been a symbol of China and the global conservation movement.
The panda population reached an estimated low of less than 1,000 in the 1980s because of poaching and deforestation until Beijing threw its full weight behind preserving the animal, which has been sent to zoos around the world as a gesture of Chinese diplomatic goodwill.
The Chinese government and the World Wildlife Fund first established the Wolong National Nature Reserve in Sichuan province in 1980. Wild panda numbers have slowly rebounded as China cracked down on the skin trade and gradually expanded its protected forest areas to now cover 5,400 square miles.
International groups and the Chinese government have worked to save wild pandas and breed them at enormous cost, attracting criticism that the money could be better spent saving other animals facing extinction. The International Union for Conservation of Nature drew attention on Sunday to the 70% decline in the eastern gorilla population over the last 20 years.
The World Wildlife Fund, whose logo has been a giant panda since 1961, celebrated the animal's reclassification, saying it proved that aggressive investment does pay off "when science, political will and engagement of local communities come together."
Sign up for Essential California for the L.A. Times biggest news, features and recommendations in your inbox six days a week.
You may occasionally receive promotional content from the Los Angeles Times.