A crowd of dictators is coming to Southern California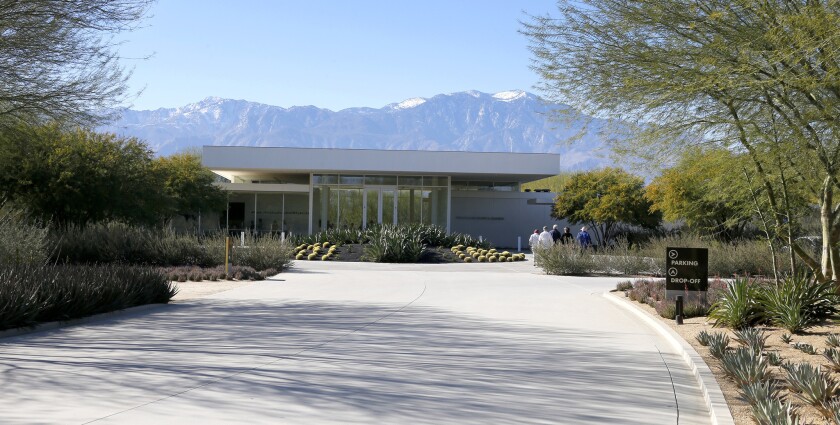 President Obama is about to host a cavalcade of dictators in Southern California.
On Monday and Tuesday, Obama will meet heads of state from the 10 Assn. of Southeast Asian Nations (ASEAN) countries at the Sunnylands estate in Rancho Mirage, marking the first U.S.-ASEAN summit to be held on American soil. Obama will focus on deepening political and economic ties to the region, primarily to bolster his Trans-Pacific Partnership trade agreement and form buffers against China's growing regional clout.
Yet human rights groups have noted that only three participating countries — Indonesia, the Philippines, and arguably Singapore, a de facto one-party state — will be represented by elected leaders. They have raised concerns that the meeting could serve as an endorsement of repressive regimes.
"President Obama knows that human rights are under assault in Southeast Asia; the question is whether he's going to say or do something about it," John Sifton, Asia advocacy director at Human Rights Watch, said in a statement on Wednesday. "The risk is that the Sunnylands summit will empower and embolden ASEAN leaders who have been responsible for jailing journalists, cracking down on peaceful protesters and dismantling democratic institutions after coups."
Here's a list of the authoritarian leaders who will attend:
Hun Sen, Cambodia
Hun Sen, 62, has ruled Cambodia for 30 years, making him Asia's longest serving ruler. A former commander in the Khmer Rouge — a murderous regime thay killed nearly a quarter of the country's population in the 1970s — his security forces have imprisoned critics, executed political opponents and embarked on systematic campaigns of torture, killing and land confiscation. He has said he wants to lead till he's 90.
When Secretary of State John F. Kerry met with Hun Sen in January, he praised Cambodia's recent economic growth but also admonished the Cambodian government on its human rights record, saying that improvements would be necessary to "to fulfill the potential" of bilateral relations with the U.S..
Prayuth Chan-ocha, Thailand
Since Prayuth, 61, took power in a military coup in 2014, he has shuttered outspoken media and detained activists for the slightest acts of dissent. He has also burnished a reputation as an eccentric strongman, replete with long, nonsensical televised rants. In the fall, he told an audience that he once doused himself in holy water to ward off curses from opponents.
Although the U.S. still looks to Thailand as an ally, Prayuth has taken a sharp turn toward Beijing — last year, Bangkok formally handed at least two Chinese dissident refugees and 100 persecuted Uighur Muslims back to China, where rights groups say they could face unjust imprisonment and torture.
Najib Razak, Malaysia
Najib, 62, Malaysia's Prime Minister since 2009, passed a controversial new security law in December that gives him unchecked powers to crack down on all perceived threats to "socio-political stability," possibly including protests. Last summer, he was embroiled in a major financial scandal after he failed to account for $700 million in his bank account, raising concerns that he embezzled the money from a state fund.
Hassanal Bolkiah, Brunei
Since 1968, Bolkiah, 67, has been the sultan and leader of Brunei, a tiny, conservative, Sunni Muslim nation on the island of Borneo. As the absolute monarch of an oil-rich state, he is one of the world's wealthiest men, with an estimated net worth of $20 billion (in 2009, he reportedly spent $21,000 on a haircut).
In 2014, Bolkiah put the country under sharia criminal law, decreeing that citizens can be put to death for blasphemy and insulting verses of the Koran. Adultery and homosexuality are punishable by stoning. This past December, he banned celebrations of Christmas in public spaces including city streets and shopping malls, warning that celebrators could face five years in jail.
Thein Sein, Myanmar
Myanmar's opposition National League for Democracy party, led by Nobel laureate Aung San Suu Kyi, won a landslide election victory in November. Yet the summit was planned before her victory, and Thein Sein, an unelected former military officer who has helped oversee Myanmar's recent democratic reforms, will be representing the country at Sunnylands. He will step down in late March.
Choummaly Sayasone, Laos
Choummaly, 79, the head of the Lao People's Revolutionary Party — the landlocked country's only legal party — presides over one of the world's most repressive states. The communist government censors the Internet, detains activists without due process and strictly censors the media. Journalists can be sentenced to 15 years in prison for writing critical reports.
Choummaly recently bought a house with a $615,000 garden, according to a report by Radio Free Asia, a U.S. government-funded news service. (In 2013, the country's per capita income was $1,450). The party replaced Choummaly as its top leader during a twice-a-decade party congress last month, and he will soon step down after almost a decade in power.
Nguyen Tan Dung, Vietnam
Dung, 66, is one of the most powerful leaders in Vietnam's ruling Communist Party, along with General Secretary Nguyen Phu Trong. Over two five-year terms as prime minister, he has gained a reputation as a pro-business reformer and champion of closer ties with the U.S.. In January, he was sidelined at a Communist Party internal election, leaving Trong as the party's top official.
Follow @JRKaiman on Twitter for news from Asia
ALSO
Egypt doctors rally against police assaults
Mariachis and 'Cielito Lindo' welcome Pope Francis to Mexico City
Commercial flights between the U.S. and Cuba could resume as early as this fall
---
Must-read stories from the L.A. Times
Get the day's top news with our Today's Headlines newsletter, sent every weekday morning.
You may occasionally receive promotional content from the Los Angeles Times.