Michigan man found wandering near DMZ is deported, South Korean officials confirm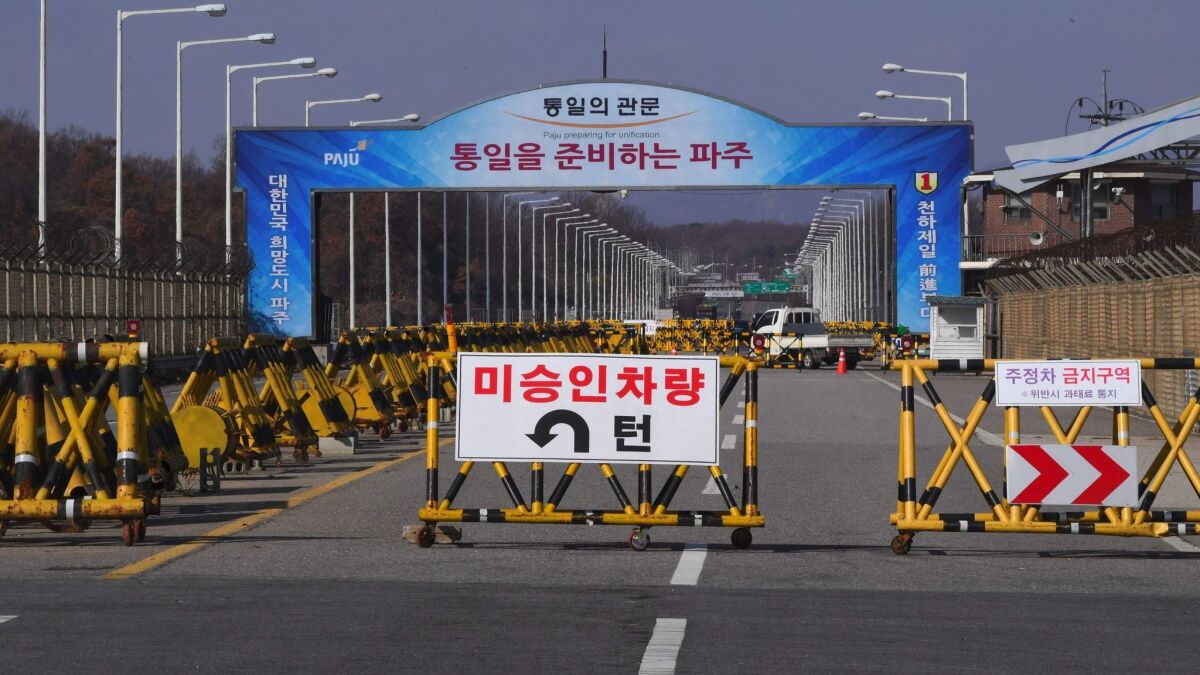 Reporting from SEOUL —
South Korean authorities have deported an American man caught wandering last week near the highly fortified border with North Korea, officials here confirmed Wednesday.
The deportation to the United States ends a bizarre journey for Bruce Byron Lowrance of Michigan, who authorities say came to the region because of the confrontation between North Korea and the international community over the communist nation's illicit nuclear weapons and ballistic missile programs. Authorities said he told them he wanted to help resolve the conflict.
After a tip from a villager in a rural border area, authorities on Nov. 13. caught Lowrance in a restricted area near the demilitarized zone — the dangerous, mine-laden border between the North and South. He was captured in Yeoncheon County, about 40 miles north of Seoul.
Details about Lowrance's travels, his detention and subsequent deportation proceedings have largely remained secret, with South Korean officials declining to comment, citing their strict privacy rules.
Officials at the U.S. Embassy in Seoul, also citing privacy considerations for American citizens overseas, have said only that they were aware of the case and that they offered "appropriate consular services." They declined to comment Wednesday.
But South Korean government officials confirmed this week that Lowrance had been removed from the country, probably on Tuesday from Incheon International Airport, the country's main airline hub on the outskirts of Seoul. Details about the precise departure time and final destination weren't released.
Public records about Lowrance, age 58 or 59, are limited.
His trip to South Korea came at a time of heightened tension between the United States and North Korea, which has test-launched dozens of ballistic missiles and conducted underground nuclear detonations in recent years in defiance of U.N. resolutions.
It also came just days after President Trump visited Seoul as part of a 12-day, five-nation tour through Asia that also took him to Japan, China, Vietnam and the Philippines. Efforts to curb North Korea's nuclear ambitions, in addition to international trade, topped Trump's agenda on the trip.
In another example of the daily tension along the border, a North Korean soldier was shot by his countrymen on the same day as Lowrance's capture as he fled across the border in an apparent effort to defect. South Korean soldiers rescued the man, who was riddled with bullets. The soldier, who during surgery was found to have parasitic worms, regained consciousness Tuesday, but his injuries are still considered life-threatening.
The shooting has captured widespread media attention here, overshadowing Lowrance's capture and deportation.
South Korean army Gen. Suh Wook told lawmakers in a hearing last week that Lowrance, whose surname was misspelled and transposed in some previous media reports, came to South Korea on Nov. 3.
Suh said Lowrance is believed to have stayed in Seoul, the capital, and Munsan, a border community not far from the so-called joint security area, which has been the site of military skirmishes and diplomatic talks between the two Koreas, technically still at war.
Suh, a top operational official in the South Korean military leadership, said Lowrance — who wasn't named at the hearing — made confusing or contradictory statements during an investigation after he was found in the civilian control line, a miles-wide buffer zone along the fortified border.
A villager spotted Lowrance on Nov. 13, and authorities took him to a provincial police office north of Seoul. His travels since then are unclear, though one South Korean official said this week that Lowrance had been held at an immigration facility in the city of Hwaseong, about 20 miles south of Seoul.
Lowrance "made an incoherent testimony" during the investigation, Suh said in response to lawmakers' questions about Lowrance's mental state. "He testified that he could contribute in some way in North Korea."
Stiles is a special correspondent.
ALSO
Watch dramatic video showing North Korean forces chasing, firing on defecting soldier
Was Border Patrol agent beaten to death by immigrants in Texas? Or did he fall? The FBI is not sure
U.S. Navy aircraft carrying 11 crashes into the Pacific Ocean; 8 have been found in good condition
Must-read stories from the L.A. Times
Get the day's top news with our Today's Headlines newsletter, sent every weekday morning.
You may occasionally receive promotional content from the Los Angeles Times.