Samsung heir sentenced to 5 years in prison in bribery case that gripped South Korea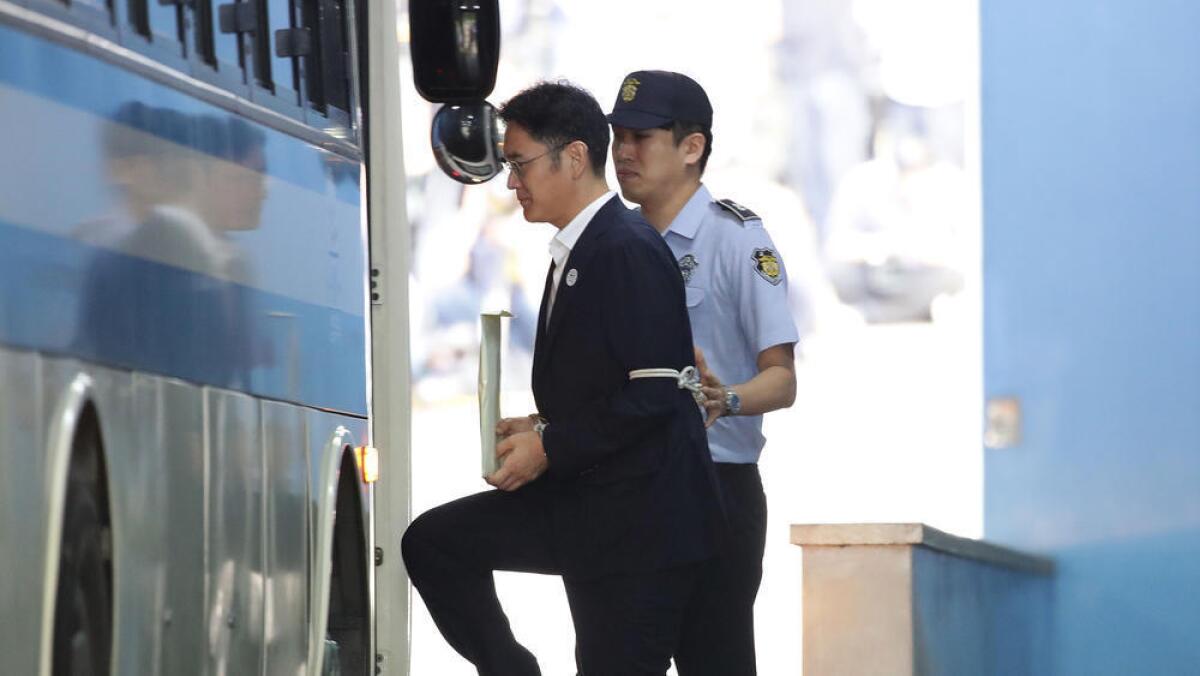 SEOUL —
South Korea has been described as the "Republic of Samsung," a play on the nation's formal name, because of the business empire's ubiquity in daily life here and its dominance in the national economy.
But that power and reach weren't evident in a Seoul courtroom on Friday.
Lee Jae-yong, Samsung's de facto leader and the grandson of the corporate giant's late founder, received a five-year prison term for a bribery and embezzlement scheme involving the country's disgraced former president, Park Geun-hye.
It was the latest and most high-profile conviction to date in South Korea's sprawling public corruption scandal, a verdict that — for now, at least — raised questions about who will lead South Korea's top family-controlled conglomerate, which has played a key role in the nation's emergence as an economic powerhouse since the Korean War.
"This could get very messy for Samsung but also the Korean economy as a whole," said Park Sangin, an economics professor who directs the Research Center for Market and Government at Seoul National University.
The conviction of Lee, 49, follows an intermittent, months-long trial that has riveted democratic South Korea, where many residents encounter Samsung smartphones, insurance and healthcare — among numerous other products — every day.
The court's decision found Lee complicit in millions of dollars in bribes in a scheme involving Park, her longtime confidant and a one-time elite South Korean equestrian athlete.
The judge in the case said prosecutors had substantial evidence to show that Lee, a mild-mannered, low-profile executive, facilitated the purchase of an expensive horse and provided other corporate funds in an effort to curry favor with Park. The court agreed with prosecutors who argued the scheme was employed to secure government support for a controversial merger between two Samsung affiliates.
The scheme was also seen as an effort by some inside Samsung to cement a dynastic path for Lee to control the larger group, well known for smartphones and semiconductors, but which also has a hand in pharmaceuticals and shipbuilding, among other global businesses.
His defense lawyer, Wu-cheol Song, in a statement released through the company, disputed the verdict, which also affected other current and former Samsung officials accused in the case.
"We will appeal immediately," he said. "I am confident that the appeals court will definitely find the defendants not guilty on all counts."
Lee's trial has dragged on for months during which he has remained in jail despite his power and billionaire status. While questioning witnesses this month, Lee's defense sought to portray him as detached from Samsung's day-to-day operations and unaware of the nation's political machinery.
Lee, expressed contrition without admitting wrongdoing, testifying that he rarely read South Korean news, focusing instead on American and Japanese outlets for his information. He also claimed he knew little about the merger deal at the center of the allegations against him and the former president.
The court apparently disagreed.
The verdict comes months after the dramatic and historic downfall of Park, who began to lose her her grip on power last fall amid revelations that she allowed a confidant outside the government, Choi Soon-sil, to gain access to confidential documents.
The case quickly snowballed into an investigation into whether Choi, with the president's support, received payments from large companies. The prosecutors say that it was Choi who received the bribes from Samsung officials to benefit a sports firm and her daughter's equestrian career.
Dissatisfaction with Park's leadership led to mass street protests in the spring and eventually charges against two dozen people, including a former Park aide. The National Assembly voted to impeach the former president in December, and a court removed her in March.
The former president, the daughter of a late military dictator, has since been jailed and charged. She also faces prison time in her own trial, which is expected to end this fall.
The case involves allegations that Park's administration aided the Samsung affiliate merger effort by asking the national pension service, a stakeholder in the deal, to support it. In its nuanced ruling, the court said Lee was seeking help to maintain power, but that the process benefited the greater corporate group, not necessarily him alone.
While this case has garnered widespread outrage and attention in South Korea, historically it's not unusual for the country's presidents and corporate titans to face allegations and criminal charges involving collusion and corruption.
Lee's father, Lee Kun-hee, the group's current chairman, has twice been convicted of corporate malfeasance, including tax evasion. But he never served jail time and has twice been pardoned.
The elder Lee has remained incapacitated since a serious heart attack in 2014, leading to his son's place in the succession effort.
But there's a broader question for Samsung and its collection of dozens of affiliated companies, many carrying the flagship name. By some estimates, they represent about 30% of South Korea's market capitalization, said Park Sangin, the economics professor.
The key issue now is the family's grip on leadership succession — and whether the company needs it to maintain its dominance.
Lee Jae-yong, the third-generation scion, has been serving as the de facto leader, the heir apparent, but he hasn't yet solidified complete control. That years-long family effort could now be complicated by jail time.
"There could be some family feud," said Park Sangin, especially if the elder Lee, 75, were to die. "If Lee Jae-yong is absent, that gives Samsung a lot of uncertainty."
Stiles is a special correspondent.
ALSO
On 100th day in office, South Korean president tries to ease nation's war tensions
U.S. and South Korea start military drills amid heightened tension with North Korea
North Korean ruler stands down on threat to Guam, but could change his mind 'if the Yankees persist'
Sign up for Essential California for news, features and recommendations from the L.A. Times and beyond in your inbox six days a week.
You may occasionally receive promotional content from the Los Angeles Times.