South Koreans don't know what to be more worried about: their scandal-scarred president or Donald Trump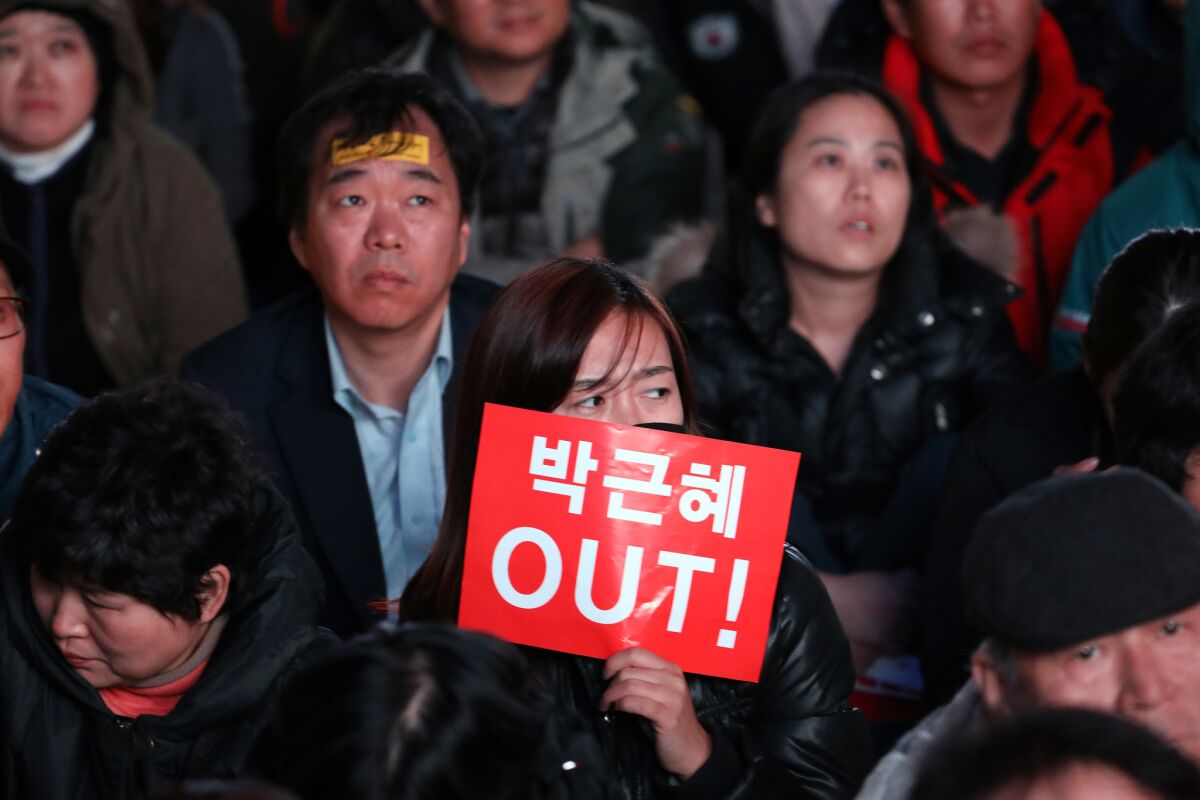 Reporting from Seoul —
Until recently, Noh Kyo-sung had many reasons to be happy with his life in South Korea. A self-described member of the nation's intellectual elite, Noh had a good job, children in college and faith in his country's leadership.
Yet on Saturday, he joined hundreds of thousands of fellow Koreans in a massive, 2-mile-long protest through this capital city, calling for the ouster of a president whose troubles have united many Koreans across generations and political leanings.
"Everybody is angry," said Noh, 58, a professor of management information systems. "Most South Koreans feel despair, and they feel that the president has done something that a president shouldn't do."
The embattled leader, Park Geun-hye, has seen her approval ratings plummet to 5% amid questions about the influence and financial dealings of a longtime confidant. The scandal also comes as the United States — a key ally on trade and regional security — has elected a new president, Donald Trump, who has called for changes in that relationship.
Both the scandal and Trump's statements on the campaign trail have led to political uncertainty for a country already facing concerns about its economic stability and a constant military threat from a nuclear-armed North Korea.
People like Noh, who otherwise enjoy the benefits of South Korea's rapid rise as a world economic power from the ruins of the Korean War, feel betrayed after voting for a president who made decisions based on the advice of a shadowy figure outside the government.
Park could face questions in the coming weeks from prosecutors investigating whether the confidant, Choi Soon-sil, used her friendship with the president to gain improper access to classified state documents and obtain murky payments from the country's powerful business conglomerates, such as Samsung and Hyundai.
The case exploded in recent weeks after the revelation that Choi, who is not a member of Park's government or staff, edited some of the president's speeches and, according to published reports, helped her make decisions on everything from her wardrobe to national security policy. Choi remains jailed.
Woman at center of South Korean political scandal: 'I've committed wrongs for which I deserve to die' »
To outsiders, Choi's relationship with the president might not seem particularly unusual. But it has fed perceptions among South Koreans that Park — the daughter of an assassinated former South Korean dictator — is an insular leader advised by a select group. The case also involves sensational overtones because Choi's father, Choi Tae-min, was a cult leader who developed what some here see as a mysterious spiritual connection to Park during her youth.
Park, a member of the dominant conservative political party, is term limited and will leave office after a presidential election next year. But some political leaders here have called on her to resign, and, despite her recent public apologies, South Koreans' discontent has been expressed in growing antigovernment protests recently.
The rally on Saturday, which remained peaceful, is among the largest since the protests of the late 1980s that preceded the military government's agreement to a free presidential election.
"No matter how free the people are, you can't say this is a real democracy," said Martin Han, a student at Hankuk University, reflecting protesters' concern about the influence of insiders on Park's administration.
With their own president's clout and future in question, South Koreans now also face the prospect of President-elect Trump across the Pacific — a potential threat to the economic and security status quo.
Trump said during the campaign that South Korea should pay more for the presence of a protection force of more than 28,000 United States troops. And, in his party acceptance speech, Trump also criticized Democrat Hillary Clinton for supporting the "job-killing" U.S.-Korea Free Trade Agreement, which eliminates tariffs on many goods exchanged between the two countries. As president, Trump could try to undermine the pact, some fear.
"He has room to push on the margins on that," said Robert Kelly, an associate professor of political science at Pusan National University in South Korea. "He could do a fair amount of damage if he wanted."
And some observers say Trump's willingness to change positions — indeed, he recently called Park to express strong support for the alliance between the countries — has only heightened the uncertainty.
"All we're left with is a big question mark," said James Kim, a research fellow at the Asan Institute for Policy Studies in Seoul.
Trump will also have to build a relationship with a new South Korean president, perhaps sooner than expected. Given the scandal, some observers believe the winner might come from a more liberal political party whose positions on engagement with North Korea, Japan and China might differ from those of Park and her predecessor, Lee Myung-bak, a fact that also heightens anxiety about the state of the nation.
Kim Jin-won, a college student in Seoul, said she is worried about the relationship between her country and the United States, though she remained much more focused on her own country's political scandal.
"[Trump] is a big change for everyone," she said. "But right now, we don't really have a president."
Noh, too, is more focused on events at home. Like a significant number of South Koreans, he wants a leadership change.
"I'm more anxious about what the president has been doing wrong," he said. "I look at this present situation as more of an opportunity."
Stiles is a special correspondent.
ALSO
How a professor in China predicted Trump's victory more accurately than most U.S. pollsters
When the rest of the world elected women leaders
Obama will spend his final presidential trip abroad trying to reassure the world about Trump
---
Must-read stories from the L.A. Times
Get the day's top news with our Today's Headlines newsletter, sent every weekday morning.
You may occasionally receive promotional content from the Los Angeles Times.