South Korea faces political crisis, nuclear threat, economic fear and Trump's history lesson
Reporting from Seoul —
In recent months, South Korea has endured the arrest of its ousted former president, threats from a nuclear-armed neighbor and economic retaliation from its most important regional trading partner.
Also, the Trump administration came into office.
Despite reassuring diplomatic visits by its strongest ally, the United States, two symbolic gaffes by the new American president have in recent days caused considerable consternation here — just as South Koreans prepare to elect their own leader.
The concern began several days ago, when the Trump administration fueled what became the widespread perception that a powerful U.S. aircraft carrier group was speeding to the region — an apparent show of force in response to recent nuclear and missile provocations by North Korea.
It turns out that wasn't quite right.
And then Trump told the world this week about a recent history lesson he received on Sino-Korean relations from Chinese President Xi Jinping. In his recounting, Trump said Korea — which has an independent cultural identity spanning thousands of years — was once "part of China."
That also isn't accurate.
In another time, the two incidents might have been quickly forgotten. But these are tense days in South Korea, a nation under existential threat from its northern neighbors while also feeling economic heat from the region's preeminent power, China.
"Words and credibility are crucial in foreign affairs, but the administration so far isn't doing a good job of either," said Duyeon Kim, a visiting senior fellow at the Korean Peninsula Future Forum in Seoul.
Analysts like Kim doubt that Trump's recent gaffes — which could be explained as strategic ambiguity about a military asset and a misunderstanding about a translated Chinese conversation — will do long-term damage to the relationship between Washington and Seoul.
The United States has about 28,000 troops stationed here in an agreement to protect South Korea from the North. The United States and South Korea also have a robust trade relationship — and roughly 1.5 million ethnic Koreans live in the United States.
If he cared about either China or Korea, before he said things like this, he would do a fact check.
— Student Nam Sang-uk on President Trump
The two Koreas, however, have maintained a warlike posture since the armistice in the 1950s, and tensions between them are particularly high right now.
The North, under its young leader Kim Jong Un, the grandson of the communist nation's founder, has conducted two underground nuclear tests since the beginning of 2016 and launched numerous ballistic missile tests during that time — all violations of United Nations resolutions.
The confusion about whether the Trump administration's defense officials actually ordered the aircraft carrier Carl Vinson to the region immediately, or just eventually, as it appears now, and the confusing public statement about Korean history do add to a sense of concern in the country about its safety and sovereignty, some say.
"This only deepens the concern among South Koreans, in terms of how credible the security commitment of the United States really is," said Bong Young-shik, a research fellow with the Institute for North Korean Studies at Yonsei University in Seoul.
Both incidents, he said, reinforce a sense among some South Koreans that they don't control their own fates, especially when sandwiched between the interests of the United States and China.
It's that relationship between the United States and China — and their shared interest in denuclearizing North Korea — that set the stage for the history lesson Trump received from Xi during their recent summit.
In an effort to explain his newly discovered understanding of the complexity of the relationship, Trump told the Wall Street Journal that Xi "went into the history of China and Korea."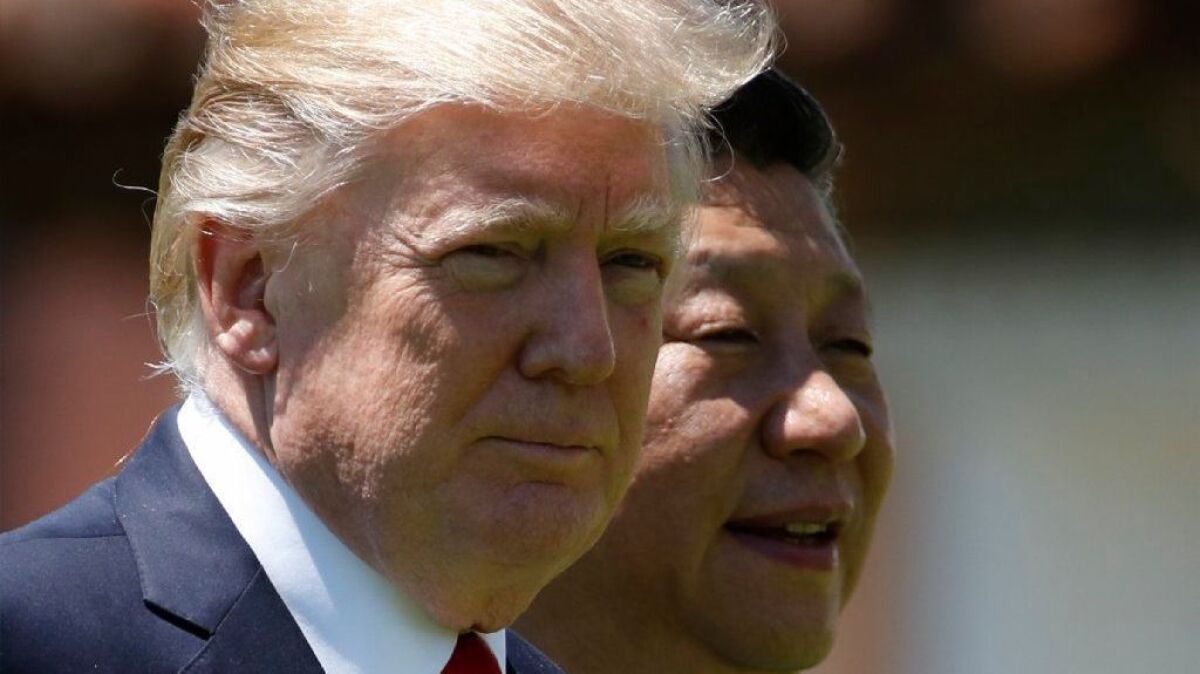 "Not North Korea, Korea," the president said. "And you know, you're talking about thousands of years … and many wars. And Korea actually used to be a part of China."
That last remark showed a lack of understanding of regional history, not to mention the nationalist sensitivities in the region. It sparked strong reactions from South Koreans, including the diplomats at the country's foreign affairs ministry.
"It is a clear historical fact recognized by the international community, which cannot be denied by anyone, that Korea was not a part of China over the past several thousands of years of history of Korea-China relations," said Cho June-hyuck, a ministry spokesman.
A news anchor on a South Korean state-funded television network, Arirang, called the remark "outlandish" on its face.
China, for its part, downplayed the issue without specifically addressing whether Xi, whose words were translated, meant to say the phrase Trump uttered.
Sino-Korean relations date back thousands of years, and there was in fact a historical tributary system in which imperial China influenced much of the cultural and economic development of various nations in the region, perhaps in Korea more than any other.
Roughly 2,000 years ago, the Chinese Han Dynasty established an administrative district in the northern part of the peninsula. And there have been historical invasions by forces from China, but also close cooperation with past Korean leaders over the years.
A Chinese proverb describes the relationship as one of "lips and teeth" — a roughly translated metaphor indicating how South Korea in imperial times served as a protective buffer from invaders like Japan. In the last century, China's revolutionary leader, Mao Tse-tung, repurposed the phrase to describe a kind of close, yet different, relationship between his comrades in North Korea.
But from about the 7th century on, "There's a clear independent political entity on the peninsula," said John Delury, an associate professor of Chinese studies at Yonsei University in Seoul.
Delury, like others, wasn't privy to what precisely was said between the two leaders — and whether Trump misunderstood or misstated the contents. Delury said he believes Xi's history discussion with Trump was probably intended to illustrate China's historic lack of control over Korea, which has remained fiercely independent and culturally homogeneous.
Either way, the words were disheartening for some South Koreans — who also know that China is currently retaliating economically over their nation's decision to deploy a U.S. defensive missile system to protect against the North.
"If he cared about either China or Korea, before he said things like this, he would do a fact check," said Nam Sang-uk, 21, a university student who lives in central Seoul. "I'm not sure if Trump is capable of understanding South Korea and having diplomacy with South Korea and able to keep us safe from our enemies."
Stiles is a special correspondent.
For more news from Asia, follow @stiles on Twitter
---
Must-read stories from the L.A. Times
Get the day's top news with our Today's Headlines newsletter, sent every weekday morning.
You may occasionally receive promotional content from the Los Angeles Times.