Muslims faced hatred and violence in Sri Lanka. Then Facebook came along and made things worse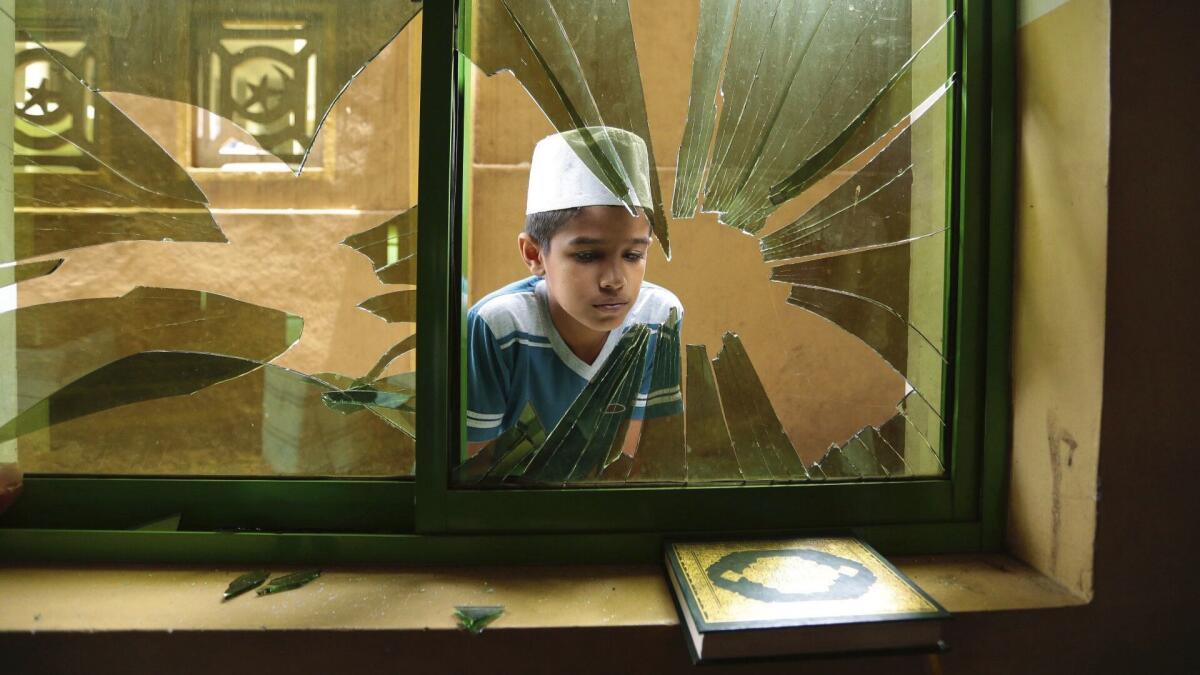 Reporting from COLOMBO, Sri Lanka —
With Sri Lanka under a state of emergency after a spasm of anti-Muslim bloodshed, lawyer Jeevanee Kariyawasam went on Facebook to complain. The company hadn't blocked users inciting violence, she wrote, and the government hadn't arrested those sending out the offending posts.
Facebook's response was swift: It suspended Kariyawasam's account.
The company restored her account within 24 hours, but the incident this month highlighted how Facebook has become a powerful vehicle for hate speech worldwide, and how the Silicon Valley giant's efforts to police incendiary rhetoric in distant countries have often fallen short.
As Facebook confronts a scandal over data privacy in the United States and Britain, it faces widening criticism in Asia for stoking discord in countries with few legal protections for religious, ethnic and political minorities.
When a Sri Lankan Facebook user complained this month of a post that said, "Kill all Muslims, don't let even one child of the dogs escape," it took the company six days to respond. Then it said the post did not meet its definition of hate speech.
In Myanmar, United Nations investigators said this month that Facebook had "turned into a beast" by propelling racism and calls to violence against Rohingya Muslims. In Cambodia and the Philippines, authoritarian leaders have used Facebook to disseminate propaganda and whip up animosity toward journalists and political opponents.
In Sri Lanka the government accused Facebook of failing to take down posts and videos that encouraged the violence in Kandy in early March. As extremists from the island nation's Buddhist majority torched Muslim-owned houses and businesses, authorities directed internet providers to block Facebook and its two popular apps, WhatsApp and Instagram, along with other social media platforms.
The ban was lifted a week later, after officials from Facebook's regional office in India flew down to meet with government representatives in Colombo, Sri Lanka's capital. Over a two-hour meeting at the seafront presidential offices, company officials pledged to act more swiftly to remove hate speech in Sri Lanka's native languages.
"We wanted them to be concerned about the fact that if you go on like this, you will create bloodshed unnecessarily," said Austin Fernando, a senior aide to Sri Lanka's president.
Facebook has been shaken by the criticism across Asia, the company's fastest growing regional market with half a billion daily users, nearly three times the number in the United States. In emerging economies where internet access is expanding and space for public expression is often limited, Facebook's popularity has grown faster than its ability to monitor what its users are saying.
Company officials say they have invested heavily in technology to more quickly identify and remove content that violates its "community standards" barring racist and discriminatory posts. Over the last year, Facebook says, it has also doubled its number of content monitors, with about 14,000 people now checking posts and reviewing complaints in more than 40 languages.
But that is less than half of the more than 100 languages Facebook supports.
In Sri Lanka — with an estimated 6 million users — Facebook said it increased its capacity to monitor posts in Sinhala, the language spoken by the Buddhist majority, and ran notices atop users' news feeds about how to report hate speech.
It took down some accounts, including one belonging to Amith Weerasinghe, a Buddhist radical with more than 150,000 followers, who was seen on a video prodding Sinhalese to attack Muslims in Kandy. Weerasinghe and several suspected associates were arrested, among dozens jailed in connection with the violence.
"We have clear rules against such content and will remove it when we're made aware of it," Facebook said in a statement. "We have been working with the government and nongovernment organizations in Sri Lanka to identify and remove hate speech."
Still, the company has privately acknowledged mistakes.
During the violence in Kandy, which left three people dead and caused millions of dollars in damage, Kariyawasam emerged as one of the most prolific online activists reporting accounts with names such as "Sinhala Racist," which claimed that Sri Lanka was "the exclusive domain of the Sinhalese race." But Facebook chose to not block that and many other accounts, she said, while hers was peppered with death threats.
"It makes you think that Facebook is either under capacity to monitor what's happening in Sinhala, or that some of their Sinhala-speaking monitors share the same biases as the people that are being reported," said Yudhanjaya Wijeratne, an author and internet researcher in Colombo.
For decades, Sri Lanka has been riven by violence between Sinhalese Buddhists, who make up about 70% of the country's 21 million people, and minorities including Muslims and Tamil-speaking Hindus. Since a long civil war against Tamil rebels ended a decade ago, Buddhist extremists have periodically led attacks against Muslims, who account for about 10% of the population.
Under then-President Mahinda Rajapaksa's authoritarian, Buddhist nationalist government, hard-line monks enjoyed virtual impunity, stoking fears of terrorism and forced conversions to Islam. The Muslim Council of Sri Lanka has documented several hundred incidents of violence and intimidation, nearly all at the hands of Buddhist groups.
"People were searching for another 'other,' and Muslims were an easy target," said Mario Gomez, director of the International Center for Ethnic Studies, a Colombo think tank. "There was always some animosity, but not this level of venom. The manipulation of social media enabled a lot of myths to spread."
In 2014, the independent Center for Policy Alternatives produced a lengthy study of anti-Muslim hate speech on 20 Sri Lankan Facebook groups. Coauthor Sanjana Hattotuwa said the posts, which clearly violated Facebook standards, remained online for months because the company "had zero capacity to monitor Sinhala."
In Myanmar, Facebook has acknowledged the "long-term challenge" of determining when certain words — such as kalar, a slur for Rohingya Muslims that the company said had benign roots — are being used to encourage violence. The posts that Hattotuwa studied were so vile, he recalled, that he advised his coauthor to seek counseling.
"It didn't require a nuanced understanding of language," Hattotuwa said, adding, "It was blatant. If you translate it directly into German or French, it would still be obnoxious."
In January 2015 elections, minority voters, including Muslims, helped unseat Rajapaksa. But his successor, Maithripala Sirisena, has sought to accommodate Buddhist hard-liners.
Days after the violence in Kandy, Sirisena made an official visit to Japan, where he addressed a group of saffron-robed monks. Among them was Galagodatte Gnanasara, founder of an extremist group called Bodu Bala Sena, or Buddhist Power Force, who has been charged with inciting pogroms in 2014 that left four people dead.
The group has used Facebook to spread false information about Muslims — including that one Muslim-owned shop was selling candy that would turn Buddhist women infertile.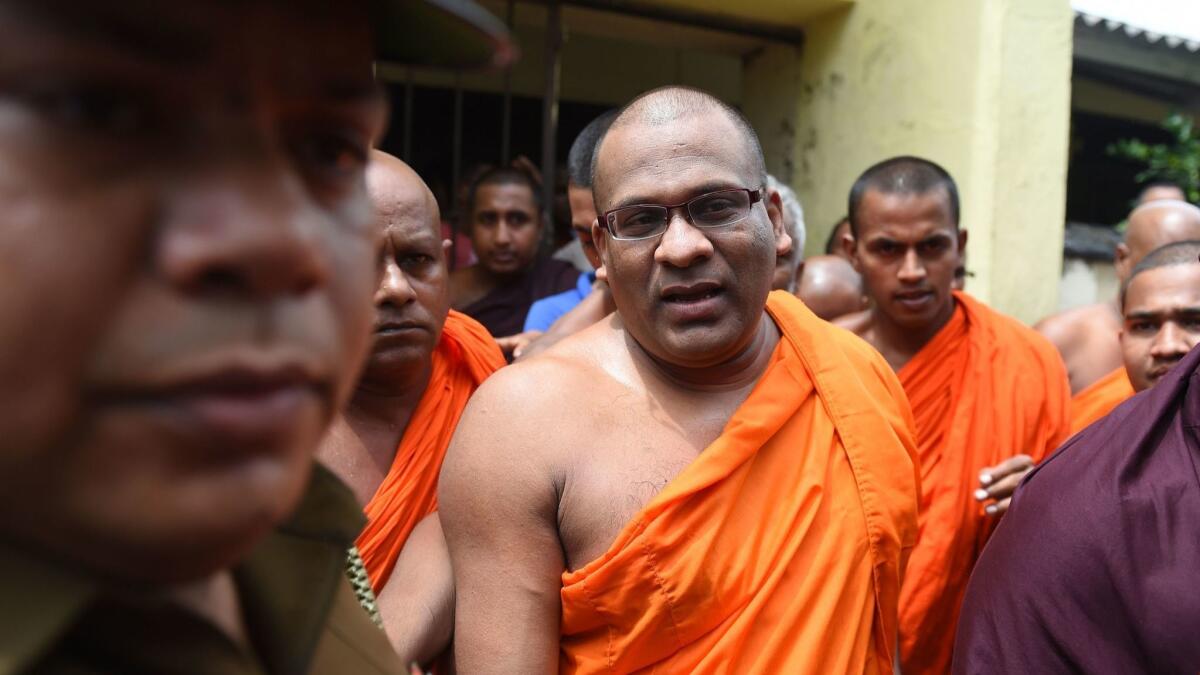 Sirisena's office denied that Gnanasara — who is free on bail and reportedly visited Kandy the day the attacks broke out — was part of the government delegation. But officials acknowledged that a top aide to the notorious monk had traveled with the president.
"A government that we expected to protect us has totally failed," said Hilmy Ahamed, vice president of the Muslim Council of Sri Lanka.
Ahamed said the group has collected examples of hate speech and incendiary videos, and last year provided a DVD to the government's cybercrimes unit. Officers there directed them to another police agency, which took the disc but never acted on it, Ahamed said.
"If the government wants to stop this hate they can do it within weeks," Ahamed said. "But we as a community do not get justice when it comes to communal issues."
Critics said the Sri Lankan government has used Facebook as a scapegoat for its inability to rein in hard-liners. Its policies were further questioned when Sirisena and top officials continued to post on Facebook throughout the ban, using proxy networks.
The government has proposed a new law targeting online hate speech, but Rohan Samarajiva, chairman of LIRNEasia, a telecommunications policy think tank, said existing laws are tough enough. In March, prosecutors charged three Buddhist teenagers from Colombo with spreading hate messages on WhatsApp. They could face up to 10 years in prison, Samarajiva said.
"The most important thing the government can do is punish these people and send a message," he said.
Some activists see a connection to the widening scandal involving Cambridge Analytica, the British company that harvested the personal information of 50 million Facebook users and used it to target U.S. voters. In a documentary by Britain's Channel 4 that exposed the practice, reporters approached Cambridge Analytica representatives posing as potential clients: a wealthy family with political connections from Sri Lanka.
"It's very revealing if CA thinks Sri Lanka is 'good enough' for them to engage with," Hattotuwa said. "It means that the landscape and nature of politics as it's conducted online here is ripe for weaponization or manipulation. This is a very interesting insight — and a worrying one."
Shashank Bengali is the South Asia correspondent for The Times. Follow him on Twitter at @SBengali
Sign up for Essential California for news, features and recommendations from the L.A. Times and beyond in your inbox six days a week.
You may occasionally receive promotional content from the Los Angeles Times.