A velvet fist in an iron glove? China talks tough about Taiwan, but shows signs of a softer policy
Reporting from TAIPEI, Taiwan —
Chinese President Xi Jinping pledged this month to punish self-ruled Taiwan for any moves toward legal independence from China. The next day a Chinese aircraft carrier passed through the Taiwan Strait that separates the two sides.
You might expect this thunder from a leader in Beijing who can rule for life and says Taiwan must unify with China. The Communist leadership has sworn for seven decades to unify, somehow, with democratic Taiwan. China also commands the world's third strongest military.
But people who follow Chinese politics expect Xi to use the luxury of multiple terms in office to explore a softer and possibly more persuasive approach to the unification goal. On March 12 the National People's Congress confirmed that Chinese presidents can serve an unlimited number of five-year terms, not just two. Xi, 64, began his first in 2013.
Xi could use tax breaks, free rent, quick approvals for initial public offerings, and unique investment opportunities to make common Taiwanese try life in China. He may figure that those who live for a time in China will be more receptive to political unification, scholars in Taiwan say. Xi could sit back to see which measures work. He's supported by a fast-growing $12-trillion economy.
"For sure they will carry on this policy," said Liu Yih-jiun, public affairs professor at Fo Guang University in Taiwan. Economic sweeteners, he said, "will have a very serious positive impact on relations between Taiwanese people and the Chinese government."
China has claimed sovereignty over Taiwan since the Chinese civil war of the 1940s, when Chiang Kai-shek's Nationalists lost to the Communists and fled to the island. Polls in Taipei show most Taiwanese now prefer autonomy over unification.
The softer approach to Taiwan has already started. On Feb. 28, Beijing announced a list of measures that make it easier for Taiwanese to work, study and invest in China. Those incentives in effect treat Taiwanese as Chinese citizens, not as outsiders. Tax breaks and special land-use rights are among the 31 measures.
The Chinese government's Taiwan Affairs Office suggested the same day that Taiwanese investors join infrastructure projects that are part of China's Belt and Road Initiative. That term refers to the $900-billion plan for ports, roads and railways in up to 65 Eurasian countries where China hopes to increase trade.
China also plans to set up "cross-strait industrial cooperation zones," the office added. Separately, a startup incubator near the Chinese financial hub of Shanghai is offering rent subsidies and free office space for Taiwanese entrepreneurs.
The Chinese securities regulator showed in a March 19 case it can fast-track applications from Taiwanese companies that want to be listed on stock exchanges in Shanghai or Shenzhen. Foxconn Industrial Internet Co., which is based in Taiwan, won permission for an IPO the same day it applied, Taiwan's Central News Agency said. That's down from the usual wait time of six to 12 months.
Mainland China's "soft approach has become more sophisticated than before," said Yun Sun, senior associate with the Stimson Center's East Asia Program in the United States. "Xi will continue to provide economic incentives to Taiwan."
Economic incentives stand to work because Taiwan's economy is growing between 2% and 3% per year compared to nearly 7% in China. Taiwanese who have worked in China already say they see more chances for promotions and career change. Recruiting firm ManpowerGroup says skilled Taiwanese workers can earn 1.2 to 1.3 times more money in China than at home.
At least 1 million Taiwanese already invest in China. Government incentives could motivate them to expand in China rather than in cheaper places such as Vietnam.
About half the Taiwanese between 18 and 29 are willing to make the move, said Andy Chang, China studies professor at Tamkang University in Taiwan. China might hold up a few early arrivals "as propaganda" to entice others, he said.
Esther Yeh, a 23-year-old Taiwanese worker at a Japanese pet apparel firm in Taipei, might be on the front line. She attended an exhibition in Shanghai last year and met a local woman who placed a series of orders with her company over seven hours.
"The market scale is not only large, but most of Chinese people are willing to buy," Yeh said. "If I got a chance to work in China, I wouldn't hesitate for long."
An exodus of people around Yeh's age would undercut support for the ruling Democratic Progressive Party in Taiwan, said William Sharp, host of the "Asia in Review" TV program in Honolulu. Taiwanese President Tsai Ing-wen drew support for her 2016 election from younger people who opposed the previous government's friendly relations with Beijing.
Tsai rejects Beijing's demand that she see both sides as part of a single China, and the two governments have not spoken since she took office. China's direct appeals to the Taiwanese people let it bypass their government.
Some ordinary Taiwanese still plan to stay home, possibly out of concern that China's legal system will not honor their copyrights and contracts. Taiwanese Vice Premier Shih Jun-ji said at a March 16 news conference that Taiwanese should cherish the local rule of law.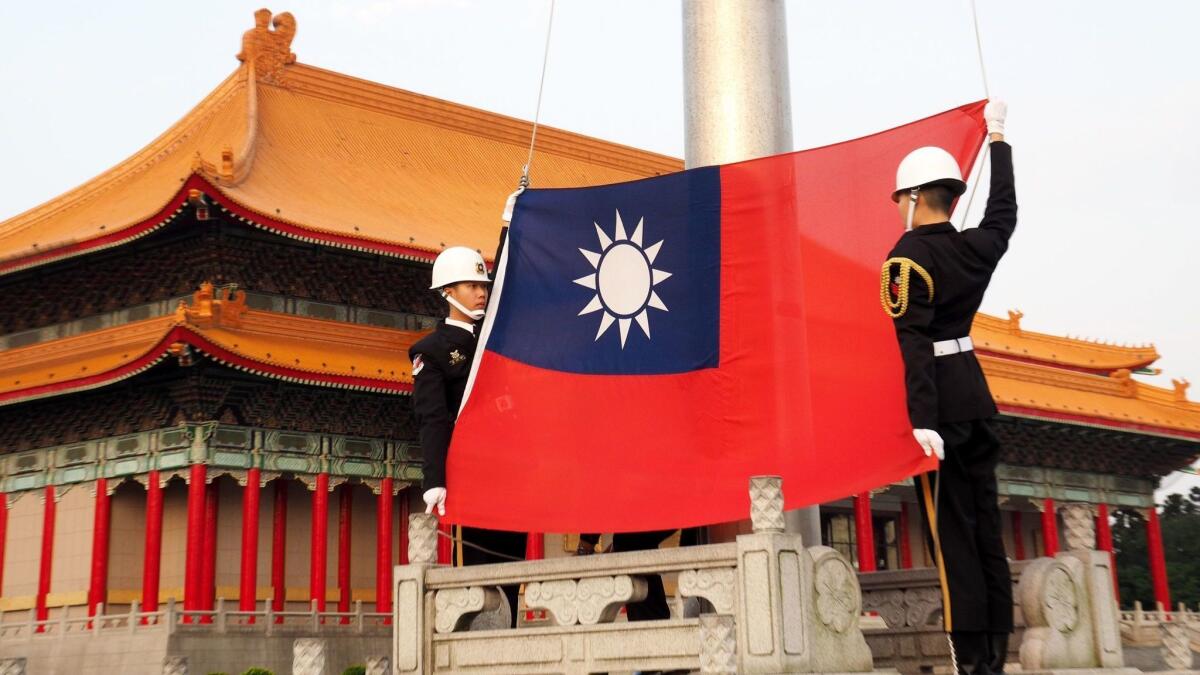 "Who knows what would happen when you get to China? They can retract whatever offer they were planning to give," said Catta Chou, 29, a worker at a nongovernmental organization in Taiwan. She has never considered moving to China. "It's about what government wants," she said. "If they like you, you survive."
Taiwanese investments on the 5-year-old Belt and Road Initiative would need to pass a few tests before a lot of others would want to participate, Chang said.
In case economic incentives fail, experts say, the Xi government will keep up the warnings that Taiwan has seen since 2016. "The hard prong will stay, but the soft prong will expand and become more agile," said Lin Chong-pin, a retired professor of strategic studies in Taiwan.
Harder measures so far include military aircraft flybys, at least 10 of which have been recorded to date, and pressure on countries that recognize Taiwan to back Beijing instead. (Beijing will not allow countries to recognize both.) Chinese leaders hope to warn Taiwanese politicians against trying to declare constitutional independence for the island, Lin said.
"Any actions and tricks to split China are doomed to failure and will meet with the people's condemnation and the punishment of history," Xi said March 20 at the closing of the National People's Congress, China's legislative body.
In October the Chinese president called 2049 a "soft final deadline" for unification with Taiwan, said Douglas Paal, vice president for studies at the Carnegie Endowment for International Peace, in an online commentary.
Xi would need that time to shore up the People's Liberation Army in case his soft power fails and he chooses to pursue unification by force, some scholars say.
China "believes that by waiting it will not only gain a military advantage, but that Taiwan's economy is likely to experience little expansion and there will be limited growth in job opportunities, which will push the young towards China," Sharp said.
ALSO
China's new pitch to win over Taiwan: Our jobs are better
It took a deadly earthquake to get Taiwan's attention, but now it's demanding safer buildings
China and North Korea perform diplomatic high-wire act at historic summit
Jennings is a special correspondent. Special correspondent Jessica Meyers in Beijing contributed to this report.
Sign up for Essential California for news, features and recommendations from the L.A. Times and beyond in your inbox six days a week.
You may occasionally receive promotional content from the Los Angeles Times.