Taiwan's president is now less popular than Trump. Here's why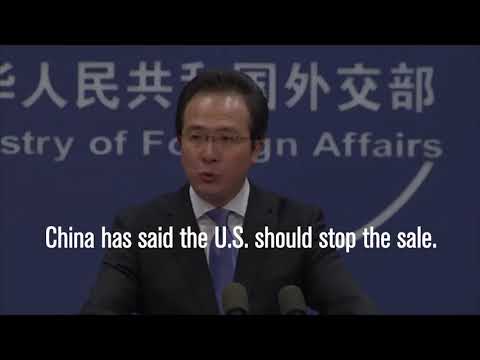 Tsai Ing-wen came to power on pledges to keep the peace with China. Taiwan recently approved a $1.4-billion arms purchase with the U.S. that China has said should be stopped. (July 10, 2017)
Reporting from TAIPEI, Taiwan —
Taiwanese President Tsai Ing-wen came to power 14 months ago on pledges to keep the peace with China without declaring formal independence or getting too close to Beijing.
It has been a difficult balancing act. Increasingly, Taiwanese voters are unimpressed with the results.
Tsai's approval rating sank to 33% in June, down from just over 39% a month earlier. That puts her in politically dangerous territory, below even the historic low ratings that U.S. polls show for President Trump.
Tsai has kept the peace, as promised, but relations with China have been tense, and Beijing has taken steps to undermine its Taiwanese rival. China has claimed sovereignty over self-ruled Taiwan since the Chinese civil war of the 1940s, but Taiwan — with tacit U.S. support — has resisted unification.
Many Taiwanese see Tsai's policy as one of inaction, not stability.
"The government has taken a very negative attitude on mainland China policy," said Ku Chung-hwa, a standing board member with the Taipei-based watchdog group Citizen Congress Watch, which advocates transparency in government. Despite Beijing's demands to come to the table as a unified China, he said, "Tsai has nothing to say. This stalemate is typical of a cold war."
One of the biggest blows to Tsai's government came last month when Panama severed formal ties with Taiwan's government, formally known as the Republic of China, after more than 100 years of diplomatic recognition. That prompted critics to accuse Tsai of a failed foreign policy. The government said China lured Panama to switch allegiance to Beijing to punish Taiwan.
The Taiwanese Public Opinion Foundation said its surveys show that 58% of respondents are dissatisfied with the president's handling of China. About 60% want eventual independence. (Although Taiwan is functionally independent from China now, it exists in legal limbo and is recognized by only a few countries.)
Supporters are still numerous but just might not be satisfied.
— Lee Ming-yu, a city government worker in Tainan, Taiwan
Those who prefer dialogue with China believe it could minimize the risk of conflict and extend trade and investment ties that Tsai's predecessor had facilitated. Trade reached $121 billion in the year just before Tsai took office and tourist arrivals from China numbered a record 3.3 million in 2016.
Without stronger ties between Taipei and Beijing, Chinese officials will probably continue to use their global economic weight to urge other diplomatic allies to switch allegiance. One in Africa made the jump last year. Chinese naval vessels are also expected to sail near the island — which Beijing has done twice since December — and dial down tourism. Group tourist arrivals fell 18% last year.
"Certainly China will continue to use the hard-line approach to make Taiwanese people uncomfortable and see what happens later on," said Andrew Yang, secretary-general of the Chinese Council of Advanced Policy Studies think tank in Taiwan.
Tsai was elected in January 2016 in a landslide over the ruling Nationalist Party candidate, in what was seen as a rejection of the Nationalists' overtures to Beijing. But many of her supporters are having second thoughts now.
"We still have to confront the truth that Taiwan is economically reliant on China, and Tsai has to strategically manage the bilateral relationship," said Taipei schoolteacher Bernie Huang, 28, a Tsai supporter in 2016.
"Apparently the bilateral relationship is not managed well, since our former ally Panama has broken up with Taiwan and established diplomatic ties with China," he said. "For the Taiwanese government, it is a major defect in diplomacy."
Former President Ma Ying-jeou was seen as caving in to Beijing's demand that Taiwan consider itself as part of China, which has the world's second biggest economy and third-strongest armed forces. Tsai rejects the one-China condition.
Dissatisfaction with her performance does not necessarily mean that her supporters are abandoning her.
"Supporters are still numerous but just might not be satisfied," said Lee Ming-yu, 39, a city government employee in the southern city of Tainan. Tsai just needs more time, Lee said.
Tsai, a 60-year-old law scholar and former head of the government's China policymaking body, has reduced the "stagnation" in Taiwan of a year ago, her office said in a written response to the opinion poll.
"Compared to a year ago, with the hard work of our government and our people, every type of important economic indicator is moving in a forward direction," the statement said.
The president has played up economic policy such as infrastructure spending and time-off requirements for workers. The economy is expected to grow by about 2% this year, up half a percentage point from 2016, and manufacturing output is expected to exceed that.
Trade with China grew to $133 billion from April 2016 to April 2017, mostly under Tsai's watch.
"I think she will continue to hold her position, no surprises, and maintain the status quo [on China], because that is her foundation," Yang said. "Even though her approval rating is getting lower, she will hold in that position as long as possible."
Jennings is a special correspondent.
ALSO
China demands that U.S. arms deal with Taiwan be canceled
President Xi warns Hong Kong about crossing a 'red line' as thousands protest anniversary of Chinese rule
When this broadcaster makes a rare appearance, North Koreans know it's serious
Sign up for Essential California for news, features and recommendations from the L.A. Times and beyond in your inbox six days a week.
You may occasionally receive promotional content from the Los Angeles Times.