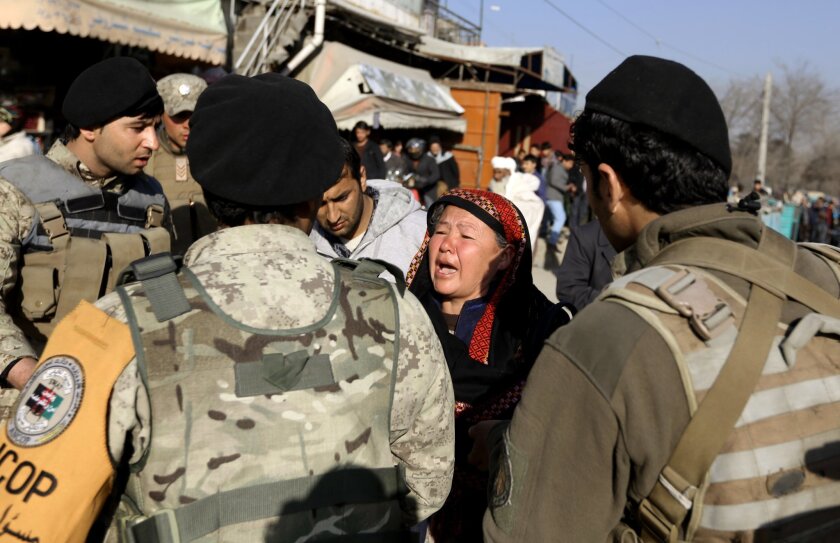 reporting from jalalabad, afghanistan —
A Taliban-claimed suicide bombing in a busy pedestrian area in Afghanistan's capital Monday reportedly left at least 20 people dead and more than a dozen injured.
The area in western Kabul that was struck is home to the border police, traffic department and the Kabul Zoo and is usually full of civilian foot and vehicle traffic. The Afghan Interior Ministry said civilians were among the casualties.
Resolute Support, the U.S.-led military coalition in Afghanistan, cited reports saying that 20 Afghan police officers were killed in the bombing, 25 officers injured and seven Afghan civilians injured.
See more of our top stories on Facebook >>
In a statement, Zabihullah Mujahid, the Taliban spokesman, said the group was responsible for the attack that he said targeted the border police headquarters.
The suicide bombing is the latest of several major attacks this winter, a time when violence traditionally dissipates in Afghanistan. This winter has seen a sharp uptick in assaults, most claimed by the Taliban, targeting the country's urban centers.
NEWSLETTER: Get the day's top headlines from Times Editor Davan Maharaj >>
The cities of Kabul, Jalalabad and Mazar-e-Sharif have all been attacked. Some of the violence has also been attributed to fighters claiming allegiance to the Iraq- and Syria-based Islamic State militant organization, whose loyalists are trying to establish a foothold in Afghanistan.
Latifi is a special correspondent.
ALSO
Chinese financial company accused of fleecing investors of $7.6 billion
Myanmar parliament begins historic session led by Aung San Suu Kyi's party
Beijing says U.S. warship 'sabotaged the peace' by sailing near island in South China Sea
---