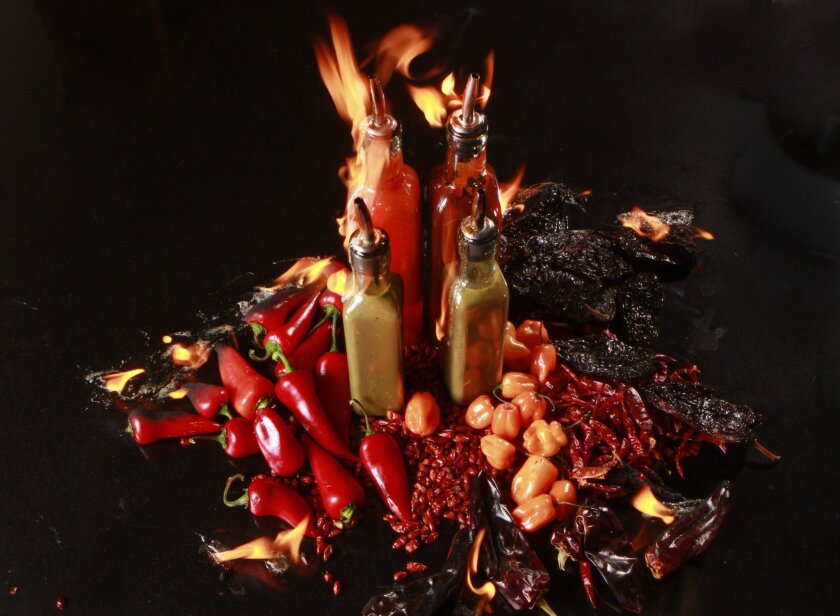 Homemade hot sauce? It's easier than you think. Puree a handful of ingredients, then simmer them for a few minutes to marry the flavors. Strain the mixture and bottle it, and you're good to go. Vary the chiles or spices to suit your tastes — it's really that easy. Then store the good stuff in the fridge, or keep a bottle handy when you're on the go — you know, so you'll always have some ready.
SRIRACHA-STYLE HOT SAUCE
Total time: 25 minutes | Makes about 1 1/2 cups sauce
Note: This sauce should be prepared in a well-ventilated area and is best prepared at least 1 to 2 days before using. Cane vinegar and palm sugar can be found at select well-stocked cooking stores, as well as Asian markets.
1 pound mixed fresh red chiles (such as red Fresnos or jalapenos), stemmed and chopped
2 to 4 cloves garlic
1/4 cup cane or rice vinegar
1 1/2 teaspoons sea salt, more if desired
2 tablespoons palm or light brown sugar, more if desired
1. In the bowl of a food processor, pulse together the chiles, garlic, vinegar, salt and sugar to form a coarse paste.
2. Transfer the mixture to a non-reactive saucepan and simmer, stirring occasionally, until the aroma softens or mellows a bit, about 5 minutes. Remove from heat.
3. Blend the sauce again to form a smooth paste, thinning as desired with water.
4. Strain the sauce, pressing the solids through a fine mesh strainer with a rubber spatula or wooden spoon. Taste the sauce, and tweak the flavors as desired with additional salt, sugar or vinegar. Remove the sauce to a glass jar or bottle and cool completely. Refrigerate until needed.
Each tablespoon: 13 calories; 0 protein; 3 grams carbohydrates; 0 fiber; 0 fat; 0 cholesterol; 2 grams sugar; 133 mg sodium.
Love cooking as much as I do? Follow me @noellecarter
ALSO
Cheese lover? You have to try this fondue recipe
Recipe: You'll love these almond macaroons, and they're gluten-free
Farmers market report: New potatoes are in season. Here are 9 recipes
---