British lawmakers vote in favor of seeking Brexit delay after rejecting government proposals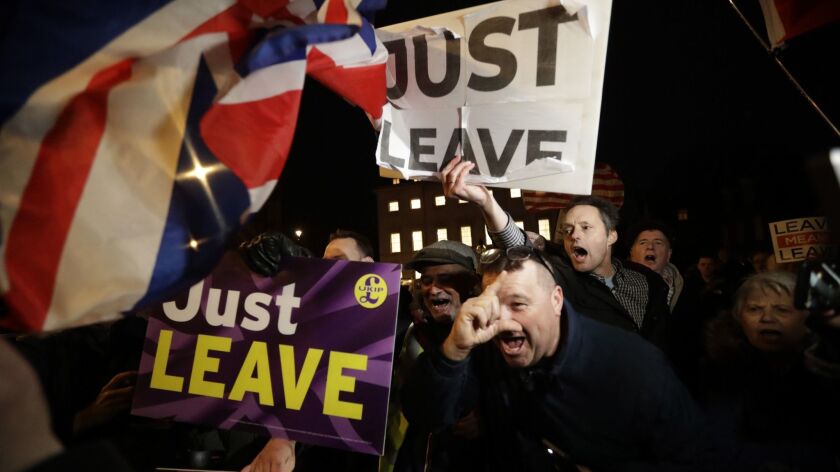 Reporting from London —
British lawmakers facing a March 29 Brexit deadline voted Thursday to seek a delay in the nation's breakaway from the European Union to try to reach agreement on what should happen next to avoid economic chaos.
Parliament voted 412 to 202 to give Prime Minister Theresa May until June 30 to come up with a plan to exit the EU, even though the two proposals she has already presented have been rejected by lawmakers, one in January and the other Tuesday.
Some British officials hope that postponing Brexit by three months will enable May to work out a way to get her deal — or a different deal with the EU — through Parliament and ensure all the necessary legislation to guarantee a smooth, orderly break.
May warned that if she cannot get Parliament's majority support for a deal soon she would need to seek a longer extension from the EU, which must approve any delay to Brexit.
EU officials have said their best offer for coordinating the break has already been made and that Britain must work within existing agreements.
European Council President Donald Tusk said Thursday that he would appeal to the leaders of the remaining 27 EU countries to grant Britain a long extension if it "finds it is necessary to rethink its Brexit strategy and build consensus around it."
British politicians and others have worried about the turmoil expected in commerce and other areas if Britain were to leave the bloc without a plan in place.
A significant issue for Brexit negotiations has been how to manage the border between the Republic of Ireland and Northern Ireland, which is part of the United Kingdom. British lawmakers have been unhappy with a so-called backstop agreement that would take effect if talks over a future trade deal deadlocked. The agreement would keep all the U.K. inside an EU customs union, and Northern Ireland would remain linked to some rules of the more extensive single market.
Labor Party leader Jeremy Corbyn said Thursday that Parliament must work together in a way "the government has so dramatically failed to do." May needed to accept that "her deal and no deal are simply no longer viable options," he said.
Parliament needs to come up with an alternative plan or consider a new public vote on the matter to move forward, Corbyn said.
Thursday was the third consecutive day lawmakers voted on various Brexit scenarios in a tumultuous week in British politics that has raised serious questions about how much longer May can retain power over a fractured Conservative party.
On Tuesday, lawmakers voted by a 149-vote margin against the withdrawal agreement that May hashed out with EU leaders during months of negotiations. Despite rejecting her plan, a day later they voted 321 to 278 against leaving the European Union without any deal on March 29, or any other date.
"Even more power drained away from Theresa May [Wednesday] night," Anand Menon, director of the U.K. in a Changing Europe think tank, said in an interview. "And as that power ebbs away from her, it moves inextricably toward Parliament."
Lawmakers on Thursday also voted 334 to 85 against a new proposal to hold a second voter referendum on Brexit, which was approved 52% to 48% in 2016.
Even though the results of Thursday's vote are not legally binding, it is a barometer of how much support there is within the House of Commons for going back to the polls.
Some officials and others are concerned that granting a second referendum could not only open up old wounds, given how intensely bitter the 2016 referendum campaign was, but it could also ultimately reverse Brexit, which they say would potentially undermine democracy and the will of the 17.4 million people who voted to leave the EU.
On Thursday, Cabinet member Philip Hammond dismissed the idea of another referendum.
"We had a referendum, the public made its view clear, narrowly, but clear, and now Parliament has to resolve this," he said. "There isn't a majority in Parliament for a second referendum."
Proponents of another referendum say members of the public ultimately should have a chance to vote on whether they support the details of a Brexit plan. Some said Thursday's focus, however, should be on whether to extend the deadline.
"We believe Parliament will have better opportunities to decide it is only fair and reasonable to give the public a real say on this crucial decision for our country," said Adrian McMenamin, a spokesman for the People's Vote campaign, a group of activists and politicians.
Boyle is a special correspondent.
---
The Latinx experience chronicled
Get the Latinx Files newsletter for stories that capture the multitudes within our communities.
You may occasionally receive promotional content from the Los Angeles Times.