Broken fighter jets, grounded helicopters and idled tanks: Germany's military is ailing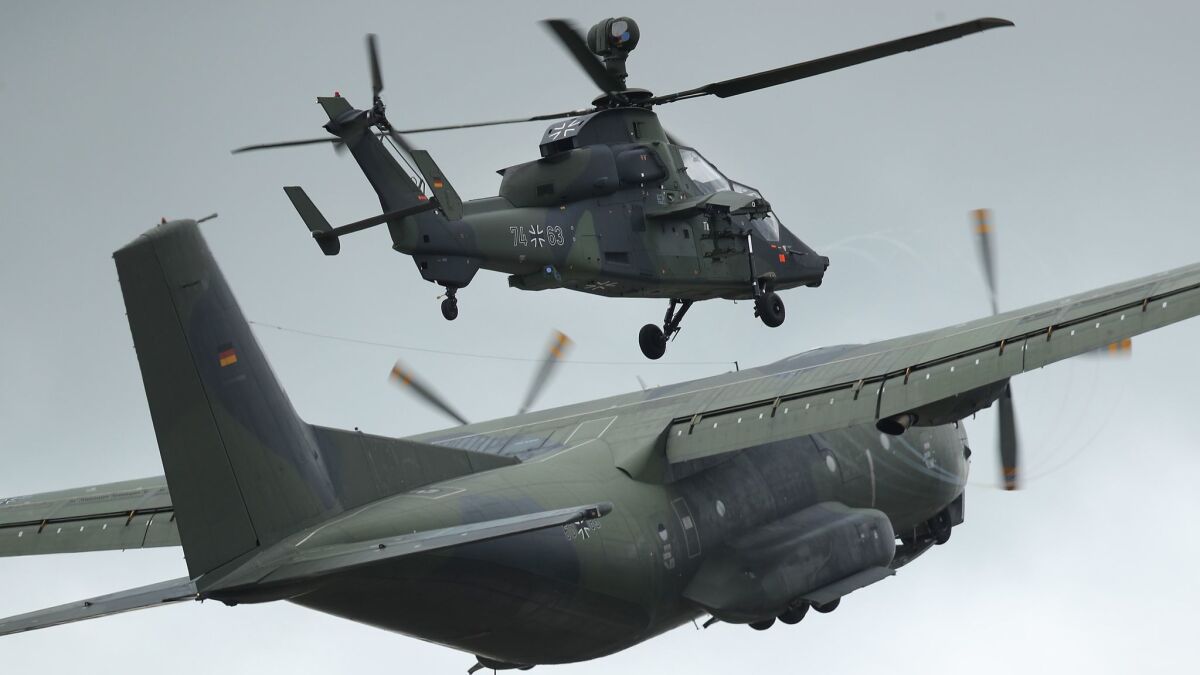 Reporting from Berlin —
There are so few German army helicopters available for the troops that pilots have been forced to train in bright yellow civilian choppers leased from the German Automobile Club.
A chronic shortage of spare parts and assorted technical woes have grounded 29 of the Bundeswehr's 130 camouflage-green helicopters. Acute shortages of parts have also left only 39 of the Luftwaffe's 128 Eurofighter jets combat-ready — idled along with nearly half of the armed forces' 224 Leopard tanks and five of its six submarines.
No country in the North Atlantic Treaty Organization alliance has savored the "peace dividend" as much as Germany, which slashed military spending in half after the Cold War. And no country in NATO has drawn more criticism from President Trump for not carrying its own military weight than Germany.
The country's embarrassingly long laundry list of inoperable fighter jets, grounded helicopters, idled tanks and dry-docked submarines has exacerbated tension between Germany and the United States, which — like other NATO allies — worries about the threat of Russian aggression after its annexation of Crimea in 2014.
But for many Germans, a country with a deeply pacifist streak following two wars in the last century, the lack of military preparedness is of little concern. In fact, it's a source of pride among the peaceniks who grew up with a post-World War II idealism of a world without wars — the Nie wieder Krieg generation.
While some in Germany, including Chancellor Angela Merkel, agree that Germany should spend more to pump up its military, there is no plan in place to significantly raise the amount that Europe's biggest economy spends on defense. Though Germany is the second-largest of the 29 members of NATO, it spends just 1.2% of its gross national product on defense — far less than the alliance's goal of 2% for each member country.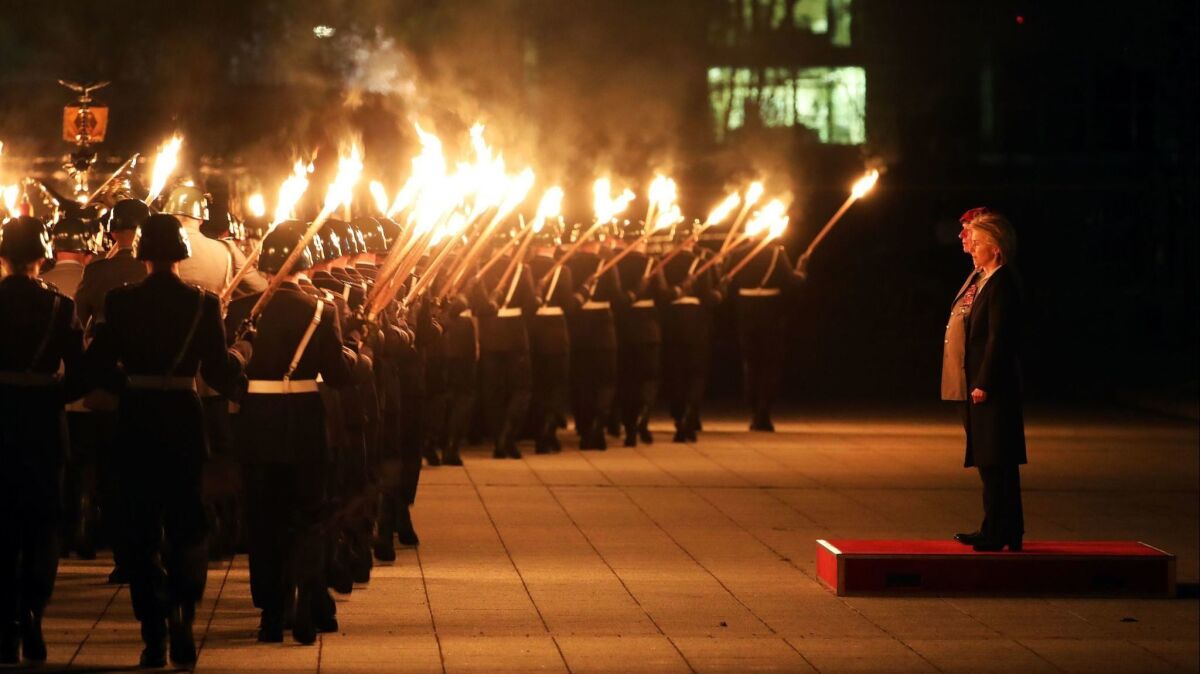 The United States, by contrast, spends 3.3% of its gross domestic product on defense, or more than $600 billion a year. Eight NATO partners are expected to hit the bloc's 2% goal this year and 15 more by the target date of 2024. But Germany won't be among them. Its current aim is 1.5% by 2025. Merkel recently told Trump that Germany could meet the 2% target by 2030.
"The situation with the Bundeswehr is not satisfactory at all," Merkel said in a speech last week, adding that the armed forces had shortcomings "all across the board" and that the army's combat readiness "totally needs to be improved."
Tension over military spending has boiled over during her 2-month-old "grand coalition" government, with the Defense Ministry, controlled by her conservative party, wanting to raise spending slightly but blocked by a finance ministry that is now controlled by the center-left Social Democratic Party, or SPD. Even though the federal government has been running widening budget surpluses the last four years, the SPD and other Germans on the left don't want to spend a single extra euro on arms and soldiers. Some even deride NATO's 2% target as a "fetish."
"There's a narrative going on here suggesting that progression towards 2% is something that could lead to a militarization of Germany," Merkel said in a speech in Berlin on Monday. "This 2% goal is not some kind of fetish. Rather it is necessary for us to meet our international obligations and defend ourselves."
Trump has repeatedly and publicly rebuked Germany for spending so little toward the bloc's collective defense. "It's unfair," he said, in one of his more polite comments. After a meeting in Washington last month, Trump took to Twitter and sarcastically congratulated Merkel for "ripping off" his predecessors in the White House on defense and trade — another sore spot for the president, who has complained about Germany's perennial trade surplus with the United States.
Officials at NATO headquarters in Brussels say Trump is right to demand that Germany increase defense spending. "Trump is using different language and doing it more publicly, but he's essentially saying the same thing about Germany that previous U.S. presidents have been saying all along," said a NATO official from Britain in an interview in Brussels.
On his first day on the job, Secretary of State Mike Pompeo lambasted Germany for not doing enough, saying "they should meet the goals they signed up for."
In Berlin, the new U.S. ambassador to Germany, Richard Grenell, also quickly made it clear that he intends to be a thorn in Germany's side when it comes to investing in defense.
"This is not being taken seriously enough," Grenell told embassy staff upon his arrival in Berlin this month, adding that it would be his "No. 1 issue" as Trump's envoy to Germany. "The 2% target is symbolic, and we all know that. But everybody agreed to move in that direction."
But for all the tough talk, there appears to be little pride in the country's armed forces among many Germans.
"We don't need weapons," said Anja Kruger, a 51-year-old Berlin travel agent. "Instead of spending money on arms, it should be spent on education and making people's lives better. Maybe it sounds naive, but the world needs more empathy and not war — never, ever."
It has been more than 70 years since World War II ended, and many Germans have little or no memory of wartime.
"They're more interested in their own welfare and their prosperity, and don't feel threatened," said Gero Neugebauer, a political scientist at Berlin's Free University. "After generations of living in peace, the idea of war is too abstract, it's too far away from their lives."
During the Cold War, West Germany spent about twice as much on defense, or about 2.3% of the country's GDP, when it and communist East Germany were at the focal point of the East-West standoff between NATO and the Warsaw Pact. But that was quickly cut in half in the early 1990s.
The antiwar sentiment became even more pronounced in 2002 after former Chancellor Gerhard Schroeder won an improbable come-from-behind reelection campaign — largely thanks to his incredibly popular pledge to keep Germany out of the U.S.-led war in Iraq. Since then, the SPD and parties on the left have vowed to keep defense spending to a minimum.
"Germans were completely indoctrinated with pacifism, thanks to American reeducation programs after World War II," said author and consultant Josef Braml, referring to U.S.-led de-Nazification efforts.
"Everything associated with war and the military was knocked out of our DNA," he said. "Ever since, we've seen ourselves as a nation of peace, only interested in commercial trade."
That neglect may help explain why 19 of the army's helicopter pilots lost their flying licenses in 2017 — they simply couldn't get in enough training hours with so few army helicopters available.
To prevent that from happening this year, the Bundeswehr is spending $25 million to rent the bright yellow traffic helicopters from the auto club so that the pilots can at least get enough training to keep their licenses current.
Kirschbaum is a special correspondent.
Must-read stories from the L.A. Times
Get the day's top news with our Today's Headlines newsletter, sent every weekday morning.
You may occasionally receive promotional content from the Los Angeles Times.