Having won reelection to a fourth term leading Germany, Angela Merkel has probably reached the pinnacle of her powers abroad as Europe's most important leader. (Sept. 25,2017)
Reporting from BERLIN —
Having won reelection to a fourth term leading Germany, Angela Merkel has probably reached the pinnacle of her powers abroad as Europe's most important leader.
But, ironically, Sunday's general election victory has left Merkel weaker than ever at home — blindsided by the rise of a nationalist far-right party whose success at the polls has badly shaken her proud conservative party.
Europe and the world may be looking increasingly to the imperturbable 63-year-old Merkel for leadership, especially now that British Prime Minister Theresa May is busy separating her country from the European Union, France's Emmanuel Macron is tied up with domestic battles and President Trump is shifting the United States to an "America first" policy.
Merkel, in power since 2005, will nevertheless be forced to look over her shoulder in Germany to keep a watch over her own restless conservative party allies. In theory, they are her political friends. But analysts believe nervous rivals within her Christian Democratic Union party will first try to force her back to the right, especially on her refugee policy, and ultimately try to force her out of power because of the party's serious erosion of support.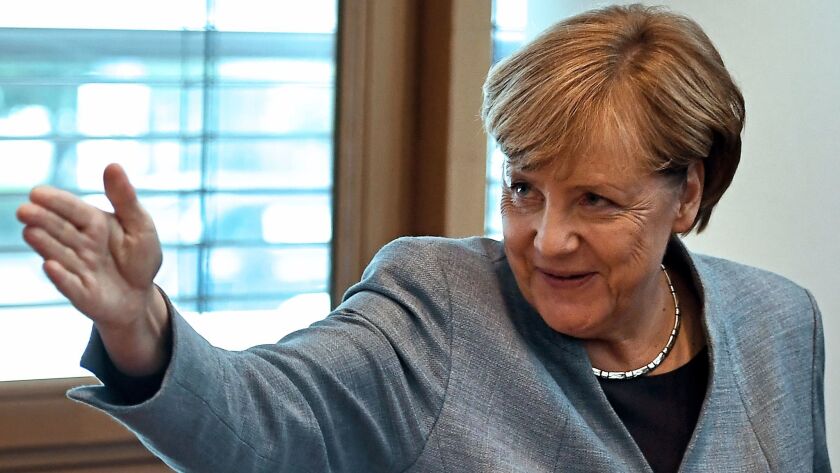 "Merkel's standing on the international stage has most definitely been enhanced with her reelection in such a difficult and turbulent time for the outside world," said Thorsten Hasche, a political scientist at the University of Goettingen. "A lot of countries will be looking to Merkel as an anchor of stability and for a strong EU. But at home it's going to be a different story."
Merkel and her predecessors have shown a tendency to avoid assuming any international leadership role, partly because of the country's notorious past. In addition, she has seen her authority grow over the last 12 years by virtue of her longevity and Germany's growing economic clout. Her unflappable style and reputation as a steady pair of hands in tight spots have also helped cement her global standing.
"The whole world might be turning to Merkel for leadership but Sunday's election could ultimately end up being a Pyrrhic victory," said Hasche, who predicts a stormy era ahead for Merkel after her Christian Democrats plunged from 42% support in 2013 to 33% Sunday — the party's worst showing since 1949.
The center-right conservatives, who have dominated postwar politics, lost more than a million voters to the upstart Alternative for Germany party. The anti-immigrant, anti-Islam party won 12.6% of the vote Sunday by campaigning hard against the 1 million refugees who poured into the country in 2015 after Merkel opened the floodgates to refugees and migrants from the Middle East and elsewhere.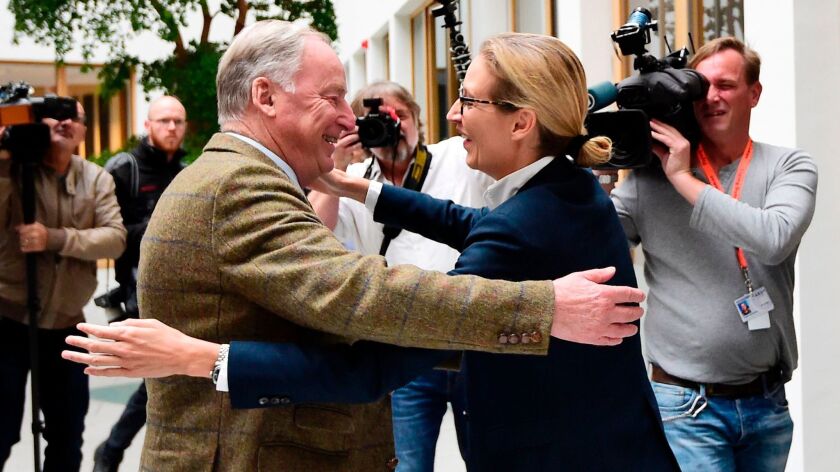 The Christian Democrats also lost their aura of invincibility, a disconcerting development for countless thousands of party soldiers across the country who hold elected office. Their careers are suddenly looking vulnerable as a result of what some consider to have been a reckless decision to allow in so many refugees from Syria, Iraq and other trouble spots.
"She's a lot weaker today at home than she was," added Hasche. "The party's arch-conservatives in Bavaria aren't going to accept any more compromises when it comes to refugees and asylum."
Merkel lost her junior coalition partners, the center-left Social Democrats, who immediately announced they would not renew their alliance after falling to an all-time low of support. She will now have to try to form a new and awkward three-party alliance known as a "Jamaica coalition" with the pro-business Free Democrats and the leftist Greens. The three parties have the same banner colors as the Jamaican flag: black, yellow and green. Negotiations are expected to last until December, analysts said.
"I don't think the major power dynamics will change, in the sense that Merkel will continue as chancellor," said Julius van de Laar, an international political strategist based in Berlin. "But I do think that German politics will likely become significantly more unstable because of this result."
Their loss of votes from 2013 to 2017 will cost the conservatives 65 seats in Parliament, giving them a total of 246. The Alternative for Germany party won 94 seats. Fears are running high in Merkel's party that it will sustain further losses in coming state and city elections because of anger over the chancellor's immigration policies. That, analysts say, means she could be on borrowed time.
"The discussion in the party about who will succeed Merkel is going to start a lot sooner than she wants — like immediately, right now, today, after the election," said Gero Neugebauer, a political scientist at Berlin's Free University.
Kirschbaum is a special correspondent.
---