Former Bosnian Serb leader found guilty in one of the most important war crimes trials since WWII
reporting from London —
Former Bosnian Serb leader Radovan Karadzic is guilty of multiple war crimes, a United Nations tribunal at The Hague decided Thursday in one of the most important war crimes trials since World War II.
The 70-year-old psychologist-turned-politician was convicted for his role as the architect of "ethnic cleansing" in the 1992-1995 Bosnian War and sentenced to 40 years in prison.
The conflict caused the former Yugoslavia to fall apart, left 100,000 dead and forced more than 2 million people to flee their homes.
The verdict was handed down by United Nations judges at the International Criminal Tribunal for the former Yugoslavia in The Hague, where Karadzic faced 11 separate charges.
He was found guilty in 10 of the 11 counts, with only one charge of genocide not upheld.
Karadzic appeared stoic as the verdict was handed down, standing in front of the judge dressed in a suit and tie.
"These are among the most egregious of crimes in international criminal law," judge O-Gon Kwon said.
Karadzic was found criminally responsible for the deadly 44-month siege of Sarajevo, where nearly 12,000 died because of a plan "to commission murder, terror and unlawful attacks against civilians," the judge said as he delivered his verdict.
Karadzic was also found guilty of the massacre of some 8,000 Bosnian men and boys in Srebrenica in eastern Bosnia, which amounted to genocide.
Instead of preventing the killings in Srebrenica, Karadzic "himself ordered that the Bosnian male detainees be transferred elsewhere to be killed."
The only count that Karadzic was cleared of related to accusations of genocide in municipalities in Bosnia.
The tribunal found that although crimes against humanity occurred, the events in those areas did not amount to a willful intent to exterminate a population.
Karadzic was convicted of all remaining counts: one count of genocide in Srebrenica, five of crimes against humanity, four of war crimes that included deportation of civilians, murder and hostage taking relating to the abduction of U.N. peacekeepers.
During the five-year trial, prosecutors say he authorized the forcible removal of non-Serbs from Bosnia and as commander-in-chief of Serb forces in Bosnia, he was responsible for their actions.
Karadzic denied the charges and said they were the actions of a rogue group of individuals who were not acting under his command. The tribunal instead found that he was instrumental to the slaughter.
Large numbers of Bosnians who survived massacres and concentration camps were expected to travel to hear the verdict or watch on their televisions at home.
His trial is symbolically important for his victims, but Karadzic's legacy continues to be deeply divisive in a country that is still riddled with ethnic tensions and a faltering economy.
Just last weekend, the Bosnian Serb leader Milorad Dodik named a student dormitory after Karadzic during a ceremony attended by his wife and daughter.
Bosnian Serb wartime leader Radovan Karadzic sits in the courtroom for the reading of his verdict at the International Criminal Tribunal for Former Yugoslavia (ICTY) in The Hague on March 24, 2016. The former Bosnian-Serbs leader is indicted for genocide, crimes against humanity, and war crimes.
(ROBIN VAN LONKHUIJSEN / AFP/Getty Images)
Former Bosnian Serb leader Radovan Karadzic stands in the courtroom during his initial appearance in 2008 at the U.N.'s Yugoslav war crimes tribunal in The Hague
(Jerry Lampen / AP)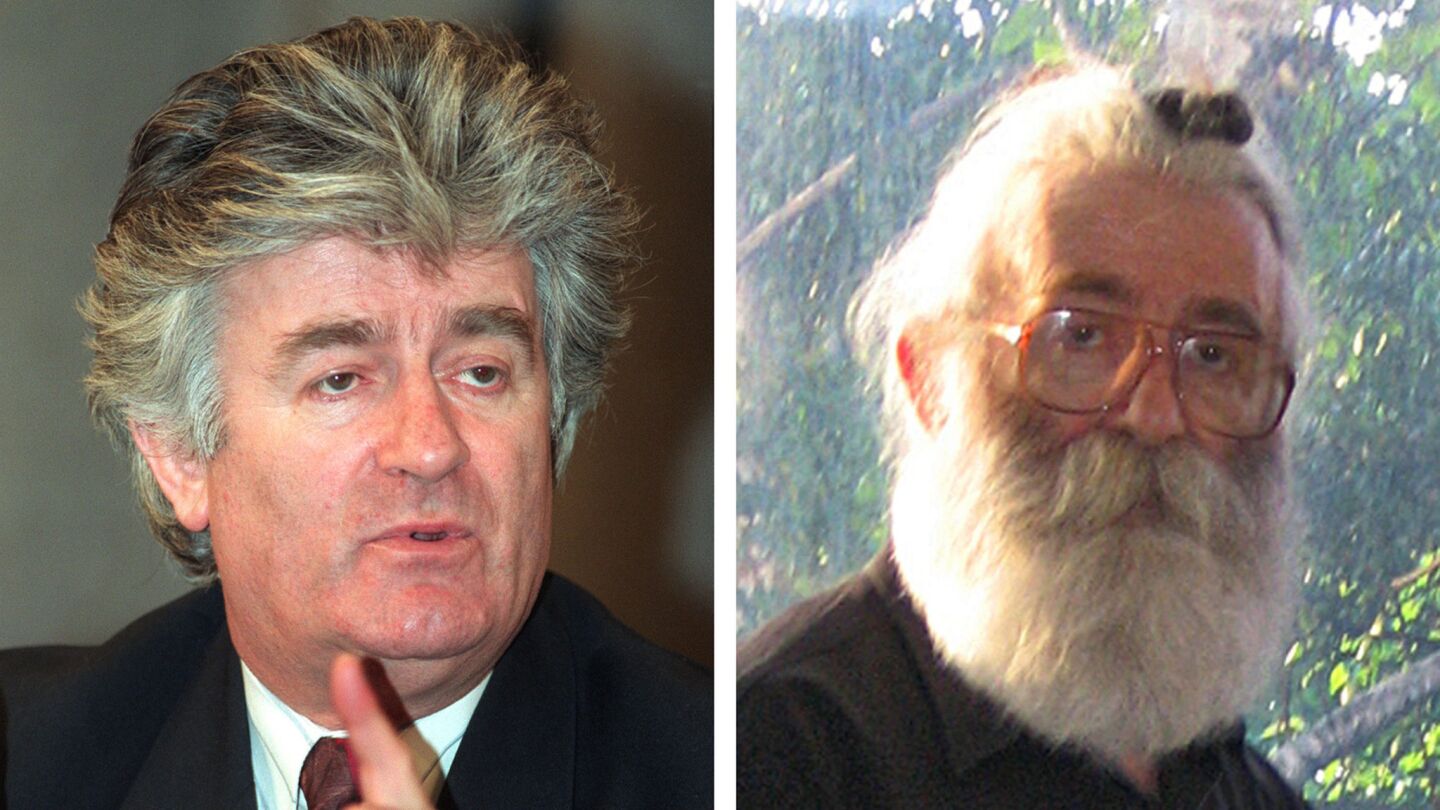 Left: Radovan Karadzic during a press conference on March 3, 1994, in Moscow. At right, Karadzic in Belgrade before his arrest in 2008. He was practicing medicine under a fake name in Belgrade, officials said. Karadzic managed to remain at large for 13 years despite an international manhunt.
(AFP/Getty Images)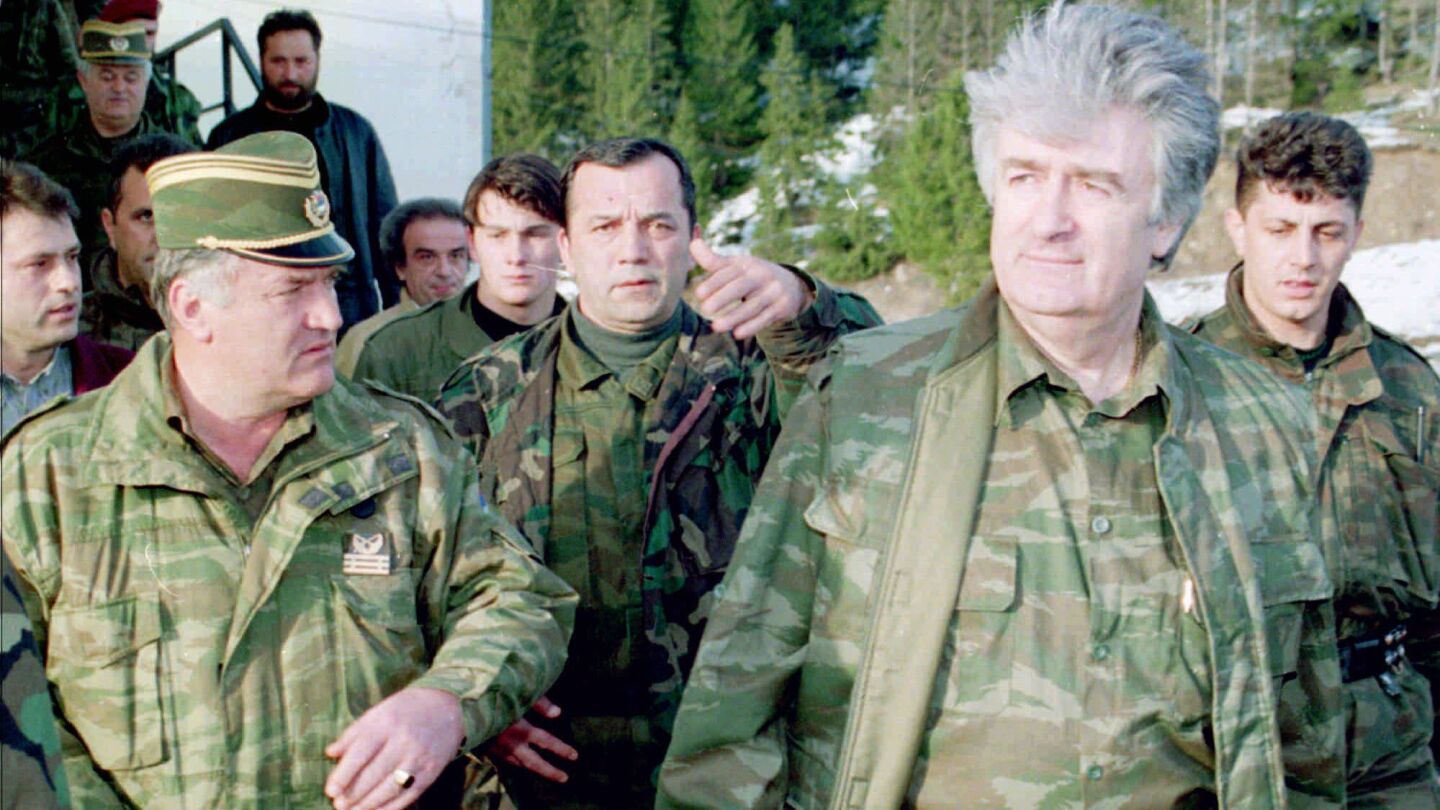 Bosnian Serb leader Radovan Karadzic, right, and Bosnian Serb army commander Gen. Ratko Mladic, left, visit the front line at Mt. Vlasic, some 50 miles southeast of the Bosnian Serb stronghold of Banja Luka on April 17 , 1995.
(SAVA RADOVANOVIC / AP)
Bosnian Serb leader Radovan Karadzic, right, with Bosnian Serb commander Ratko Mladic during a meeting in Pale, Bosnia-Herzegovina, in August 1993.
(STRINGER / EPA)
A U.S.-brokered peace deal finally brought the fighting to an end in 1995, and Karadzic was indicted in 1995.
However he eluded arrest for 13 years until he was finally tracked down in Belgrade in 2008 and extradited to The Hague. He had been living as Dr. Dragan Dabic, an alternative health healer, and had grown a thick beard to mask his appearance.
In a recent, rare interview, Karadzic sought to portray himself as a peacemaker, not a mass murderer.
He said that he thought his actions deserved "respect rather than persecution" and told the Balkan Investigative Reporting Network that he did not think he would be convicted.
"I know what I wanted, what I did, even what I dreamed of, and there is no reasonable court that would convict me, no matter how many high-ranking Bosnian Serb officials have been convicted," he said in the interview.
Boyle is a special correspondent.
ALSO
Port of L.A. helped pay for cleaner China Shipping vessels--which later stopped docking in L.A.
Joe Biden will try to explain what Republicans call the 'Biden rule'
New law allowing concealed guns on campus roils University of Texas
---
Must-read stories from the L.A. Times
Get the day's top news with our Today's Headlines newsletter, sent every weekday morning.
You may occasionally receive promotional content from the Los Angeles Times.