Britons will shake themselves off and pick a prime minister this week
The London attack has created a dramatic shift in Britain's upcoming election.
Reporting from London —
With less than 72 hours to go until voters head to the polls in Britain, the focus of the general election campaign shifted sharply to policing and security on Monday in the wake of the latest London terrorist attack.
As Londoners attempted to resume their normal lives following Saturday night's mayhem, which left seven dead and dozens injured, questions were inevitably raised about who would be best placed to keep the country safe, especially since this was the third such attack in as many months.
The attack forced a halt to the campaign, which had gradually become tight. But after a one-day pause, Labor Leader Jeremy Corbyn and Conservative Prime Minister Theresa May were back on the trail, each arguing that he or she was better positioned to keep Britons safe.
Corbyn, campaigning in the northeast of England, blamed May for overseeing cuts in police numbers during her tenure as home secretary, a post that she held for six years before becoming prime minister last year. He also appeared to call for May to step down, but later dialed back those comments, saying instead that Thursday's election was a chance for people to express their dismay decisively if they felt anger about her handling of the nation's security.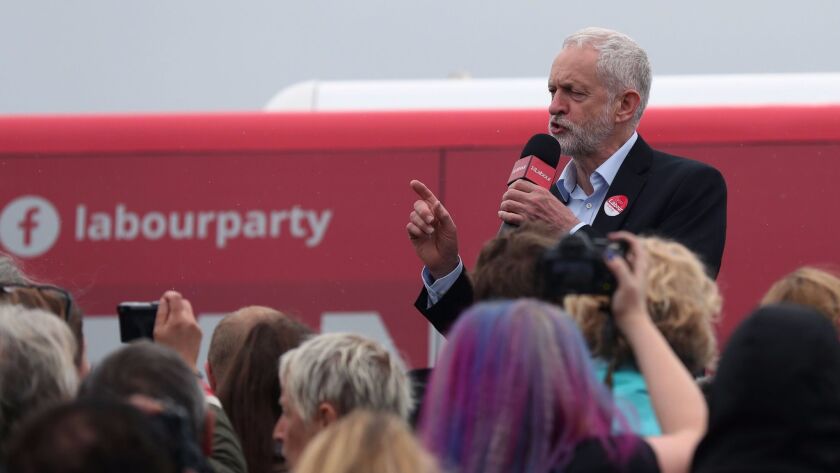 For the last month, May has attempted to make the election about Britain's exit from the European Union — known as "Brexit" — and her ability to provide "strong and stable leadership" during a time of flux, her oft-repeated mantra. Instead, she found herself on the back foot on Monday, forced to defend her decision to reduce the number of police officers by 20,000 since 2010.
May said her decisions while she was home secretary were not just about raw numbers but the powers given to the police, adding that the counter-terrorism policing budget was always protected. She also charged that Corbyn had not voted for previous counter-terrorism legislation and had also spoken in the past against a shoot-to-kill policy — the exact policy which enabled armed officers to unleash about 50 rounds of ammunition and end the three assailants' deadly rampage on Saturday night.
But it has been a bruising time for the prime minister, whose Conservative Party had initially held a large lead in opinion polls and appears to have lost ground to the left-leaning Labor Party in recent weeks.
The latest projection by YouGov shows May winning 305 seats, 21 seats short of a 326-seat majority. Her government currently has 330 seats. YouGov shows Labor poised to win 268 seats, an increase from the 229 seats the party currently has in the 650-seat parliament.
May had initially thought that she could use the election to get a clear mandate from the British public for her Brexit negotiations, an issue that has divided the Labor Party, but little has gone according to plan during this campaign.
With the country now coming to terms with terrorist attacks in both London and Manchester in the last few weeks, there is even greater uncertainty about how this could affect decisions made inside the ballot box on Thursday.
"There's no question the attack in London will affect the election," said Max Abrahams, a political scientist at Northeastern University who has studied the impact of terrorist attacks on elections. "It is already having a discernible impact on the campaign."
"Both the Conservative and Labor leaders are trying very hard to seem tough on terrorists," he added. "May sounds almost Trumpish, saying we need to restrict our liberties especially online to counter radicalization. Corbyn, on the other hand, has attacked May for the decline in the police force and for British support of terrorist-sponsoring countries, particularly Saudi Arabia."
The evidence is mixed about how much terrorism sways elections in favor of right-wing parties. Some analysts believe it can provide a boost for conservative-leaning parties because of their traditional emphasis on law and order.
But others note terrorist attacks just before elections in Spain in 2004 did not appear to help the center-right Popular Party, which lost to the center-left Socialist Party. Neither did they help France's National Front leader Marine Le Pen in France, who was soundly defeated by centrist Emmanuel Macron in May.
"The effect will be mixed for both Labor and Conservatives," said Tim Oliver, a political scientist at the London School of Economics. "May can't avoid questions about the effectiveness of her policies and her share of responsibility in any failings. Given that, the likely outcome is that both sides have histories and problems that cancel out any gains from the other."
On Monday, the vast majority of Britons — especially Londoners — attempted to carry on with life as normal and not be cowed by fear.
Britain's famous stiff upper lip was on display. "We'll just carry on — that's what we do," said Steve Bower, a 40-year-old London lawyer. "This won't have any influence on the election. We won't let them change anything. We're very strong in London. We'll just keep going on as we are."
That sentiment was echoed by London's Mayor Sadiq Khan at a Monday night vigil where he said he wanted to send a message to the "sick and evil extremists": "We will defeat you. You will not win."
"As a proud and patriotic British Muslim I say this: You do not commit these disgusting acts in my name," he added.
But the fact that neither of the leading parties has been able to put forward a comprehensive plan for how it would tackle terrorism will do little to reassure the public longer term.
The nationwide threat level remains at severe, meaning another attack is highly likely, and armed police and military are a jarring sight at monuments, transport hubs and tourist spots around the capital.
A wider debate needs to take place about what kind of security policy Britain needs given that the current tactics are clearly not working, said Anthony Glees, director of the Center for Security and Intelligence Studies at the University of Buckingham.
"Even after the Manchester killings, Corbyn was closing the gap with May so perhaps he could benefit if he can convince enough voters that we need a fresh approach to our security," he said. "All the parties are vulnerable when it comes to security," he added. "We were promised the 'Brexit' election but will end up with a 'security' election."
ALSO
British police name two of the London Bridge attackers as investigation speeds forward
Trump and his 'America First' policies have turned into a hot-button campaign issue in Germany's election
Ireland's Leo Varadkar moves a step closer to becoming prime minister
Kirschbaum and Boyle are special correspondents.
---
The Latinx experience chronicled
Get the Latinx Files newsletter for stories that capture the multitudes within our communities.
You may occasionally receive promotional content from the Los Angeles Times.