Man with knife slain by French police on Charlie Hebdo attack anniversary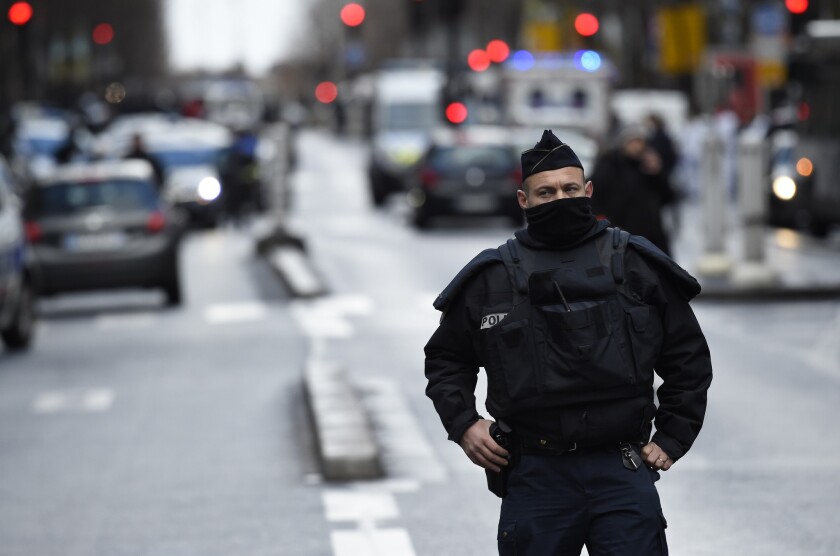 Reporting from Paris —
One year after the deadly attack on the French satirical magazine Charlie Hebdo, police shot and killed a man armed with a knife and wearing what appeared to be an explosives vest as he tried to enter a Paris police station Thursday.
The shooting came on a day when French President Francois Hollande, attending a ceremony to honor three law enforcement officers who died in the Paris violence a year ago, spoke of tougher legislation to combat terrorism and organized crime.
Hollande also urged the nation's military, police and intelligence services to work more closely, an appeal made amid criticism that French intelligence services had ignored warnings and failed to prevent attacks in January and November last year that left a total of 147 people dead.
"Faced with such enemies it's essential each service — police, gendarmes, intelligence, military — work in perfect harmony, openly, and they share all their information," Hollande said.
Join the conversation on Facebook >>
The man killed by authorities Thursday was brandishing a butcher's knife but turned out not to be wearing explosives as he approached the police station about 11:30 a.m. He was later found to be carrying a piece of paper that bore the flag of Islamic State militants and an "unequivocal claim of responsibility" in Arabic, according to Paris prosecutor Francois Molins. The incident is being investigated as a terrorist "attempted murder" of a public official.
The prosecutor confirmed reports that the man had shouted "Allahu akbar!" — God is great! — before being shot by police. Anti-terrorism police found that he was wearing a pouch under his coat with a wire hanging from it, but there were no explosives.
Interior Ministry spokesman Pierre-Henry Brandet said in a statement that the man "appeared to be wearing an explosives vest" as he tried to enter the police station at Goutte d'Or in north Paris' 18th arrondissement.
"Thursday morning a man tried to attack a police officer at the reception of a police station, before he was hit by police gunfire in response," Brandet said in a statement. "The police are not looking for anyone else, but we cannot rule out the possibility of accomplices."
Officers at the scene later told BFMTV that the man was wearing a fake suicide belt.
The area was quickly locked down after the shooting. Shops shut, two local schools were told to keep children inside, and residents were told to stay away from their windows.
Officials have reportedly identified the man as Sallah Ali of Casablanca, Morocco. His fingerprints were said to match those of a man caught for robbery in 2013, according to media reports.
On Jan. 7, 2015, brothers Cherif and Said Kouachi killed 12 people in and around Charlie Hebdo's headquarters. The following day, Amedy Coulibaly killed a policewoman before attacking a kosher supermarket, killing four hostages Jan. 9. The three attackers were shot and killed by police.
On Nov. 13, a group of Islamic terrorists carried out a series of attacks on bars and restaurants in Paris, including at the Bataclan music club, in which a total of 130 people died.
The attacks last year prompted a massive security clamp across France and brought thousands of police, security officers and soldiers onto the streets and boulevards of Paris, as well as controversial new laws including a sweeping surveillance bill that allows intelligence agencies certain tactics without court approval.
To the dismay of civil liberties groups, which described the law as something out of George Orwell's dystopian novel "1984," France's spymasters can tap phones and emails without prior authorization and force Internet service providers and cellphone companies to hand over call data. They can also bug private homes with microphones, cameras and key-logging devices.
Hollande this week unveiled a series of plaques as part of the remembrance of those who died last year.
In the southern city of Toulouse, local officials took to the streets to distribute 10,000 black pencils engraved with France's motto, "Liberty, Equality, Fraternity," in memory of the Charlie Hebdo cartoonists who were gunned down.
The widow of slain police officer Franck Brinsolaro, who had been protecting the publication's editor when the attack occurred, is suing over claims of security failures.
"For me, Franck was sacrificed. There's no other way to put it," Ingrid Brinsolaro told RTL radio. "He flagged what was wrong, the lack of security in the offices, the fact the place was a sieve."
Willsher is a special correspondent.
Willsher is a special correspondent.
ALSO
Another El Niño tantrum soaks the Southland
Is the NFL coming to L.A.? Here are the latest answers
Ron Burkle raised $10 million for the Clintons -- but that was then
---
Must-read stories from the L.A. Times
Get all the day's most vital news with our Today's Headlines newsletter, sent every weekday morning.
You may occasionally receive promotional content from the Los Angeles Times.