Another El Niño tantrum soaks the Southland
Seal Beach residents Mike and Cookie Castro cover themselves with a giant towel while a light rain falls on their morning walk along the Seal Beach Pier.
(Mark Boster / Los Angeles Times)
A view of Los Angeles from the Griffith Observatory on the shortest day of the year in Los Angeles.
(Francine Orr / Los Angeles Times)
A storm that rolled through Southern California Tuesday morning is part of a frosty weather system thatÕs poised to drop snow at low elevations on Thursday and into Friday.
(Irfan Khan / Los Angeles Times)
Jennifer Waxler keeps dry on her way to court Tuesday morning in downtown Los Angeles.
(Irfan Khan / Los Angeles Times)
A light rain doesn't seem to bother folks on their morning walk along the Seal Beach Pier.
(Mark Boster / Los Angeles Times)
Claudia Higginbotham walks her dog, Cody, along Main Street during a light rain in Seal Beach past the Endless Summer clothing shop, on the first full day of Winter.
(Mark Boster / Los Angeles Times)
Pedestrians at the Seal Beach Pier stop for a moment at the outdoor Christmas tree while a light rain falls on their morning walk.
(Mark Boster / Los Angeles Times)
A light rain can't stop folks from walking along the Seal Beach Pier shortly after daybreak.
(Mark Boster / Los Angeles Times)
Another El Niño-fueled storm soaked Southern California on Wednesday and brought with it flooding, mudflows and even a small tornado that struck Orange County in the early afternoon.
Pea-sized hail and 45-mph winds made their way south from San Luis Obispo, forcing the region to recognize that the season of storms has commenced. As much as 5 inches of rain was expected to drop across the Southland.
Still, Wednesday's rain was fickle, with clouds parting at times to allow the sun to shine.
FULL COVERAGE: El Niño in California >>
A flash-flood warning was issued for the Ventura County coast around Solimar Beach, and landslides forced the partial closure of the 101 Freeway at the State Beaches offramp. Rainfall on the area's hillsides, denuded by a fire that broke out on Christmas, sent mud into the northbound lanes of the freeway. A concrete-lined ditch that runs alongside the freeway offered little drainage help because it was already overflowing with water.
"This is only the beginning," said a Caltrans employee as he eyed a nearby hill, its scorched slope a menace when mixed with rain.
Less than two miles away, waves crashed against the cliffside homes of Mondos Beach as rain fell at a rate of about an inch an hour.
Residents in the nearby small Ventura County beach community of La Conchita braced for a landslide, well aware of the one in which 10 people were killed a decade ago when 400,000 tons of mud slid down a bluff.
One homeowner wore a raincoat as he stood in his garage, watching the rain fall through a gray fog. The sound of car tires whooshing through puddles played in the background. His house, he said, had survived two landslides.
Rainfall was heavy but uneven during the 24-hour period that ended Wednesday night, with the San Gabriel Dam getting 3.51 inches, La Cañada Flintridge 2.17 inches and Santa Barbara 1.71 inches. Santa Monica, Palmdale and Long Beach each saw about a third of an inch, according to the National Weather Service.
Experts predicted the storm would drop more than 13 inches of snow on Lake Arrowhead, prompting the Rim of the World Unified School District to close schools Wednesday. Higher elevations across the Southland were expected to see up to 2 feet of snow by Friday morning.
Snow chains were required in Wrightwood, where some children sledded in a flurry of flakes that accumulated up to 7 inches by the evening.
In Los Angeles, drivers navigated swamped roads — with some attempting to plow through water that rose as high as their hubcaps. TV news coverage of a morning police pursuit of a white van in Sunland-Tujunga showed both cars sliding on slick streets. The Los Angeles River, usually a trickle, roared with life.
At one point the 5 Freeway was closed in Sun Valley because of flooding.
Highway 1 at Pismo State Beach was closed indefinitely because of several downed power lines.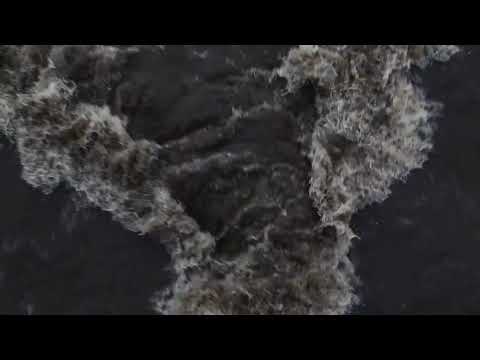 A usually tame Los Angeles River comes roaring to life in downtown Los Angeles during the recent string of El Niño-fueled storms.  
A mudflow late in the afternoon in Santa Clarita, where the Calgrove fire had burned more than 400 acres, prompted Los Angeles County fire officials to evacuate residents of 10 mobile homes. The American Red Cross set up a shelter at a community center in Newhall.
In Riverside County, a person reported seeing a body in the Santa Ana River, but after dozens of firefighters combed the waterway, no victim was found and the search was called off.
And in Kern County, many AT&T cellular customers experienced an outage, including service to 911.
Concern also turned to the homeless near reservoirs. Over the last six months, outreach workers have visited encampments in the county's five watersheds to spread news of impending dangers from El Niño rains.
But according to a report recently released by the Los Angeles County Civil Grand Jury, plans to accommodate the homeless are "unconscionable and grossly inadequate."
About 70% of the county's estimated 44,000 homeless sleep outdoors on any given night, the report said, and strategies are needed to "alleviate the suffering that is certain to increase among those who lack reliable shelter."
See more of our top stories on Facebook >>
The grand jury urged agencies and city leaders to identify public and private buildings that could become temporary shelters and to relax any health, fire and safety codes that might prevent those spaces from serving as refuges. It also recommended that tents, tarps and ponchos be provided to those who cannot find room at shelters.
Naomi Goldman, a spokeswoman for the Los Angeles Homeless Services Authority, said that the city and county have "significantly expanded shelter resources … to serve as many homeless persons as possible" and that the existing facilities are not yet at full capacity.
Wednesday's storm — the third this week — was slower-moving but just as powerful as the one that passed through the area Tuesday, forecasters said.
In an unusual development, the National Weather Service's Storm Prediction Center listed Southern California — and its more than 19 million residents — as having a "marginal" risk of severe thunderstorms or even a tornado.
"The main thing is they're just seeing instability in the atmosphere today," NWS meteorologist Emily Thornton said. "I think it's pretty broad where it could happen."
A small tornado was reported about 1 p.m. just south of San Clemente in Orange County.
The rain is expected to persist Thursday but will become lighter.
Snow is forecast in areas as low as 3,500 feet, including the Grapevine section of the 5 Freeway, according to the National Weather Service.
Although rainfall is expected to be scattered, there is a chance of thunderstorms and short, heavy rainfall.
The areas of biggest concern will again be hillsides burned in brush fires, which after four years of drought have less vegetation to hold back loose soil.
On Wednesday in the Pasadena area, mud and broken fencing flowed into a resident's backyard in the 500 block of St. Katherine Drive. The owner was told to prepare to leave on a moment's notice.
Fearing that strong winds could lead to falling trees, public works inspectors spent the day driving through vulnerable areas.
As the skies oscillated between sunshine and clouds, many lined up for Powerball lottery tickets, laying their bets with another unpredictable outcome.
Still, shop owners noted that a jackpot that soared Wednesday to $500 million failed to draw the usual massive throngs.
At Bluebird Liquor in Hawthorne — where regulars make sure to touch the store's bluebird statue for luck — ticket sales were steady, but the line was not out the door. No one wanted to stand outside.
taylor.goldenstein@latimes.com
Times staff writers Corina Knoll, Jason Song, Gale Holland and Matt Hamilton contributed to this report.
MORE ON EL NIÑO:
More rain, high surf and strong winds in store
El Niño rains get L.A. River roaring to life
Live updates: High surf and storm runoff shut down L.A. County beaches