An outspoken researcher of Stalin's crimes fights for his own fate and freedom in Russia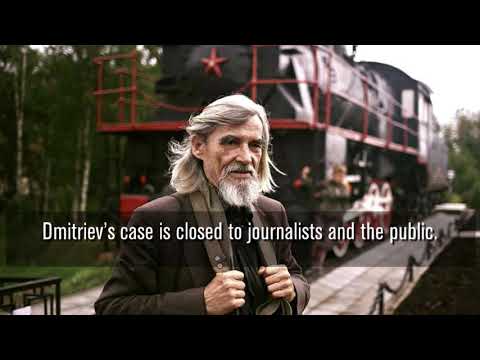 Friends and family say Yuri Dmitriev is facing political repression for work that highlights a dark period of Russian history.
Reporting from Petrozavodsk, Russia —
A small clearing in a dense northwestern Russian forest marks the site where, 20 years ago, Yuri Dmitriev discovered a group of mass graves containing victims of Josef Stalin's Great Terror.
Using detailed documents uncovered in KGB archives, Dmitriev was able to piece together the location where Stalin's execution squads killed and buried more than 9,500 people from 1937 to 1938. The documents contained the dates and names of those killed, as well as the executioners' names. During the next two decades, Dmitriev worked meticulously to document every victim's story.

For the record:
5:34 p.m. June 23, 2019
An earlier version of this story said Yuri Dmitriev has four children. He has three.
Today, Sandarmokh, as the site became known, is a memorial to the people of more than 60 nationalities buried here, including those from Norway, Finland, Poland, Ukraine and Russia.
But friends and family of Dmitriev, one of Russia's most outspoken researchers of Soviet-era crimes, say he faces political repression for his work to shine a light on one of his country's darkest periods.
At a time when Russia is facing increased international isolation for its annexation of Crimea and accusations that the Kremlin interfered in the 2016 U.S. presidential election, a resurgence of Kremlin-promoted nationalism has put pressure on historians or anyone else who dares to bring attention to Russia's difficult history.
In December, police arrested Dmitriev in his home in Petrozavodsk, a city of about 250,000 in Russia's northwestern republic of Karelia. They charged him with child pornography and endangering a minor, claiming that Dmitriev was taking pornographic photos of his 11-year-old adopted daughter. A third charge of possessing an illegal firearm was added later.
Prosecutors said the police were acting on an anonymous tip that accused the researcher of possessing naked photos of the child.
Dmitriev denies the charges, saying that the photos were innocent and that the firearm charge stemmed from his owning parts of a non-working hunting rifle. Colleagues and human rights organizations say he has been framed with a grotesque charge intended to smear his reputation and associate his work with an unspeakable crime.
"The government is trying to associate sexual crimes with his research in such a way that it would turn people away from looking into the history of Sandarmokh," said Melissa Hooper of Human Rights First, an international human rights watchdog. "This is a cautionary tale to others, and the warning is: Don't try to challenge the narrative of Russian strength, and don't try to smear the Russian name by digging into the negative past."
Seven decades after the end of World War II, the Kremlin under President Vladimir Putin has gone to great lengths to continue the glorification of the Soviet Union's victory in the war under Stalin's leadership. In May, the Kremlin issued a protocol to Russian ministries and public organizations to find ways to spread "objective historical and current information about the Russian Federation, including its role in defeating Nazism."
Putin, a former KGB officer, has described Stalin as an "effective leader." In a recent lengthy interview with filmmaker Oliver Stone, Putin said the "excessive demonization" of Stalin in the West was "one means of attacking the Soviet Union and Russia."
Critics say the Kremlin's approach to history whitewashes Stalin's repressions and the crimes of the Soviet state. Historians estimate between 15 million and 30 million people died under Stalin — who ruled the Soviet Union from the mid-1920s to 1953 — in labor camps, executions and forced famines.
Stalin has again become a popular figure in Russia. A June public opinion poll found that 38% of Russians saw him as the "most outstanding person" in world history. (Putin tied with Russia's beloved 19th century poet Alexander Pushkin for second place at 34%.) Statues dedicated to Stalin have been re-erected in several towns across Russia.
'A lone wolf'
As the head of the Memorial Society branch in Karelia, Dmitriev was known by his colleagues and friends as a fearless and headstrong individual. For years, his summers were spent excavating in the vast, forested region bordering Finland. He focused on the search for Stalin's victims near the Solovki prison camp, one of the most notorious of the Russian penal colonies. Alexander Solzhenitsyn, the dissident author of "The Gulag Archipelago," once described Solovki as the "mother of the gulag."
The Memorial Society was started in 1989 as a nonprofit human rights organization dedicated to researching political repression in totalitarian states. It brought attention to the victims of Soviet political repression during the last days of the Soviet Union.
"Yuri was a sort of a lone wolf," said Irina Flige, the director of the Memorial Society in St. Petersburg. "There were two of us to research in St. Petersburg. But in Karelia — all of Karelia — it was just Yuri, his daughter Katya and a big dog."
Dmitriev's digging found more than one mass grave in the region, and his work culminated in a book documenting 13,000 of Stalin's victims in Karelia alone.
The eldest of his three children, Ekaterina Klodt, 32, said Dmitriev made it his life's purpose to painstakingly document the names of not just the victims, but also the perpetrators of crimes committed during one of Russia's darkest periods.
"He felt that each victim's family had the right to bury their relatives, so that they had the opportunity to go visit their graves," Klodt said in an interview in Petrozavodsk. "He worked all day and night in front of that computer, just poking with his two fingers at the keys all the time."
Today, a paved road leads to the forest where the Soviet execution squad's notes described the burial of thousands of their victims. Following the notes, Dmitriev first spotted large, oval-shaped patches in the earth among the tall birch and pine trees, said Flige, who was with Dmitriev that day in 1997. They began digging, soon finding bones and skulls.
Over the years, victims' families have erected gravestones to memorialize the victims. Some are large, carved stones dedicated to hundreds from Georgia, Lithuania, the Czech Republic and other places. Others are simple signs with a name and photograph, nailed to trees.
"Too many of these names are foreigners," said Gleb Yarovoi, a Petrozavodsk journalist and lecturer at Petrozavodsk State University, as he walked through Sandarmokh. "That's why this is so uncomfortable for the authorities."
Local authorities at first embraced the International Day of Remembrance held every year at Sandarmokh since 1997. Dozens of foreign delegations joined regional leaders to pay respects to those who had been executed at Sandarmokh and elsewhere.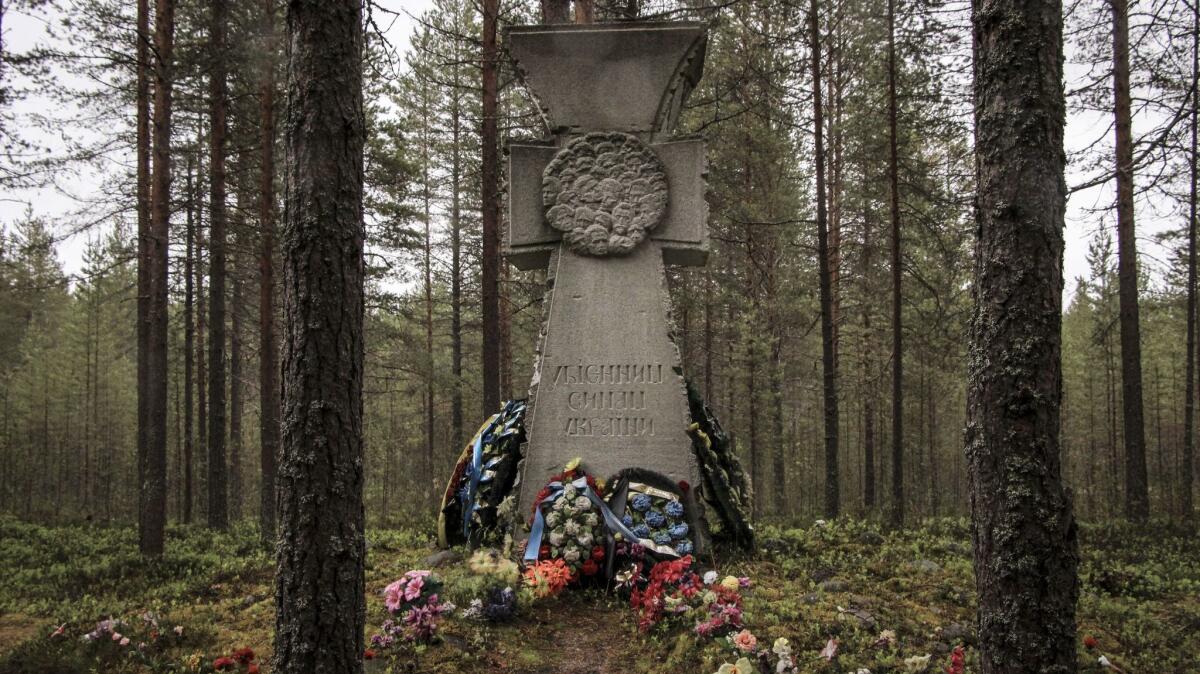 But in 2014, after Russia annexed Crimea, Russian nationalism was on the rise. That year, the Karelian government said there wouldn't be enough money for the sound system for guest speakers at the ceremony.
Dmitriev gave his annual speech regardless, and in it, he mentioned the war in Ukraine and cautioned those in attendance not to let the past repeat itself.
The next year, the regional government said there would be no buses to shuttle people the 100 miles from Petrozavodsk to Sandarmokh.
By then, Dmitriev was telling his eldest daughter that he was getting worried. Something was going to happen to him, he said. Klodt passed it off as paranoia. On Dec. 13, 2016, Dmitriev called her from the police investigator's office. He had been arrested.
"He called and I just couldn't believe what he was saying," Klodt said. "What photographs, what are they talking about?"
Dmitriev told her he was facing eight to 15. "Days?" she asked. Surely this will be over soon, she said she remembers thinking.
" 'No, eight to 15 years,' he told me," Klodt said as she fought back tears. "I just dropped to the floor then. There was no way this was happening to my father. He's 61 years old. He can't survive in conditions of our prisons."
A contentious court case
A month after Dmitriev's arrest, the state channel Russia 24 ran a 14-minute report on his case. The report criticized both Dmitriev and the Memorial Society, saying they wanted to slander Russia and influence the minds of young people by politicizing history.
"After that report, it was obvious to everyone that these absurd charges against Dmitriev was now a political issue," Flige said.
The prosecutor's office said it wouldn't comment on the case until the court delivered a verdict.
"But I can assure you that it is not in any way connected with Dmitriev's [research] activity," said Tatyana Kordyukova, the prosecutor's chief assistant on media relations, when asked if the case was politically motivated.
Dmitriev's lawyer, Viktor Anufriev, said his client took photos of his adopted daughter to document the girl's health and development from 2008 to 2015. Dmitriev, who grew up as an orphan, adopted the girl when she was just older than 3. Because he was an older parent, it was a hard fight to finalize her adoption with the state authorities, Anufriev said.
Dmitriev was a detail-oriented person who documented everything, often with photos, his lawyer said.
The entire case against his client was "initiated too quickly and under strange circumstances," Anufriev said.
Klodt said she and her father believe someone broke into his home a few weeks before he was arrested. She said she believes her father's computer was searched and the photos downloaded. Several days later, police reported they had received the anonymous letter claiming that Dmitriev was taking photos of his adopted daughter.
"These facts make any normal person wonder," Anufriev said.
Dmitriev's court case is closed to both journalists and the public because of the sensitive nature of the charges involving a minor. Anufriev said he expects a verdict in September.
"My father is paying a big price for all the truths he has revealed," Klodt said.
Twitter: @sabraayres
Ayres is a special correspondent.
ALSO
Ukraine's separatists propose a new country: Little Russia. Kremlin denies any involvement
Here's why Vladimir Putin should fear Russia's millennials: They bypass state-controlled media
Trump still harbors doubts about Russian hacking, new White House communications director says
Sign up for Essential California for news, features and recommendations from the L.A. Times and beyond in your inbox six days a week.
You may occasionally receive promotional content from the Los Angeles Times.