In Russia, a green-colored antiseptic becomes a weapon in attacks against opposition activists and journalists
Reporting from NEW YORK —
Hours after Russian opposition leader Alexei Navalny was attacked last week outside his Moscow office with a green-colored antiseptic, he sat down in his studio to record a video on his YouTube channel, Navalny Live.
The Kremlin critic's face, neck and hands were stained bright green. His left eye was encircled in red and bloodshot. The right eye was swollen shut.
"Today you have probably noticed that I'm not looking as I normally do," Navalny said. Upbeat and defiant, he described what happened.
On April 27, Navalny was leaving his Anti-Corruption Foundation office when an assailant splashed a commonly used antiseptic called zelyonka in his face.
It wasn't the first time Navalny had been doused in zelyonka. A month before Thursday's attack, Navalny, who says he will run against Russian President Vladimir Putin in 2018, was sprayed in the face with the green liquid while on a campaign stop in the Siberian city of Barnaul.
That time, the man whose Anti-Corruption Foundation has drawn the Kremlin's ire for its investigations into high-level Russian government figures, including Prime Minister Dmitry Medvedev, spun the green dye to his advantage. He painted his whole face green and urged his supporters to come out to march against what he claims is Kremlin-orchestrated corruption.
His supporters followed his lead, posting photos of themselves painted green on social media. It became a symbol of the Russian opposition movement protesting corruption.
Navalny next rallied support for anti-corruption mass protests that saw tens of thousands of demonstrators turn out in 82 cities across Russia on March 26. Thousands were arrested during the protests, including Navalny. The protests were the largest in Russia since 2012, when there were mass demonstrations after parliamentary elections.
But in the aftermath of the April 27 attack, Navalny is taking a more serious tone. This time, chemical burns cost him 80% of his sight in his right eye, he said on his Facebook page. His doctors, he said, believe that the severity of his injury indicates that some other, more toxic substance must have been mixed in with the green antiseptic.
"So far this is not irreversible," he wrote on Facebook. His treatments will continue and there is hope his sight will return, he said.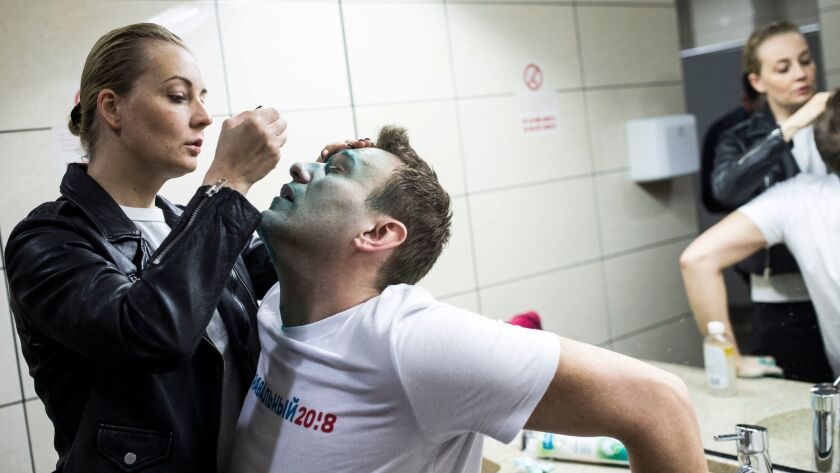 Navalny blamed the attack on Kremlin associates and said he would file a complaint against the Moscow police for not properly investigating his attack.
Meanwhile, Navalny supporters said they had used a video of the attack shown on a state-owned TV report and social media to identify two of the suspected assailants. One has close ties to a Russian parliament member and the other is a member of a radical, pro-Kremlin group called the South-East Russia Block, the activists said.
Despite their sleuthing, human rights activists said it's unlikely Navalny's attack will be solved. More serious attacks in the past have gone unsolved.
"They do it because they know they are living in a state of impunity, a state Putin has created," said Vladimir Kara-Murza, an opposition politician and vice chairman of Open Russia, a pro-democracy group. Kara-Murza was a close associate of slain opposition leader Boris Nemtsov. He said he has survived two poisoning attempts, the last one in February, when he suffered from acute organ failure.
"Zelyonka is nothing when they know that they can kill a man in front of the Kremlin or poison another," he said, speaking during a visit to New York.
Nemtsov, a former deputy prime minister, was shot and killed outside the Kremlin wall in 2015. Five men associated with the president of Chechnya are standing trial in that case, but attorneys for Nemtsov's family have expressed doubt that they are the real organizers of the killing.
Navalny was not the only anti-corruption investigator to suffer from a douse of zelyonka last week.
Attacks against journalists, opposition leaders and civil society activists have increased since the last parliamentary elections in September 2016, said Viktor Davidoff, the editor of the Chronicle of Current Events, which tracks human rights violations.
The day before Navalny's attack, Ilya Varlamov, a popular Russian blogger and independent journalist who focuses on corruption within Russia's regional governments, was attacked in the southern city of Stavropol by a group of men, who threw zelyonka, eggs and flour at the blogger.
The next day, in Yoshkar-Ola, about 400 miles east of Moscow, investigative journalist Galina Sidorava was attacked with a jar of zelyonka thrown at her back. Later that day, the window was smashed in the training room where Sidorava was conducting seminars for local journalists.
"After the March 26 protest, the attacks grew more violent," Davidoff said, adding that he has recently received death threats. "Many of us are looking for somewhere safe to go. If it continues, for sure I will leave."
Ayres is a special correspondent.
Twitter: @sabraayres
ALSO
G-7 ministers aim to press Russia to stop backing Assad
Clinton blames the FBI, Russia, WikiLeaks and also herself for 2016 loss
Russian hacker went from poverty to making millions in stolen credit cards. Now he's facing 27 years in prison
---
The stories shaping California
Get up to speed with our Essential California newsletter, sent six days a week.
You may occasionally receive promotional content from the Los Angeles Times.