Putin: It's 'utter nonsense' that Russia is meddling in the U.S. election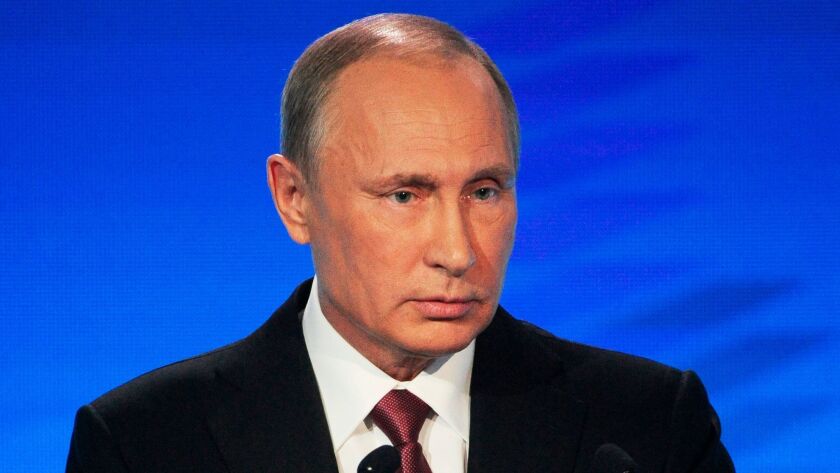 Reporting from Moscow —
Russian President Vladimir Putin on Thursday vehemently rejected claims that Moscow is tampering with the U.S. presidential election, and said it was "utter nonsense" that the Kremlin favors Republican Donald Trump.
At the same time, he had kind words for Trump, saying "he chose his method of getting through to voters' hearts."
Earlier this month, the White House accused the Kremlin of masterminding cyberattacks on the Democratic National Committee and leaking stolen emails. Democratic nominee Hillary Clinton has called Trump a puppet of Putin's.
The Kremlin has denied the accusations, and Putin called them a ploy to divert public attention from issues such as gun violence or the United States' growing debt.
Presidential hopefuls "apparently have nothing to say, so it's much simpler to distract people with presumed Russian hackers, spies and agents of influence and so on," he said in televised remarks at a gathering in the Black Sea city of Sochi.
"Does anybody seriously think that Russia can somehow influence the opinion of the American people? Is America some banana country? America is a great power," Putin said.
In praising Trump, he said: "He, of course, acts extravagantly, we all see that, but, I think, it's not that meaningless."
The Russian president was speaking at an annual forum of international foreign policy experts.
Putin used the opportunity to sharply criticize the Obama administration over its military involvement in Syria, and to call for a new Marshall Plan to rebuild the Middle East.
"The colossal scope of destruction requires development of a long-term and comprehensive program, a Marshall Plan of sorts, to revive the region torn by wars and conflicts," Putin said. He was referring to the U.S. program of financial and technical support to rebuild Western Europe after World War II.
Before its collapse in 1991, the Soviet Union showered Middle Eastern nations that sympathized with communist or socialist doctrine with aid projects that included construction of dams, export of technologies – and a supply of Soviet-made weapons at discounted prices or free of charge.
Under Putin, Russia has sought to reclaim its Soviet-era clout in the region. Its major allies are currently Syria and Iran, but Sunni Arab nations have been alienated by Moscow's support for primarily Shiite countries.
A cease-fire Washington and Moscow brokered in Syria collapsed in September, and the Pentagon suspended its military cooperation with Russia, accusing it of targeting civilians in besieged Aleppo.
Putin claimed that the cease-fire fell apart because of Washington's inability to distinguish between moderate opposition and radical jihadists, including Islamic State's allies.
"It's a fact," Putin said resolutely. Rather than distinguishing between "the healthy part of the opposition" and radical groups such as the Nusra Front, "our American partners ruined the truce," he said.
Russia has decades-long ties to Syria, and Moscow saved President Bashar Assad's government by starting massive airstrikes on his opponents last September and helping his troops regain some key areas, including the ancient city of Palmyra.
Mirovalev is a special correspondent
ALSO:
Will Putin get his way in neighboring Georgia? Elections test how far Russia radiates its power
Putin suspends deal with the U.S. on weapons-grade plutonium disposal
Video of a dead city: This is what Syria's devastation looks like
---
Must-read stories from the L.A. Times
Get all the day's most vital news with our Today's Headlines newsletter, sent every weekday morning.
You may occasionally receive promotional content from the Los Angeles Times.