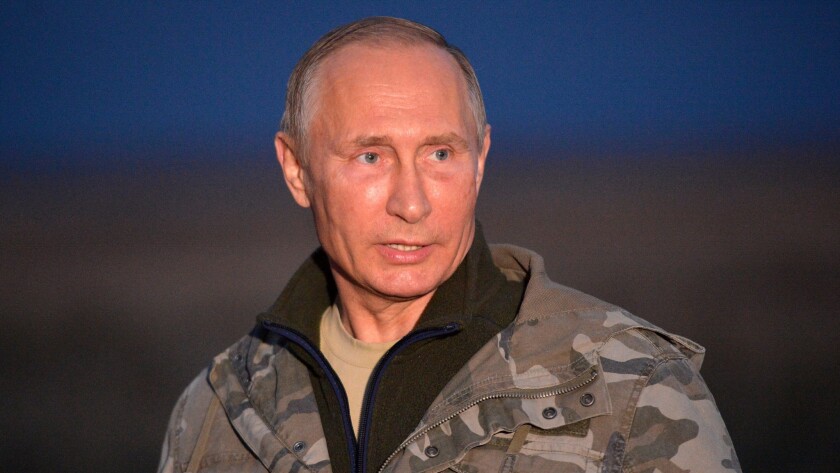 Reporting from MOSCOW —
Russia said Monday it was suspending its participation in a key agreement with the U.S. to eliminate nuclear weapons.
Russian President Vladimir Putin signed a decree citing "a threat to strategic stability as a result of USA's unfriendly acts toward Russia." This was an obvious reference to a deepening diplomatic spat between the Kremlin and the White House over Syria, as well as tensions and sanctions that followed Russia's 2014 takeover of Crimea and its support to separatists in eastern Ukraine.
Russia-U.S. ties hit their lowest point since the 1991 Soviet collapse in recent weeks after a cease-fire in Syria brokered by Washington and Moscow collapsed and the White House stopped talks on military cooperation with the Kremlin in the war-torn Middle Eastern nation.
The nuclear deal to process 34 tons of weapons-grade plutonium — enough to make 17,000 nuclear warheads — was signed in 2000 by the outgoing administration of President Bill Clinton and Putin's first government. Expanded in 2006 and 2010, it was among the last strategic accords that put an end to the arms race and were enforced despite the ups and downs of U.S.-Russia relations after the 1991 Soviet collapse.
Putin's decree stipulates that Moscow will resume its participation in the accord only if the U.S. fulfills a list of demands, many of which run contrary to security policies the U.S. has pursued for decades. The White House would have to lift all anti-Russian sanctions, "compensate" Russia for the sanctions-related losses and reduce the U.S. military presence in Eastern Europe to pre-2000 levels. In 2015, NATO opened command points in six Eastern European nations allowing a swift deployment of troops and arms.
In the decree, Moscow also claims that Washington is training ultra-nationalist militants in Ukraine and "openly stands up to protect economic crimes" in Russia. It also wants the U.S. to remove personal sanctions and travel bans against Russian officials — a targeted move that hurt some of Putin's oldest and closest allies whose family members live or study in Western Europe or the U.S.
"The decision we made is a signal to Washington," Russian Foreign Minister Sergei said in a statement posted on his ministry's website. "Attempts to talk to Russia from the position of power — to use the language of sanctions and ultimatums, and at the same time, to continue a selective partnership with our country only in the areas that are beneficial to the U.S. — are not going to work."
The decree also calls on the U.S. to provide a detailed plan for the destruction of the 34 tons of plutonium.
Enriched, weapons-grade plutonium or uranium can be detonated to start a spontaneous fission that leads to a nuclear explosion, and the U.S.-Russian deal prescribed the burning of the fuel in remodeled reactors that could be monitored by both sides and international inspectors.
In 2015, Russia started burning the plutonium at a nuclear power station in the Urals region. A similar facility in South Carolina remains unfinished because of high costs.
"We fulfilled our duties, we built the facility. Our American partners did not," Putin said in televised remarks.
Instead, Putin said, the U.S. opted to mix the plutonium with other, nonradioactive materials and store the mix.
"It means that they are retaining the so-called reverse potential, i.e. [the fuel] can yet again be retrieved, reprocessed and turned into weapons-grade plutonium. That's not what we agreed to."
Mansur Mirovalev is a special correspondent.
ALSO
Afghan refugees struggle in Turkey: 'We wouldn't live like this in Afghanistan'
Pope Francis has advice, but no endorsement, for U.S. voters
Watch a cyclist smash his friend's bike in half following a crash at the Red Hook Crit in Milan
---