'The new Cold War is already on' - and some Russians worry that it could turn hot
Reporting from Moscow —
Moscow resident Irina Karmanina thinks she and millions of Russians may be annihilated by a U.S. nuclear attack if the tension between Moscow and Washington escalates much more.
The 54-year-old pediatrician also expects her death would be avenged within minutes by thousands of Russian nuclear missiles she expects the nation would launch immediately.
"We'll hit back, and the U.S. will turn into radioactive ashes," the petite, gray-eyed woman said recently near a grocery store in western Moscow. "America is so much smaller than Russia, so many of us will survive in Siberia."
For tens of millions of Russians who rely on Kremlin-controlled television networks and newspapers for information, a Cold War-like threat has evoked thoughts of a nuclear disaster that seems eerily possible. A massive government campaign has stoked fears of a world war started by a U.S. strike.
Recent Russian civil defense drills were on a level not seen since the Soviet Union collapsed in 1991, and involved 40 million people. In Moscow, officials reportedly studied underground spaces as part of a plan to shelter the city's estimated 12 million people.
In addition, world events have illustrated divisions between Russia and the U.S. The two countries have not been in agreement on their involvement in the Syrian civil war and a September cease-fire brokered by the two rivals quickly collapsed.
In early October, Russian President Vladimir Putin withdrew from a key nuclear security pact with the U.S., citing an alleged "threat to strategic stability as a result of USA's unfriendly acts toward Russia." He said Moscow would resume its participation in the agreement only if the U.S. fulfilled a long list of demands such as lifting all sanctions on Russia and providing "compensation" for losses.
Putin on Thursday dismissed U.S. accusations that Russia was coordinating the computer hacking of Hillary Clinton's campaign emails to influence the presidential election, saying some people in the U.S. were trying to divert attention from the country's problems.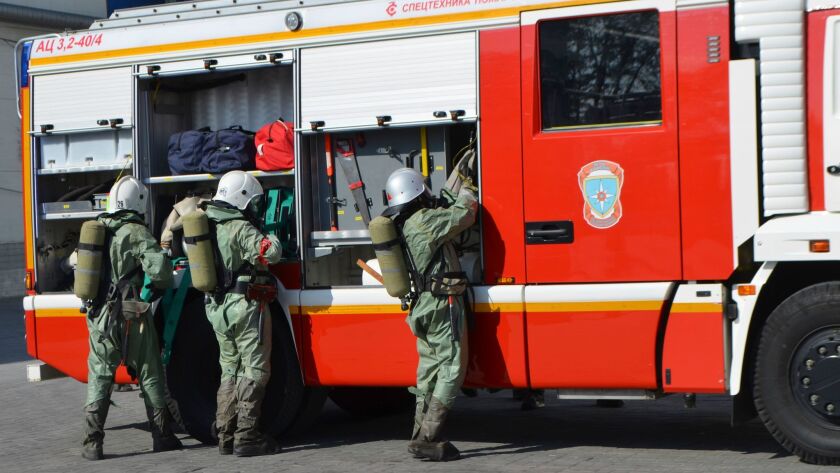 Anti-Western and U.S.-bashing never fully died out in Russia after the Soviet collapse — and a resurgence has occurred after Putin's return for a third presidency in 2012.
Dmitri Kiselyov, a television anchor on the national Rossiya channel, glorifies Putin, his political course and its fierce anti-Americanism.
"America's insolence toward Russia" should be countered with a "nuclear aspect," Kiselyov said in a low, menacing voice during a show in early October.
In another show, he promised that Russian forces would "shoot down" U.S. planes if they dared attack Syrian President Bashar Assad's troops. Russia has been a key Assad supporter during Syria's more than five-year-old civil war, while the U.S. has helped moderate rebel groups and called for Assad to step down.
Kiselyov also heads Russia Today, a mammoth state-run information agency that publishes and broadcasts pro-Kremlin news in 45 languages and receives hundreds of millions of dollars annually from the Kremlin despite Russia's deepening economic crisis. A substantial share of its "news reports" lambast U.S. foreign policies in the best traditions of Soviet propaganda.
The Kremlin has repeatedly accused the West of expanding its North Atlantic Treaty Organization presence in Eastern Europe with such steps as the installation of a ground-based missile defense system and deployment of 4,000 NATO troops, the biggest military build-up since the Cold War.
In recent weeks, Russian officials, lawmakers, analysts and military leaders have talked about the possibility of a new war with the West – and tried to reassure average Russians that their lives were not in danger.
The Kremlin's three days of "civil defense" drills were supposed to determine how well cities were prepared for chemical and biological attacks.
The Kremlin also tested a new system of "administering provinces" that involves momentary transfer of all powers to the military — as well as "temporary" confiscation of privately owned cars, car repair workshops and bakeries for wartime needs.
The Defense Ministry reported several test launches of new missiles, air defense systems and the deployment of advanced nuclear-capable Iskander cruise missiles to the Kaliningrad region, Russia's westernmost toehold in Europe located between Poland and Lithuania. The Kremlin says the deployment is a response to the expansion of NATO facilities in Eastern Europe.
National Intelligence Director James Clapper said recently that Putin appears driven by his vision of Russia as a great power.
"It's extremely important to him that Russia be treated and respected as a global power on a par with the United States," Clapper told CBS in late October. "And I think that has a lot to do with impelling his behavior."
The last Soviet leader, Mikhail Gorbachev, has warned about the dangers of US-Russian friction.
"I think the world has reached a dangerous point," the ailing 85-year-old who remains a deeply unpopular figure in Russia, told the RIA Novosti news agency in mid-October. "This needs to stop. We need to renew dialogue."
Russian officials insist fighting would begin only if the US strikes first.
"I hope [Americans] will have enough common sense" not to strike, Deputy Foreign Minister Sergei Ryabkov said in televised remarks. "But to make sure there is enough of this common sense, we have to be fit, strong and self-confident. We must have enough military might and a parity [with the US], including the nuclear field."
Some Russians said they found the tense conditions deeply disturbing.
"The new Cold War is already on, it's not a threat, it's a fact," Irina Tsareva, a retired schoolteacher in Kaliningrad said in an interview. "But a hot war won't happen, because it's suicide."
Vyacheslav Tropilin, a 34-year-old graphic designer from Moscow, said the Kremlin uses belligerent rhetoric to divert the attention of average Russians from domestic issues such as a faltering economy, budget cuts and ubiquitous corruption.
Defense analyst Alexander Goltz said he expects the heightened tension to last long-term and that the Kremlin wants Russians to tighten their belts ahead of years of Western sanctions, little or no economic growth and falling living standards.
"We're facing a long period of Cold War with the West," Goltz said in an interview. The war hysteria is "an attempt of to mobilize the population."
Some observers dismiss the war chatter as tried-and-tested propaganda.
A couple of years ago, Russian politicians and Kremlin-controlled media fumed about the "fascist junta" in Ukraine that planned a "genocide" of the Russian-speaking population in Eastern Ukraine and Crimea. The Black Sea peninsula's 2014 annexation and Moscow's political support for pro-Russian separatists in the Donetsk and Luhansk region became a justified way to counter the "junta."
In 2015, stories about Eastern Ukraine nearly disappeared from national television to give way to Russian air strikes in Syria. They were advertised as a response to Western plans to topple Assad's "democratically-elected" government, and even weather reports mentioned "best conditions for bombing."
The image of Russia as a besieged fortress is the Kremlin's favorite, Andrey Kolesnikov, a political expert with Moscow Carnegie Center, a think tank, said in an interview.
"These are the conflicts to ride on until the 2018 [presidential] election," Kolesnikov said.
"For a real war, Putin has neither military nor economic resources – even [his] political resource is not sufficient to justify, for example, a ground operation in Syria," Kolesnikov said. "He is leaving bridges to communicate with the West."
Mirovalev is a special correspondent.
ALSO
U.S. and Russian warplanes jostle for space over battlefields in Syria
Putin: It's 'utter nonsense' that Russia is meddling in the U.S. election
U.S. officials blame Russian government for hacking DNC to sway presidential election
---
Must-read stories from the L.A. Times
Get the day's top news with our Today's Headlines newsletter, sent every weekday morning.
You may occasionally receive promotional content from the Los Angeles Times.