Paul Whelan, held on spy charges in Russia, will remain in Moscow jail until trial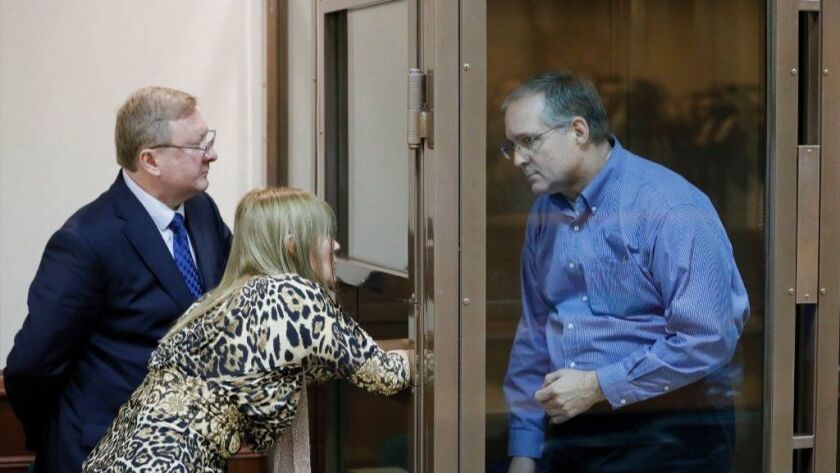 Reporting from Moscow —
Paul Whelan, the former U.S. Marine accused of espionage in Russia, will remain in a Moscow jail pending trial, a Moscow court ruled Tuesday after rejecting an appeal from his lawyer that he be released on bail.
Russian security officers detained Whelan on Dec. 28 in the lobby of a luxury hotel in Moscow on suspicion that the American was "on a spy mission." Whelan's family says he is innocent and that he was visiting Moscow to attend a friend's wedding.
Tuesday's hearing was closed to the public because the case involves state security issues, the court said. Journalists were allowed into the hearing after the judge retired to make his decision. There, Whelan, 48, stood in a glass enclosure in the courtroom. Wearing a blue dress shirt, he appeared calm as he spoke with his lawyer through an interpreter. He was not allowed to speak during the hearing except to his lawyer.
Before the start of the appeals hearing, Whelan's lawyer, Vladimir Zherebenkov, told Russian state media that Whelan did have documents that contained state secrets but declined to elaborate.
"The prosecution says that there were documents with him. Yes, he had the documents. Is there a state secret in it? I confirm that there is," Zherebenkov said in an interview with Ria Novosti, a Russian state news agency.
Whelan's arrest immediately drew suspicion the Kremlin would attempt to use him in a trade deal for Maria Butina, a Russian convicted in the U.S. weeks before on charges she was a foreign agent for the Russian government. Russia has denied that Butina is a Russian spy, and instead has held she's a political prisoner and victim of a Washington-led Russophobic campaign.
Russian Foreign Minister Sergei Lavrov said last week that Whelan's arrest was not an attempt to engineer a swap for any of the Russians being held in the U.S.
"He was caught red-handed," Lavrov said Wednesday during his annual press conference. "He was detained at the moment he was carrying out specific illegal actions in his hotel."
Whelan works in corporate security for BorgWarner, a Michigan automotive components manufacturer. According to his brother, David Whelan, the work requires him to travel around the world checking on the security of the company's facilities. Paul Whelan developed a fascination for Russia several years ago and has visited the country on multiple occasions in the last decade. As a U.S. Marine, Whelan served two tours of duty in Iraq.
Adding a confusing element to the case, Whelan, who was born in Canada to British parents, has four passports: U.S., Canadian, British and Irish. Representatives from the U.S. Embassy in Russia, including Ambassador Jon Huntsman, visited Whelan shortly after the new year. The Irish consular staff visited Whelan on Thursday. Two other embassies — the British and Canadian — also have made requests to visit Whelan at the Lefortovo jail, where he has been held since his arrest. The U.S. Embassy on Tuesday said the Federal Security Services, the successor agency to the KGB, had postponed a Thursday visitation.
Whelan's interest in the Russian people, language and culture — as his family maintains — may now be playing a role in Russian investigators' accusations against him. He apparently sought out friendships online with Russians, whom he conversed with using the Russian version of Facebook, VKontakte.
According to Russian media site Rosbalt, investigators believe Whelan used these contacts to gather intelligence on Russian security officers. Rosbalt, which is believed to have close ties to the Russian security services, reported that investigators arrested Whelan for obtaining a flash drive from a man he met in the Metropol, a landmark hotel in the center of Moscow. According to Rosbalt's sources, the flash drive contained the names and information about Russian security officers.
Whelan's lawyer, Zherebenkov, told journalists after the trial that he would try to convince the court that his client did not know what was on the flash drive when he received it.
Whelan faces up to 20 years in prison if convicted.
Ayres is a special correspondent.
Twitter: @sabraayres
Ayres is a special correspondent.
---
Must-read stories from the L.A. Times
Get the day's top news with our Today's Headlines newsletter, sent every weekday morning.
You may occasionally receive promotional content from the Los Angeles Times.