'The talks have started': U.N. mediator meets with Syrian opposition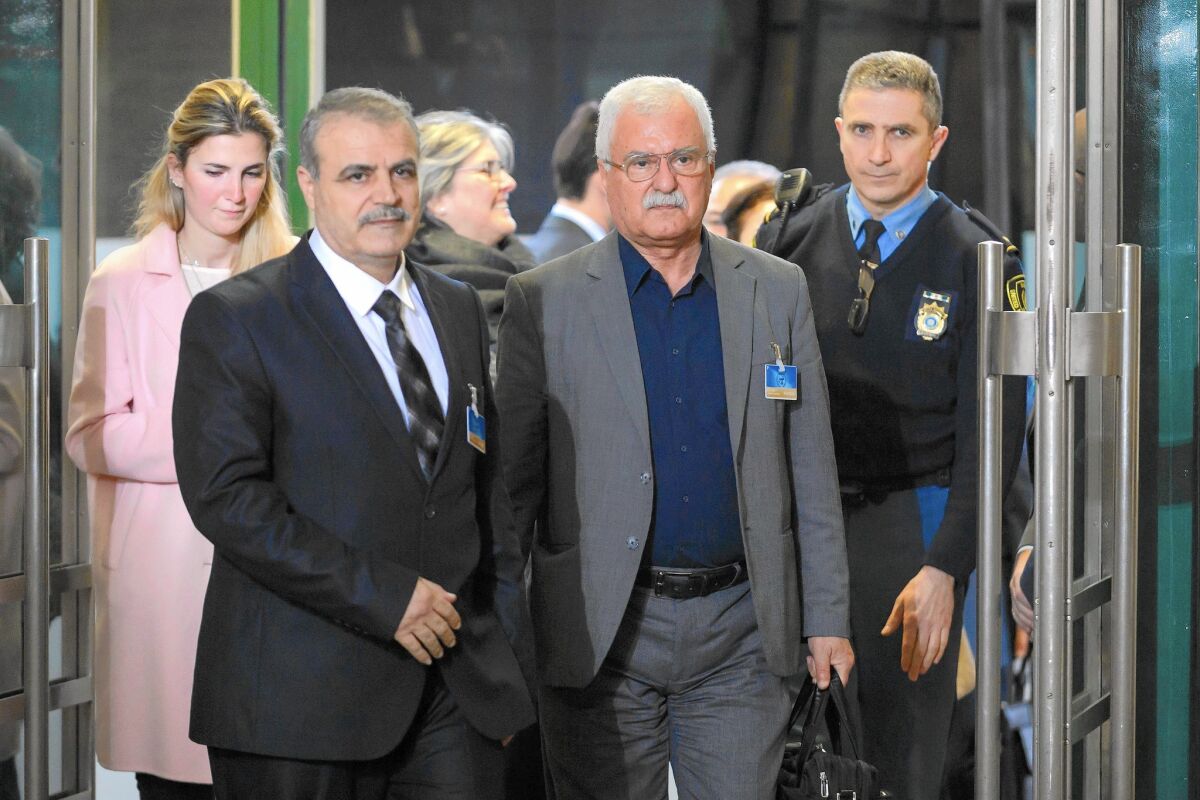 reporting from GENEVA —
The United Nations mediator in Syrian peace talks met Monday with the major opposition delegation, ending days of uncertainty about whether the talks would proceed.
"The talks have started," Staffan de Mistura, U.N. special envoy to Syria, said during a news conference after meeting with representatives from the opposition's High Negotiations Committee.
De Mistura said he would be meeting with both sides Tuesday "to go deeper into the issues they have raised and their concerns."
The announcement comes after the opposition bloc had repeatedly threatened to walk away from the talks if the government of Syrian President Bashar Assad did not end its sieges on rebel-held areas and release political detainees.
On Monday, though, both the opposition coalition and the U.N. seemed upbeat after a meeting at the U.N.'s Palais des Nations here.
"I believe we received very positive messages," said Salim Muslet, spokesman for the opposition committee, told reporters. "We are here to see the suffering of our people end soon."
The opposition committee, made up of armed Syrian factions and political dissidents, is a Saudi-backed umbrella group that was formed in December in Riyadh, the Saudi capital, and flew to Geneva in a Saudi jet. Saudi Arabia is a major backer of armed groups fighting to oust Assad.
The U.N. mediator said it was key that all sides in the talks believed that their viewpoints were being taken into account.
"The first immediate objective is to make sure that the talks continue and that everyone is on board," De Mistura told reporters. "It's crucial that no one should be feeling excluded."
There was no public word Monday from the Syrian government delegation, which has already criticized the opposition bloc for arriving late and for making demands before formal talks began. Damascus has also labeled as terrorist groups a pair of armed factions that are part of the opposition committee.
See more of our top stories on Facebook >>
De Mistura suggested that the International Syria Support Group, a coalition of 17 nations that pushed for the Geneva talks, take a greater role in promoting a cease-fire.
That group includes regional rivals Saudi Arabia and Iran, which are on different sides of the conflict, as well as the United States and Russia. Moscow is a major ally of Assad, while Washington has called for him to step down and aided groups seeking to oust him.
The U.N. envoy stressed the need to show some improvement on the ground in Syria as the negotiations proceeded.
In addition to securing a cease-fire, the talks, which could last for months, are aimed at forming a transitional government and eventually organizing U.N.-backed elections. But everyone acknowledges those goals will be difficult to attain.
On Monday, pro-government forces overran opposition-held areas north of Aleppo city, disrupting supply lines and threatening to cut off rebel-held territories to the west, according to government and opposition accounts.
The offensive, which was bolstered by Russian airstrikes, also brings the Syrian army within less than two miles of Nubul and Zahra, two Shiite Muslim-majority, pro-government towns that have been under siege for several years by Sunni Muslim rebel groups, including the Al Qaeda-affiliated Al Nusra Front.
Breaking those sieges would be a major accomplishment for pro-government forces, which have been on the offensive since Russian warplanes joined the fight in September.
On social media, pro-rebel activists reported that opposition factions in the area had exhorted all who "own weapons to head directly" to help their "mujahedin brothers."
Bulos is a special correspondent and McDonnell is a staff writer.
ALSO
Global health agency's declaration signals new phase in battle against Zika virus
U.S. to urge partners to do more to fight Islamic State amid complaints from Pentagon
Bombs kill more than 50 people in Syria; progress is elusive at Geneva peace talks
Must-read stories from the L.A. Times
Get the day's top news with our Today's Headlines newsletter, sent every weekday morning.
You may occasionally receive promotional content from the Los Angeles Times.