Counter-terrorism sweeps net more than two dozen suspects in Europe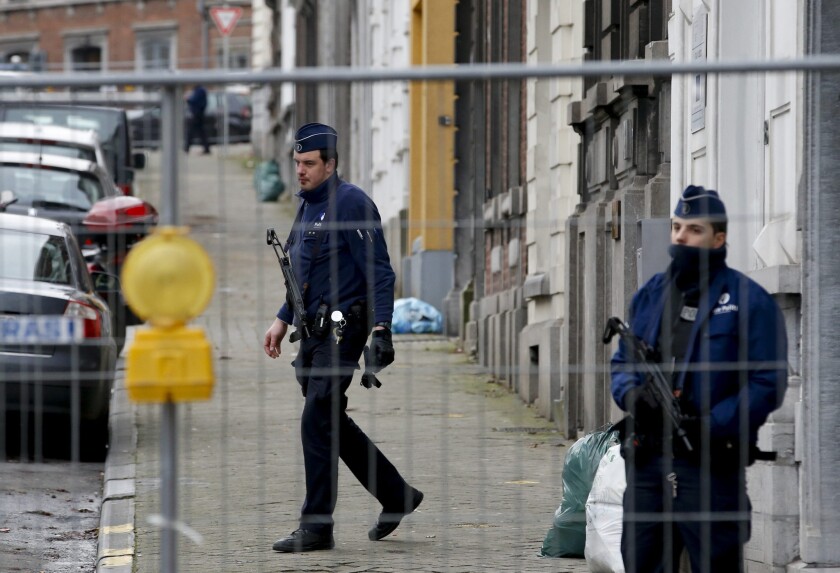 Reporting from Paris —
A week after the worst terrorist attacks in France in decades, European counter-terrorism officials conducted sweeping raids that netted at least 29 people, searching numerous sites starting late Thursday in Belgium and continuing Friday in France and Germany.
Federal prosecutors in Belgium said they had prevented another "large-scale" attack, telling reporters that five of those held had been charged with participating in the activities of a terrorist group.
The Belgian raids left two suspects dead after clashes with police in the city of Verviers, the prosecutors said. At least 13 people were initially taken into custody -- one in Verviers, nine in Sint-Jans-Molenbeek, two in Brussels and one in Berchem-Sainte-Agathe. Two more suspects were arrested in France; Belgian prosecutors are seeking to extradite them.
Belgian authorities have been investigating possible links between one of the attackers in Paris, Amedy Coulibaly, and a man arrested Thursday in the southern city of Charleroi on suspicion of illegal arms sales. But officials said Friday that the Belgian raids were unrelated to last week's attacks, which left 20 people dead including the three gunmen.
"This operation last night was not part of a large-scale European operation," federal prosecutor Eric Van Der Sypt said at a news briefing in Brussels. "It was a Belgian cell in Belgium."
Police searches in Verviers, near the German border, recovered trappings of a terrorist plot: four AK-47 rifles, ammunition, explosives, fake documents, cellphones, walkie-talkies, police uniforms and large sums of money, prosecutors said.
"We know that the aim was to kill police officers on public roads and in police offices," Van Der Sypt said, adding that authorities believe the suspects were within hours of striking.
Prosecutors declined to comment on reports that the suspects, some of whom had returned from fighting in Syria, had planned to behead a police officer. They also refused to identify those killed in the clashes with police or their nationalities.
Jewish schools in Brussels and Antwerp closed Friday after officials said they were a "potential target" for Muslim extremists, the Belgian news site Joods Actueel reported.
Belgian Prime Minister Charles Michel said he might call on the army to strengthen security in the country, not policing but carrying out monitoring missions.
"At present, we have no knowledge of a concrete and specific threat," he said, according to the Belgian daily newspaper Le Soir. "But we know that zero risk does not exist, either in Belgium or elsewhere."
Calling on the army is one of a dozen new counter-terrorism measures agreed to by lawmakers, Michel said. Others include withdrawing passports of suspects who pose a risk to public safety, freezing the assets of those suspected of financing terrorism, strengthening penalties for terrorist activity, improving monitoring of those believed to be foreign fighters and training prison staff to combat radicalization of inmates.
In a radio interview, Belgian Foreign Minister Didier Reynders emphasized the importance of European countries sharing information.
"I think this is the best way to prevent and not repeat what we experienced last year at the Jewish Museum in Brussels with Mehdi Nemmouche and what we have come to know in Paris," he said. Nemmouche, a French Algerian extremist, opened fire at the museum, killing four.
In France, 12 people, including four women, were taken into custody overnight as police searched the southern suburbs of Paris for people suspected of having links to Coulibaly and two other attackers, brothers Cherif and Said Kouachi.
Among those arrested was a man who supplied a car to Coulibaly, the French news channel Itele reported. Police tracked down the man based on DNA evidence and and his mother's identification card, which were found in the car, according to BFM TV.
Spain and Turkey are also taking part in the hunt for the Paris attackers' accomplices. The Kouachi brothers claimed allegiance to Al Qaeda in Yemen; Coulibaly to Islamic State.
In Berlin, police arrested two Turkish men on suspicion of plotting an attack in Syria, local news reports said.
Paris is at its highest terrorism alert level, and police evacuated the Gare de l'Est train station Friday after a bomb threat. No explosives were found.
Also Friday, U.S. Secretary of State John F. Kerry met with French President Francois Hollande in Paris, laying wreaths at the offices of the satirical magazine Charlie Hebdo and the kosher supermarket targeted last week.
Kerry's visit came after the Obama administration apologized for not sending higher-level representatives to a massive unity march in Paris on Sunday.
Hollande thanked Kerry for U.S. support in the crisis, saying, "You've been victims yourself of an exceptional terrorist attack on Sept. 11. You know what it means for a country. ... We must find together appropriate responses."
French Foreign Minister Laurent Fabius, who was accompanying Kerry, said authorities were working together to combat terrorism.
"Given the risk and reality of international terrorism, the action against it must also be international -- especially a cooperation with the technology we have and the Americans," he told BFM TV.
Asked whether the counter-terrorism raids overnight showed France was at risk of further attacks, Fabius said, "We're verifying everything. The services are all mobilized."
At the same time, he added, "we must continue to live. The terrorists want us to change the way we live."
A funeral service was held in Paris on Friday for Stephane Charbonnier, 47, a slain cartoonist and editor of Charlie Hebdo killed in the attack.
Protesters in several other countries rallied against the magazine, which is known for lampooning the Muslim Prophet Muhammad and other religious figures.
At least four people, including a police officer, were killed in Niger's second-largest city, Zinder, as one protest turned violent Friday, news reports said. Protesters also clashed with police in Karachi, Pakistan, where an Agence France-Presse photographer was reportedly shot and injured.
In Instanbul, Turkey, scores of people held funeral prayers for the Kouachi brothers. Demonstrators also turned out in the Algerian capital, Algiers.
Twitter: @mollyhf
---
Must-read stories from the L.A. Times
Get all the day's most vital news with our Today's Headlines newsletter, sent every weekday morning.
You may occasionally receive promotional content from the Los Angeles Times.