Q&A: From 'Entourage' to the open sea, Adrian Grenier focuses on health of the world's oceans
When business magnate and environmental activist Richard Branson challenged Adrian Grenier to a two-mile swim across the Strait of Messina between Italy and Sicily, the actor-filmmaker was eager to comply.
The feat was intended to highlight the importance of ocean health, a key cause of Grenier's Lonely Whale Foundation, which works to bring people closer to the world's oceans through education and awareness, and champions the well-being of marine wildlife.
"We want to inspire empathy with people through connection, because if you can't connect you can't care, and the oceans have so much need for our attention and our compassion and our empathy," Grenier said.
Using the hashtag #MakeASplash to encourage people to share how much they appreciate the ocean, Grenier, 40, and Branson, 66, completed the swim Sept. 27 in 1 hour and 24 minutes.
The actor, best known for his role as Vincent Chase in the HBO series "Entourage," shared some of his views about the health of the ocean and its marine life with The Times. His comments have been edited for length and clarity.
Why should people care about the ocean?
The oceans are fundamental to life. They create 50% of our oxygen. They provide food for billions of people. They are the source of all life. If you care about any other issue, you have to care about the oceans because the oceans affect every other issue.
They are the most underserved aspect of our environment and yet 70% of our planet is ocean and they are perhaps the most important aspect of our environment, because if we can replenish them to a healthy state they can provide food, oxygen. They can sequester carbon from the atmosphere … and they provide a lot of spiritual and mental benefits. If anybody's ever gone to the beach and had a good time, that's a positive social benefit. If you've ever swam in the ocean and then felt rejuvenated, or if it's relieved your stress, that is a positive social benefit.
The reason why they're so underserved is because they're so misunderstood. They're so vast and mysterious … so abstract and complex, so one thing we're hoping to do is demystify the oceans and make them more accessible to people. And one of the ways you can do that is by actually getting in and realizing that they're not so scary.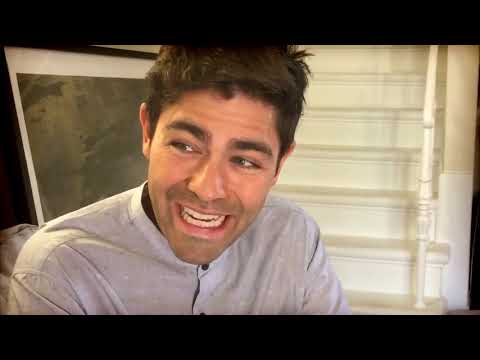 Actor Adrian Grenier, co-founder of the Lonely Whale Foundation, swam the 3.3 kilometer Strait of Messina in the Mediterranean Sea.
How do humans affect the ocean?
We certainly fish a lot. Because of industrial fishing practices, we've managed to fish 80% of the big fish out in the ocean. In the Strait of Messina where I just swam … we've fished out 93% of fish in the Mediterranean. We've also put a lot of plastic into the ocean. Plastic doesn't break down for a thousand years, so it subsists for many, many generations in the ocean. Because of overfishing and because of the increased plastic pollution, there will be more plastic than fish in the ocean in 25 years. It's a horrifying thought, but it's true.
Tell us one thing we can do to protect the ocean?
First and foremost … find a partner. Find somebody that you can work with to inspire each other, to hold each other accountable. We can't do it alone. We can't take the weight of the world on our shoulders individually, but together we can actually make big differences.
How was the swim?
Ocean swimming is very difficult. There are constantly changing conditions. There are a lot of physical challenges, and mental ones too. I look at ocean swimming as sort of the trifecta. It's mind, body and spirit. Before I started training, I could barely swim four strokes before I had to sit up and breathe normally, because you have to have a very meaningful relationship with your breath. There's a meditative quality. The oceans are vast, deep, dark and often scary, and the visibility isn't always great, and the waves are strong, and the currents too. So there's a lot to overcome as a personal athlete.
When I first accepted the challenge, I didn't quite know how difficult it might be, but I quickly learned and over four months of concerted effort, I managed to get to a place where I could complete the swim, but it wasn't easy.
Why was swimming the Messina Strait the way to get your message out?
It was twofold. It was a personal challenge to overcome, but [it was] also recognizing that it is possible to achieve things that are hard. When we look at what the oceans are facing, the obstacles of the environment, it sometimes feels overwhelming and daunting and we're scared and we lack motivation. But we can do it if we put in a little bit of effort every day. Just like I was able to achieve my personal challenge of swimming in the open ocean, we as a society can overcome the challenges facing the oceans and the environment if we make an effort.
Did you #MakeASplash?
I'm proud to say we made a splash heard around the world. [We got] at least 65 million [social media] impressions the day of the event and several hundred since the beginning of the campaign. We wanted people to share with us why the ocean is important to them and talk about what we need to do to show that world that the oceans are important. And so what Richard and I did together was swim the Strait of Messina. I think it's important that we don't just talk, that we don't just hashtag and post, but also get active and get out there and get wet.
For more on global development news follow me @AMSimmons1 on Twitter
ALSO
How a tax on carbon has divided Northwest climate activists
Thailand begins a year of mourning after the death of its beloved king
This shoe salesman lived an unassuming life. Then he died, and his hometown got quite the surprise
Sign up for Essential California for the L.A. Times biggest news, features and recommendations in your inbox six days a week.
You may occasionally receive promotional content from the Los Angeles Times.