It's a new year. But the outlook on some of the world's biggest problems is as dismal as ever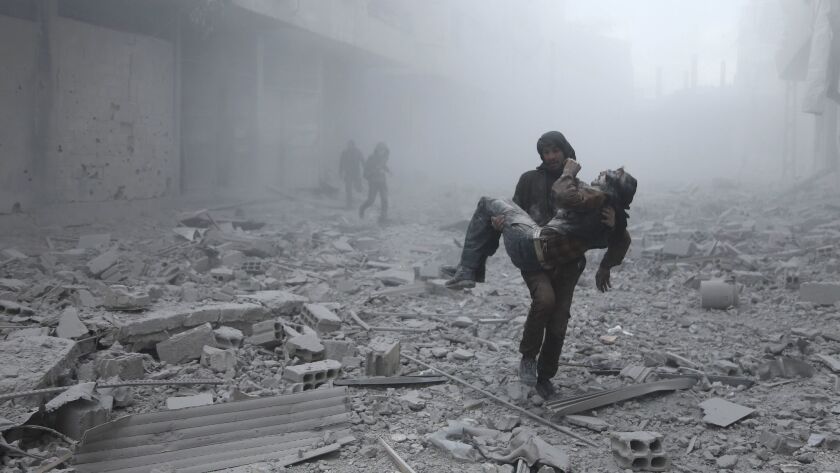 Thousands of people killed or on the run from war. Governments overwhelmed by the pressing needs of ballooning populations. Cities devastated by natural disasters.
When it comes to the world's biggest problems, the outlook for 2018 isn't any better than recent history. Unfortunately, here's some of what we can look forward to: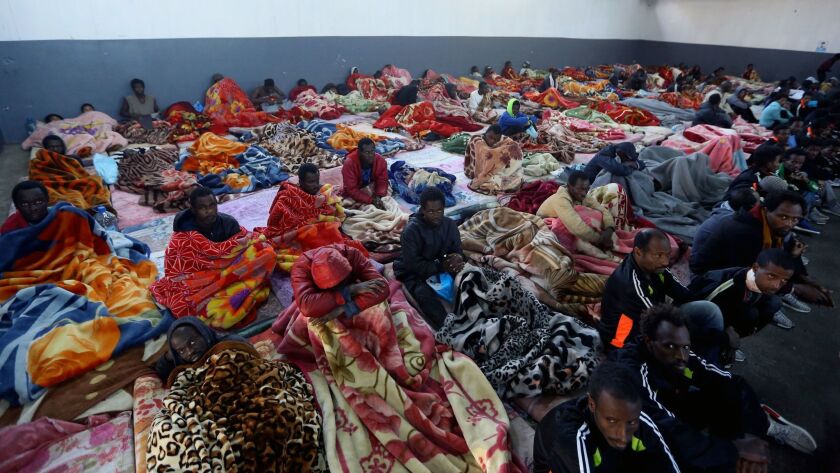 Almost 66 million people have been forcibly displaced due to conflict, persecution, human rights violations and natural disasters, according to the United Nations High Commissioner for Refugees. More than a third of them are refugees — people fleeing armed conflict or a well-founded fear of persecution for reasons of race, religion, nationality, political opinion or membership in a particular social group and who cannot return home because it is too dangerous.
Last year, an estimated 171,332 refugees and other migrants risked their lives crossing the Mediterranean Sea in an attempt to get to Europe. More than 3,000 were feared drowned or went missing, the U.N. reported.
Many migrants who traverse sub-Saharan Africa in hopes of eventually reaching Europe never get farther than the Libyan coast, where they end up trapped in detention camps or worse. In November, CNN reported that hundreds of African refugees were being bought and sold as slaves at several locations across Libya.
In Bangladesh, more than 600,000 members of the Rohingya Muslim minority who fled their homes in neighboring Myanmar now live in refugee camps, having fled mass atrocities that the U.N., United States and United Kingdom have described as state-sponsored ethnic cleansing.
Migrants, many of whom are Muslim and fleeing conflicts in the Middle East, continue to be shunned by several countries. Despite mandatory European Union quotas, nine countries have so far failed to pledge to resettle refugees in 2018 under a new program aiming to place 50,000 people, according to EU data.
Meanwhile, Israel has told African migrants, most of whom authorities there believe entered the country illegally and for economic reasons, to leave by April or risk imprisonment.
The findings of research commissioned by the German government suggested that migrants might be responsible for most of a recent rise in violent crime in the country, the BBC reported this week.
Cholera continues to ravage war-torn Yemen. Four days before Christmas, the International Committee of the Red Cross confirmed that the country had reached a "hideous milestone," with the number of suspected cholera cases reaching 1 million.
The waterborne disease, which is both preventable and treatable, spreads faster because most people don't have clean water, and its impact is greater because fewer than half of the country's health facilities are fully functional, according to aid officials.
The Saudi-led Arab Coalition, which is fighting in support of Yemen's government, has questioned the number of cholera cases, calling the figure of 1 million "exaggerated."
"It is nearly impossible to accurately determine whether the suspected cases are cholera or simple diarrhea," a statement from the coalition said.
Worse, an estimated 6 out of 10 people barely have anything to eat, according to the ICRC, which recently tweeted that statistic with the hashtag "#Yemen is starving to death."
The war, which pits pro-government forces against Shiite Muslim Houthi rebels and is approaching three years, has created "the worst humanitarian crisis in the world," according to a joint statement from UNICEF, the World Food Program and the World Health Organization.
"Yemen has passed the tipping point into a rapid decline from crisis to deepening catastrophe," it said.
The U.S. has been criticized for selling arms to Saudi Arabia, whose military coalition stands accused of killing civilians in indiscriminate bombings. Analysts say the end of the war is nowhere in sight.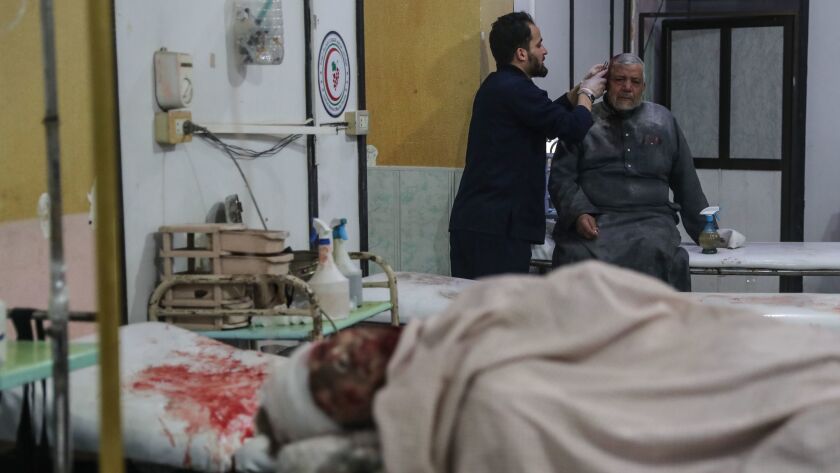 In March, the crisis in this Middle Eastern nation will enter its seventh year, and analysts predict that the violence, displacement and humanitarian need will continue to overwhelm the international community.
An estimated 13.1 million people in Syria require humanitarian assistance, more than 11 million have fled the country, and 6.3 million are internally displaced, according to the U.N. Nearly 500,000 Syrians have been killed since the fighting began in March 2011, according to humanitarian agencies.
Syrian rebel groups have been unable to oust President Bashar Assad, whose regime has been backed by Russia, and several international initiatives and negotiations aimed at brokering a peace agreement have fallen flat.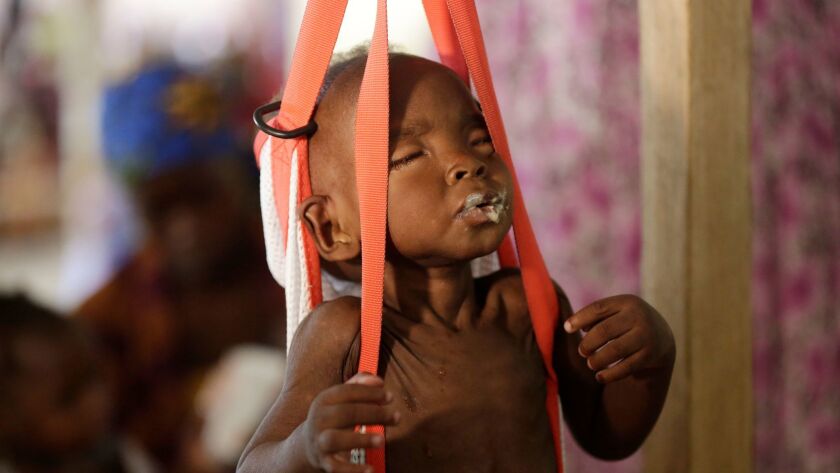 An estimated 842 million people — or 1 of every 8 people on Earth — do not get enough to eat, according to the World Food Program. Roughly 100 million children in developing nations are underweight, and 1 in 4 of the world's children is stunted, or below height standards, the agency reported. A third of all deaths among children in the developing world is linked to a lack of food.
The hunger crisis is expected to intensify this year, according to research. ACAPS, a Geneva-based think tank that monitors global humanitarian situations, predicted in a November report that food security — meaning access to ample and nutritious food — was "likely to deteriorate" in northeast Nigeria, Somalia, South Sudan, Ethiopia and Yemen, and that all faced a risk of famine in areas where conflicts are simmering.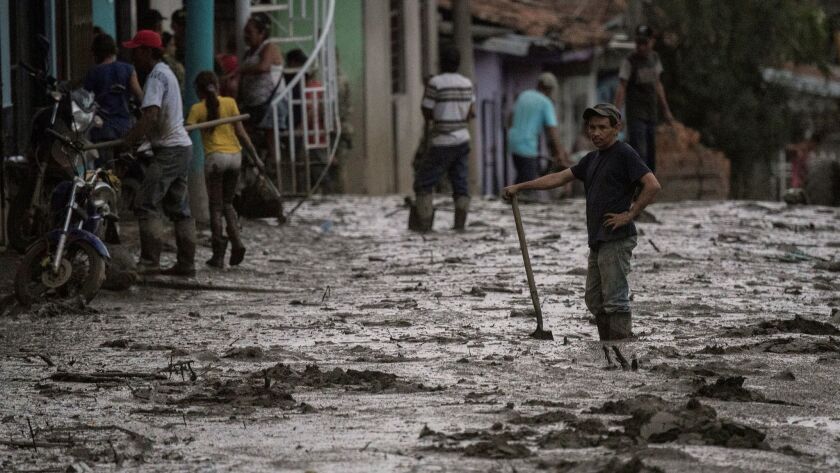 Climate change now "affects every country on every continent," with populations worldwide experiencing "changing weather patterns, rising sea level, and more extreme weather events," according to the U.N. in its goals for sustainable development.
From hurricanes and flooding in the U.S. and the Caribbean, monsoon rains in India, Nepal and Bangladesh and mudslides in Colombia and Sierra Leone, last year saw an abundance of natural disasters that killed or displaced thousands. It was the world's poorest and most vulnerable people who suffered the most.
This year, 200 nations have pledged to pave the way for reviewing existing plans to limit greenhouse gas emissions as part of the Paris Agreement brokered in 2015. The U.S. pulled out of the pact in June, and the Trump administration has been promoting the coal and oil industry.
As part of its goal to make significant progress on climate change and its impacts by 2030, the U.N. has stressed that international cooperation is needed to help developing nations move toward a low-carbon economy.
For more on global development news, see our Global Development Watch page, and follow me @AMSimmons1 on Twitter
---
UPDATES:
11.17 a.m.: This article was updated with a comment from the Saudi-led Arab Coalition fighting in Yemen.
---
Must-read stories from the L.A. Times
Get all the day's most vital news with our Today's Headlines newsletter, sent every weekday morning.
You may occasionally receive promotional content from the Los Angeles Times.