Cash for crises: Who gives, who gets and why it's not enough
Governmental institutions and humanitarian aid organizations are pledging to improve delivery of assistance to the world's most needy and vulnerable people, reduce administrative costs and work to boost funding and its effectiveness.
Through a so-called "Grand Bargain" a group of donors agreed at the recent U.N. World Humanitarian Summit to be more transparent, improve planning for disasters, and ensure that a greater portion of the money gets to local and national responders.
So just how important is money, who gives it, and who gets it?
Last year, the United Nations appealed to donors for some $20 billion in humanitarian assistance to help the aid community respond to various global crises, and received about half -- $10.7 billion, according to Jens Laerke, deputy spokesperson for the U.N. Office for the Coordination of Humanitarian Affairs.
An estimated $17 billion more was raised through donors who channeled their money directly to aid organizations and governments that might not have been part of the U.N. appeals, according to data from Development Initiatives, a Britain-based research organization.
Together around $28 billion was donated for humanitarian aid, according to the group, which analyzed statistics from the U.N., the Organization for Economic Co-operation and Development, and private sector sources for its annual Global Humanitarian Assistance report that is scheduled to be published in full in June.
"It is the third consecutive year of increased funding," said Charlotte Lattimer, senior policy & engagement adviser for Development Initiatives.
Most of the donations came from world governments, with the United States continuing to dominate, according to data provided by Development Initiatives prior to the release of the group's report.
The White House confirmed that the U.S. provided more than $6 billion in humanitarian assistance in 2015 to more than 60 new and long-running emergencies, including conflicts, health epidemics and refugee influxes.
Meanwhile, worldwide private contributions rose to $6.2 billion last year, up from $5.5 billion in 2014, according to Development Initiatives.
"It's a huge amount of money," Lattimer said.
Yet, it still wasn't enough, humanitarian aid experts say.
How can $28 billion not be enough?
"It's not much relative to the scale of need," said Nigel Timmins, humanitarian director for the international aid confederation Oxfam International. "The scale of need is enormous."
More than 125 million people across the globe require humanitarian assistance due to a combination of conflict-related crises and natural disasters, according to U.N. statistics. Some 60 million are displaced people and refugees.
The emergencies are spread across the globe. They include the nearly 6-year-old war in Syria that has caused almost 5 million people to flee the country and displaced around 6.5 million others inside the country, according to Brian Hansford, a spokesman for the U.N. High Commissioner for Refugees.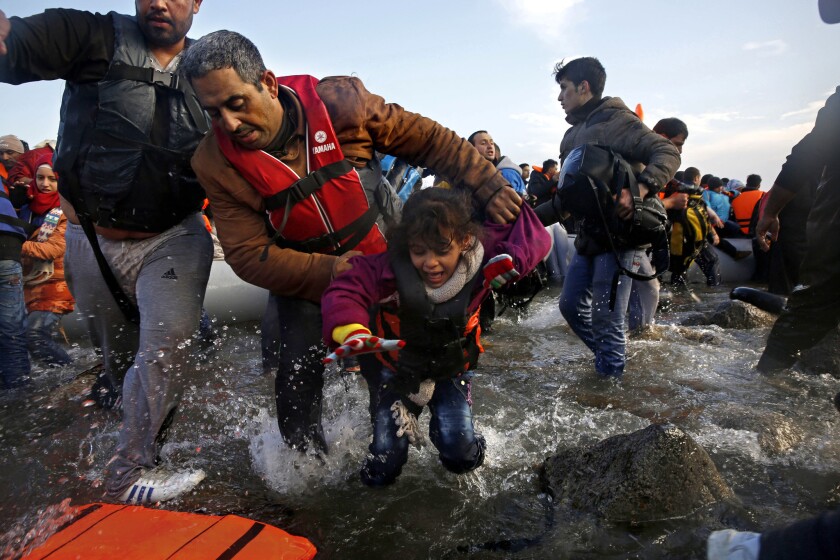 Last year, the U.N. appealed for $7.3 billion just to meet humanitarian needs for the Syria crisis and received around half that amount, according to the agency's data.
Meanwhile, the fighting in Syria has spilled into Iraq, triggering an internal conflict that has left 10 million in need, according to U.N. data.
Conflicts in South Sudan and Yemen, food insecurity and widespread drought from Africa to Asia and the Americas are among the crises that are expected to drive the continued need for economic assistance, officials say.
Who's getting the most funding?
Last year, the most well-funded crisis was Iraq, which had roughly 74% of its needs met, Lattimer said. But in Gambia, which has chronic poverty and persistent food shortages, funding was sparse. The West African nation received just 5% of the donations requested in U.N. appeals last year, according to Development Initiatives. So far this year, not a penny has been donated toward the $11 million the U.N. has requested, according to the Office for the Coordination of Humanitarian Affairs' Financial Tracking Service.
The reason some countries attract more funding varies, Lattimer said, but include factors such as the scale of the tragedy, media attention given to a certain crisis, and geographical and historical ties.
"Donors are pulled in different directions by multiple large-scale crises that are happening at the moment and are faced with tough decisions about where to allocate their finite resources," Lattimer said. "It's hard for a place like Gambia to get international attention when you have crises in Syria and Iraq going on at the same time."
What's the impact of the shortfall?
It can be dire, humanitarian experts say.
"Many people get a substandard service or no service at all," said Timmins of Oxfam. "You are forced into making a choice about what you fund and what you don't fund."
Last year, for example, the U.N. World Food Program was temporarily forced to reduce its level of assistance to more than 5 million displaced people in Syria and neighboring countries due to underfunding. New funding secured earlier this year has since allowed the agency to reinstate its food assistance to Syrians.
A "paralyzing funding shortfall" also led to the suspension of 184 U.N. health clinics across parts of Iraq leaving some 3 million people without access to healthcare, according to the agency.
So can the so-called "Grand Bargain" help?
Many specialists in humanitarian aid agree that overall the commitments included in the plan are sound.
"Greater transparency, the increased use of cash instead of material assistance and making it easier to fund local responders, these are important steps in the right direction," said Christina Bennett, a research fellow and international aid policy analyst at the Overseas Development Institute, based in London.
Timmins, the Oxfam official, said his agency also welcomed the pact but was keen to see whether it would translate into results, particularly with regards to empowering local responders and being proactive and planning ahead for predictable emergencies, such as floods and drought.
"While they are saying the right things, there is nothing in the document that suggests this will be a road map for reform," Bennett said of the deal. "The recognition is there, the rhetoric is there. What we need to see now is concrete action on the part of the international players to make those changes."
------------
FOR THE RECORD
June 2, 12:20 p.m.: An earlier version of this article referred to the war in Syria as more than 4 years old. It is in its sixth year.
---
Must-read stories from the L.A. Times
Get the day's top news with our Today's Headlines newsletter, sent every weekday morning.
You may occasionally receive promotional content from the Los Angeles Times.