Hunger stalks southern Africa as drought dries up food supply
Each week, Lucia Thedzi and her five children go one or two days without eating. Some weeks, the family survives on nuts the size of golf balls but with meager flesh inside. Living in a small village on the hot, flat plains of Chikwawa in southern Malawi, they have little choice.
In recent months, drought has turned the region into a dust bowl, cutting the Thedzis' typical seven-bag harvest of millet and sorghum in half. They are now down to food for less than a month.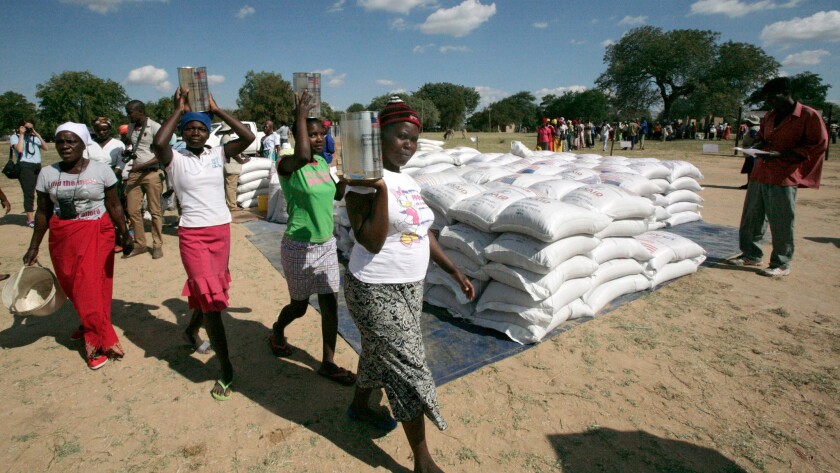 "There was a sense of despair and a real fear about how they might get through the coming months," said Magnus MacFarlane-Barrow, founder and CEO of the humanitarian organization Mary's Meals, which feeds schoolchildren, and to whom Thedzi related her story this month. "While I'd heard about the terrible harvest, I absolutely didn't expect to see that level of desperation now."
Thedzi's story is not unique. It is echoed millions of times over across southern Africa, where El Niño-induced drought has ravaged crops and caused a massive failure of harvests.
According to the United Nations' World Food Program, as many as 18 million people need emergency food assistance in seven southern African nations most affected by the drought: Malawi, Lesotho, Madagascar, Mozambique, Swaziland, Zambia and Zimbabwe.
"This year's crisis is a food availability problem," Ertharin Cousin, the food agency's executive director, reported after a recent visit to Malawi. "We're seeing alarming increases in people facing hunger in several countries."
Successful farmers were able to get a 50% yield from their crop, while many harvested no crop at all, Cousin said. She warned that the food need is expected to escalate to include as many as 33 million people later this year as the cyclical weather condition, linked to ocean currents, continues to leave farmlands parched.
Also worrying is the anticipated La Niña condition, which is expected to bring rains that could wash away future planting.
"We are seeing all the indicators of a perfect storm coming toward us in southern Africa," Cousin said. "We have an opportunity to move this boat in a different direction and avoid this storm."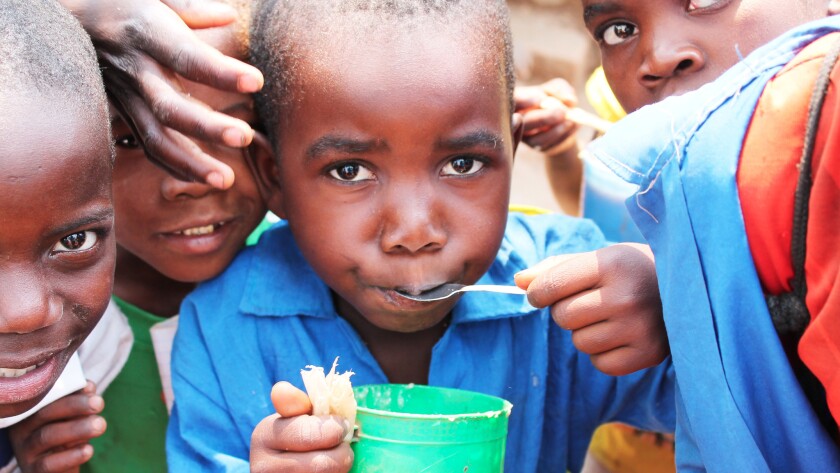 The food agency, which has declared its highest-level emergency for southern Africa, said it would need $549 million to assist 11.5 million people in the seven affected countries by March 2017.
Malawi is among the southern African nations hardest hit by chronic hunger. In April, President Peter Mutharika declared a national disaster and reported that the nation faced a deficit of maize — a key staple — of more than 1 million tons.
According to World Food Program data, the number of people lacking food in Malawi rose from about 2.8 million last year to 6.5 million this year. This month alone, about 230,000 Malawians are in need of food, Cousin said.
"This is the worse food crisis we've seen since 2002," said Kaitlin Flynn, executive director of Mary's Meals USA, which provides a school meal to about 814,000 children in Malawi each day. "We're coming off two years of terrible harvest. It's been two years of drought and then flooding. There is no reserve. People are desperate."
The ripple effect of the food crisis is palpable, humanitarian workers said. The numbers of acutely malnourished children requiring medical attention rose by 62% during the first five months of the year, according to Malawian news reports.
Malnutrition has led to stunted growth, according to the United Nations children's agency UNICEF. An estimated 46% of children under age 5 in Malawi are stunted, according to the agency's data.
Flynn said children are being pulled out of school to try to find odd jobs to help their families buy food. But work opportunities are limited because most people don't have anything to cultivate or harvest, Flynn said.
Remittances from migrant laborers working in neighboring countries, such as South Africa, have also diminished as job opportunities in these equally drought-stricken nations fade, aid workers said.
"It's not just the poor harvest," Flynn said. "It's the knock-on effect."
Thedzi's son Chimza, 14, lamented that his search for work had forced him to neglect his after-school studies. A promising student at the top of his class, the teenager told MacFarlane-Barrow the lack of food at home was making it increasingly difficult for him to focus on his schoolwork.
"During times of severe hunger, all I think about is to find food and eat," Chimza said. "The situation is getting worse day by day."
For more on global development news follow me @AMSimmons1 on Twitter
ALSO
Southeast Asian nations give weak rebuke to China over South China Sea dispute
Tiger mauls grandmother to death at Beijing safari park
---
Must-read stories from the L.A. Times
Get all the day's most vital news with our Today's Headlines newsletter, sent every weekday morning.
You may occasionally receive promotional content from the Los Angeles Times.