Great Read: An American magician takes his tricks to China
L.A.-based magician Franz Harary, wife Akiko and illusionist Travis Winkler at the opening of his House of Magic at a casino resort called Studio City in Macau, China.
(Julie Makinen / Los Angeles Times)
Harary performs an act that entails getting into a coffin-like box that is set ablaze, then appears to vanish. He then rematerializes in a ring of fire.
(Julie Makinen / Los Angeles Times)
The first theater is sort of a steampunk laboratory/living room, decorated with items Harary has been collecting for years.
(Julie Makinen / Los Angeles Times)
Harary makes his grand entrance by materializing inside a space capsule.
(Julie Makinen / Los Angeles Times)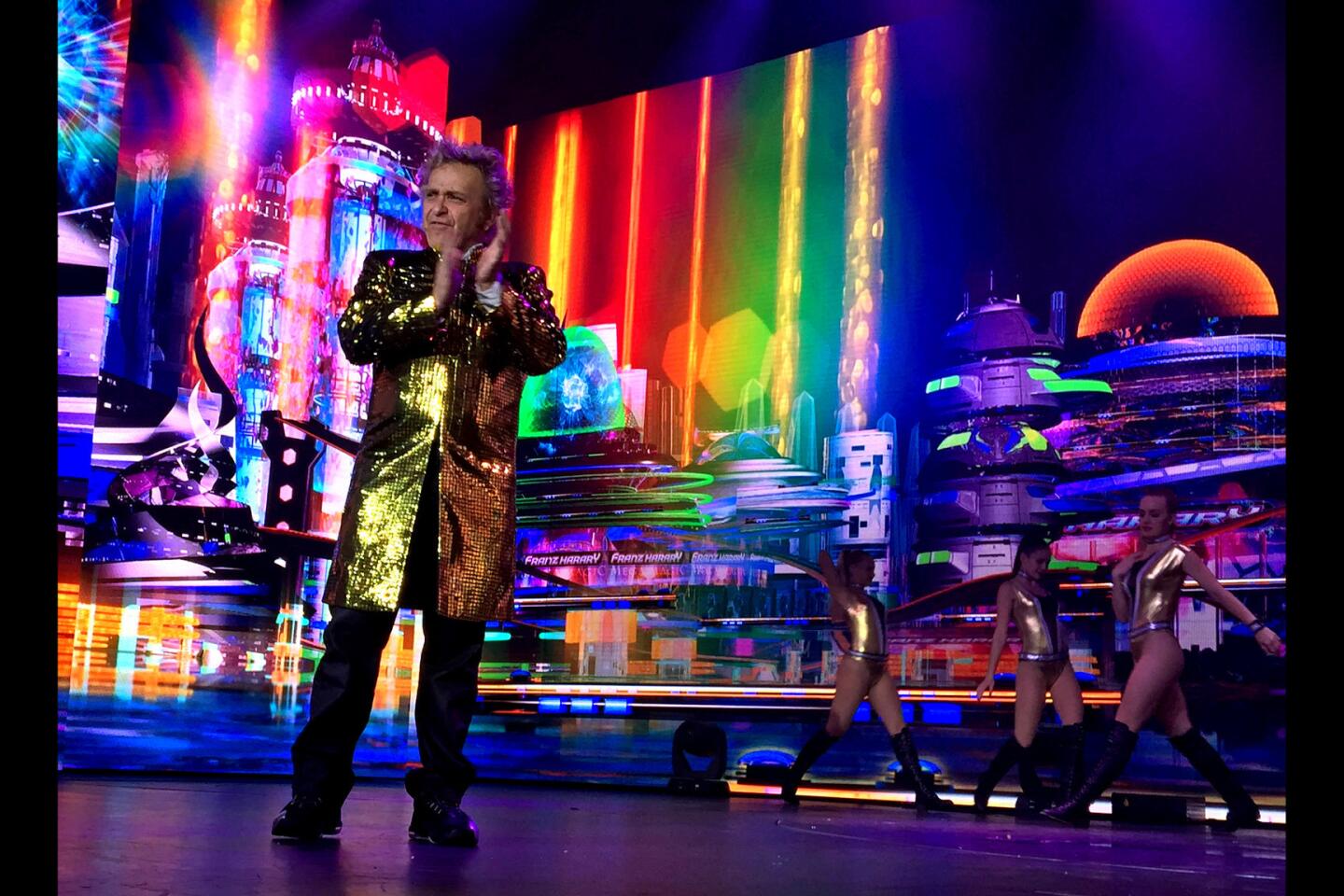 Magician Franz Harary on stage.
(Julie Makinen / Los Angeles Times)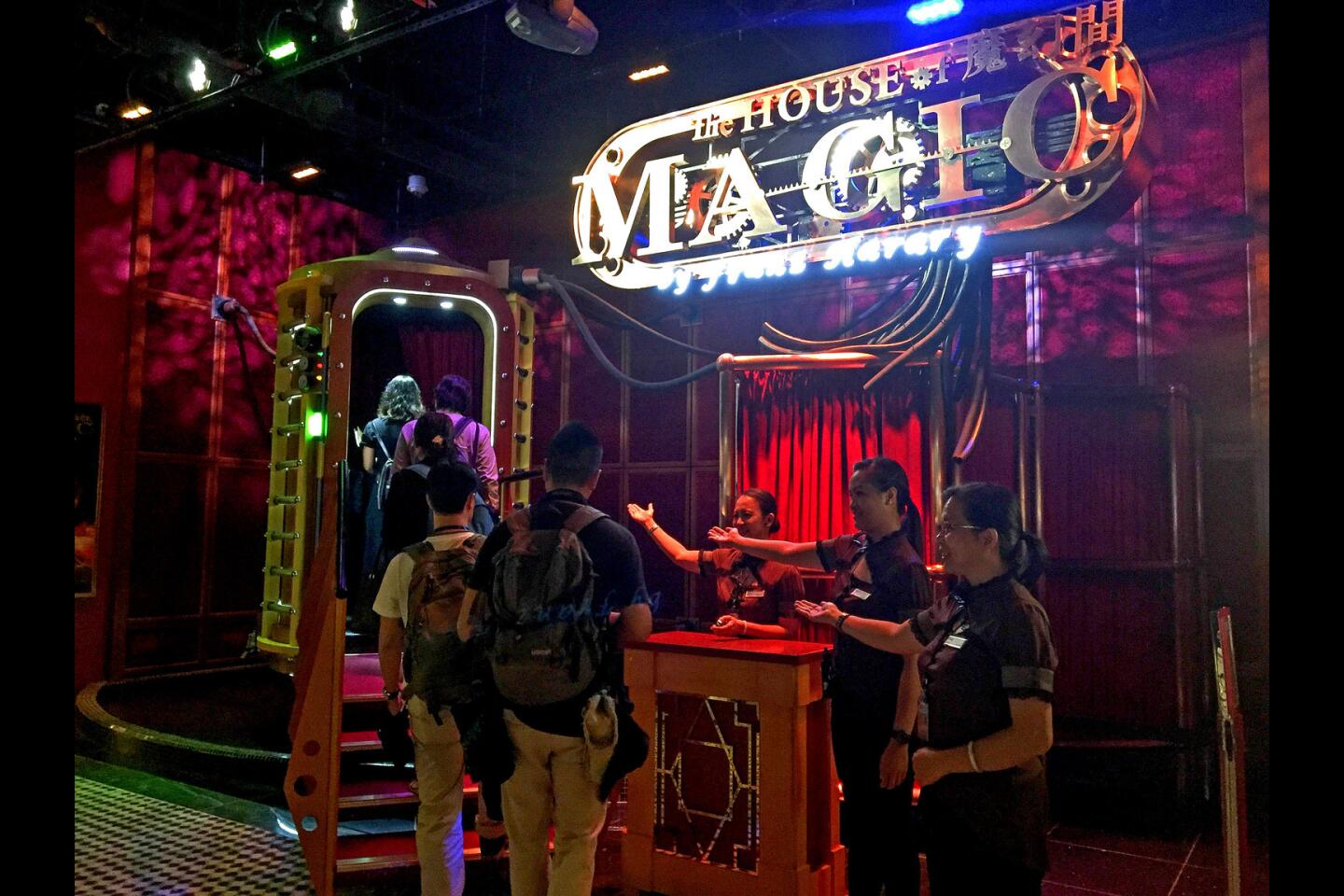 Entry to Franz Harary's House of Magic. Guests enter a small pod and then must go through a mirrored maze to reach the first theater.
(Julie Makinen / Los Angeles Times)
Travis Winkler, a magician from Florida, performs close-up magic in the steampunk living room.
(Julie Makinen / Los Angeles Times)
Harary on a video screen in the steampunk living room.
(Julie Makinen / Los Angeles Times)
Reporting from MACAU, China —
Magician Franz Harary is driving through the Las Vegas of China, trying to remember the last time he did a show in the United States. "Three years ago, maybe?" he says tentatively. "I think it was some Christmas thing. Or maybe it was an Indian casino."
As he pulls into the parking lot of a new $3.2-billion casino resort called Studio City, the gate attendant gives him a blank stare. "Do you have a pass?" he asks.
Harary is used to it. Though he's made the space shuttle disappear, levitated Michael Jackson and filled scores of stadium shows across Asia, the 53-year-old has neither the debonair air of a David Copperfield nor the goth theatricality of a Criss Angel to mark him as a celebrity offstage. His L.A. publicist even touts him with the somewhat awkward brag: "The most famous magician on planet Earth is a guy you've never heard of."
"My name's in the computer," Harary tells the guard with not a hint of annoyance. "Have a look."
But now the Hollywood-based illusionist can just point to the Studio City marquee. On Tuesday, the casino opened Franz Harary's House of Magic, a permanent, $40-million venue with a rotating cast of magicians.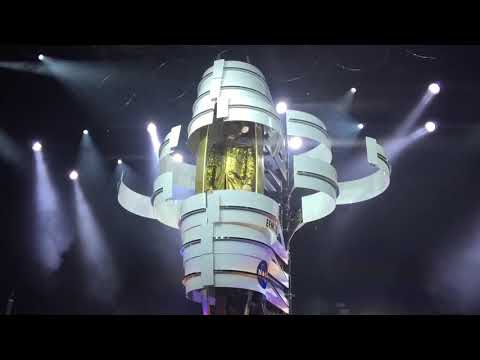 Magician Franz Harary has gotten so used to being simultaneously known and unknown that his L.A. publicist touts him with a somewhat awkward brag: "The most famous magician on planet Earth is a guy you've never heard of." Now, he's
Milt Larsen, founder of Hollywood's famed Magic Castle private club, says the scale of the project is "very unusual," with nothing quite like it attempted since Caesars shut down its $35-million Magical Empire in Vegas more than a decade ago.
With room for 300 patrons per show (tickets: $50) and plans for up to four performances daily, Harary's House of Magic aims to help Macau do what Sin City did 15 to 20 years ago: start shedding its seedy image and add more family-friendly entertainment to diversify the city's customer base.
A slowdown in the Chinese economy, a corruption crackdown that has chilled high-roller visits and government limits on the number of gaming tables have also added pressure on Macau casinos to branch out. And with six new casino resorts opening in the former Portuguese colony in the next two years, properties are keen to add distinctive elements that will distinguish them from competitors.
"That's all good for me — it means Franz is more important," says Harary, a self-deprecating Michigan native who doesn't drink or smoke and immediately apologizes for sounding "freaking egotistical." But then he adds with a grin: "A lot of the guys in the really expensive suits are catering to my wishes compared to even a year ago."
::
How Franz Harary came to be headlining a fabulously expensive theater of his own design in Macau comes down to a complex convergence of commercial, cultural and personal factors, not to mention luck. But it all might never have happened if he hadn't sent a video to Michael Jackson in 1984.
At the time, Harary was a college student dabbling in creating halftime illusions for university marching bands. He sent the singer a video showing how he could make a van appear in an empty parking lot. In a pre-CGI era, it was an impressive stunt. The King of Pop hired Harary, and soon he was designing illusions for the Victory Tour.
That big break led Harary to years of work for musicians — followed by his own "mega magic" stunts (disappearing Taj Mahal, space shuttle) and touring show featuring outsized, high-octane tricks.
For years, Harary sported a metal-band mane and squeezed into spandex pants and rock-star boots; these days, he's gone more sensible sorcerer, with a messy pouf of blond hair, Dickies pants and Nikes. (He freely jokes that he's put on a few pounds and "doesn't look like his posters." At lunch at Musso and Frank's in Hollywood before flying back to Macau for the opening, he orders a Caesar salad "with extra everything.")
Harary caught another lucky break when he found himself in a meeting with Macau casino boss Lawrence Ho about four years ago. At first, it seemed to be going nowhere.
"But then I played him some videos of stuff I'd done, including an MTV hip-hop dance show called 'America's Best Dance Crew,'" Harary recalls. "And Lawrence stands up and says, 'Dude, I know you! You're that guy!'"
In Vegas, I'd be magic show No. 15 ... Right now, in Macau, this part of the planet, I pretty much control the market and there's no one else who does what I do, thank God.
— Franz Harary, a magician
He found his audience in Asia. Dal Sanders, former president of the Society of American Magicians, says he never saw Harary — who lives in a hotel when he's in Macau, drives himself around in a small SUV and runs the kind of errands minions are made for — going the Lance Burton route.
"Magic can be very friendly or very cutthroat. Vegas seems kind of cutthroat," Sanders says. "I don't think that would fit his personality. He's just a genuinely nice person."
Others in the field are more dismissive. "In the respected magic world, Franz is more like a professional wrestler," sniffs one top figure at a leading illusions magazine, refusing to be quoted by name.
Harary says he'd rather be a big fish in the smaller (for now) Asian pond.
"In Vegas, I'd be magic show No. 15," he says. "Right now, in Macau, this part of the planet, I pretty much control the market and there's no one else who does what I do, thank God."
::
Magic dates back thousands of years in China, but it fell out of favor after the 1949 communist revolution. Then, in 2009, Taiwanese magician Lu Chen appeared on mainland state-run TV's "Spring Festival Gala" and wowed audiences with his Western-inspired theatrical style. That touched off a massive popular interest in illusions.
"In China, people have traditionally thought of magicians like street performers, in the same category as jugglers and acrobats," Lu says. "After that [TV special], people really started to change their view on magic and became fascinated."
Almost overnight, the Chinese Internet as well as television became flooded with magic programs and videos — often of the most imitative and unskilled sort, Lu says. "In China, there was no one with the ability and interest to do a big show in Macau," he says.
Plus, says Hong Kong magician Albert Tam: "For Chinese customers, Western faces still have value."
Harary has six full-time employees and several other dozen workers who come on during busy periods. He builds his most elaborate props in workshops around Southern California — Santa Fe Springs, Azusa, Valencia, Ventura, Glendale and Studio City — and ships them to Asia.
Macau's restrictive labor laws made it tough to bring in all the professional foreign stage crew members he wanted, nor was he able to find many experienced locals. He has hired a group of greenhorns — bartenders, gardeners and IT techs — and is giving them a crash course.
Forty-eight hours before the curtain goes up, there are still bugs to work out.
The dress rehearsal kicks off like clockwork: Throbbing music, a haze of magenta fog, two stagehands in astronaut get-ups and … poof! Harary materializes in a space capsule with spinning blades.
The next act wows as well: Half a dozen large metal rings descend from the rafters. There's a flick of a curtain, and voila! Six women in gold lame leotards appear out of nowhere, like birds on perches.
Then, disaster. The ring contraption gets jammed as the crew tries to hoist it back into the ceiling. The next big prop — a slicing-four-women-in-half number — can't be wheeled onstage. To buy time, Harary digs into his teenage bag of tricks, vamping with a handkerchief and dollar-bill bit.
"That was a total meltdown," he says later. Bruce Gold, a longtime friend who's helping Harary book the House of Magic's other acts, tries to reassure him. "It's good that it happened. We want everything to go wrong now — not later."
::
Once the casino opens, Harary will have another worry: piracy. Already, he says, there are Chinese websites featuring videos of his past shows.
"You click on a trick, and then you can buy the trick," he says. "And there's not a damn thing I can do about it."
By January, he predicts, "there's going to be a 'House of Magic' in Guangzhou or something — it's going to happen. But I also know it won't be as good."
Performing in China, he believes, is different from going onstage in the West. For starters, audiences aren't as keen on what Harary calls "power magic" — "Merlin, Harry Potter, 'Bewitched,' 'I Dream of Jeannie.' Using the power of my mind, move the straw."
And they don't need a lot of artsy atmospherics. "People only focus on solving the puzzle; they don't really enjoy the miracle," Tam says.
"They think: If I can solve it, I'm going to share that with all of my friends and show them how smart I am," Harary adds. "I've beat the magician, and even better, I've beat the American magician!"
MORE GREAT READS
Retailers are exasperated -- and empathetic -- over number of homeless streaming to Sylmar strip mall
Tethered by a string and trust, a blind sprinter and his guide make history
In India, the slow (slow) death of a black-and-white film maker
Sign up for Essential California for news, features and recommendations from the L.A. Times and beyond in your inbox six days a week.
You may occasionally receive promotional content from the Los Angeles Times.