Search resumes for Brazil dam survivors amid growing despair; death toll climbs to 58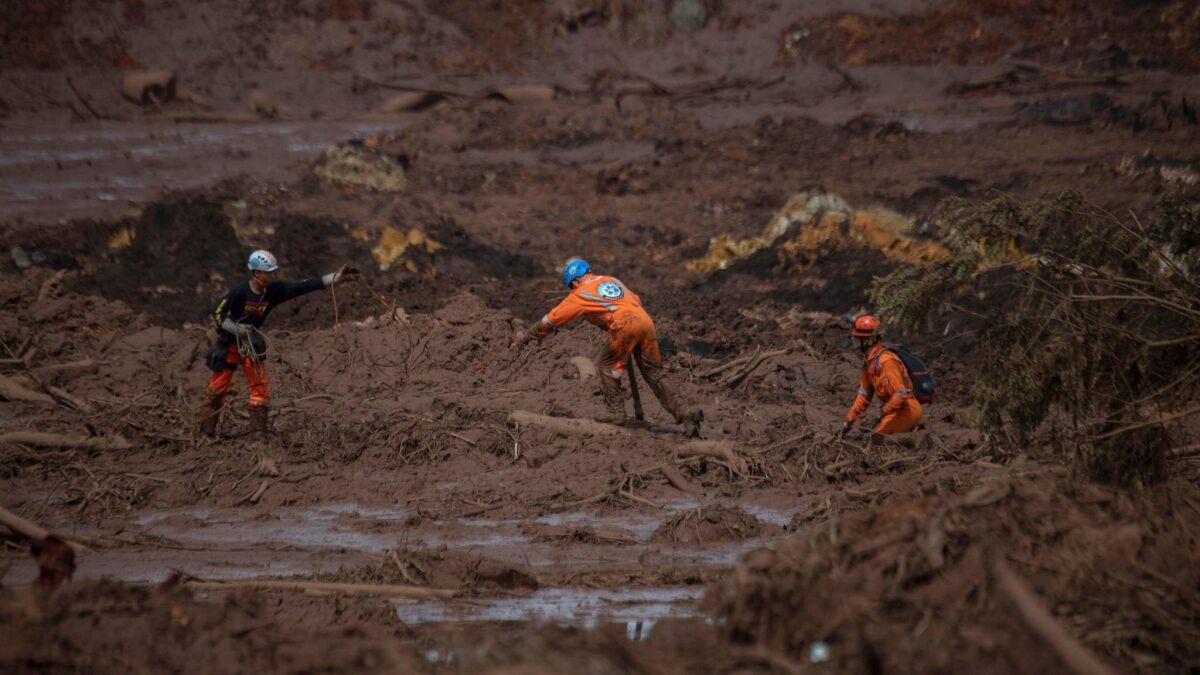 Reporting from BRUMADINHO, Brazil —
Brazilian officials on Sunday resumed the search for hundreds of missing people after a massive dam collapse, with firefighter crews returning to mud-covered areas after a several-hour suspension over fears that a second dam was at risk of breach.
The Civil Defense office in Minais Gerais state raised the confirmed death toll to 58, with up to 300 people still missing after the avalanche of iron ore waste from a mine Friday.
Authorities earlier Sunday had stopped the search and evacuated several neighborhoods in the southeastern city of Brumadinho that were within range of the second B6 dam owned by the Brazilian mining company Vale. An estimated 24,000 people were told to get to higher ground, but by the afternoon, civil engineers said the second dam was no longer at risk.
Areas of water-soaked mud appeared to be drying out, which could help firefighters get to areas previously unreachable.
"Get out searching!" a woman yelled at firefighters near a refuge set up in the center of Brumadinho. "They could be out there in the bush."
Authorities had lowered the confirmed death toll to 37 from 40, giving no explanation, though that number was expected to increase as rescue and recovery teams got to the hardest-hit areas.
Even before the brief suspension of rescue efforts, hope that loved ones had survived a tsunami of iron ore mine waste from Friday's dam collapse in the area was turning to anguish and anger over the increasing likelihood that many of the hundreds missing had died.
There was also mounting anger at Vale and questions about an apparent lack of an alarm system on Friday.
Caroline Steifeld, who was evacuated, said she heard warning sirens Sunday, but no such alert came Friday, when the first dam collapsed.
"I only heard shouting, people saying to get out. I had to run with my family to get to higher ground, but there was no siren," she said, adding that a cousin was still unaccounted for.
Several others made similar complaints when interviewed by the Associated Press. An email to Vale asking for comment was not immediately answered.
"I'm angry. There is no way I can stay calm," said Sonia Fatima da Silva, as she tried to get information about her son, who had worked at Vale for 20 years. "My hope is that they be honest. I want news, even if it's bad."
The rivers of mining waste also raised fears of widespread environmental contamination and degradation.
According to Vale's website, the waste is composed mostly of sand and is nontoxic. However, a United Nations report found that the waste from a similar disaster in 2015 "contained high levels of toxic heavy metals."
Over the weekend, state courts and the justice ministry in the state of Minas Gerais froze about $1.5 billion in Vale assets for state emergency services and told the company to report on how it would help the victims.
Neither the company nor authorities had reported why the dam failed, but Atty. Gen. Raquel Dodge promised to investigate it, saying "someone is definitely at fault." Dodge noted there are 600 mines in the state of Minas Gerais alone that are classified as being at risk of rupture.
On Twitter, new Brazilian President Jair Bolsonaro said his government would do everything it could to "prevent more tragedies" like Brumadinho.
The far-right leader campaigned on promises to jump-start Brazil's economy, in part by deregulating mining and other industries.
Environmental groups and activists said the latest spill underscored the lack of environmental regulation in Brazil, and many promised to fight any further deregulation.
---
Must-read stories from the L.A. Times
Get the day's top news with our Today's Headlines newsletter, sent every weekday morning.
You may occasionally receive promotional content from the Los Angeles Times.