Tensions escalate in Brazil as Lula refuses to surrender to begin his prison term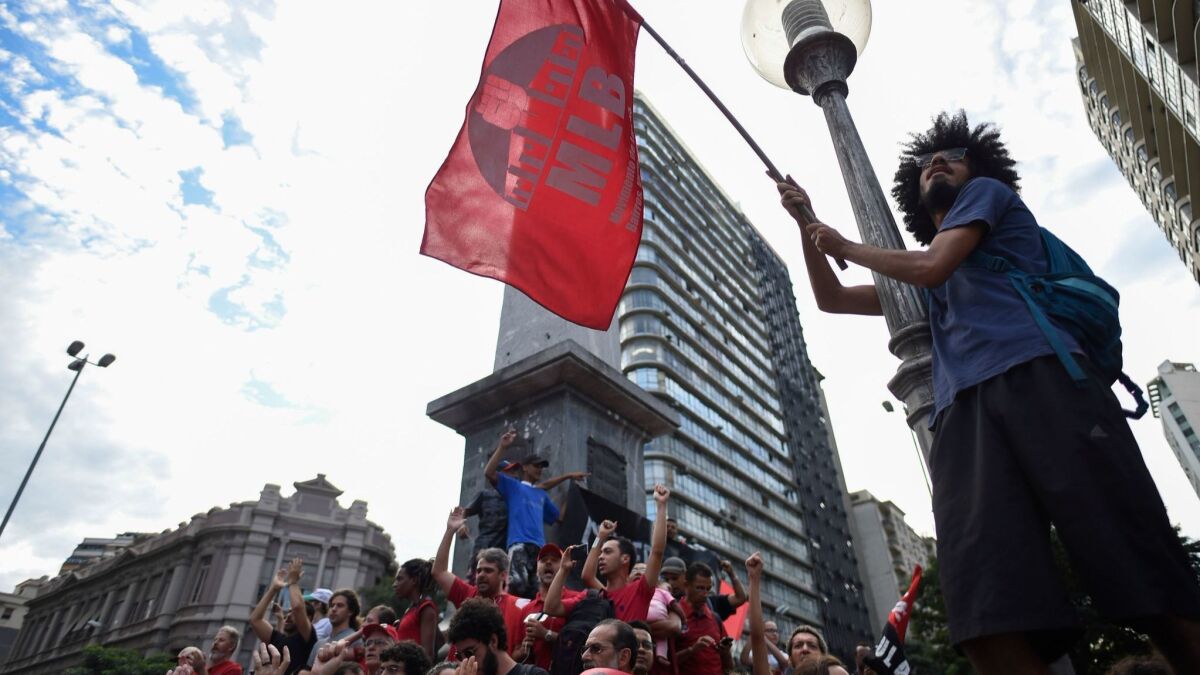 Reporting from SAO BERNARDO DO CAMPO, Brazil —
Former President Luiz Inacio Lula da Silva refused to surrender to federal police Friday, and federal police appeared reluctant to push the issue with the popular political leader who remains ahead in the polls for the upcoming presidential election.
Lula, who was to begin serving a 12-year prison sentence following his corruption conviction, remained inside the ABC Steelworkers Union building in Sao Bernardo do Campo after the 5 p.m. deadline set by Judge Sergio Moro passed.
Federal police said they do not want to arrest the former president at the union hall, which is surrounded by his supporters, and are negotiating to bring the standoff to an end.
Demonstrations favoring the former president have erupted across the country, with at least one turning violent when someone in a passing car in Paraiba shot a protester with the Landless Rural Workers Movement in the leg.
On the recommendation of military police, organizers of an opposing protest canceled their celebration of Lula's incarceration scheduled to take place Friday night in Sao Paulo.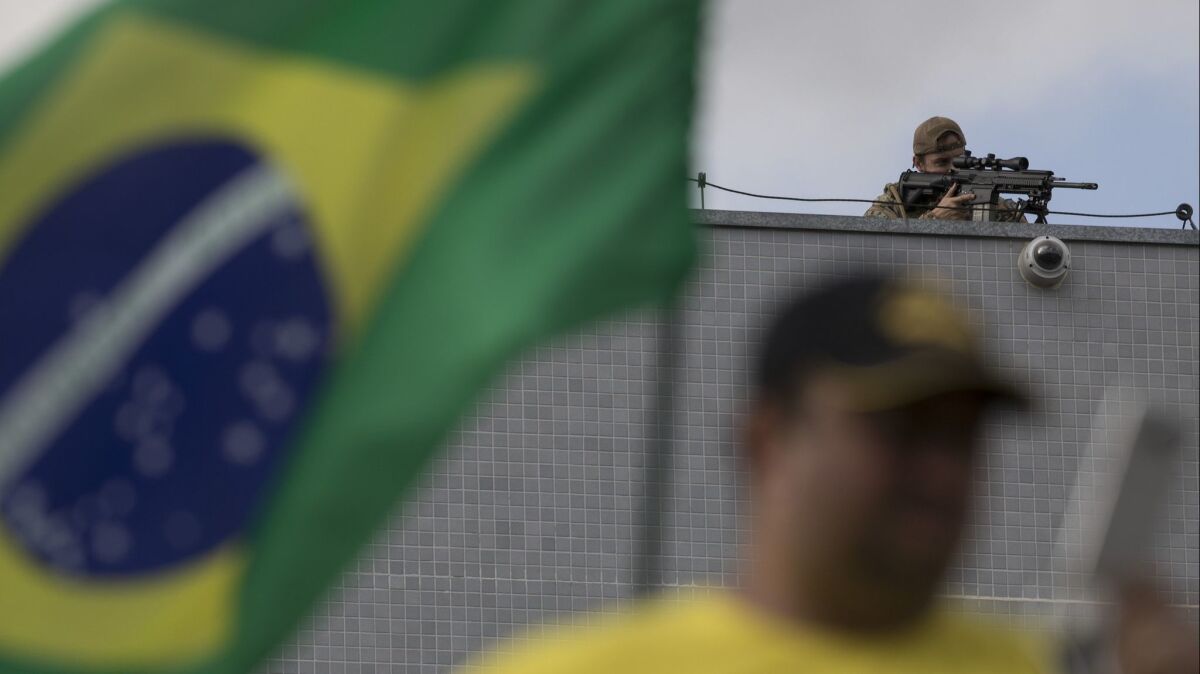 Hundreds of supporters — many are union members, students and land rights activists — have been camped outside the ABC Steelworkers Union, where Lula got his start in politics, since the order for his incarceration was handed down Thursday.
"Caravans from all over the state are arriving to defend President Lula," Vagner Freitas, president of the national Unified Workers Central union, known as CUT, told cheering demonstrators gathered outside the steelworkers union. "We are here, and if they want to remove Lula from here, they'll have to take us all with him."
Lula spent Thursday night in the union building, where he met with his legal team and fellow members of the Workers' Party, including former President Dilma Rousseff, former Sao Paulo Mayor Fernando Haddad and party leader Gleisi Hoffmann.
His lawyers filed a petition to the country's top appeals court Friday, urging it to suspend the prison order, but it was quickly denied.
Moro ordered Lula jailed late Thursday after a marathon Supreme Court session that lasted almost 11 hours and ended with the denial of the former president's request to remain free while he continues to appeal a corruption conviction handed down last July.
The court's 6-5 decision and Moro's quick decision to give Lula 24 hours to surrender underscored the country's political turmoil, due in part to a years-long corruption scandal that has seen many of Brazil's politicians charged and jailed.
In January, Lula's appeal of his corruption conviction was rejected and his 9½-year sentence was increased to 12 years and a month. The former president has always maintained his innocence and says the charges against him are politically motivated and designed to prevent him from returning as Brazil's leader.
Lula, who is considered the front-runner in this year's presidential election, may not be allowed on the ballot. Under Brazil's Clean Slate law, which bars candidates who have had a criminal conviction upheld from running for election for eight years, Lula wouldn't be able to hold office again until he is 80.
The Workers' Party, however, continues to support its former leader and plans to register him as its candidate in August — jailed or not.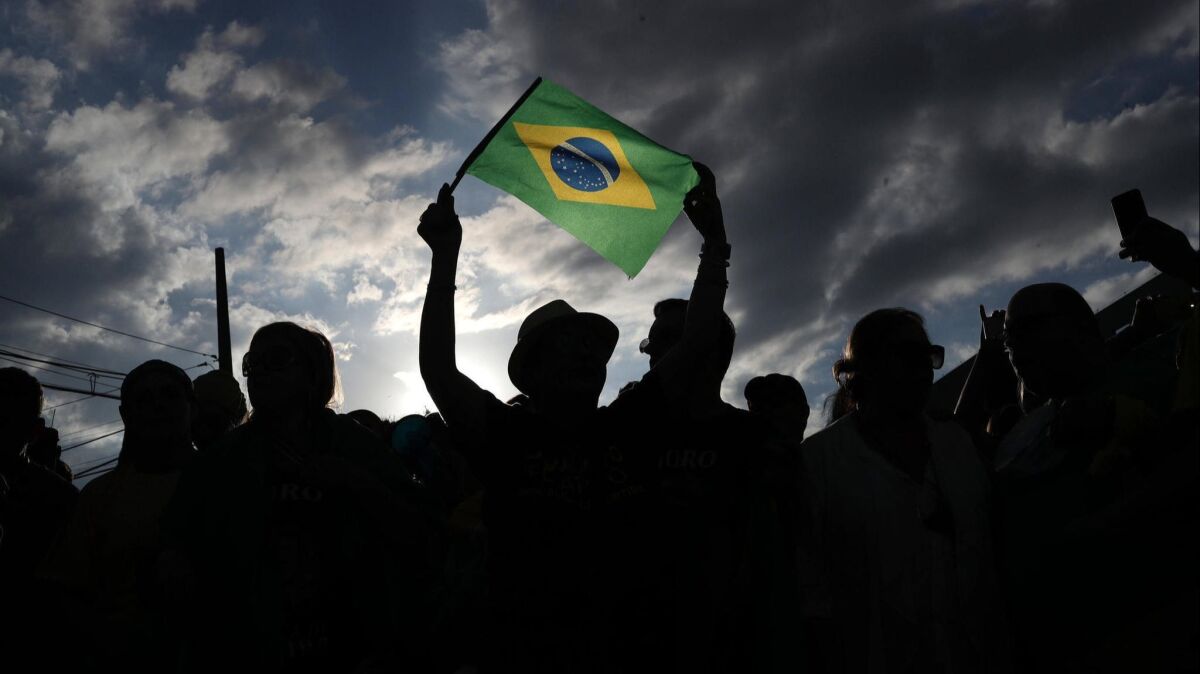 Once Lula is registered, it will be up to the electoral court to decide if his name can appear on the ballot. The deadline for its final decision is Sept. 17. The party has yet to announce a Plan B, but it could swap in another candidate before the September deadline.
Running second to Lula in the presidential polls is Jair Bolsonaro, a conservative congressman who defends Brazil's military dictatorship and has been fined for comments considered to be racist and sexist. He is also a staunch supporter of loosening gun laws in the country.
Bolsonaro's chances of winning the presidency if Lula is out of the race would probably increase, but there is also the possibility that Lula's voters could rally around a different left-leaning candidate.
Lula was convicted of accepting $1.2 million in bribes from contractor OAS in exchange for contracts with state-run oil giant Petrobras, money that prosecutors say was used to buy and renovate a penthouse apartment in the seaside town Guaruja.
Langlois is a special correspondent
Must-read stories from the L.A. Times
Get the day's top news with our Today's Headlines newsletter, sent every weekday morning.
You may occasionally receive promotional content from the Los Angeles Times.