Theresa May tells U.K. it must face 'hard facts' about 'Brexit'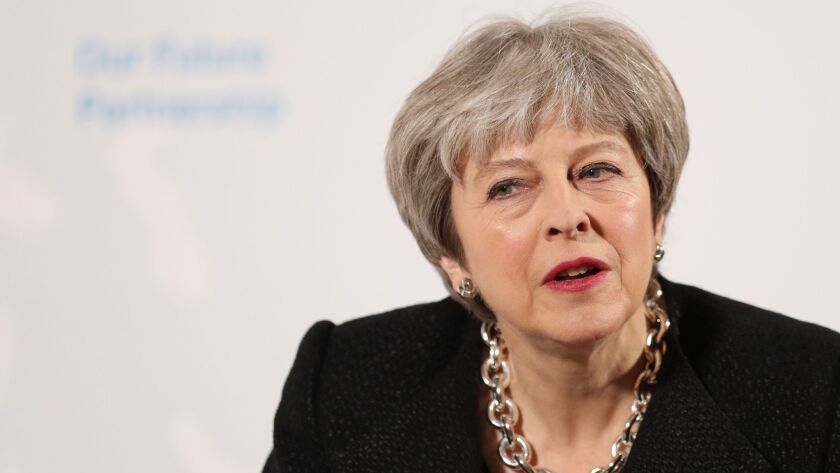 Reporting from London —
Prime Minister Theresa May set out her vision for Britain's future relationship with the EU on Friday in a much-anticipated speech that she hoped would win over her European counterparts while also uniting the country, which remains deeply — often bitterly — divided over "Brexit."
Speaking in London, she said she sought the "broadest and deepest possible partnership" with the European Union, arguing that it was in the interests of both sides to make that happen.
She set out five tests she said would be used to guide the U.K. through the next stage of negotiations, which include creating a lasting deal so the two sides would not find themselves back at the negotiating table in the future.
But she also sent a warning to those Euro-sceptics who are determined to see a complete split with the EU at any cost, saying it would be impossible to "get everything we want" from the negotiations, and compromise in some areas was inevitable.
"[The referendum] was a vote to take control of our borders, laws and money and a vote for wider change so that no community in Britain would ever be left behind again," she said. "But it was not a vote for a distant relationship with our neighbors."
May's speech was her most broad-ranging insight into how she sees Britain and the EU working together since January 2017, when she first set out the priorities the government would use to negotiate Brexit.
But that was before the negotiations had begun.
They now are well underway and have hit many stumbling blocks with accusations by the EU that Britain is trying to cherry-pick the best deal.
"If this is cherry-picking, every trade arrangement is cherry-picking," said May, speaking directly to that accusation.
EU members are meeting for a summit at the end of the month in which they will agree on their negotiating strategy in the next stage of talks, which focus on trade, and May hoped Friday's speech would win them over, or at least make the distance the two sides have to travel to reach agreement less far.
The EU's chief Brexit negotiator, Michel Barnier, said that he "welcomed" the prime minister's speech and the clarity it offered, which would help inform a future trade agreement. That was a significantly more upbeat tone than previous days when the two sides traded verbal blows after the EU published a draft exit treaty to which May immediately said she could never agree.
It included a scenario whereby if no alternative deal was reached, Northern Ireland would remain part of the European Union's customs union to avoid creating a hard border with the Republic of Ireland, which will remain inside the EU.
Politicians, including former British Prime Ministers Tony Blair and John Major, expressed profound concerns that the return to any sort of border could jeopardize the Good Friday Agreement, which finally brought peace to the region after decades of conflict.
On Friday, May said having a hard border was categorically not an option, but she was confident other solutions could be found where trade could still flow easily, even if Britain was not an EU member.
"We chose to leave; we have a responsibility to help find a solution," she said. "But we can't do it on our own. It is for all of us to work together."
May delivered her nearly hourlong speech at Mansion House in central London. It originally was scheduled to be delivered in Newcastle but was relocated because of severe weather and snowstorms sweeping much of the country.
Although there has been much debate within Britain about whether the country could leave the EU but remain inside the customs union and single market, May reiterated that there should be no doubt about that aspect of Britain's future.
"The reality is that we all need to face up to some hard facts," she said. "We are leaving the single market; life is going to be different. In certain ways, our access to each other's market will be less than it is now."
But she also spoke directly to the so-called Brexiteers in her party and said they need to accept it would be impossible to not still be influenced by the EU in some aspects.
The "jurisdiction of the European Court of Justice in the U.K. must end," she said, but stated clearly that EU law and the decisions made by the ECJ would continue to affect Britain. "Our courts will continue to look at ECJ judgments," she said.
She also spoke about areas where Britain might want to stay "in step" with EU regulations. May previously has said that Britain will leave the EU on March 29, 2019, and that she hopes there will be a two-year transition period after that date.
She acknowledged there would be "ups and downs" in the days and months ahead but there was a shared interest in getting this right.
"Change is not to be feared, so long as we face it with a clear-sighted determination to act for the common good," she said. "Let's get on with it."
---
Must-read stories from the L.A. Times
Get all the day's most vital news with our Today's Headlines newsletter, sent every weekday morning.
You may occasionally receive promotional content from the Los Angeles Times.