British Prime Minister Theresa May is battling to save her 'Brexit' deal — and her job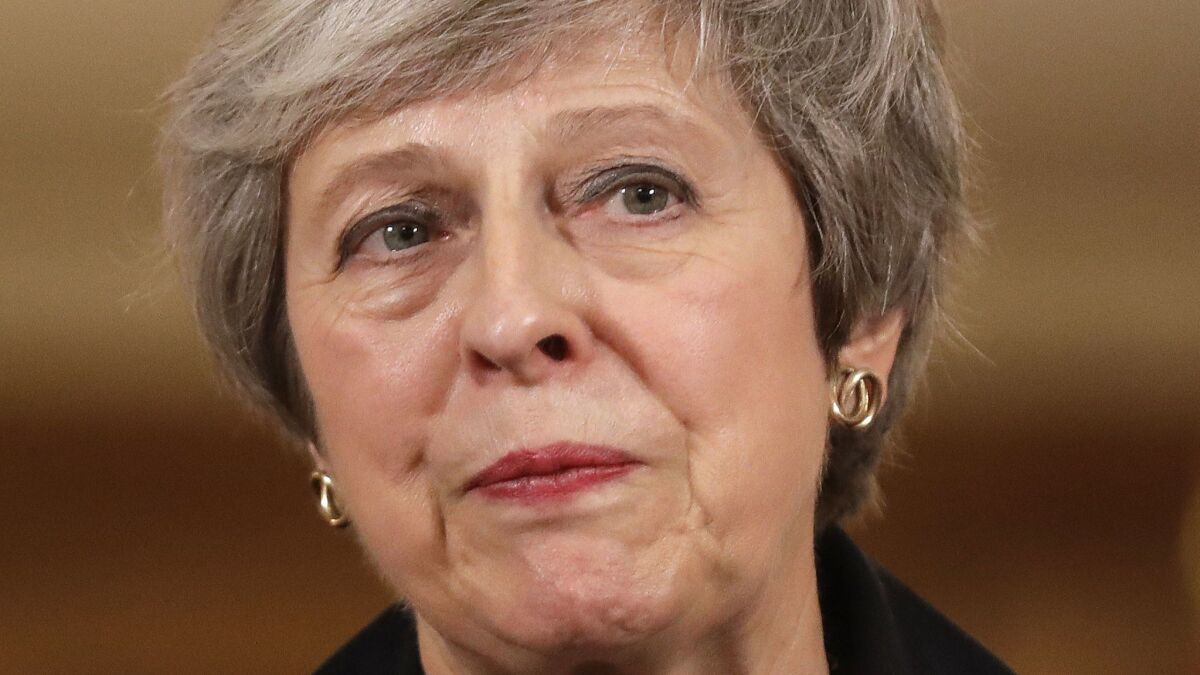 Reporting from LONDON —
British Prime Minister Theresa May's government was thrown into disarray Thursday as she faced a slew of resignations over her "Brexit" strategy and threats of a no-confidence vote in her leadership.
As the British pound slipped and members of her own party questioned her ability to lead, May spoke defiantly about fighting any effort to scuttle her EU exit plan or push her from power.
"Leadership is about taking the right decisions, not the easy ones," she said. "My job is to bring back a deal that delivers for the British people."
Yet, less than 24 hours after May stood outside her 10 Downing Street residence and proclaimed she had secured the collective backing of the Cabinet for her draft agreement for Britain's withdrawal from the European Union — albeit with grudging support — her key Brexit negotiator, Dominic Raab, stepped down, saying he could not "in good conscience" support the strategy the prime minister was pursuing.
Raab's resignation is seen as a potentially crippling blow to May. It was his presence in the Cabinet that had reassured any Euroskeptics in the Conservative Party that the government was pursuing a Brexit strategy that they could live with. But when the details of the final proposed agreement became public — outlined in a 585-page document — Raab said it became clear he could not "reconcile the terms of the proposed deal with the promises we made to the country."
His resignation was followed quickly by that of Cabinet colleague Esther McVey, the work and pensions secretary who had been a vocal Brexit advocate in 2016 when Britons voted to quit the European Union. Anti-immigrant sentiment was a big driver of the divisive referendum vote, but it's proved nearly impossible for negotiators to scrap free movement within the bloc without also disrupting those who have built lives and careers outside their home countries.
"We have gone from no deal is better than a bad deal, to any deal is better than no deal," McVey wrote in her resignation letter. Two junior members of May's government along with two ministerial aides also quit amid speculation that others would soon follow.
As May scrambled to save her Brexit deal, as well as her job, the pound fell sharply.
Veteran Conservative lawmaker Ken Clarke described the unfolding events as the "most extreme situation in Parliament I've ever seen."
Facing three hours of questioning in the House of Commons, May defended her Brexit deal.
"The choice is clear," she said. "We can choose to leave with no deal. We can risk no Brexit at all. Or we can choose to unite and support the best deal that can be negotiated — this deal."
Opposition leader Jeremy Corbyn described May's Brexit strategy as a "botched deal" that his Labor Party cannot support.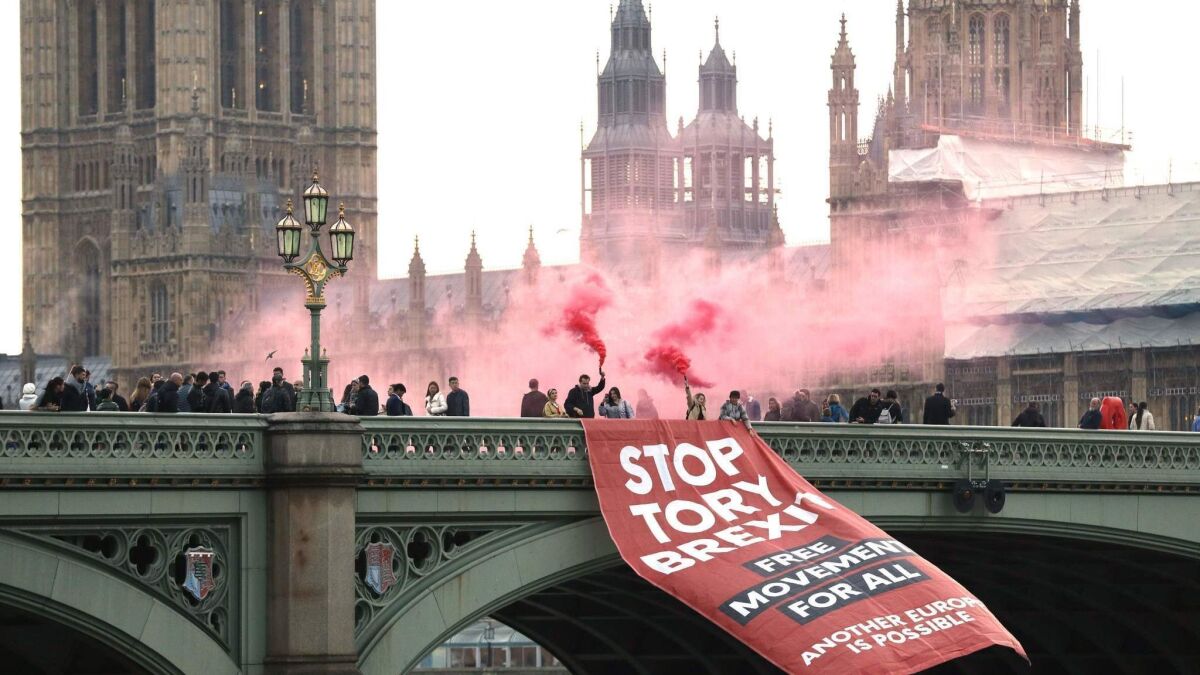 The key issues triggering alarm to both the pro- and anti-EU camps relate to how to maintain frictionless trade between Ireland and Northern Ireland. The Republic of Ireland is in the European Union, and will stay there. Northern Ireland, which is part of the United Kingdom, will leave.
This has long been the thorniest issue in the Brexit negotiations because it threatens to undermine the Good Friday Agreement, which brought peace to Northern Ireland in the late 1990s after decades of conflict. Among other things, there are fears that any provisions to avoid a hard border between Northern Ireland and Ireland could create new barriers between Northern Ireland and the rest of the U.K., weakening the bonds that hold the U.K. together.
A so-called backstop plan that has been written into the draft agreement states that the entire United Kingdom would remain part of the EU customs union if no satisfactory trade deal can be achieved. Under the backup plan, Britain could not unilaterally leave the arrangement, a condition that alarms some.
Northern Ireland would also face a more restricted customs relationship with the EU than the rest of the U.K., which many lawmakers — including members of Ireland's Democratic Unionist Party — find deeply objectionable
Nigel Dodds, a Democratic Unionist Party member of Parliament, said he could walk May through the list of failed promises she's made to Northern Ireland but it would be a waste of time because "she clearly doesn't listen."
As the resignations mounted, questions quickly surfaced Thursday whether May would be able to keep her grip on power.
Diehard Brexit proponent Jacob Rees-Mogg submitted a letter urging a no-confidence vote in her leadership of the Conservative Party.
Up to a dozen other Conservative lawmakers submitted similar letters. If 48 of her lawmakers submit letters asking for one, a vote will have to take place.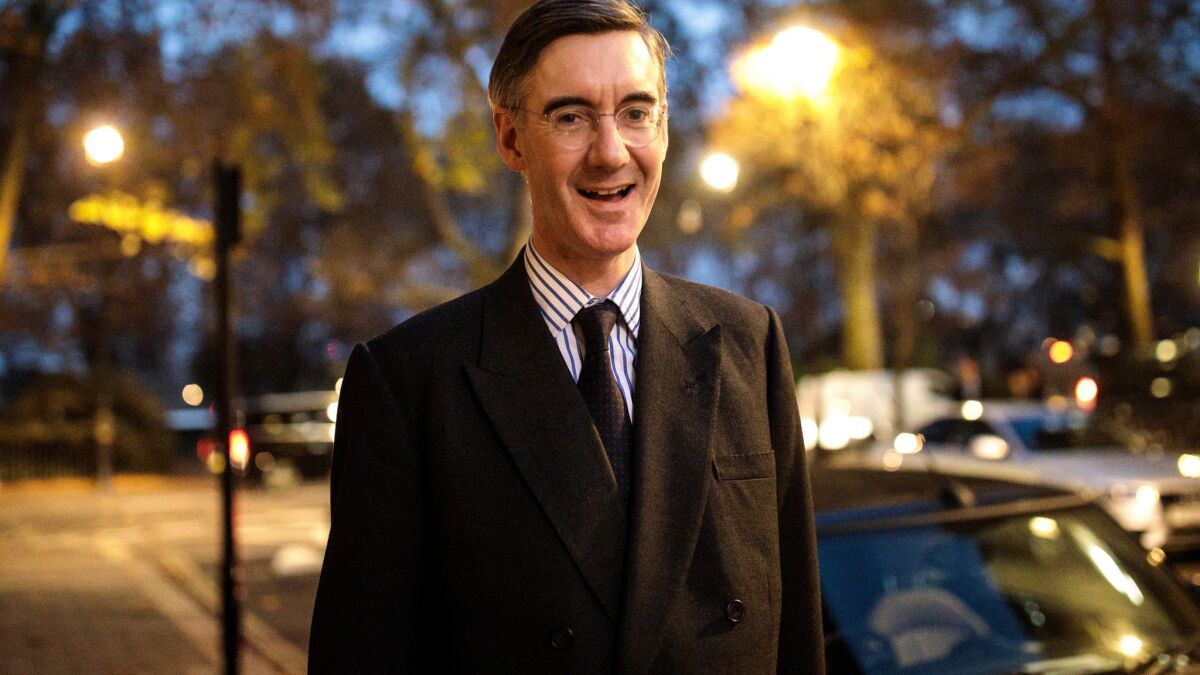 If a majority of Conservative members of Parliament vote against her — at least 158 — she would be forced to resign and a leadership election would be held.
At a news conference Thursday, May spoke to journalists amid the unfolding chaos. She said she believed in her Brexit plan "with every fiber of my being."
"Am I going to see this through? Yes," she said.
May knew all along that it would be difficult to push her deal through Parliament, which has to approve terms of the final Brexit agreement before Britain can pull out of the 28-member bloc, something that's supposed to occur by late March.
But it is no longer clear how May can win majority support for her plan, or what alternatives remain.
"This is the start of a long period of rancor that will outlast Brexit day, should that occur," predicted Anand Menon, director of the think tank UK in a Changing Europe.
EU leaders will meet Nov. 25 to endorse the deal.
May said that her European counterparts should not be distracted by the political infighting back home, but instead see that the government is "intent on working with them to deliver a good deal for the British people — because I
think a good deal for the U.K. is a good deal for the EU as well."
Boyle is a special correspondent.
---
UPDATES:
3:35 p.m.: This article was updated with additional details and background.
1:15 p.m.: This post was updated with a staff report.
7:10 a.m.: This post was updated with comments from Jacob Rees-Mogg and the latest market report.
5:30 a.m.: This post was updated with an additional minister's resignation and more details.
This post was originally published at 2:05 a.m.
---
Must-read stories from the L.A. Times
Get the day's top news with our Today's Headlines newsletter, sent every weekday morning.
You may occasionally receive promotional content from the Los Angeles Times.