From the archives:: Queen Elizabeth II is Britain's 'most familiar enigma'
Queen Elizabeth waves from a balcony at Buckingham Palace accompanied by Prince Charles, Prince William and William's wife Kate Middleton, Duchess of Cambridge.
(Stefan Wermuth / Associated Press)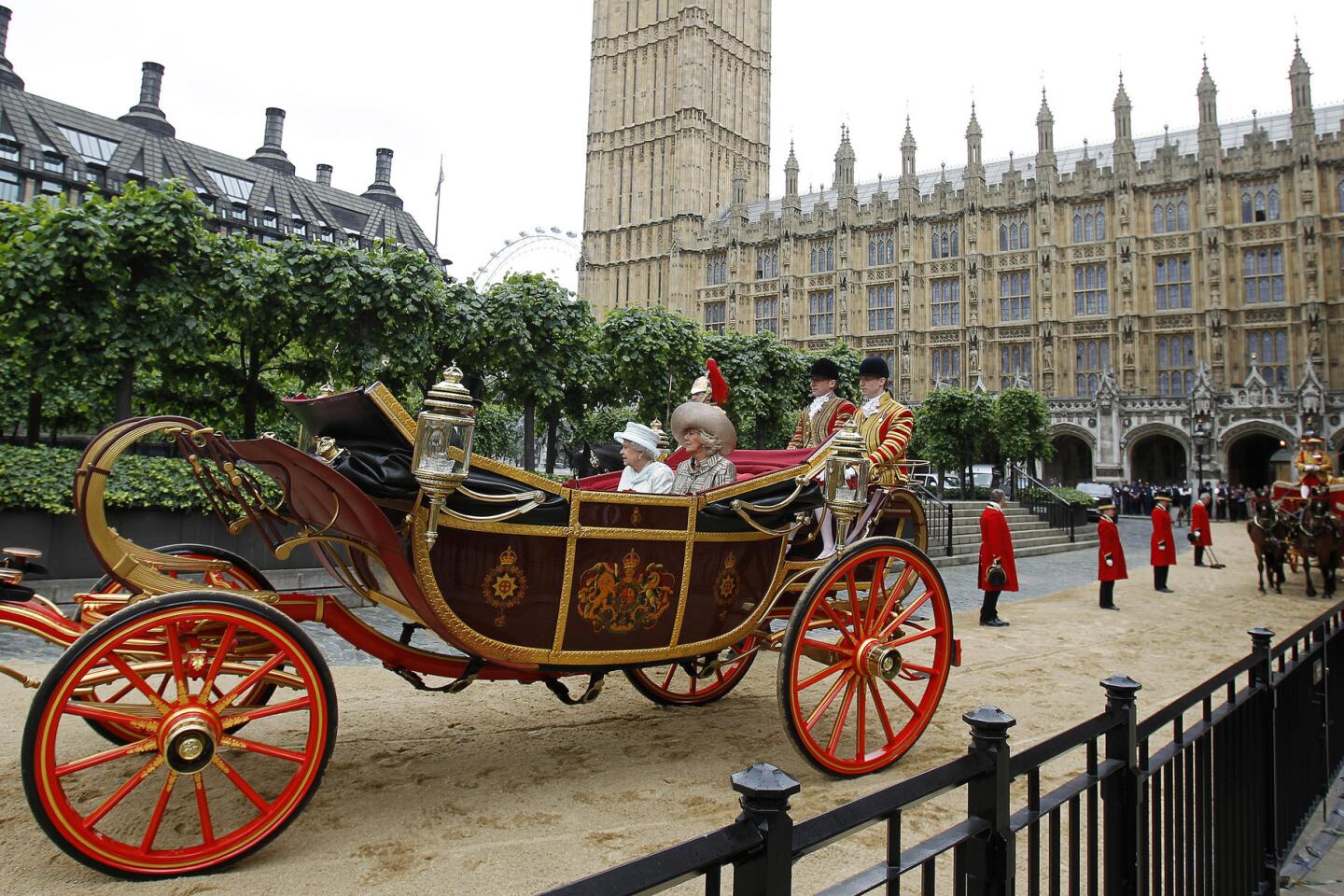 Queen Elizabeth II and Camilla, Duchess of Cornwall, leave Westminster Hall during a carriage procession following a Diamond Jubilee luncheon.
(Peter Byrne / AFP/Getty)
Prince Charles, Prince William, Charles' wife Camilla, William's wife Catherine and Prince Harry leave a Service of Thanksgiving at St. Paul's Cathedral.
(Matt Cardy / Getty Images)
Spectators watch the royal procession pass by Admiralty Arch on the way to Buckingham Palace during the Diamond Jubilee.
(Sean Gallup / Getty Images)
Catherine, Duchess of Cambridge, and Prince William ride to Buckingham Palace in a royal procession.
(Sean Gallup / Getty Images)
Queen Elizabeth II, with Dean of St. Paul's David Ison, waves from the steps of St. Paul's Cathedral after a national service of thanksgiving.
(Ben Stansall / AFP / Getty)
Devoted subjects wait on the Mall, the wide boulevard that leads to Buckingham Palace, for Queen Elizabeth and the rest of the royal family to pass on the way to St. Paul's Cathedral.
(Tom Hevezi / Associated Press)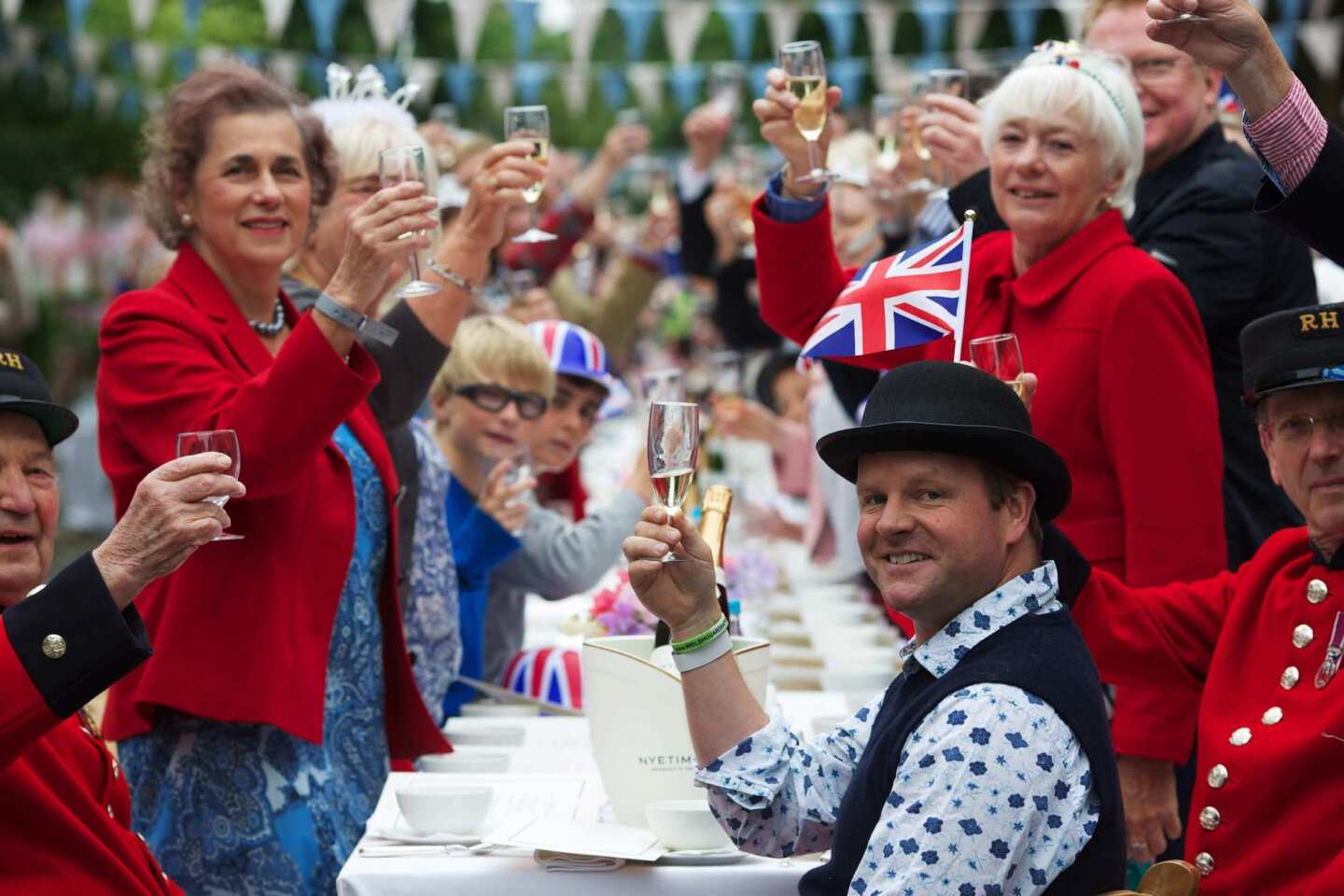 People raise a toast as they take part in a street party organized by residents of Battersea in South London on Saturday as Britain celebrates Queen Elizabeth II's Diamond Jubilee.
(Andrew Cowie / AFP / Getty Images)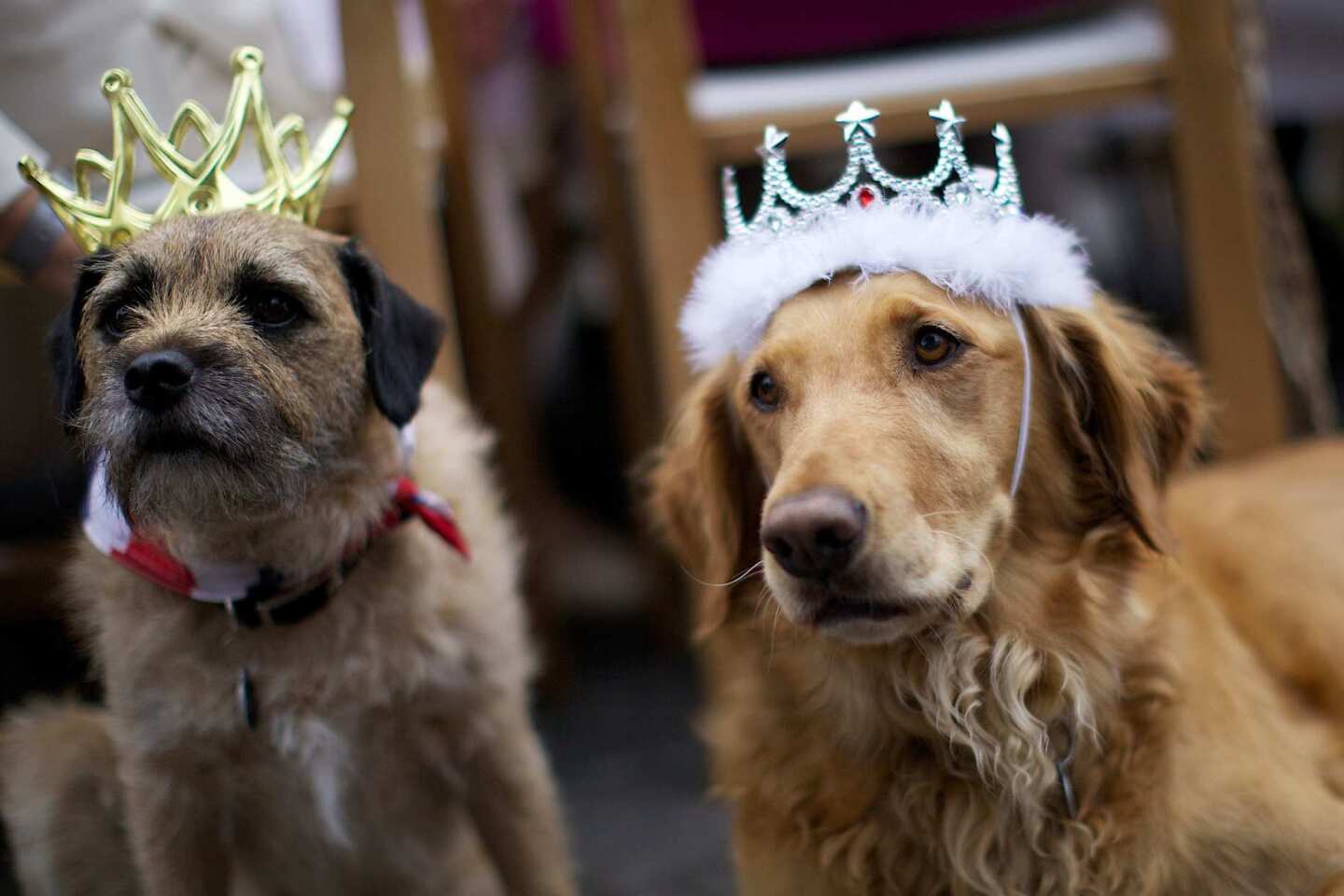 Two dogs wearing crowns sit as residents of a street in Battersea hold a Jubilee street party.
(Andrew Cowie / AFP /Getty Images)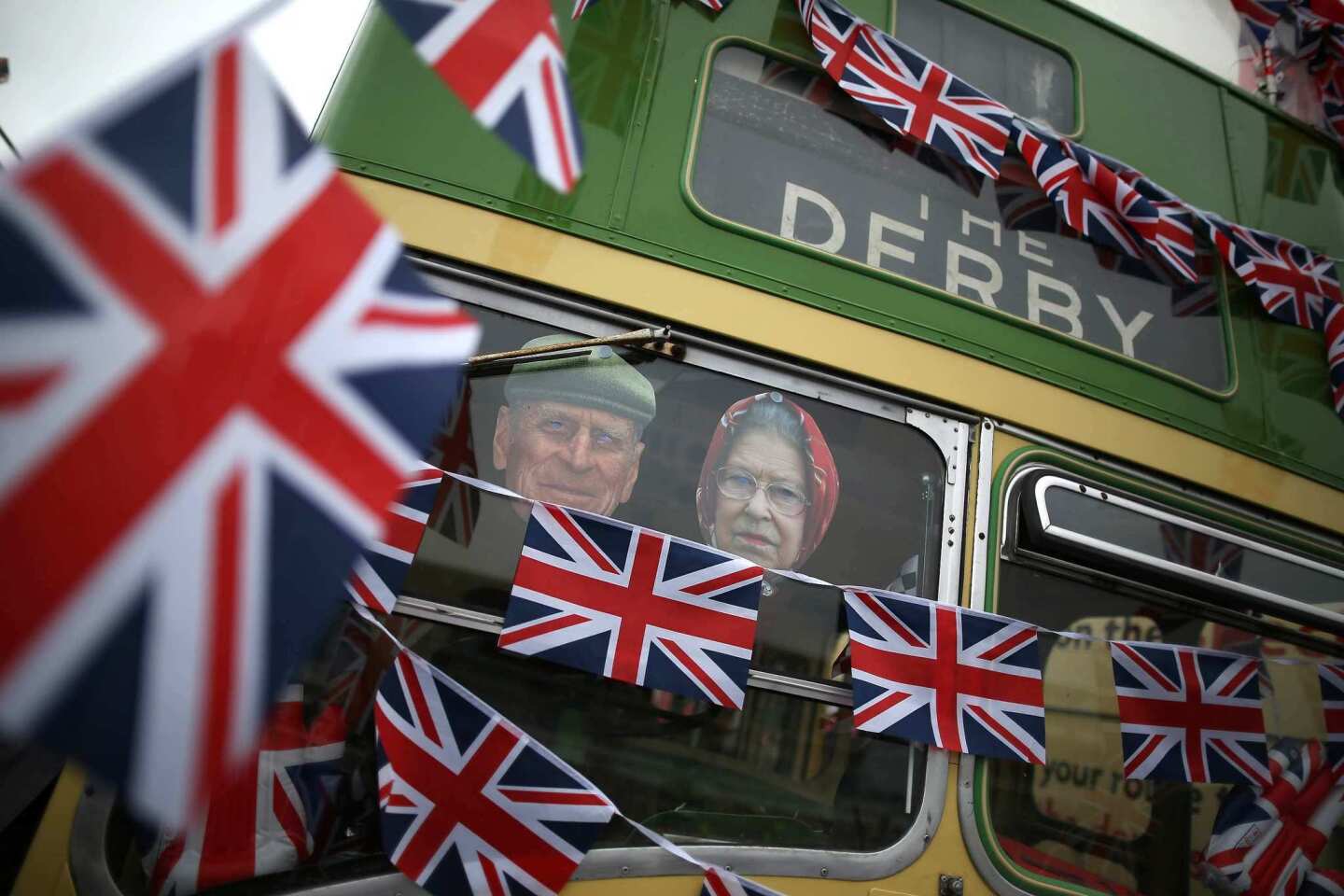 A bus is decorated with Union Jacks and photographs of Queen Elizabeth II and The duke of Edinburgh at the Derby in Epsom, England.
(Peter Macdiarmid / Getty Images)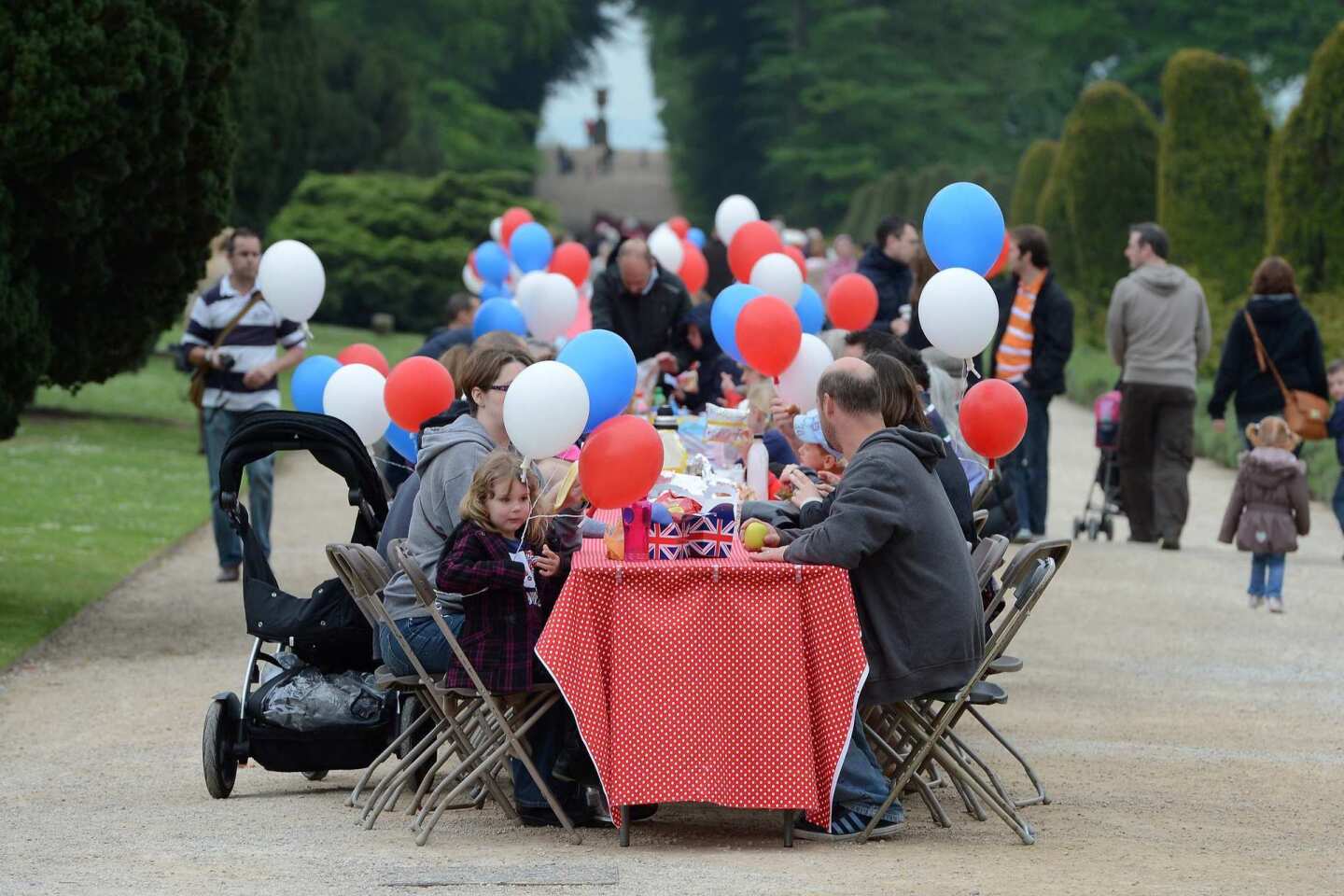 Visitors to Chatsworth Park in Derbyshire, central England, enjoy a street party themed to celebrate the queen's Diamond Jubilee.
(Andrew Yates / AFP / Getty Images)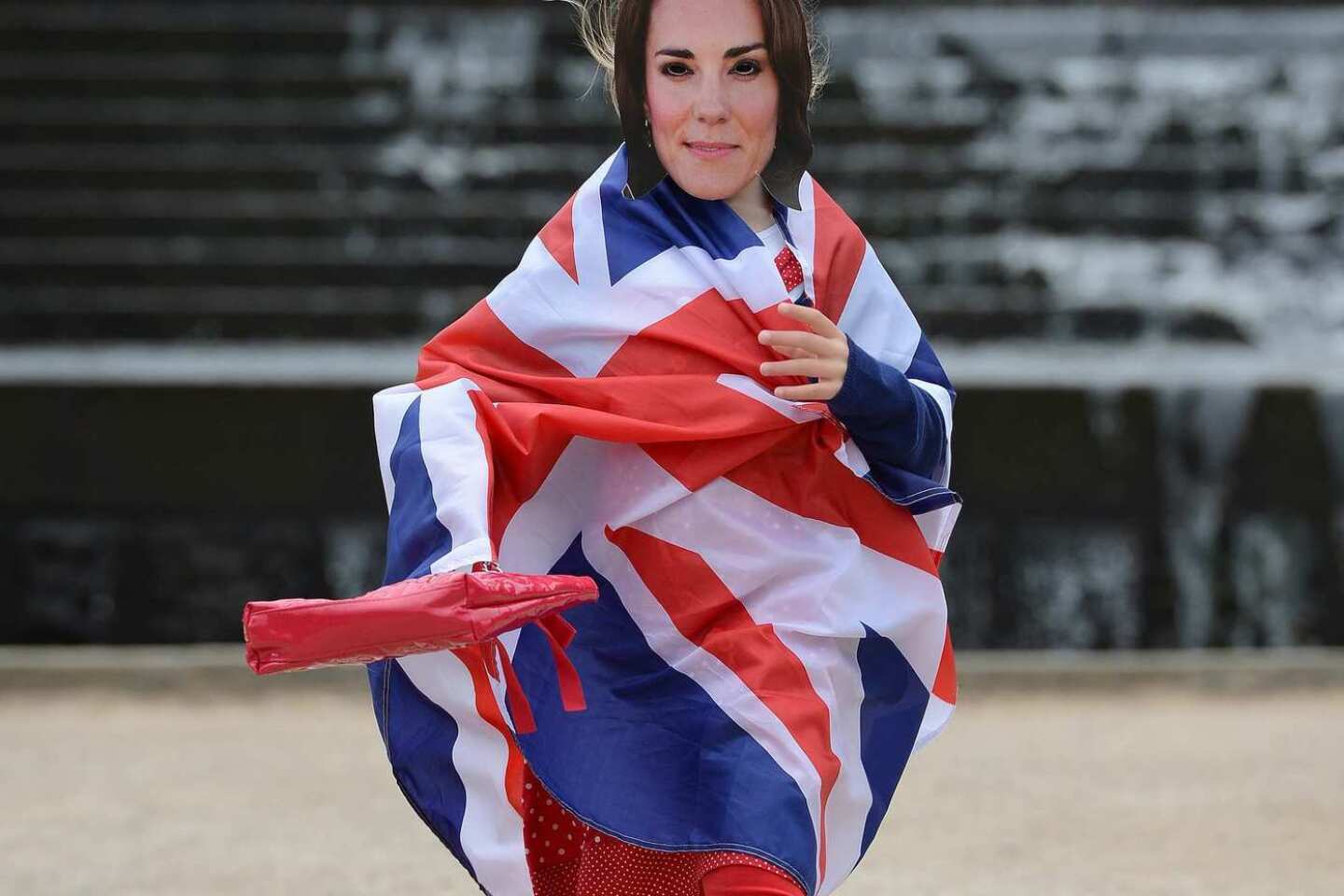 Six-year-old Phoebe Mitchell celebrates the queen's Diamond Jubilee by wearing a mask featuring Catherine, duchess of Cambridge, and being wrapped in Britain's flag at Chatsworth Park in Derbyshire, central England.
(Andrew Yates / AFP / Getty Images)
Members of the The King's Troop Royal Horse Artillery fire a 41-gun royal salute in Horse Guards Parade. The gun salute coincided with salutes fired from various points around Britain, including the Tower of London; Edinburgh, Scotland; Cardiff, Wales; and Belfast, Northern Ireland.
(Oli Scarff / Getty Images)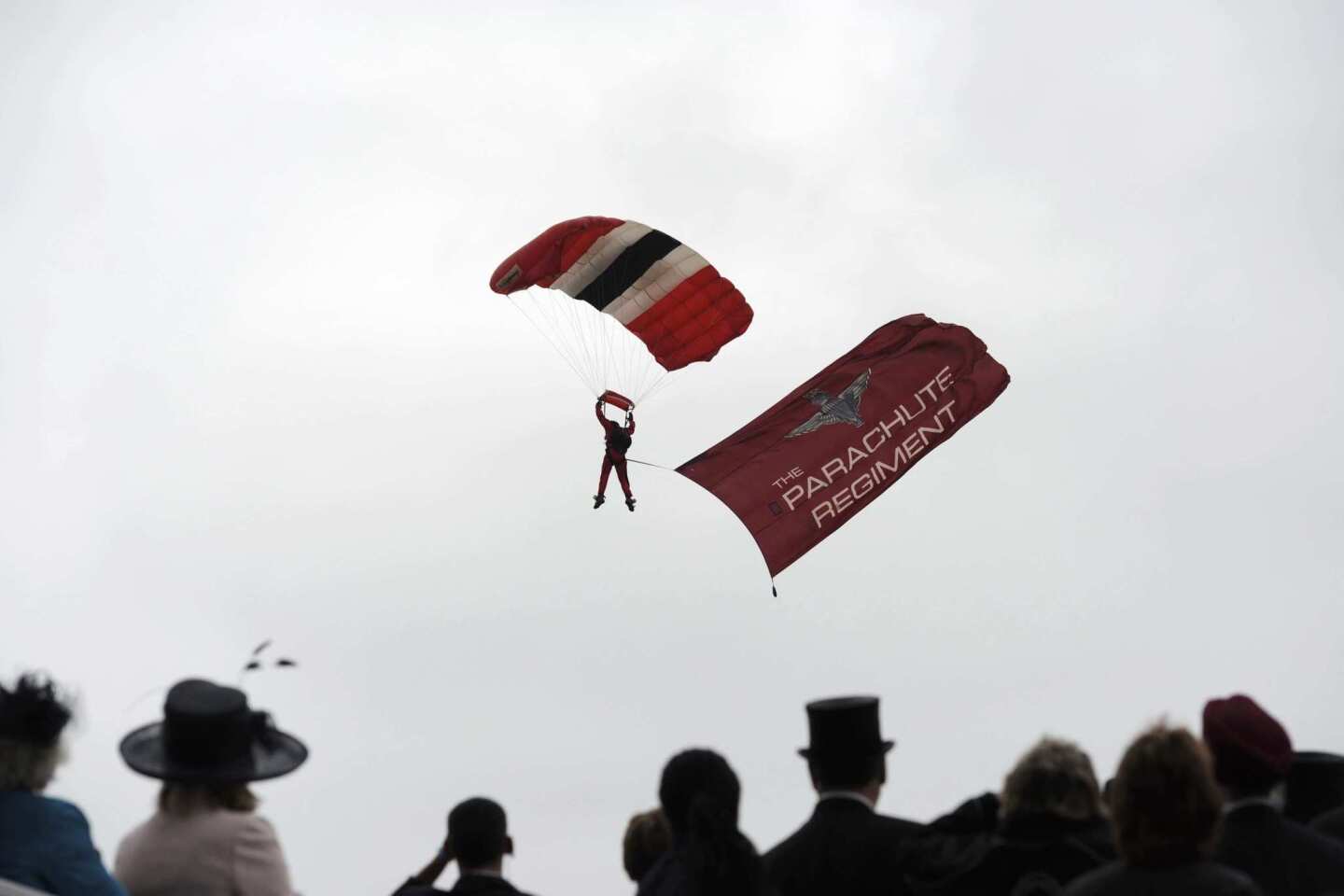 A Royal Air Force parachutist floats down onto Epsom racecourse with a flag reading "The Parachute Regiment."
(Facundo Arrizabalaga / EPA)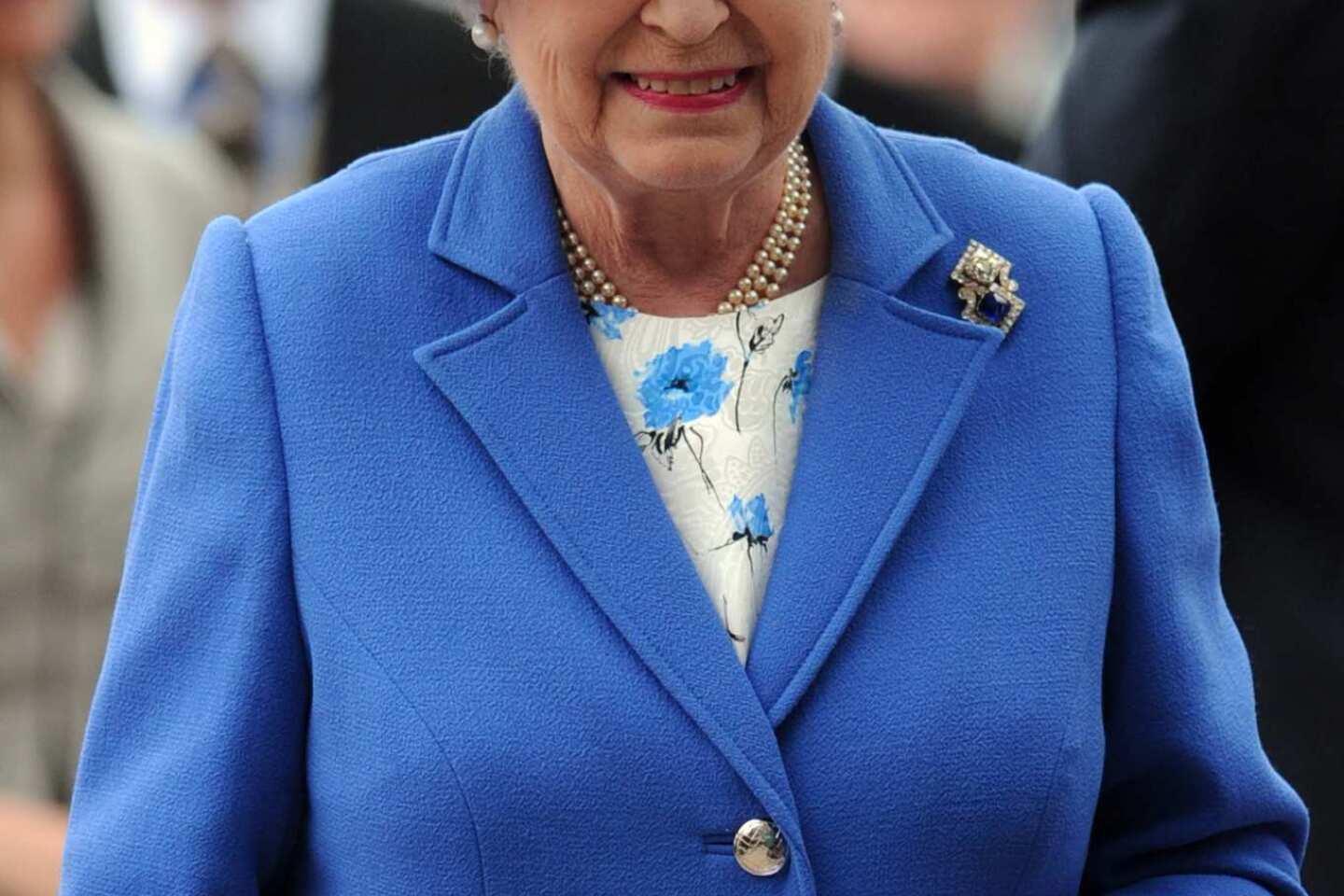 Queen Elizabeth II arrives on Derby Day at Epsom.
(Carl Court / AFP / Getty Images)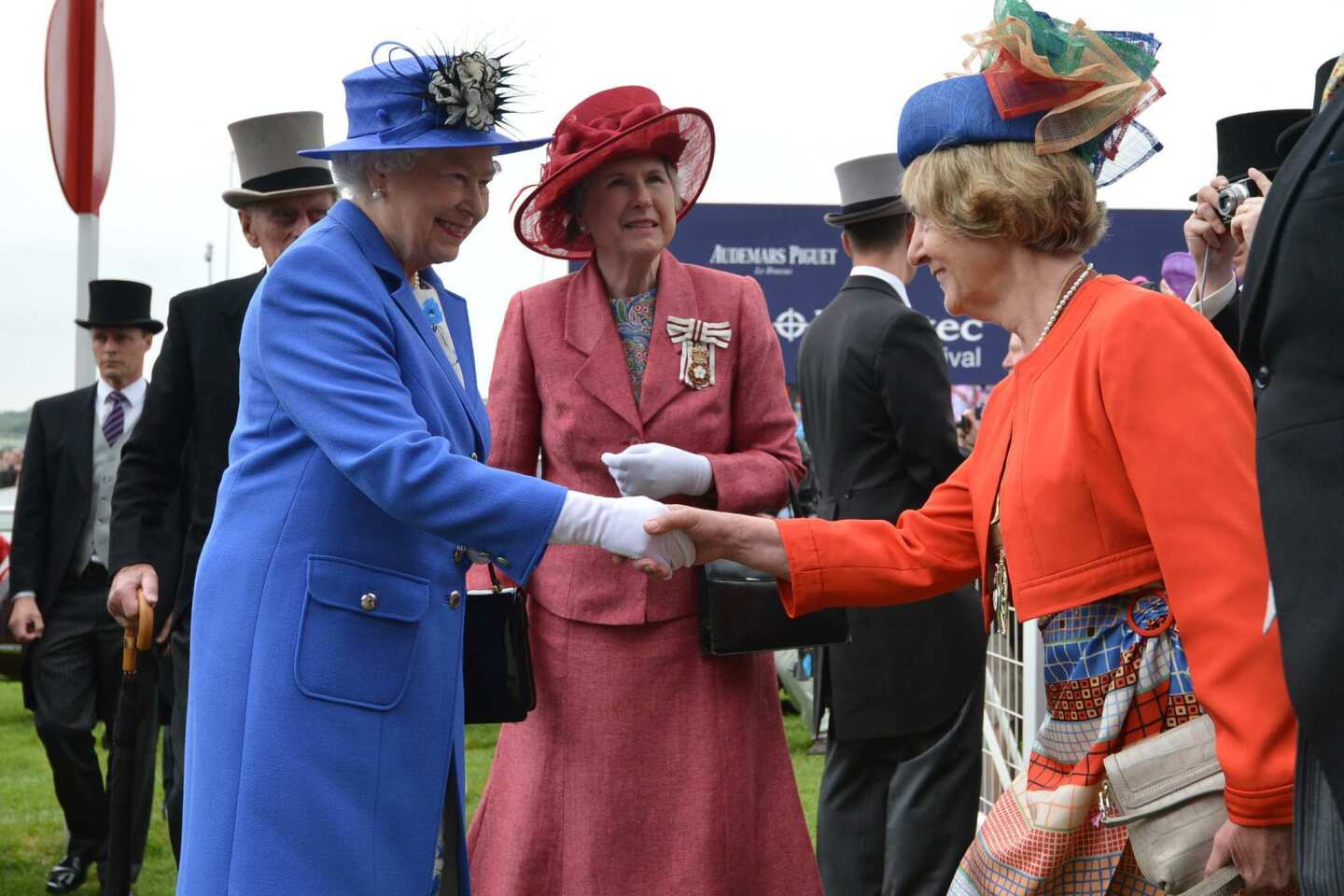 Britain's Queen Elizabeth II shakes hands with a racegoer as she arrives on Derby Day.
(Ben Stansall / AFP / Getty Images )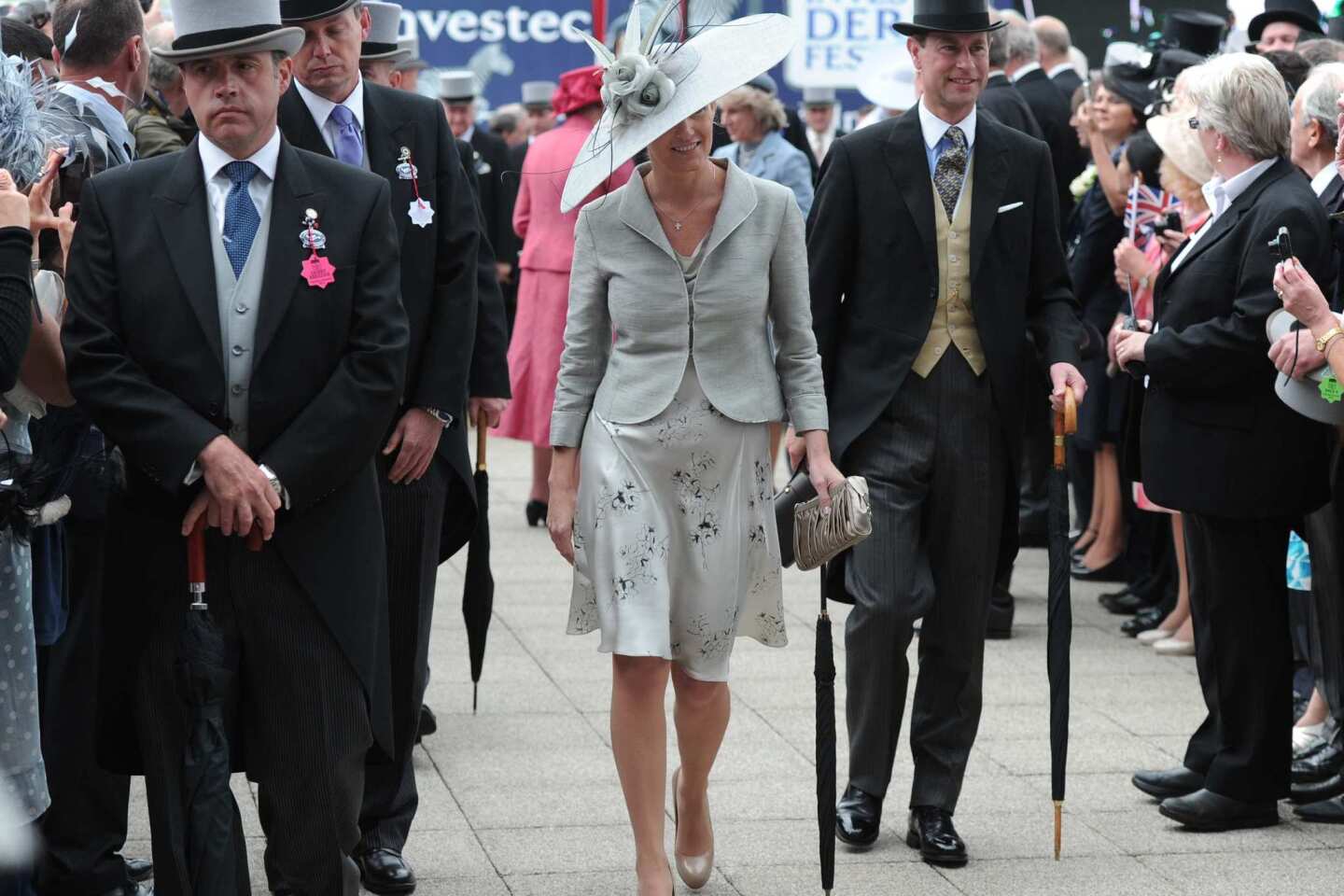 Prince Edward, the earl of Wessex, right, arrives with Sophie, countess of Wessex, center, on Derby Day.
(Carl Court / AFP / Getty Images)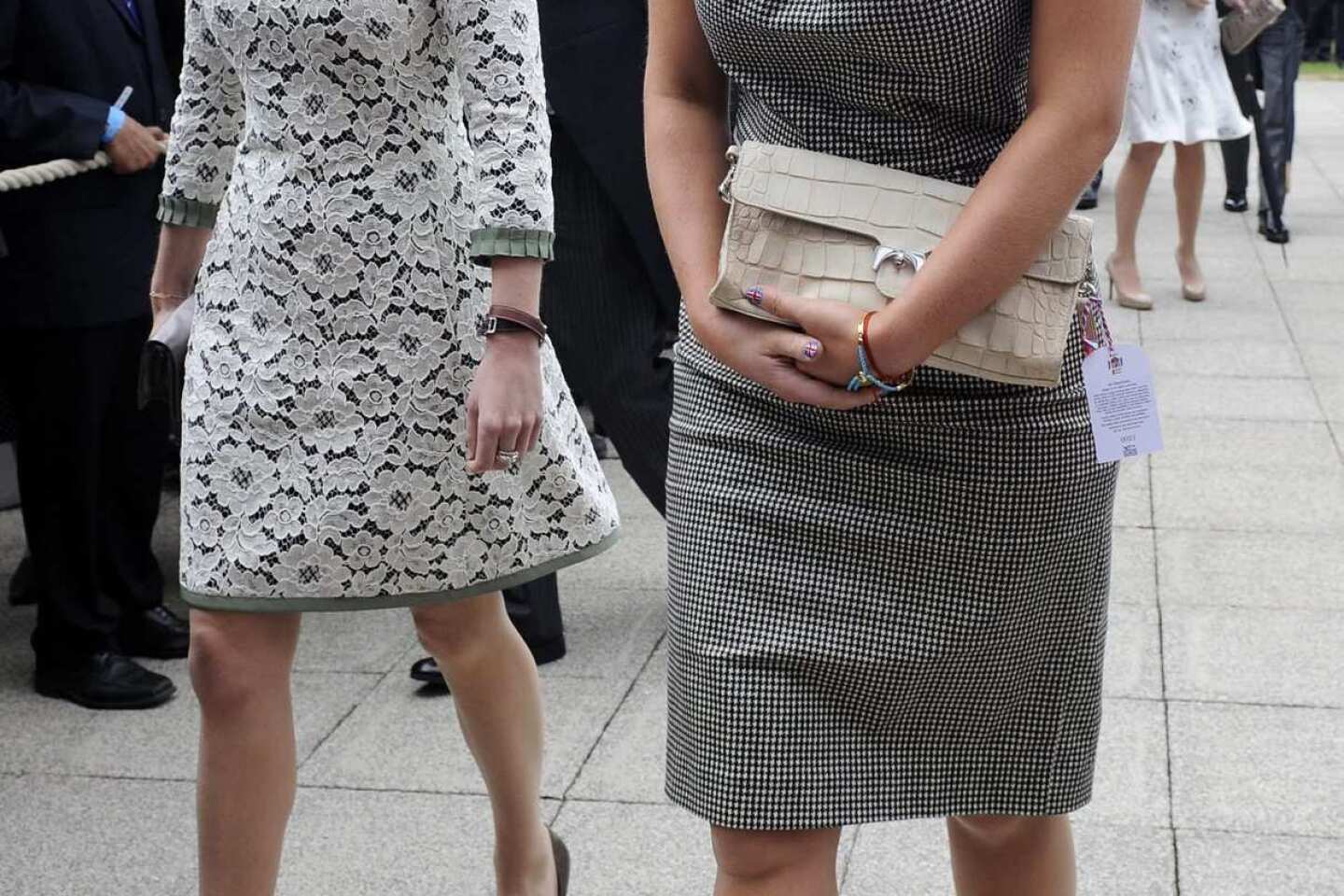 Princess Eugenie of York, right, and Princess Beatrice of York attend the Derby meeting at Epsom racecourse.
(Facundo Arrizabalaga / EPA )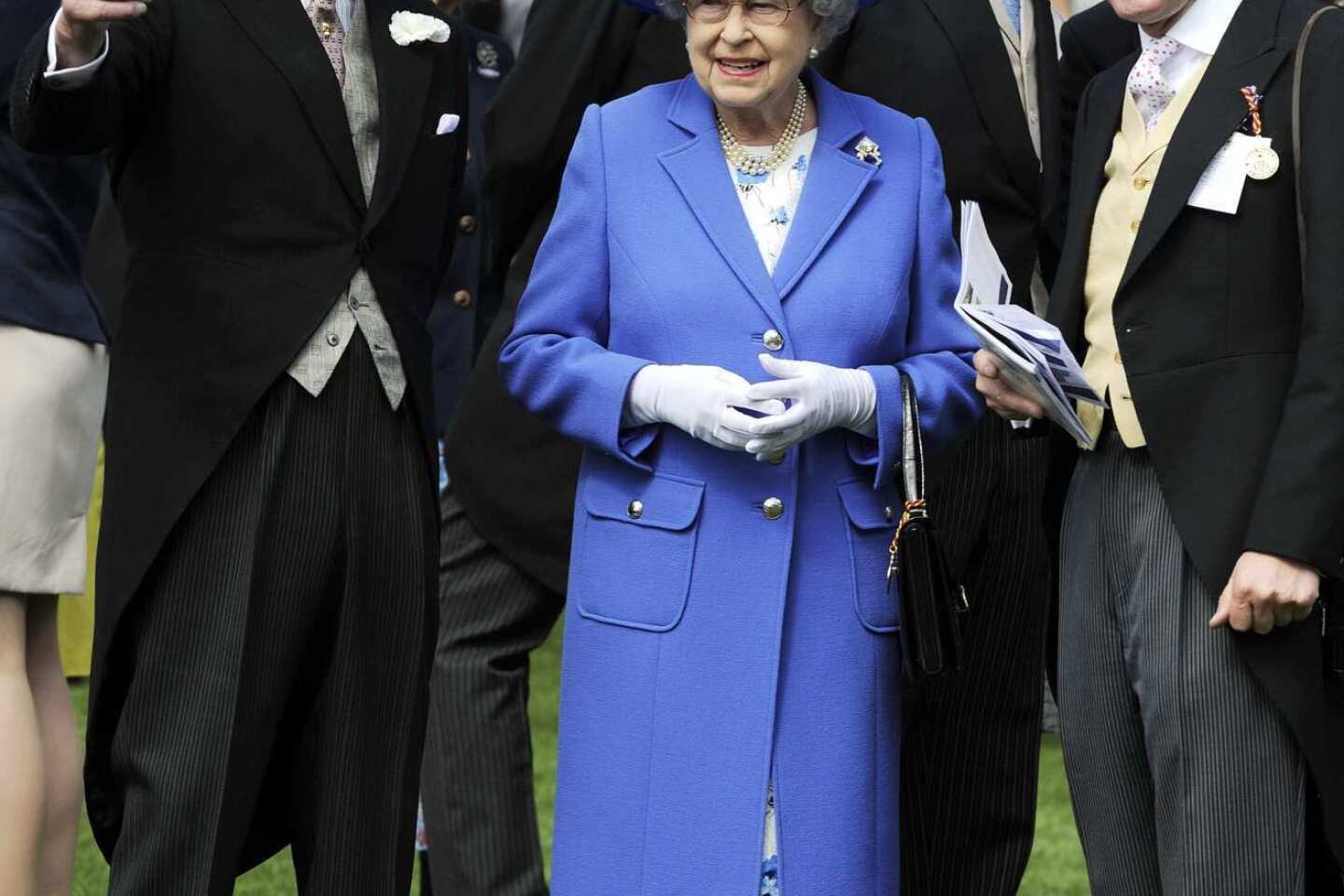 Britain's Queen Elizabeth II with her husband Prince Philip, duke of Edinburgh, left, stand in the parade ring before the Diamond Jubilee Coronation Cup race.
(Facundo Arrizabalaga / EPA)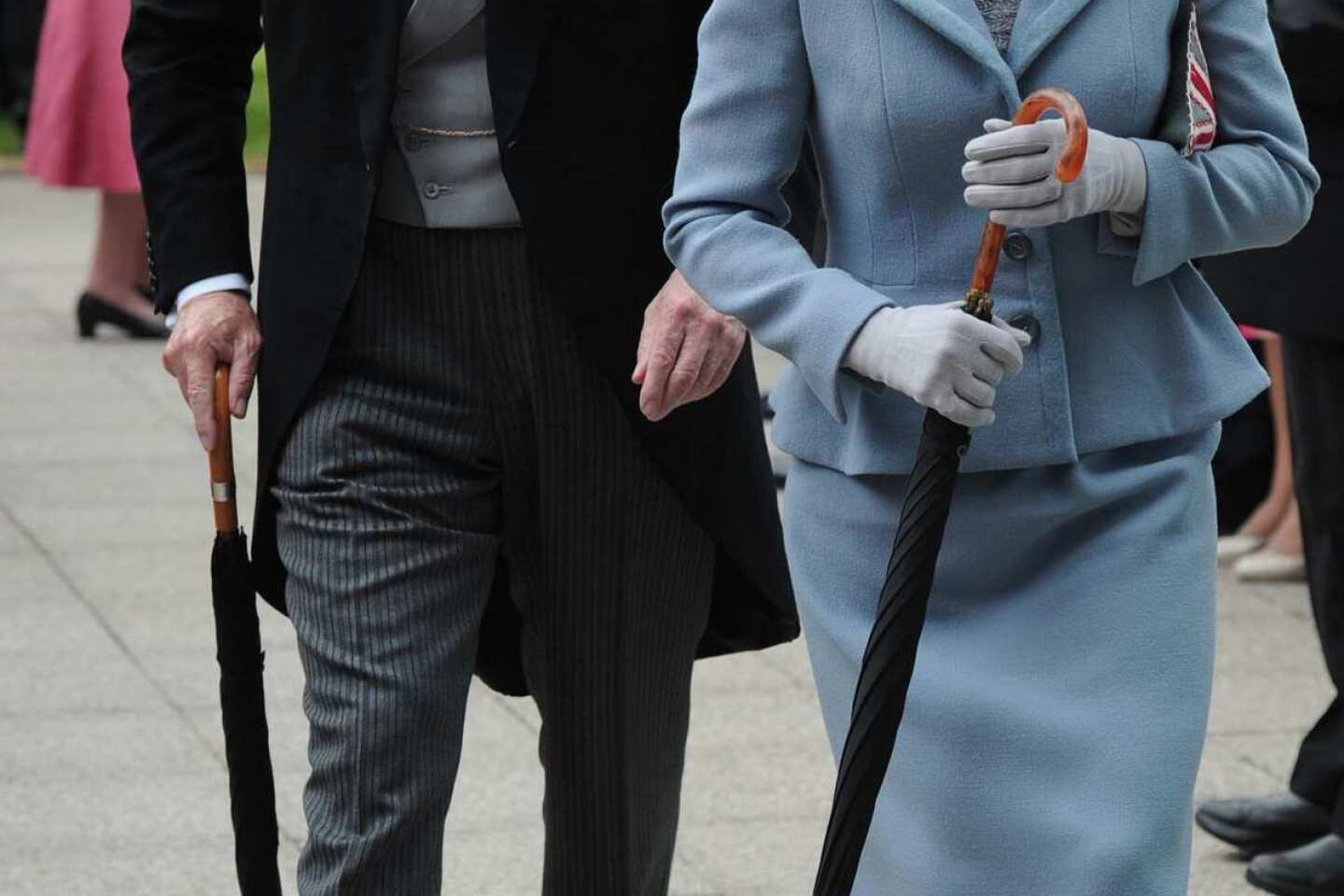 Prince Richard, duke of Gloucester, and his wife, Birgitte, duchess of Gloucester, arrive on Derby Day.
(Carl Court / AFP / Getty Images)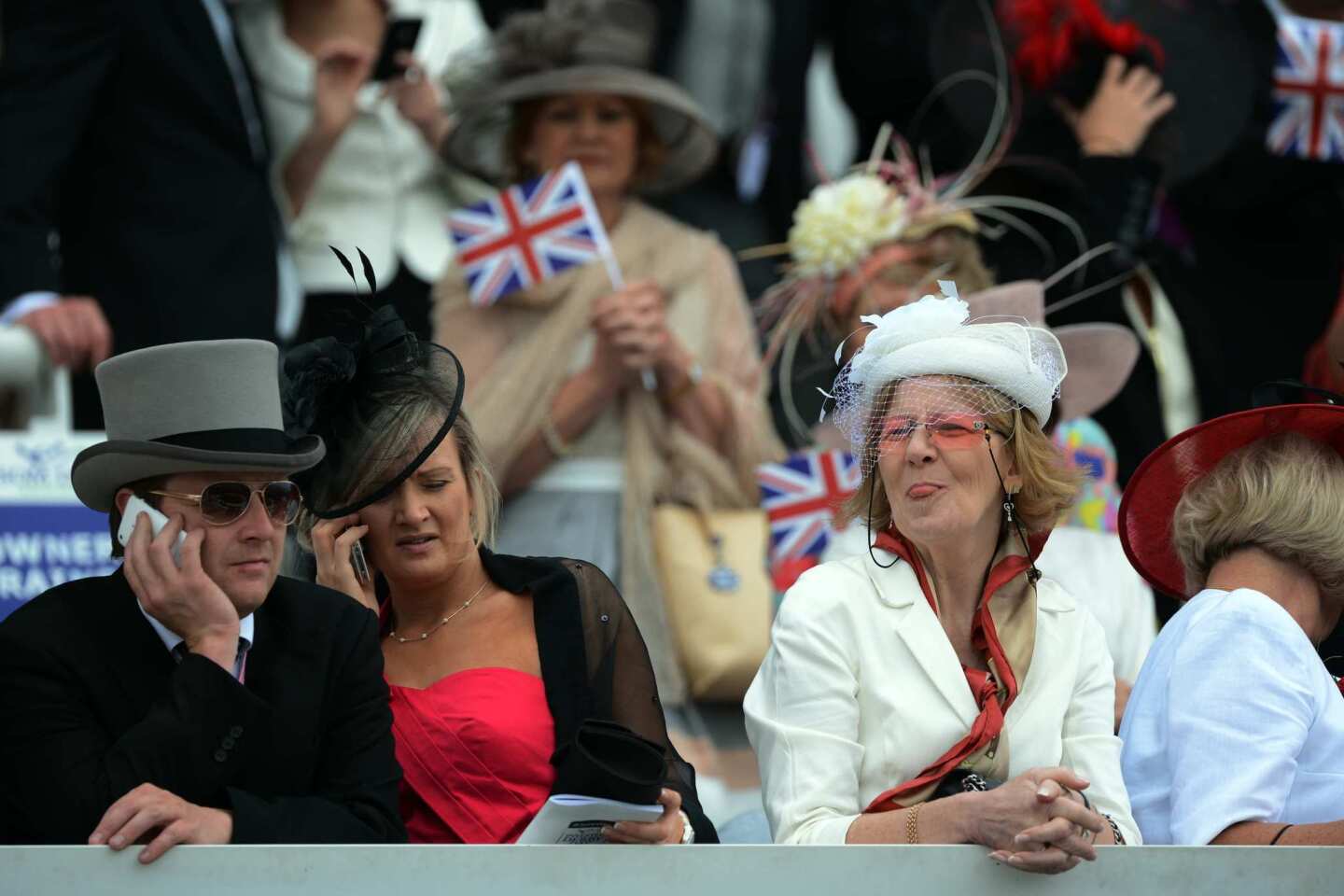 Racegoers watch the action on Derby Day.
(Adrian Dennis / AFP / Getty Images)
Princess Michael of Kent holds onto her hat in the wind as she watches the race from the queen's stand next to her husband, Prince Michael of Kent, left, at the Derby meeting at Epsom racecourse.
(Facundo Arrizabalaga / EPA )
Winning horse St. Nicholas Abbey, ridden by jockey Joseph O'Brien, is brought into the winner's enclosure after finishing first in the Diamond Jubilee Coronation Cup race on Derby Day.
(Ben Stansall / AFP / Getty Images)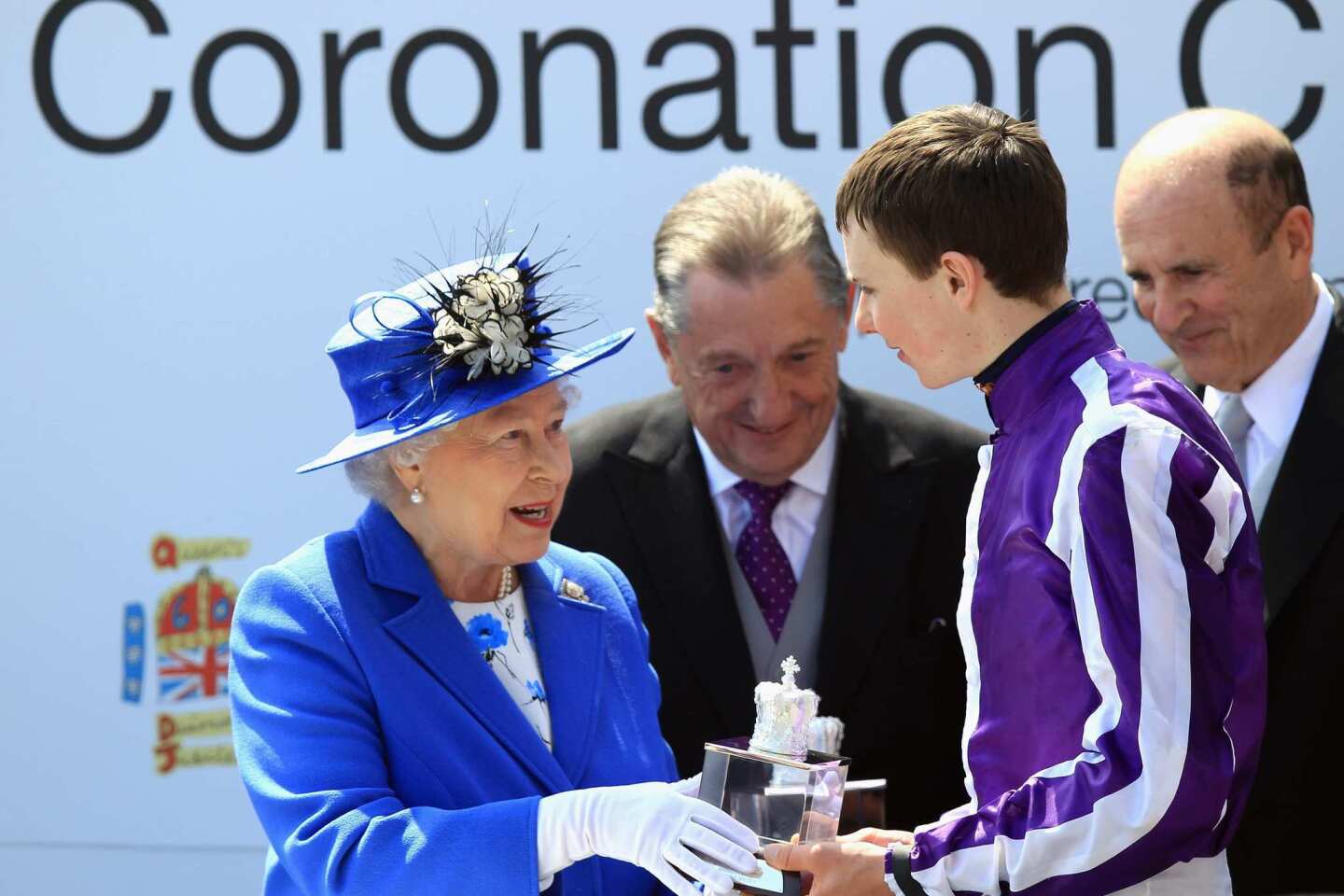 Queen Elizabeth II presents Joesph O'Brien with the trophy.
(Bryn Lennon / Getty Images)
Reporting from London —
Her face is everywhere: on stamps, coins, mugs and book covers. Her likeness has just been reproduced for the 23rd time at Madame Tussauds, London's famous wax museum. More visitors come to gawp at her house than probably any other residence in the world.
Yet after reigning over Britain for longer than most of her subjects have been alive, Queen Elizabeth II is the country's "most familiar enigma," in the words of one TV presenter.
Yes, the white-haired 86-year-old keeps up a grueling schedule of public appearances that would test someone half her age, especially during this season of celebration of her Diamond Jubilee, marking 60 years on the throne. This weekend, the queen kicks off a four-day extravaganza by going to the races Saturday and cruising down the Thames on Sunday at the head of a flotilla of up to 1,000 boats.
FULL COVERAGE: Queen Elizabeth Turns 90 >>
But a certain regal aloofness, a touch of otherworldliness that lends some credence to the title "Your Majesty," is a crucial component of her long success as monarch, some say.
"You do need a little bit of mystique," said Sue Daws, 52, who lives in northern Wales.
Note to heirs: You might want to work on that.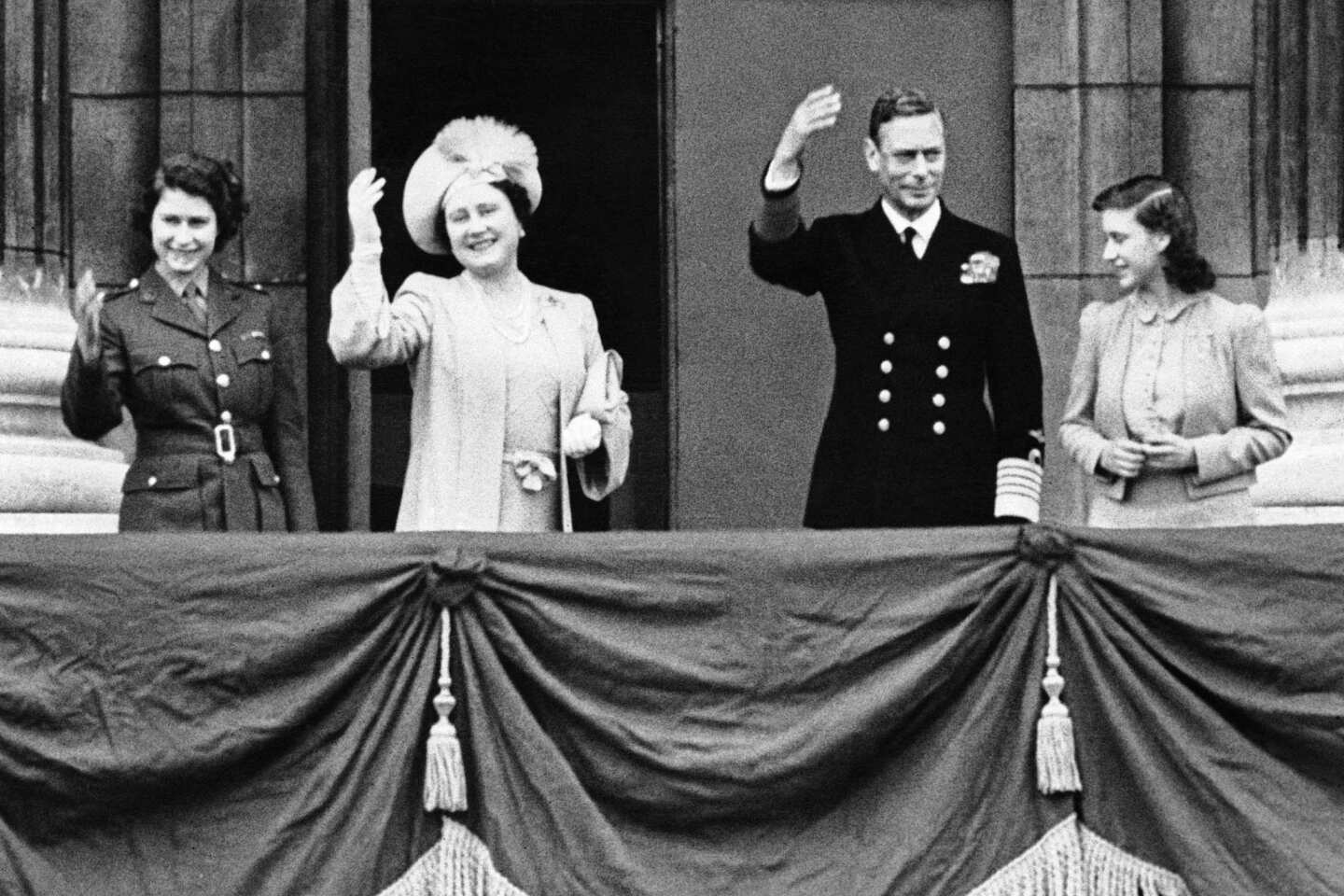 Princess Elizabeth, from left, Queen Elizabeth, King George VI and Princess Margaret stand on a balcony in Buckingham Palace, London on May 8, 1945 and wave to Londoners celebrating the official announcement of Germany's unconditional surrender.
(Clipper Mail / Associated Press)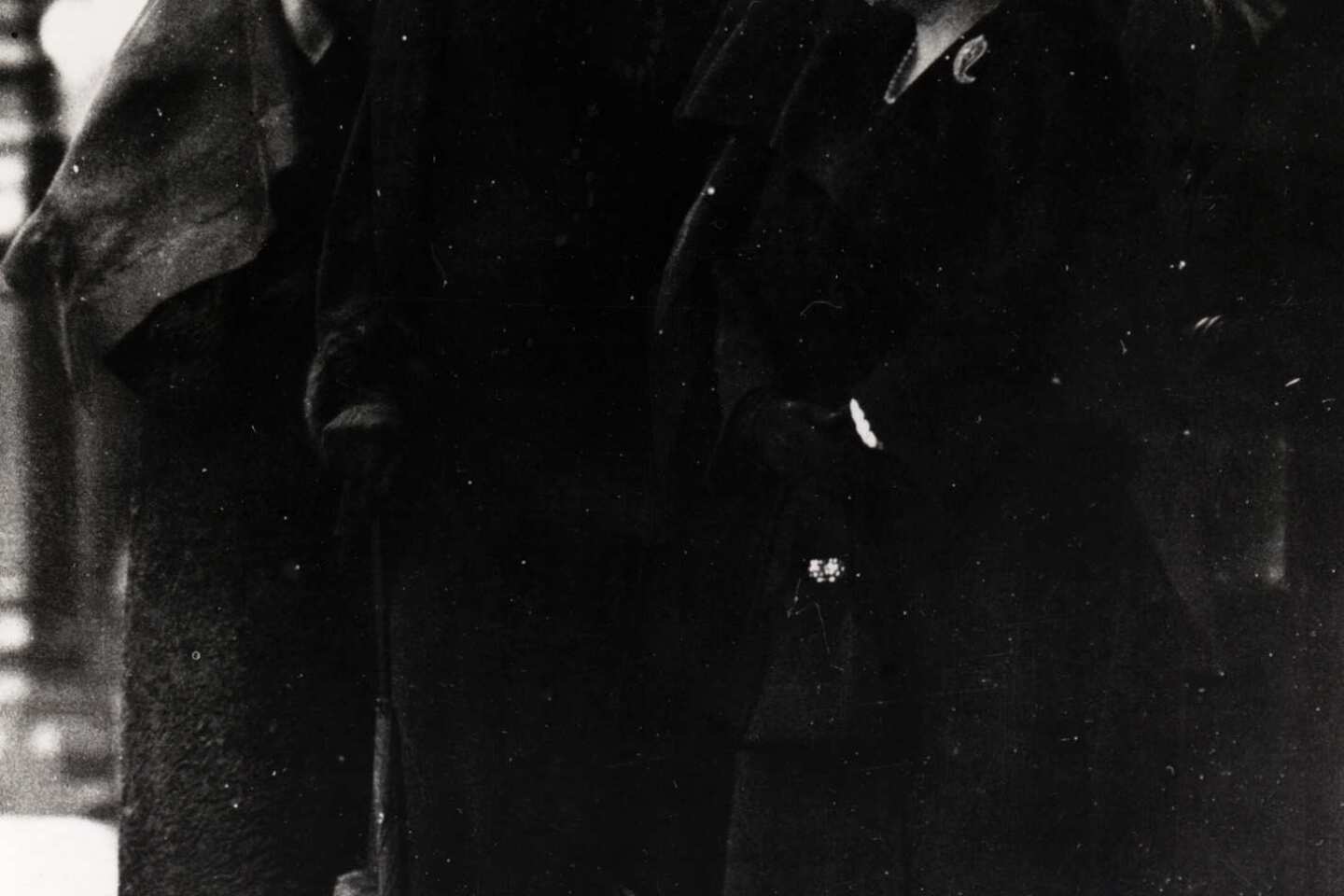 Queen Elizabeth II, left, stands with grandmother Queen Mary, center, and her mother, Queen Elizabeth, at the entrance to London's Westminster Hall as her father's coffin arrives to lie in state on Feb. 11, 1952. Queen Elizabeth II ascended the throne Feb. 6, upon the death of her father, King George VI.
(Ron Case / Associated Press)
Queen Elizabeth laughs after her hands became stuck together after shaking hands with the winner of the caber toss, who warned the queen of the resin in his hands, at the Braemar Highland Games. Prince Charles and Princess Diana, who married Charles in 1981, stand with the queen.
(Ron Bell / Associated Press)
Queen Elizabeth, center, is flanked by Prince Philip, the queen mother and other members of the royal family for a celebration of her official birthday, on June 4, 1997. The queen was actually born April 21, 1926, but the official celebration is traditionally held in June.
(David Thomson / Associated Press)
Queen Elizabeth II and the Duke of Edinburgh greet crowds on the grounds of Windsor Castle June 2, 2002 after attending a Golden Jubilee service at St George's Chapel.
(FIONA HANSON / AFP)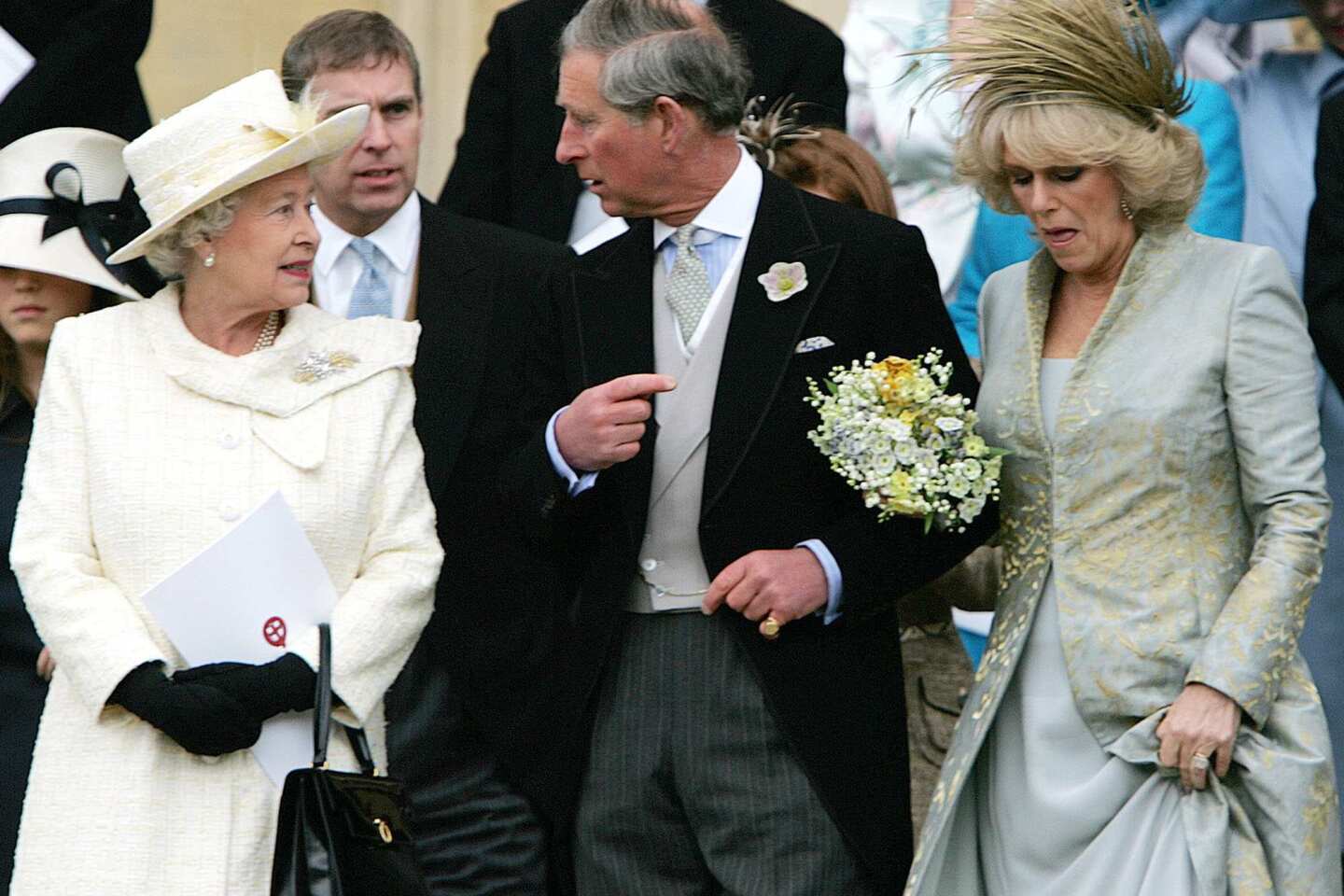 Queen Elizabeth speaks with her son Prince Charles after the church blessing of his marriage to Camilla, Duchess of Cornwall, at St. George's Chapel in Windsor, England, on Apr. 9, 2005.
(Alastair Grant / Associated Press)
Prince Charles, right, kisses the hand of his mother Queen Elizabeth II at a Jubilee concert at Buckingham Palace in London on June 4, 2012.
(LEON NEAL / AFP/Getty Images)
Prince William, grandson of Queen Elizabeth II, right, holds his son Prince George as his dad Prince Charles and wife Kate, Duchess of Cambridge, look on and brother Prince Harry is partially hidden during a public appearance at Buckingham Palace in London on June 13, 2015.
(Tim Ireland / Associated Press)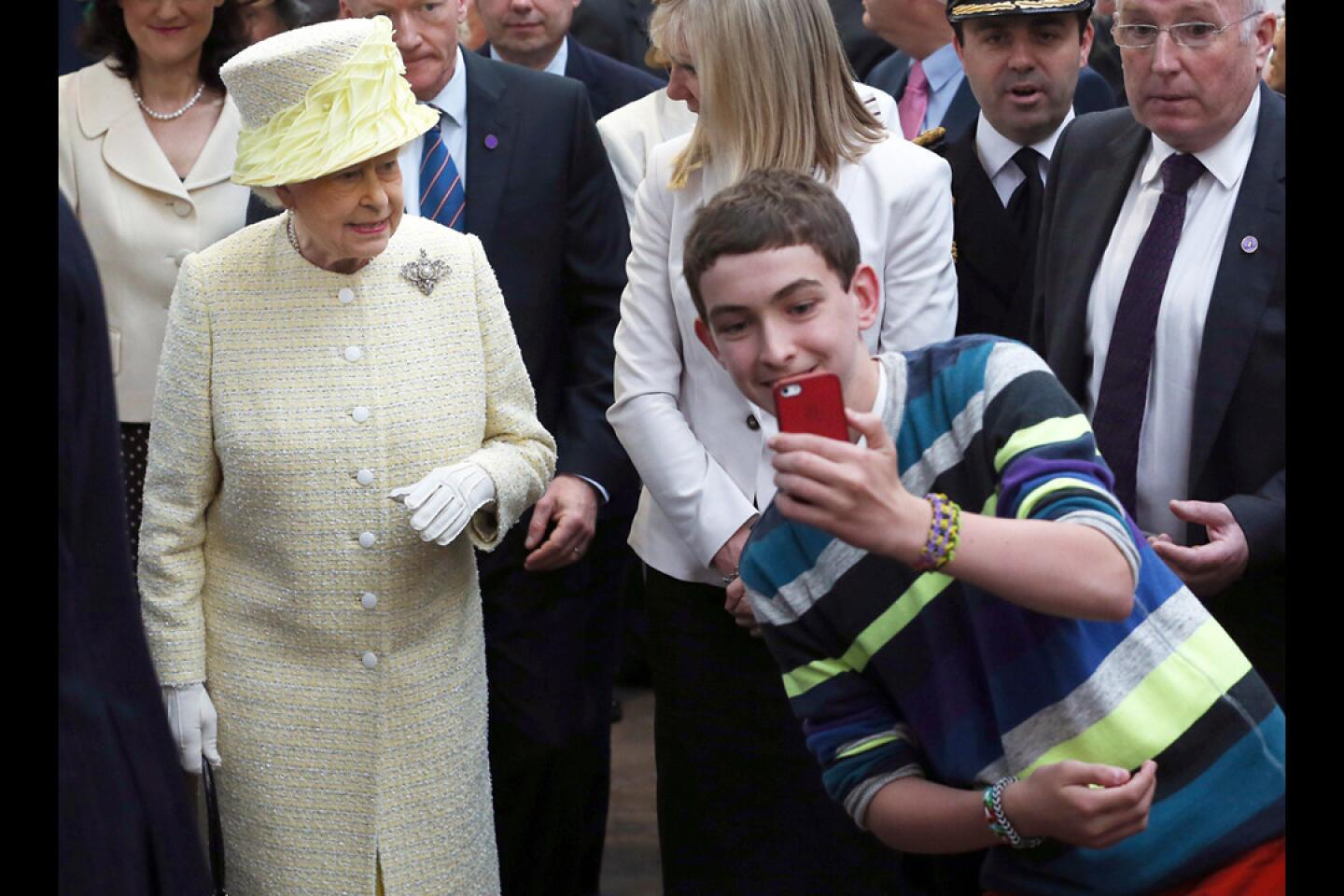 A local youth takes a selfie photograph in front of Queen Elizabeth II during a visit to St George's indoor market on June 24, 2014 in Belfast, Northern Ireland.
(PETER MACDIARMID / AFP/Getty Images)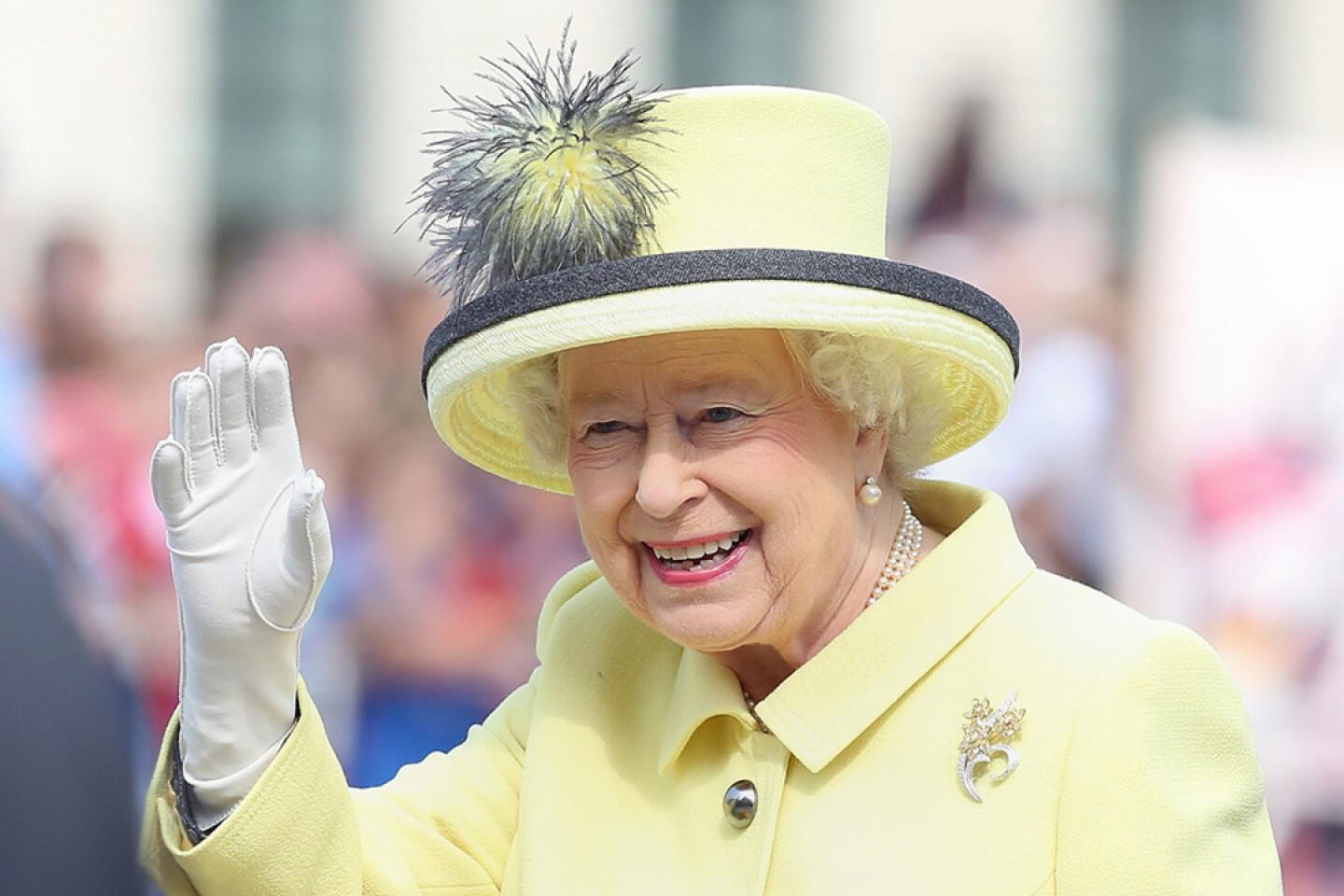 Queen Elizabeth II waves to the crowd as she walks across the Pariser Platz near Berlin's landmark Brandenburg Gate on her way to leave Berlin on June 26, 2015.
(ADAM BERRY / AFP/Getty Images)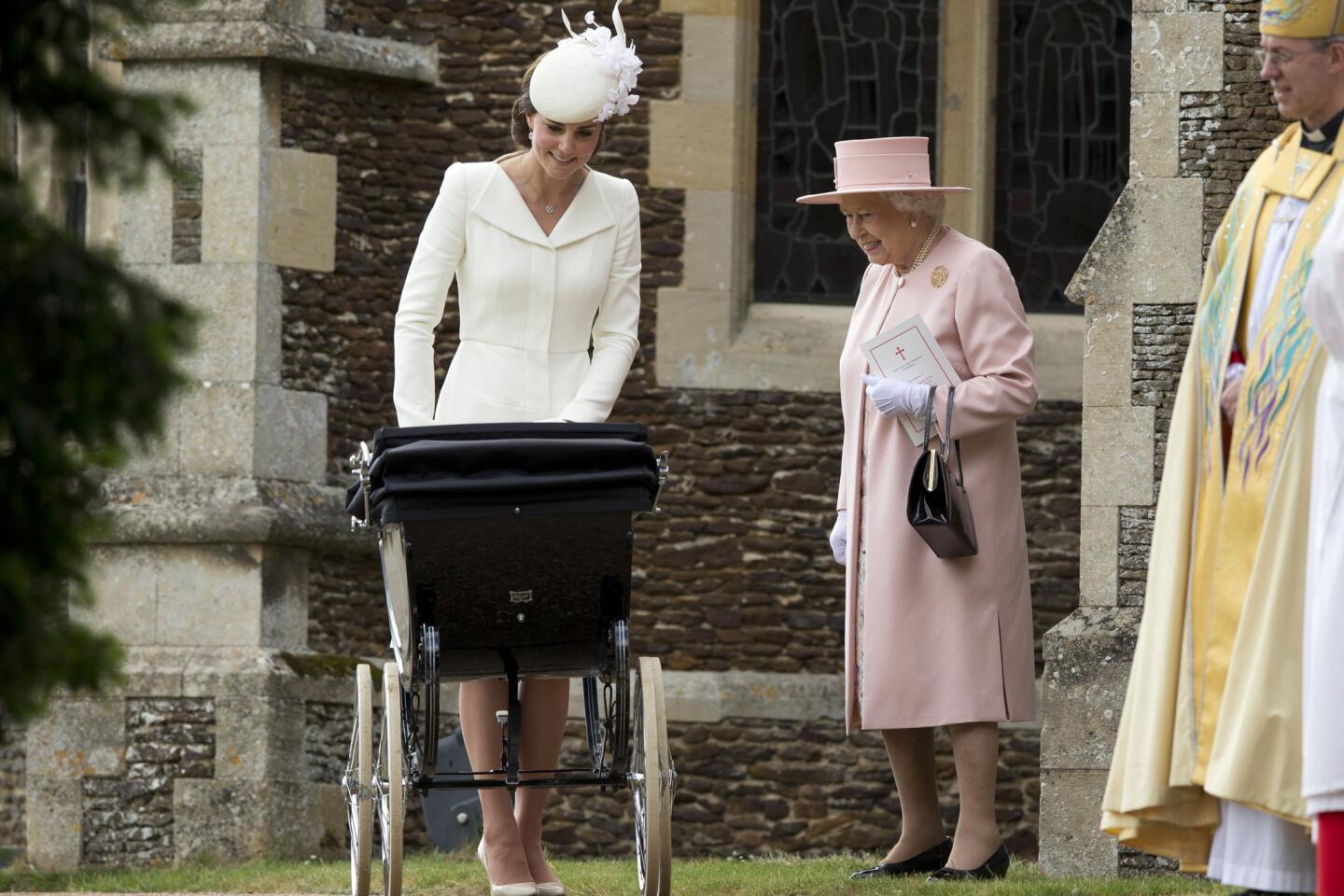 Britain's Queen Elizabeth II, 89, looks on as new mum Kate, Duchess of Cambridge, wife of the queen's grandson Prince William, pushes Princess Charlotte in a pram as they leave the princess' christening at St. Mary Magdalene Church in Sandringham, England, on July 5, 2015.
(Matt Dunham / Associated Press)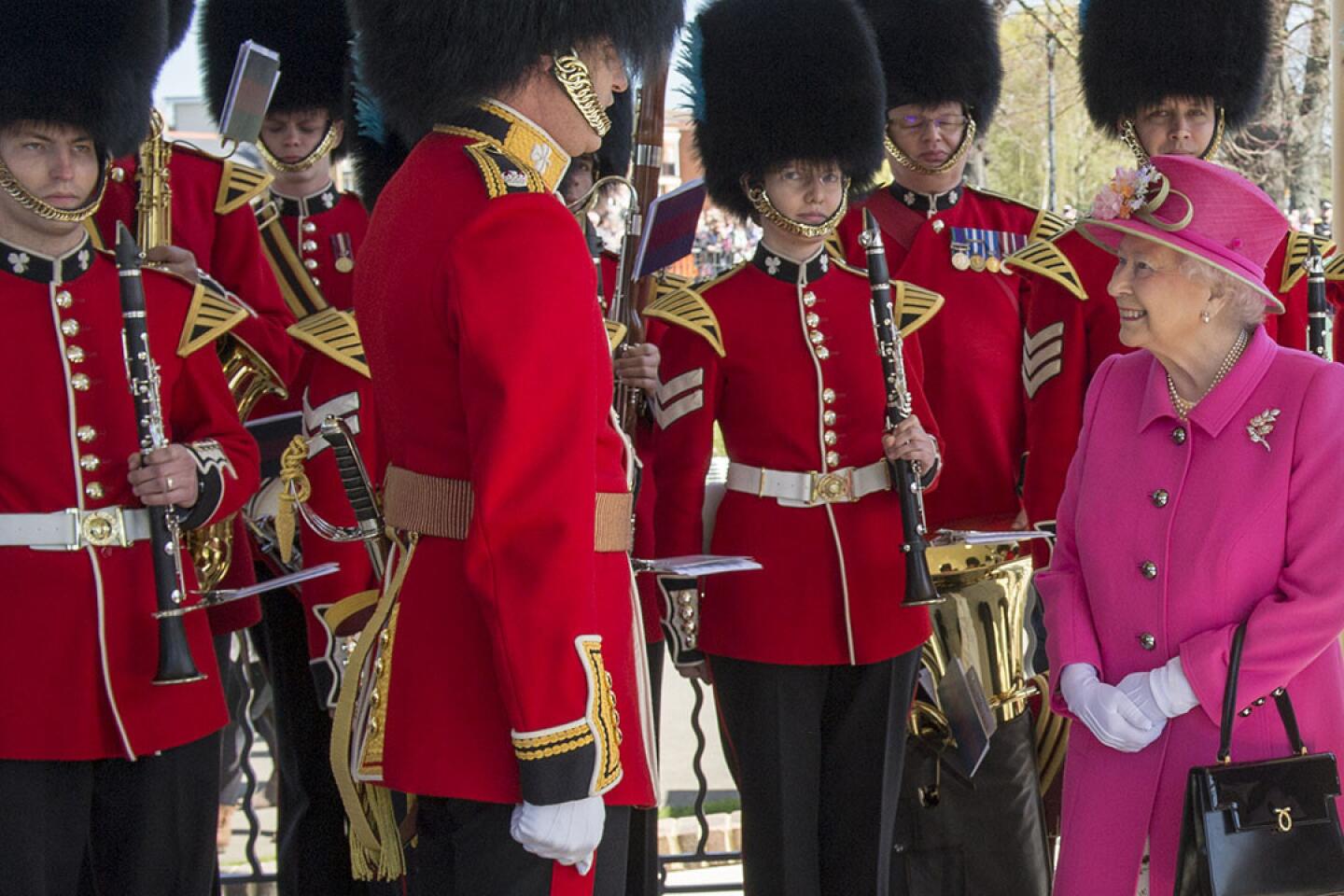 Britain's Queen Elizabeth II , right, talks to a member of the Royal Guard as she officially opens the new Bandstand at Alexandra Gardens, a day ahead of her 90th birthday, in Windsor, England April 20, 2016.
(Arthur Edwards / AP)
Elizabeth is the last member of the House of Windsor for whom royalty and celebrity don't overlap, or at least not by much, a distinction many observers credit with helping to preserve the monarchy's appeal.
Her discretion and dignity are in marked contrast to the behavior of her four children. Unlike them, she doesn't submit to tell-all interviews about unhappy marriages, hasn't had details of her sex life laid bare in the tabloids, didn't take part (not even for charity) in an embarrassing game show called "The Grand Knockout" in 1987 (as did Princess Anne and Princes Andrew and Edward, in a moment that for many Britons represented "the breaking of royalty's magic spell," as one writer later put it).
Just last month, viewers of the BBC in Scotland switched on the TV to find their future king, Prince Charles, giving the daily weather report in his immaculately clipped tones, a surprise appearance that's become a minor hit on YouTube. ("Potential for a few flurries over Balmoral [Castle]," he said of his family's Scottish quarters, then stopped and asked, "Who the hell wrote this script?")
Although it was a good-natured and generally well-received cameo, a spot of hammy humor from an often stuffy heir apparent, no one can possibly imagine the woman he calls "Mama" doing the same thing.
"The queen has always avoided what she calls stunts," said Robert Lacey, author of the just-published "The Queen: A Life in Brief." "The monarchy has got to distinguish itself from other aspects of British public life."
Part of Elizabeth's aura of solemn reserve is natural to her temperament and her generation, with its harrowing experience of world war and its innate aversion to making a spectacle. Lacey notes that she grew up in the era depicted in the movie "The King's Speech" — the king in question was her father — when mass media were still novelties and engaging them wasn't automatically part of the British sovereign's job description.
But some of the queen's detached grandeur is carefully cultivated and maintained.
There are countless biographies, but no autobiography. Her public comments are polite, unexceptionable and totally unrevealing. Everyone knows about her love of dogs and horses, but only those closest to her have any real inkling of the thoughts beneath the diamond tiaras and behind the guarded smile.
"She is the most portrayed individual in history, more than anyone you can think of — popes, prime ministers, presidents," said Paul Moorhouse, curator of a new exhibition, "The Queen: Art & Image," at the National Portrait Gallery here in London. "The paradox is, what does anyone know about her? Her opinions are a closed book. Nobody but her intimate family knows what she thinks."
Royal protocol certainly helps perpetuate the idea of a person set above and apart. At meals, guests are supposed to stop eating when the queen does. (It's said she keeps a final morsel on her plate to roll around so that others can keep noshing without embarrassment.) Even her family members have to rise when she enters.
"Whenever Granny walks into a room, everyone stands up, stops and just kind of watches her," her granddaughter Princess Eugenie told the BBC recently.
"I find that incredible. I kind of go, 'Ah,'" Eugenie said, feigning a gasp.
But with that air of exaltedness comes a delicate juggling act, royal watchers and historians say.
Though fundamentally unknowable, the queen can't be too distant and unapproachable. At the same time, she must somehow give the impression of being close to her people. Her private motto is, "I have to be seen to be believed."
"In modern times, the British monarchy has been an accommodation of two opposing factors. One is a sense of aloofness or majesty or royalty, and the other is the opposite, the sense of being almost an ordinary human being," said Michael Billig, a social scientist at Loughborough University. "If they don't get that balance right, they're likely to be unpopular."
Hence her many appearances opening hospitals, christening ships and inspecting military regiments, always in her trademark hat and pearls. In fact, when Britons are asked to explain their admiration of the queen, many talk about how diligent she is in dispatching her duties, how the "old girl" soldiers on despite her age. She is only the second British monarch to reach 60 years on the throne and celebrate a diamond jubilee; the first was her great-great-grandmother Victoria, 115 years ago.
"The queen has become popular because there she is, an elderly woman who's still working," Billig said. "That's a very down-to-earth assessment."
Popular is right: The left-wing Guardian, which is staunchly republican on its editorial pages, nonetheless published a front-page story last month on the record popularity that "brand Windsor" currently enjoys.
The queen consistently ranks as the most beloved representative of that brand; thousands of well-wishers greet her wherever she goes, eager for some sort of connection. The question is how well the royal family will be able to sustain that semi-magical appeal once she's gone.
Many of the queen's numerous progeny maintain just as taxing a regimen of charity work, royal "walkabouts" and other ornamental appearances.
Yet unlike her, they have all had the veil of mystery stripped away to some degree, often in the most unflattering of ways. Prince Charles' recorded phone conversation with his then-mistress, now-wife, Camilla Parker-Bowles, still induces winces more than 20 years later, particularly the royal references to feminine hygiene products.
That kind of exposure might be in keeping with modern celebrity, but doesn't necessarily suit a centuries-old monarchy.
"When [the queen] goes, it'll completely change. It'll turn the corner," said Daws of north Wales. "If you look now, they're very touchy-feely, whereas with her, there's this boundary around her."
Author Lacey said that even the regular-bloke-ish Prince William, the second in line whose wedding to Kate Middleton a year ago set off a breathless bout of royal mania, may discover to his regret later that it's possible for the monarchy to be too of-the-people.
"He and Kate are a glamorous couple who chose Los Angeles, of all places, as somewhere to stop on their first foreign tour. Will people feel the same about them in 20 years' time, or will they not feel too much familiarity?" Lacey said.
"That's the risk, or the challenge, that lies ahead for the monarchy: how to maintain its mystique in an age of popular access," Lacey said. "It's what distinguishes royal celebrities from all others."
MORE ON QUEEN ELIZABETH
Queen Elizabeth knights grandson Prince Harry
Hear ye, tweet ye! Queen Elizabeth II sends first tweet
Change for change? Queen Elizabeth's likeness updated on British coins
Sign up for Essential California for the L.A. Times biggest news, features and recommendations in your inbox six days a week.
You may occasionally receive promotional content from the Los Angeles Times.