Pomp and pageantry, a few days early: In Windsor, royal regalia goes through its paces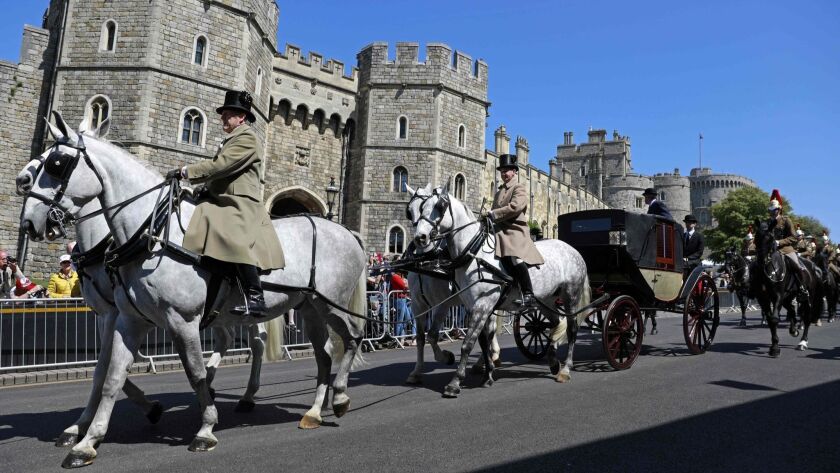 Reporting from Windsor, England —
In the shadow of Windsor Castle's fairy-tale turrets, the majestic clip-clop of hooves and a brass band's soaring notes rang out Thursday as throngs alternately cheered, clapped and sighed.
All that was missing was the bride and groom.
It was just a dry run, but an elaborate rehearsal of the stately carriage procession planned for Saturday offered the crowds lining the streets of this ancient city a close-up view of the pomp and pageantry to come when American actress Meghan Markle marries Prince Henry, sixth in line to the British throne.
Thursday's faux festivities took place under the watchful eyes of a vast security force — a preview of the grim need to tightly guard against threats two days hence — with police using facial recognition technology to scan the crowds and spotters lining rooftops as helicopter blades thudded overhead.
Even mere commoners' nuptials are subject to last-minute familial drama, and this globally watched royal union is no different, at least in that respect. Markle, in a carefully worded statement, announced Thursday that her father would not attend the wedding, alluding to, but not detailing or specifically blaming, his health problems.
"Sadly, my father will not be attending our wedding," the royal bride-to-be said in her statement, issued by Kensington Palace, which oversees media relations for the couple. "I have always cared for my father and hope he can be given the space he needs to focus on his health."
The palace did not disclose details about Thomas Markle's health issues, but the celebrity website TMZ said the 73-year-old, a former Hollywood lighting director who now lives in Mexico, was hospitalized in California after a procedure to clear blocked coronary arteries. That followed days of sometimes confusing and contradictory reports about staged paparazzi-style photos of the senior Markle making preparations to travel to Britain.
British media reports speculated that Markle's mother, Doria Ragland, could replace her father in walking her down the aisle at St. George's Chapel at Windsor Castle, but no announcement has been made.
With plentiful bunting and all manner of memorabilia on sale, Windsor looked every inch the regal backdrop — although a few locals grumbled about the bother of blocked-off roadways and shut-down parking garages.
But even some of those inconvenienced by the crush were good-natured.
"I feel like I'm cheating a bit; I only meant to pop round to the opticians' to pick up my new spectacles," joked Rob Faulkner, a 33-year-old Windsor resident who ambled up to police barricades to watch the rehearsal procession.
Uncharacteristically for Britain in this changeable season, the weather for Thursday's run-through was decisively bright and sunny. The forecast for Saturday was clear as well -- hailed by some royal fans as a happy portent in a country that lately hasn't seen a surfeit of feel-good news.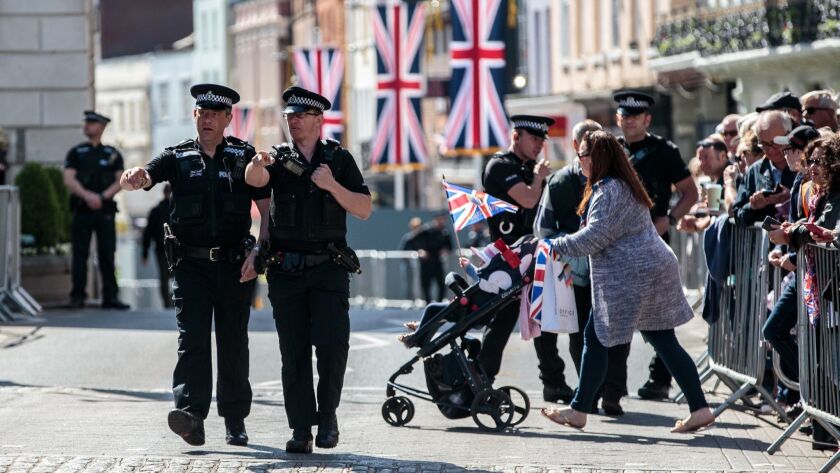 The last two years have seen Britain buffeted by "Brexit" — the shocking June 2016 vote to exit the European Union — together with high-profile terrorist attacks in London and Manchester.
About 800 friends, relatives and VIPs will be inside the chapel for the service, with about 1,000 members of the public invited to the palace grounds.
The latter list included Amelia Thompson, a survivor of the 2017 bombing at an Ariana Grande concert in Manchester. And rather than bring a family member as her plus-one, the 12-year-old girl designated the grandmother of a victim who died, British media reported.
Even many who profess to care little about the royals have embraced the unlikely love story of Markle, whose status as a divorcee once would have rendered her an unsuitable bride, and the prince, whose antics as a younger man — clad as a Nazi for Halloween, seen wearing far less in surreptitious cellphone video taken of a party night in Las Vegas — were prime tabloid fodder.
Instead, the biracial, California-raised Markle and her prince are widely seen as a breath of fresh air in a royal family whose millennium-old history contains an abundance of scandal — not least involving the parents of the groom, the late Diana, Princess of Wales, and her since-remarried husband, Prince Charles — but only a nascent sense of truly reflecting a younger, more modern Britain.
"Well, they're in love, aren't they?" said Firaz Rajabdeen, who scooted out of his Windsor doughnut shop for a quick glimpse of the procession. "That's what matters, really."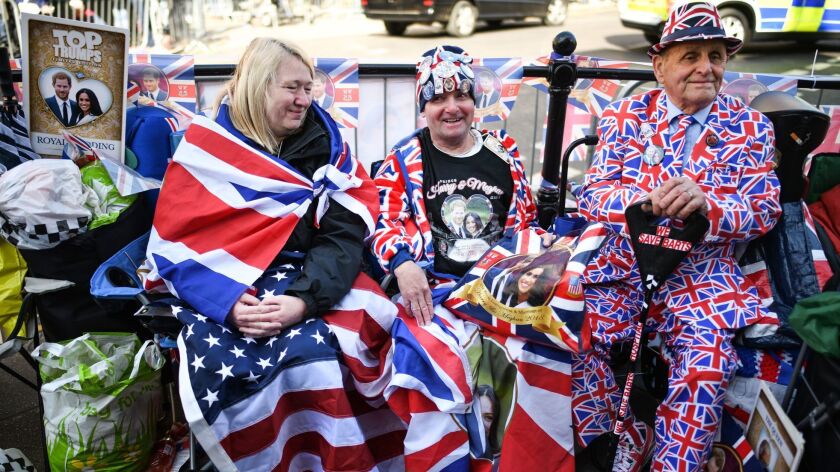 Naturally, the crowd on the streets of Windsor on Thursday tilted heavily and self-selectedly toward royal fandom. But there were heartfelt-seeming expressions of goodwill and good wishes for Harry, vividly remembered by many Britons as the stoic, red-haired child walking in Diana's funeral cortege after her shocking 1997 death in a Paris car crash.
Harry has recently spoken of his struggles to deal with publicly suppressed grief, a candor that endeared him to many compatriots. And despite some ugly online attacks on Markle's parentage — her father is white and her mother black — an American's imminent entry into the royal family seemed to faze few.
"Well, my sister-in-law married a GI back in '46," said Joan Amsell, 85, who traveled from nearby Slough to take in the day's events in Windsor. "We're really quite used to an American in the mix!"
It's commonplace for some members of the bride's and groom's families to meet up for the first time shortly before the wedding, but in this instance, royal protocol turns these encounters into elaborately choreographed events. Markle's mother has arrived in the United Kingdom and was meeting the groom's grandmother, Queen Elizabeth II, 92, along with her 96-year-old husband, Prince Philip, before the ceremonies.
A show of family drama in advance of the nuptials isn't uncommon either, but the glare of publicity has encompassed some estranged members of Markle's extended family who were not invited to the wedding. Avid tabloid coverage of the tension has drawn criticism even from the Daily Mail, itself no stranger to royal-themed sensationalism.
Columnist Sarah Vine wrote Thursday that Kensington Palace's press office should have done more to get ahead of the tales told by figures such as Markle's older stepsister, Samantha, who has offered opinions about her sister's early life ambitions and talked about who should be on the guest list.
"Even the most cursory internet search would have thrown up a few red flags," Vine wrote. "Could they not have taken at least a few steps to get them on-side?"
After Saturday's hourlong ceremony, beginning at 4 a.m. Pacific time, the newlyweds are to travel through the longtime royal seat of Windsor in a 19th century carriage pulled by four prized Windsor Grey horses. It won't be their first glimpse of the procession route, though; the BBC reported Thursday that they had made a quick and largely unnoticed circuit, driven in a royal Range Rover rather than the Ascot Landau carriage they will use on Saturday.
More than 100,000 people were expected Saturday to cram the narrow sidewalks surrounding Windsor Castle, which dates to the 11th century and is described by royal historians as the world's oldest and largest inhabited fortress.
Harry is a veteran of the Afghanistan war, and in addition to those deployed for security reasons, hundreds of other troops were to play a part in the ceremony.
Those marching the procession route and flanking the entrance to the chapel were reported by British media to include regiments and units with a special significance for Harry. They include members of the Household Cavalry regiment, the Royal Gurkha Rifles and the Army Air Corps, with whom Harry served two tours in Afghanistan.
Many polls have pointed to a blasé attitude on the part of Britons over the wedding. A YouGov poll — albeit one commissioned by an anti-monarchist group — suggested that 6 in 10 were looking forward to a normal weekend, with little interest in the pageantry unfolding in Windsor.
Even so, the British monarchy maintains a hold on the global imagination, with millions expected to tune in for Saturday's spectacle, the biggest piece of public monarchy-themed ceremony since the 2011 wedding of Harry's elder brother, Prince William, and Kate Middleton, now known as Catherine, Duchess of Cambridge.
And as to the other young royals, there is also a large reservoir of goodwill toward the likely heir to the throne, William, and his wife, who last month gave birth to a prince, Louis.
That much-celebrated event pushed Harry one spot back in the royal line of succession. He didn't seem to mind.
Staff writer King reported from Windsor. Special correspondent Christina Boyle contributed to this report from London.
---
UPDATES:
2:41 p.m.: This article has been updated throughout with the scene in Windsor, quotes and background.
This article was originally posted at 7:25 a.m.
---
Must-read stories from the L.A. Times
Get all the day's most vital news with our Today's Headlines newsletter, sent every weekday morning.
You may occasionally receive promotional content from the Los Angeles Times.